Watching videos is easily one of the most addicting past times out there, but believe it or not, the internet is not everywhere. Whether you're travelling somewhere remote, or in a cafe with limited Wi-Fi service, it can be boring without this quick entertainment fix.
With that in mind, we listed tips and tricks that will help you download videos easily and safely.
Ensure your operating system is up to date.
The latest security fixes can help a lot in combating viruses and malware you might get from downloading.
For Windows:
Click on the Start Button > Settings Icon. (Gear Icon)
Windows settings will get open, click on "Update & Security".
After Windows Update opens, click "Check for Updates" on the top left side of the window.
Once Windows finishes checking for updates, click the "Install" button.
When the updates have finished installing, restart your computer.
For Mac:
Click the Apple menu and choose "Software Update."
Software Update will load and check for updates. Click "Show Details" to see any updates Software Update wants to install or click the "Install" button to install them.
The process is similar on Windows computers.
Steer away from file-sharing websites.
Although it is a great alternative due to the convenience, Torrent sites and other file-sharing websites are simply not a safe bet when it comes to downloading as it is not supervised.
Pick a software that seems trustworthy.
Thankfully, there are many choices for video downloader programs. There are so many that it can be tough to choose. The best thing to do is look for well rated and highly downloaded applications.
Here are some of our recommendations:
4K Video Downloader is available for Windows and Mac computers. It Promising no viruses, ads, or plug-in requirements is a good start. It also offers a user-friendly interface—there's simply the form for pasting the URL and a download link. Plus, you get to download videos in 4K quality, HD 1080p, HD 720p, and 8K to ensure that you'll have the best viewing experience.
A quick and easy downloader, SaveFrom supports the majority of the most popular video sites. You can download audio, video, and other types of files from various websites and social networks: youtube.com, vk.com, vimeo.com, and others.
SaveFrom also helps you download the video directly from any Internet page in high quality.
Click here to read more about how to download YouTube videos easily.
If you want to save videos from Facebook exclusively, use FB Down. Packed with a Chrome extension, you can conveniently download Facebook videos.
VDownloader is a free tool that boasts a feature-rich and slick design you can use on any Windows PC. You can download from YouTube Facebook, Blip.tv, Megavideo, Veoh, Vimeo, and more in a variety of formats, including MP3.
Go for Extensions
If applications are not in your taste, use browser extension instead. Here are some of the best we gathered around:
It supports HD and UltraHD video downloading. FastestTube puts a "download this video" menu right on any YouTube page you load, with all the format options on display. Plus, it is versatile as you can use it on any browsers such as Opera, Safari, Chrome, Firefox, and Internet Explorer.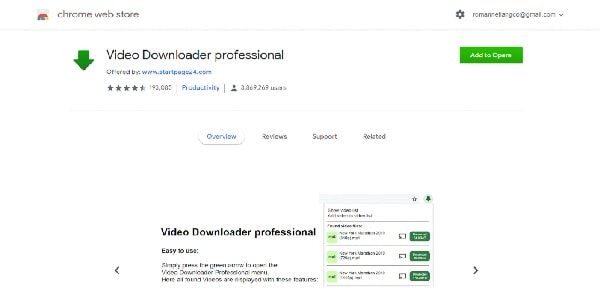 This extension will help you add videos easily to your video list. It works with Firefox, Chrome, Internet Explorer, Safari and Opera. Packed with high-quality features, it can easily convert downloaded videos to MP4 or MP3. Plus, it supports resolutions up to 4K (Ultra HD) on YouTube and other sites.
TIP: If you don't have the budget, Open Sources application is your safe bet.
Use a Virus Scanner
Having an Antivirus Software installed on your device is crucial when downloading. If you don't want your device to be infected with malware within minutes of connecting it to the internet, start downloading and installing antivirus program There are a number of free, antivirus programs such as AVG, Norton AntiVirus and Kaspersky Anti-Virus.
When downloading videos, scan immediately your files. You can select a certain video and solely scan it with your antivirus.