Feeling Bored? Then the best way to pass time is watching Good Movies. On the internet, you can find out dozens of legal source like Netflix and Amazon Prime to Watch Movies Online. Although there is some Netflix alternative available but those also not FREE. So if you do not have money to spend on these premium services then you can try some sites to watch free movies online.
There are plenty of places to watch movies of every genre like comedy, action, drama, horror and much more. But one thing you need to know these sites are not legal because providing copyright content for free isn't legal. On some sites signup not required, so you can stream movie anonymously. Few sites offer to download movies for free which is good if you don't have a good connection for streaming movies.
Here are top 10 best services (Sites and Apps), that Offers free online movies so you can Watch Movies Online.
Best Sites to Watch movies online Free.
Go Movies.
Searching for Hollywood movies to Watch Online for FREE then "Movies 123" is the best place. The official site was known as 123 Movies, site owner changed domain due to google DMCAs. Still, there are dozens of the duplicate site available of 123 movies and Go movies but the original one is GoStream.is.
What can you Watch? GO Movies not only allows to watch your favorite movies also you can watch series online. If you're searching for movie apart from Hollywood then you can use the country feature to find out. Also, you can request for any specific movie, which is not available on the site. Like Netflix, you can select a genre from Horror, action, adventure, Sports, War, Thriller, Comedy and much more. I can't tell you any specific movie name but you can find out every new and old movie.
Is Go Movies Legal? We don't know what license they are using to be legal, but nobody got in trouble while watching movies online. The site does not store movies on its own server, Site admin smartly embedded video streaming servers. Some movies are available in cam print that's indicate, site contain piracy content.
Free Movies Watch Online – Go Movies.
Tip: Don't forget to use the Best Anonymous browser while browsing or watching Free movies sites.
share movies are the well-known alternative of 123Movies or Go Movies. Apart from free movies, you can watch FREE TV Shows and Asian Dramas. If you're searching for a specific movie, which is not available on the site you can request on their FB page. The best thing about the site is – No annoying pop-up ads.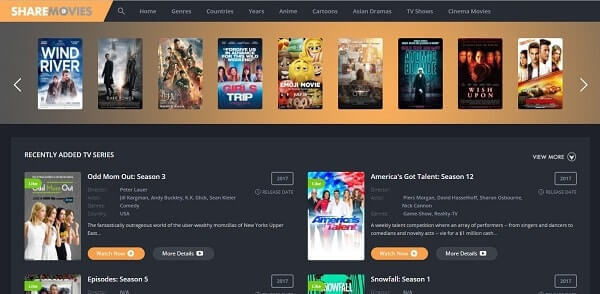 What can you watch? You can watch TV Shows, New and old Movies, Asian Drams, Cartoon, Anime Series, Cinema Movies. Genre section of share movies allows sorting movies according to year and categories. Countries section also available and share movies have just double country list content. The site offers three different servers to Watch Movies Online, you can switch between. In some countries, video playback will not work you might face an error, but still, you can watch using Proxy sites.
As I mentioned the site is alternative of Go movies so we don't know about it is legal or illegal. But the site doesn't require any login details to watch which is a good thing.
Watch Movies free- Share Movies.
Crackle.
Searching for a Legal source to Watch Free movies then crackle is for you. Crackle is an online distributor of web shows, latest Hollywood movies, and TV Shows. It is founded in the early 2000s and rebranded in 2017 by Sony Pictures Entertainment. Like any other free movies site, you don't need to signup for watching movies online.
What can you watch? Although it's legal and completely free it doesn't offer latest movies. Still, you can watch some awesome movies and some good TV Shows that are available only on crackle, known as crackle originals. Crackle is own by Sony Pictures so you can watch hundreds of full-length free movies. There are no annoying pop-up ads but still some few seconds commercial breaks during full movies. Some good movies like bad boys 2, buried alive, back wash, the angel of death available.
Crackle is unavailable in some countries and when you open sites it will show you no result found. So if you want to watch on crackle then use proxy server else try next site to stream movies online free.
Watch legal Movies for Free – Crackle.
PopcornFlix.
PopcornFlix is a well known legal site to watch movie online for FREE. You can find new movies from screen media ventures means they always stay updated with new best movies. Like any other streaming services, you don't need to signup to watch awesome movies.
What can you watch? It has over 2000 movies in every genre like comedy, drama, horror, action, documentaries and some foreign films. Apart from movies, you can watch some awesome TV shows like cheaters, women behind bars, American dumb best. Also, you can watch some 90's cartoon like inspector gadget, the adventure of sonic and sky dancers.
Watch old & new movies for Free – PopcornFlix.
Viewster.
Viewster is another best site to Watch Movies Online. The best way to access Viewster is by Genre, you can choose from ANIME, Sci-Fi, Action, Adventure, horror, comedy, drama, documentary, classic, romance thriller and much more.
Like YouTube Viewster have channel feature where you can watch some awesome videos. Another way to find and stream movies are you can sort the movies by latest additions, most viewed and mixed, similar to YouTube trending. It is available in 5+ different language English, French, German, Spanish you can choose from the homepage. Apart from good movies, you can watch Free TV shows for free.
Viewster app also available for Android and iOS, and it comes in built in some devices like Roku, Toshiba, Vestal, western digital, Asus, Net-gear, Samsung, Lenovo, Philips and many other brands.
Yahoo! View.
Although Yahoo streaming service is fully based on TV Shows you can find movie section. Recently, Yahoo did the partnership with Hulu so you can watch now Hulu's movies and TV shows Free, no subscription needed.
Yahoo view app also available but it allows to watch only small clips, not Movies and shows. Currently, Yahoo supports only in United states, so if you stay in other countries then use United state proxy to watch. Like other sites, yahoo view also has genre adventure, anime, classic, comedy, crime, documentaries and many more.
Watch Hulu Movies – Yahoo! View.
Conclusion.
Still, there are plenty of sources available to watch movies online but those provide similar content. If you're searching for a Best app to watch Movies free then try Terrarium TV App. Or if you want to watch latest releases then the Go Movies and share movies is the best option. If you guys know any other better site to watch Free movies feel free to comment.
Read Also: How to Download Amazon Prime Video to PC, Android, and iOS.