Best True Wireless Earbuds – It's 2019, And almost every smartphone manufacturer companies started removing the headphone jack. Though, still, you can use your headphone with 'Type C to 3.5mm Converter'. But, It's better to start using wireless earphone. Every company that provides a flagship smartphone. Now, they have launched their wireless earphones or earbuds. Like, OnePlus Bullets Wireless 2, which comes with fast charging. But, it's not truly wireless earphone.
Apple AirPods 2 is truly wireless. Because there aren't any cables between earbuds. But, we also can't deny that Apple AirPods are costly. And, in some countries like India, it's overpriced. In India, the Standard Model of the AirPods starts at $217. And, trust me, you don't need to spend that much on a truly wireless earphone. Because, nowadays, there are many Apple AirPods Alternatives available in the market. That comes with Bluetooth V5.0 connectivity, which is more reliable.
So, In this article, I am creating a list of Best True Wireless Earbuds. Well, there are dozens of TWS earbuds available, which you can buy under $25. But, I am gonna mention some best only, according to user reviews and features.
What are TWS Earbuds?.
True Wireless Stereo or TWS is basically a technology that allows you to pair two audio devices via Bluetooth. Means, you can transmit the audio in L Channel (Left) and R Channel (Right) separately. In TWS Earbuds their case acts as a magnetic induction charging base. Mostly, Charging case of earbuds comes with 300-800 mAh Battery. That can charge both earbuds 4-10 time. Nowadays, All Earbuds comes with Bluetooth V5.0, that guarantees an extremely stable signal. With a transmission range of up to 10 meters.
Best True Wireless Earbuds.
QCY QS2 TWS Bluetooth V5.0 Earbuds.
The QCY QS2 TWS Bluetooth Earphones are the upgraded version of QS1. QCY company comes under Xiaomi. With Bluetooth 5.0, these earbuds come with Realtek Cheapest and IPX4 rating. QCY QS2 is very small in size, and, does fit perfectly in the ear. And, it comes with three different sizes of silicon bud. There are tactical buttons on both earbuds (L and R). In Which, You can use Left earbud button to play the previous song and the right earbud for the next song.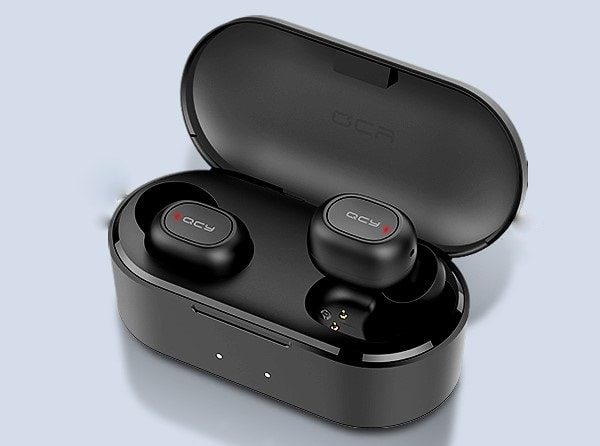 Sound – Both left and right earbuds come with in-built microphone. That will help to use Google Assitant. Though, Voice Calling experience isn't so great with these earphones. Because these earphones are made for listening to music and watch videos. According to the company, Earphones offers ultra-low audio delay while gaming. But, still, I suggest you not to use these for PUBG. Though, you can use these for casual gaming. These earbuds come with SBC and AAC codec. But, still, you will notice a delay while playing PUBG. But, when it comes to sound quality, these earbuds offer a perfectly balanced sound.
Battery – The QCY QS2 comes with large battery capacity. Case of these earbuds does offer 800 Mah Battery. That can charge both earphones 8 times. At one charge you can listen to music straight for 4 hours. With the case, you will get 32 hours of playback time. And, it offers 120 hours of standby time, which is great. The single earphones battery capacity is 43 Mah. Overall, In the battery department, these earphones are impressive.
Price – You can easily get QCY QS2 from AliExpress at just $23. (Register as a new user and get 3$ Off Coupon.) After applying the coupon, the final price will be just $20. (Buy only from QCY official store Seller.)
MI/Redmi AirDots.
After the launch of MI Airdots, Xiaomi comes up with the Redmi AirDots. Yes, Redmi is the sub-brand of Xiaomi. And, outside chine, Xiaomi, sells their many MI product with Redmi Sub-Brand name. The Redmi Airdots comes with Bluetooth 5.0, and Earbuds are very lightweight. (4.1 g each, 35.4g with the case.) Redmi Airdots fits very well, and don't fall from ears. Like every other True Wireless earbud, you don't need to connect these again and again. Just pick them up from the case, and they are ready to use. Yes, Bluetooth should be activated in your smartphone.
Note: In Redmi Airdots, you can't change songs. Though, you can play and pause the songs.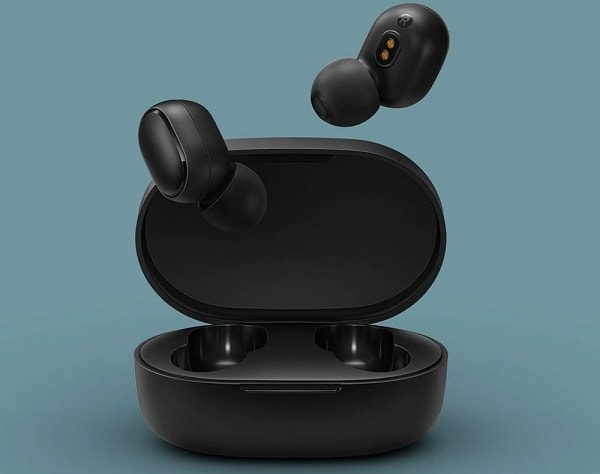 Sound – These Redmi Airdots doesn't come with AAC codec. So, Because of SBC codec only, you might face a latency issue. But, not while watching videos and listing music. It happens only when you try to play competitive games. If you're bass lover, then these earphones are not for you. But, considering the price point, Sound quality is quite good. When you listen to songs, vocals are very clear. Overall, it is the best Budget True Wireless Earbuds.
Battery – After the sound, the battery is important in Wireless Earbuds. Well, If you compare battery of Redmi Airdots with QCY QS2. Then, you find out that, the battery is quite low. The Charging case of Redmi Airdots offers 300 mAh battery. And, a single earphone battery capacity is 40mAh. So, you can charge both earbuds only 3-4 times with the case. Though, with the single charge, you can use Earbuds for continually 3-4 hours. The Airdots Charging box takes 2 hours to get charged fully. And, Earphone takes 1:30 hours to charge from 0 to 100%.
Price – With Silicon Case and USB, Redmi Airdots are available at $23 on AliExpress. And, if you're new user on AliExpress, then, you can get these in $20. (Just Signup to get $3 Coupon Code.)
Buy Redmi Airdots from MIJIA Online Store.
Haylou GT1 TWS Fingerprint Touch BT Earbuds.
The design and build quality of these earphones are much better than the others. The Haylou GT1 TWS comes with Bluetooth 5.0 chipset and Fingerprint Touch Controls. That lets you skip and play/pause tracks, and answer phone calls. So, you don't need to push the earbuds in ears, to change tracks. (Here, I am talking about tactical buttons.) Earbuds come with an IPX5 rating, sweatproof. Haylou GT1 comes with Digital signal processing (DSP), that will help you to offer crystal clear sound. The charging case of these wireless buds comes with a magnetic lid. That not available in QCY QS2 and Redmi Airdots.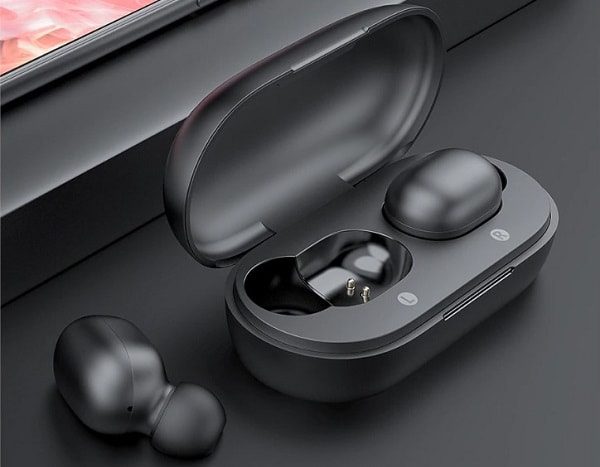 Sound – In Sound department, these earphones are between QCY QS2 and Redmi Airdots. But, yes if you're bass lover, then these Earbuds are for you. Medium and high frequency is clear and soft. Earbuds come with 7.2mm dynamic driver, so, you will get a balanced sound. And, DSP technology will help to use these earphones outdoor. Also, Earbuds comes with AAC codec, so no need to worry about latency issues.
Battery – Haylou GT1 charging case has a 300 mAh battery, which is similar to Redmi Airdots. But, Earphones takes 1 hr to charge and the charging case takes approx 2 hrs. The battery capacity of earphones is 43 mAh each. So, you can easily use these for 3-4 hours. So, In the battery department, these earbuds aren't good than QCY QS1.
Price – You can get these earphones for $16.40. And, At this price, what you're getting is impressive. (On Aliexpress, it's available at $19.40, use $3 coupon.)
Buy Haylou GT1 from Haylou Official Store.
SoundPEATS Truefree+ TWS Wireless Earbuds.
These earbuds are completely the same as QCY QS2. Instead of QCY branding, you will see SoundPEATS logo on Earbuds. Even, Battery is also the same. The charging case offers an 800 mAh battery. And, Earbuds comes with 43 mAh battery. So, you can charge earbuds using case, approx 9-10 times. The sound quality in these earbuds is balanced. Yes, if you love bass, then these are for you.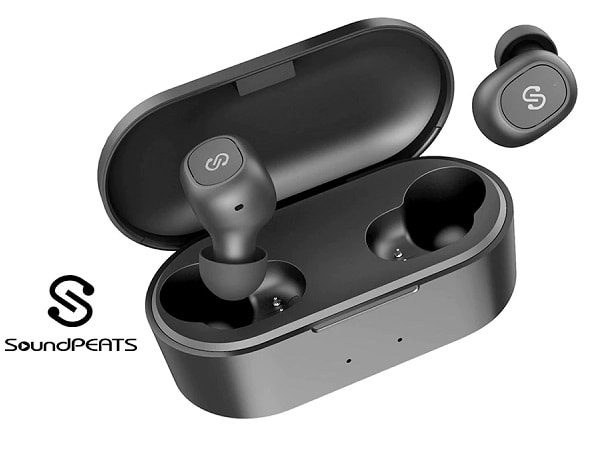 SoundPEATS comes with Realtek 8763BFR Bluetooth 5.0 chipset. The maximum working range of these is 10m with no obstacles. With a single charge, you can use SounPEATS TWS for around 3-4 hrs. On AliExpress, these are available for $24.39. Though, with the new user coupon, you can buy these for $21.39.
Summing up / Conclusion.
So, these are the four best True wireless earbuds available under $25. Between QCY QS2 or SoundPEATS Truefree, you can buy any. Both are same. But, if you don't like the tactical button in Earbuds. Then, you can buy Haylou GT1. It comes with a Fingerprint touch button. Though, the battery in Haylou GT1 and QCY QS2 is only 300mAh. So, personally, I will suggest you buy QCY QS2. Because of 800mAh battery and balanced sound.