Considering to upgrade from shared to a dedicated server? Chances are, you want to know how much does it cost to rent a server in dedicated hosting. If you have started making research already, you will find that there is a big cost difference between providers of dedicated hosting. This post will cast light on some factors that affect the cost of a dedicated server. But before that let's find out what exactly the dedicated hosting is and it's market size.
What is Dedicated Hosting
In the simplest words, dedicated hosting is a form of hosting where the whole server is dedicated to a single entity. With most dedicated hosting providers, you get full access to server's RAM, storage, bandwidth and control to the software configuration.
Dedicated Hosting Market Size
Over the years, the demand for the dedicated server has grown to a good extent. Even mid-sized enterprises are showing interest in the dedicated server. One big reason for the same could be, some providers have started offering cheap dedicated hosting with the purpose to target mid-sized businesses.
If you take a look at statistics provided Statista.com, dedicated hosting market worldwide is expected to reach 6.53 billion US. dollars by 2020. In 2018, it was recorded 52.7 billion US dollars across the globe.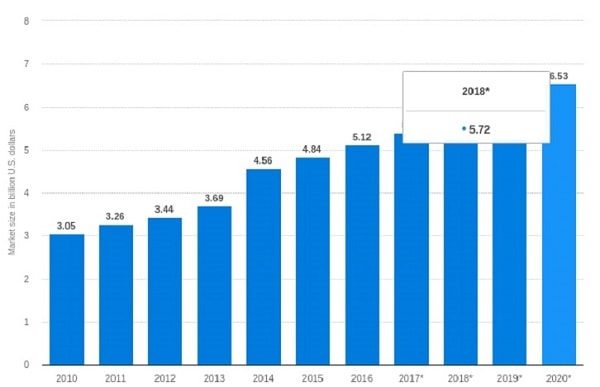 Factors Affect the Cost of Dedicated Hosting.
The cost of a dedicated hosting depends on many aspects. Let's explore a few major ones.
Managed Vs. Unmanaged Dedicated Hosting
Linux and Windows-based dedicated servers are the two main types of dedicated servers.
If you have used a shared hosting plan in the past, you were not worried about any kind of day-to-day maintenance, required in running a stable and secure server environment. This includes security fixes, installing updates, and software configuration.
It is up to you whether or not you want to be responsible for all these with a dedicated server. With most dedicated hosting providers you will get these two options managed hosting and unmanaged hosting.
A managed server comes at a higher price point. Both options have their ins and out. However, if you want to keep the cost of dedicated hosting at bay, you may go for unmanaged dedicated hosting.
Software Licence Fees
If you're planning to operate your own server rather than hosting your data in a shared environment, you will have to pay for covering your own software licenses. If you choose to run your site on Windows-based dedicated server, the software license fee is an additional cost you will have to bare.
Since Linux is an open source, for Linux based dedicated hosting you don't need to pay any license fees.
Cost of Customer Support
The cost of customer support may also make a big difference in the cost of a dedicated hosting service. Therefore, whether you want to choose managed or unmanaged hosting, you should consider your support needs in advance. Get to know whether your provider will offer support service on an inclusive basis or as an additional cost, for example, pay-per-ticket.
Infrastructure Quality
After accounting for the hosting plan, license fee and customer service, another factor that can influence the cost of a dedicated server is the infrastructure quality. It includes hardware and many other server resources.
If you want that extra peace of mind, it is advisable to invest in high-quality server resources and hardware. Because the poor server can impact on the overall performance and reliability of hosting service.
You should not forget to take a look at the location and quality of the data centre where your dedicated server lives. After all, it also impacts the performance of your website.
What to Look in a Dedicated Hosting Provider
To find the right dedicated hosting provider, you should have a look at the different factors. Throughout your search, you should keep the following things in mind.
Storage/Bandwidth: You need a solid amount of bandwidth and RAM if you want to accommodate a high-traffic website.
Uptime/Reliability: Always look for the highest uptime possible. Also, make sure your support team is knowledgeable and capable enough to help you
come out of technical issues.
Hardware/Security: Go for the dedicated server offering up to date server hardware, regular security scale, and the right operating system.
Why are Businesses Moving Over Dedicated Server
Comparatively, business hosting is an expensive option. Still, in the past few years, the number of dedicated hosting users has grown. Even mid-sized companies have started showing interest in it. Let's have a look at some possible reasons for the same.
– Dedicated servers are designed to provide a high level of uptime. Websites receiving a high volume of traffic can better take advantage of it.
-Dedicated servers allow you to customize your server to a certain level. You can choose your own operating system and software setup.
-Like in a shared hosting environment, you don't need to compete with different websites on the same server. You can use all the server resources
yourself.
-When you buy a dedicated hosting, you get an in-built resource headroom for traffic spikes. As you get full access to your server, you have the liberty to switch up the hardware and software configuration as per need.
Kind of Site Owners Can Choose Dedicated Hosting
Large-sized eCommerce Websites
For an eCommerce site, uptime is very crucial as even a few seconds downtime can result in a loss in sales. With dedicated hosting, downtime will be hardly an issue.
Agency With High Profile Clients
If you are an agency that manages sites for clients, you will need to deliver a premium hosting service to your clients. Dedicated hosting can be a good option for such companies.
Additionally, websites that need unique configuration may also consider choosing a dedicated server.
How much does it cost to rent a server in dedicated hosting? The answer to this question is not that straightforward, there are numerous factors that make a difference in the cost of a dedicated server. Hopefully, this blog revealed some of those factors.