Cortana is one of the best features that make windows 10 the best & next generation windows. You can do tasks like opening apps & search on the web without tapping your fingers on Keyboards. Before Windows 10 Anniversary Update for searching the web we can ignore default Browser & set our favorite Browser, But after Windows 10 Anniversary Update there is no option to choose our favorite Browser Cortana will Launch Microsft's Edge Browser without asking which browser we want to use. Now there are many restrictions in Cortana that forces us to remove or Disable Cortana in Windows 10. As you know Cortana is the highlighted feature of Windows 10, That's why Microsoft doesn't want to allow users to remove or disable Cortana, Yes there is not any Official option to Disable or Uninstall Cortana.
But by doing some registry Hack Still you can disable Cortana. And Don't worry after registry hack you will get search bar instead of Cortana to search windows apps. Before Disable Cortana in Windows 10, you need to see what things you can do with Cortana. There are some Useful Cortana Commands.
How to Disable Cortana in Windows 10 Anniversary Update
There is four Method to Disable Cortana in Windows 10.
*For Home Users – Disable Cortana via the Registry Settings.
*By Using one click Registry Hack.
*For Pro and Enterprise Users – Disable Cortana via Group Policy.
*Hide Cortana By Using TaskBar
For Home Users – Disable Cortana via the Registry Editor.
If you are using Windows 10 Home then by changing Registry settings you can Easily Disable Cortana. But If you are using Windows 10 Enterprise or Pro Edition then Move to Next section. Yes, you can disable by using Registry Editor but it will unstable your system so choose other option to disable Cortana.
WARNING – Registry Editor is a Useful as well as powerful tool and misusing it can make your system unstable. This is a simple hack just follow the instructions and, you shouldn't face any problems.
First open Registry Editor, Press Windows + R Hotkeys Now type "RegEdit" into the box, and press Enter. Now Registry Editor will open.
Now Navigate to the Following key by using Left Sidebar.
HKEY_LOCAL_MACHINE\SOFTWARE\Policies\Microsoft\Windows\Windows Search.
If You are unable to Find windows search option then Right Click on Windows go to New, Click on Key. Now Enter Folder Name type "windows search" press Enter.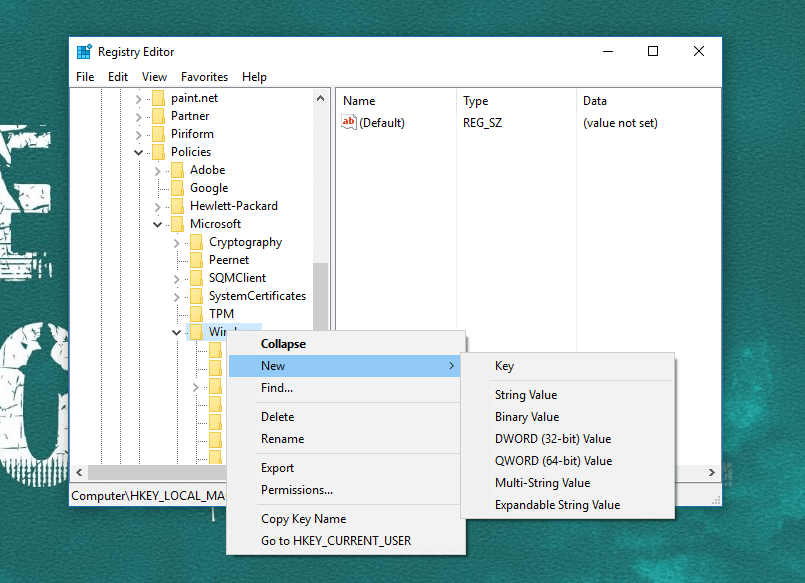 Now Right Click on Windows Search Folder goes to New click on DWORD (32-bit) Value. Now Name the value "AllowCortana"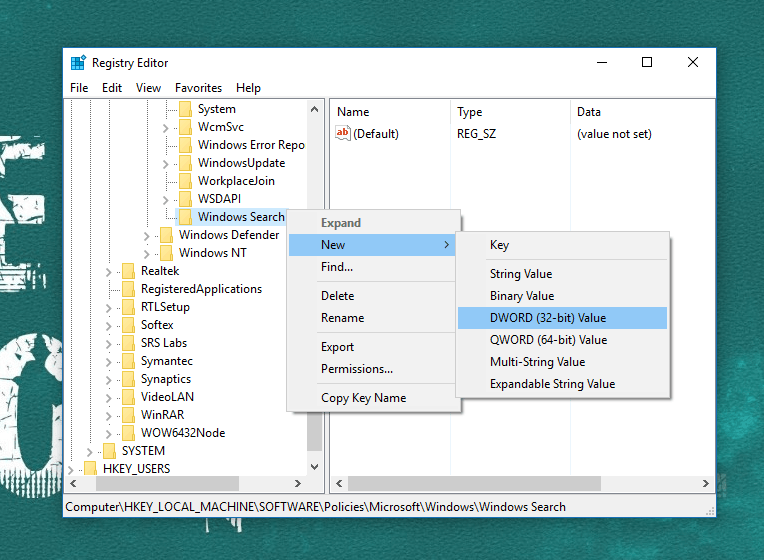 Now to Disable Cortana Right click on Allow Cortana Click on Modify, Now in Value Data Enter "0" to disable.
Note – You need to restart the computer to Apply the Changes.
If you want to Enable Cortana Again in Future then in Value Data Enter 1.
By Using one click Registry Hack.
After Creating Windows Search folder in Registry Editor, You Don't need to change values to enable or disable Cortana. You can Simply do this thing by using our Registry Hack.
First Download our Registry Hack File.
Now Extract Registry Hack File, You can see to Registry Hack.
Disable Cortana
Enable Cortana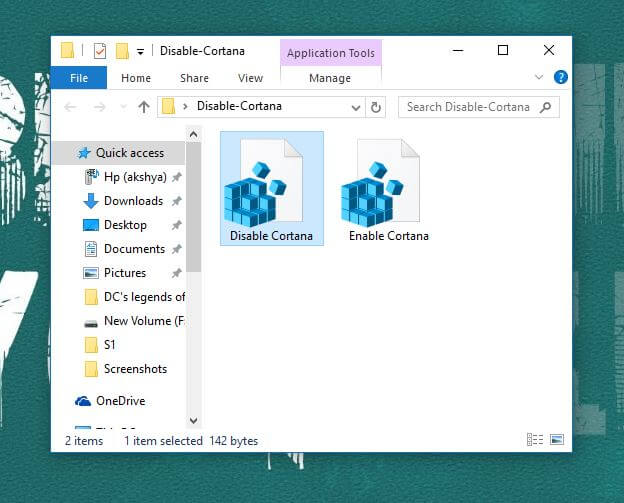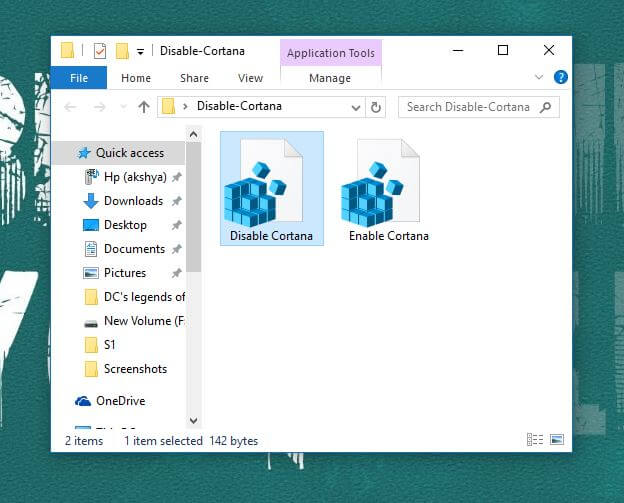 Simply Double Click on Disable Cortana to Disable It will change the value to 0. Click on Enable Cortana It will change the value to 1. All you need to do is Restart your Computer to Apply these changes.
For Pro and Enterprise Users – Disable Cortana via Group Policy.
If you are Pro and Enterprise User then Use only this Method If you use any other Method then maybe your system will unstable. Don't forget to Make a System Restore Point Before Following all the Procedure.
First open Run by Pressing Windows + R Key, Now type "gpedit.msc" in the Box & Hit Enter.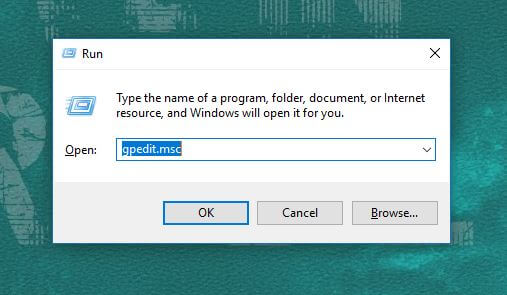 If you are a Home User then You will Get Error. Use Only Registry Hack to Disable If you are home User.
Now Navigate to Computer Configuration > Administrative Templates > Windows Components > Search.
Locate the "Allow Cortana" setting in the right bar and double-click on it.
Now Set the Allow Cortana to "Disabled" and then click "OK". Done Cortana is Disable Successfully, You can Enable Again By following same.
Hide Cortana By Using Taskbar
If you just want to Hide Cortana & Don't want any Search Bar then you can try this Option. Simple follow Steps and Cortana will hide from the taskbar. There is the difference between disabling & Hide. When you disable by using any of the above methods then Cortana functionality Disable till you do not enable again, and you can see search Bar. But If you Hide Cortana then you will not see Cortana and Search Bar.
Right, Click on Cortana Ring Icon Go to Cortana Select Hidden, Now Cortana Will Hide from Taskbar and you will not see Cortana in Taskbar.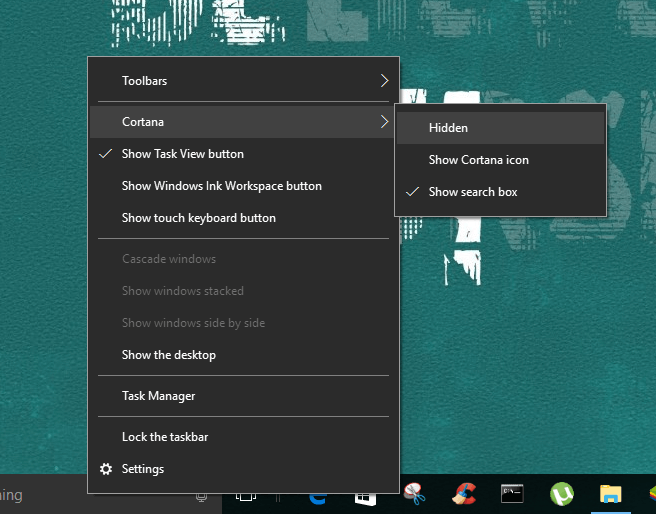 Now Cortana is Hide From Taskbar you can Show Cortana Again By Selecting Show Search Box Option.
These are Best & all Possible Methods to Disable Cortana If Still, you are facing any issue or Error then feel free to comment I will Help you.
What you will miss, what you will keep After Disabling Cortana.
After Disabling Cortana Search Area will remain in the Windows taskbar sans Cortana's "Ask me anything". But You will not able to use Cortana services like setting alarm, search on the web, News Info & all other Cortana services.
You will be able to search files but only in general term not like "show me all June month files/ Show me June Month Photos". The search bar will work like Windows 7 Ordinary Search Bar.
If you miss Cortana you can Enable Cortana any time. Cortana will welcome you 🙂