If you have any Razer products, then maybe you already knew about Razer Synapse Software. Razer is a gaming hardware manufacturer company. And, recently, the company started working on Xbox keyboard and mouse. Though, this article isn't about news related to Razer Company. In this article, I will try to provide some solutions to fix "Razer synapse not working".
Recently, Razer has released a new software update for Synapse software. And, almost all users are facing difficulties with that software. Currently, Razer Synapse 3 is in beta, so, it's common that you might face some issues with it. But, if you're using Razer Synapse 2, and still facing problems. Then, this article might be helpful to you.
What is Razer Synapse?.
It is a gaming software, or you can say a hardware configuration tool. Which takes your Razer device to next level by configuring devices. You can assign macros and can personalize device lightning with custom colors. This tool currently supports almost all version of Windows. But, still, to use software flawlessly, you need to install the latest version of Windows. The software works with Razer speakers, keyboard, mouse, Keypad, Razer Chroma, mouse mat. If you have bought any new razer device, then with "Razer Synapse" you can register the warranty.
Problems that users are facing with Razer Synapse.
Recently many razer users are reporting that "Razer synapse not working". Means, even after connecting razer device "Raze Synapse won't open". The tool shows connected Razer devices on the dashboard. But for some users "Razer Synapse is not detecting mouse and keyboard".
Solutions to fix "Razer Synapse not Working".
1.1 Uninstall Razer Synapse completely.
This is the very common solution for problems like software isn't launching. Are you still using Razer Synapse 1, and suddenly start facing problems?. Then, you need to update this tool with the 2nd version of it. Though, Razer Synapse 3 available, but as I mentioned it is in beta. That's why I don't suggest to download that version. Razer removed support from Synapse 1. That is the reason behind, products aren't showing in the tool.
To uninstall the Razer Synapse Completly, follow these instructions.
1. Open Control Panel, Click on "Uninstall a Program". (Check in Programs section)
Alternatively, you can jump directly into Uninstall Window.
Press Windows + R key simultaneously. In run Window, type appwiz.cpl and press enter.
2. Locate "Razer Synapse" from the list, and then right-click on it to uninstall.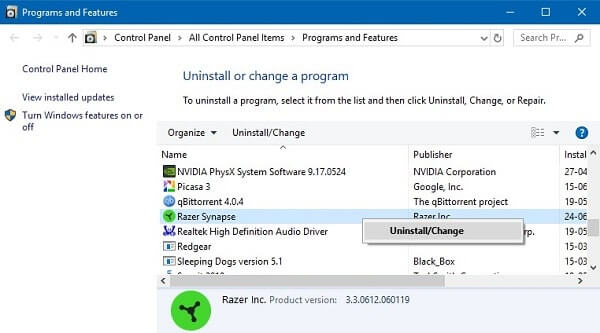 Note: Simple uninstallation doesn't delete all files of this tool. You need to delete the complete folder from the C drive.
3. To delete all files, Press Windows + E key simultaneously to open Windows Explorer.
Go to C:\Program Files (x86)\Razer.
Click on view, and then mark hidden items option. (This option will show all hidden files exist in Razer folder.)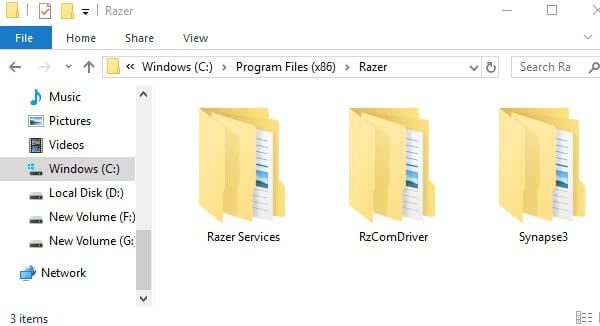 Now, simply delete all files exist in that folder. Or, you can delete the complete folder named "Razer".
1.2 Uninstall Razer Device.
Before reinstalling the latest version Razer Synapse, you need to first uninstall all connected Razer devices. Else "Razer Synapse not working" problem will occur again. To uninstall all Razer devices, follow this guide.
1. Press Windows + R key simultaneously. In run Window, type "devmgmt.msc" and press enter.
Alternatively, in Windows 10, you can press Windows + X key. And, then from the list of options, you can click on device manager.
2. In device manager, expand the category of the device. (For example – If using razer keyboard, expand keyboard section.)
3. Right click on razer keyboard and then, Choose to "uninstall device" option.
A confirmation Window may appear now, so you need to click on "Uninstall" again.
Use this same method, and then uninstall all Razer devices. After that unplug your all razer devices from the USB port. And, then restart your Computer.
1.3 Install Microsoft .NET framework.
Almost all latest developed Windows Program uses .NET framework. "Razer Synapse" also uses it. Though, (dot) NET framework might already installed on your Computer. But, if you're using an older version of it, then it might not work with the latest version of "Razer Synapse". And, due to the old version of the framework, users face problems like "Razer Synapse won't open".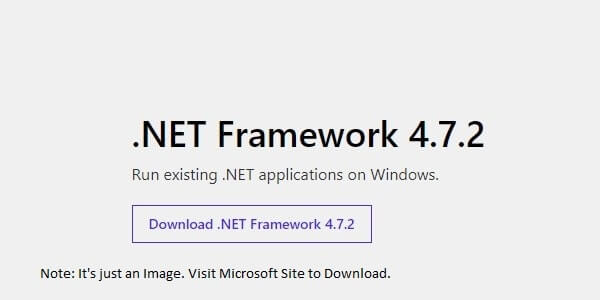 At the time of writing article, the latest version of the NET framework is 4.7.2. Which you can download from the official site of Microsoft. And, after completing the installation process, you need to restart your Computer once again. To just apply changes done by this.
1.4 Disable Windows Firewall and Antivirus.
This is the last step before we start installing "Razer Synapse". Microsoft is trying to make Windows secure. And, sometimes windows defender firewall block some files of software while installing. And, it might be the main reason behind "Razer Synapse not working". So, all you need to do is "Turn off Windows Defender Firewall".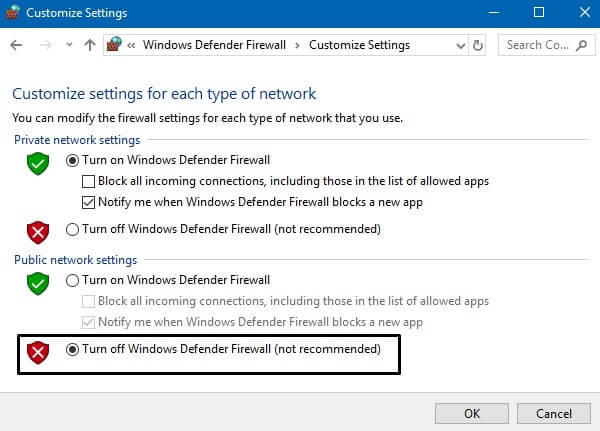 I have already written a guide of "Windows 10 firewall settings". So, you can read this guide to disable Windows firewall temporary. And, don't forget to turn it back on after installation process gets complete. Apart from Windows firewall, antivirus program also blocks software installation. So, I suggest you turn off "real-time protection".
1.5 Install the latest version of Razer Synapse.
After uninstalling Razer Synapse, and installing Microsoft (dot)NET framework. Now, you can download and install "Razer Synapse" from the official website. Though, the software will get auto-installed after connecting any Razer device. But, still, I suggest you install it manually. Then, first try to open it, don't connect device now.
Once, software gets open properly, you can connect your all Razer devices. And, hopefully, now the problem will get resolved. And, If the device is not showing, then simply restart your Computer once. Also, check in device manager that, all drivers are properly installed or not. If any driver is showing yellow mark, then right click on it to update driver.
2. Launch Razer Synapse from notification tray.
With the latest version of Razer Synapse, I had faced another problem. After launching Razer Synapse, instead of showing the dashboard of software. Software icon just showing in System Tray. So, if Razer Synapse not launching, then you need to open it from system tray icon.
Method: 1 Click on Razer icon from notification tray then click on "Launch Synapse" button. (I had to click 4 times to launch it.)
Method: 2 Right Click on that icon, and then click on "Razer Synapse".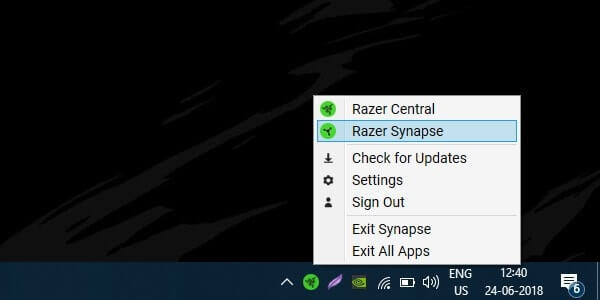 Summing – Razer synapse not working.
So, these are the solutions, which you can try to fix this problem. All you need to do is update Windows. Then, you need to uninstall "Razer Synapse" and devices Completely. After that, you need to install .NET framework and disable the firewall. And, in the end, you can reinstall the software again. That's it. If you're still facing any problem. Feel free to Comment.