Get Animojis Android – Like Android, iOS is also getting better and better with each new update. Recently, a few weeks back Apple launched it's two new iPhone – 8 & X. Both devices are based on Apple A11 Bionic chipset which is similar to snapdragon 835 in terms of performance. In launch event, Apple also introduced its new face unlock technology, which is quite good. But still, it's not the best replacement for fingerprint sensor and Samsung iris scanner.
There is one more new feature that Apple highlighted which is Animojis. Although Animojis concept isn't new because there are tons of similar Apps available on Google Play. Which allows create your own Emoji but not like Apple's Animojis does.
Things that you should know about Apple's Animojis – iPhone X uses a dedicated face id hardware (Which includes camera, sensors and AI). This hardware allows creating a 3D model of your face which helps to unlock iPhone X. Also, the same sensor allows creating 3D model emoji of our face using Animojis.
Note: As I mentioned, Apple uses hardware to create a 3D model, But Android doesn't come with any. So Apps that am going to tell in this article to Get Animojis Android isn't going to work same. But Still it is going to work like Snapchat effects, and using this emojis is quite fun.
Get Animojis Android – Few Best Apps to create face Emojis.
Animoji for phone X.
It is the best App currently available on Google Play that allows to Get Animojis for Android. This app uses smartphone front and rear camera for morphing face with emoji. Although this app is currently new and offers 20 faces Emojis and all are just awesome. All emojis works according to our facial expressions, which is impressive. According to the app description, 50+ Emojis faces are coming soon.
Apart from 20 Emojis, there is a Question Mark (?) Emoji option available. In this option tons of Emojis available that we use in Google Keyboard App. All you need to open your mouth to swap between multiple Emojis. Overall using this App on Android device will give you same feel like iPhone X Animojis.
How to Get Poop Emoji On Android device using Animojis App.
Is it sound funny right? But while introducing Animated Emojis in messaging App, Craig Federighi (Apple's senior vice president) showed a demo of this emoji.
You can get similar Animated Emoji on Android using Animojis App. To use this funnily animated emoji on Android device open App and hold smartphone for few seconds and app will detect your Face.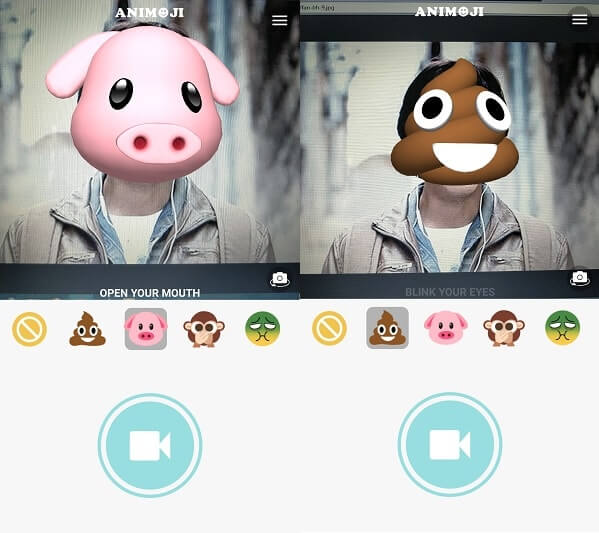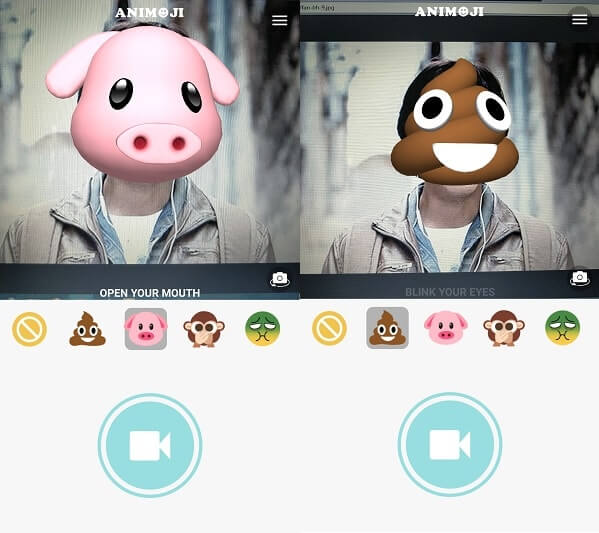 Now choose Shit Emoji Avatar or you can choose any other Animated Emoji. If you want to send animated Emoji to anyone then you need to record 10-second video by holding record button. Unfortunately, if you just want to capture then there isn't an option, but you can take a screenshot.
Emoji Maker.
It is the best Alternative for Animojis App, Although app not comes with face morphing option but still useful. The app allows to create your own Emojis and you can customize Emojis with accessories (glasses, beard, hair). There is accessories packs option available, where you can download these. After customizing Emoji you can found all in "My Emoji" Section, from where you can share your Emojis.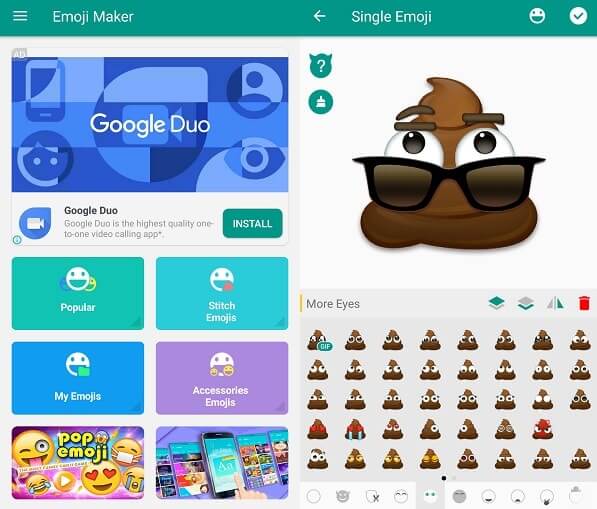 If you're not interested in creating customized emojis, then still this app is useful. The app comes with some cool 3D animated Emojis and Gif stickers which you can share on social media. Overall this app isn't similar to Animojis, but good app to try out some animated Emojis.
Conclusion.
So these are the two app available on Google Play that allows to Get Animojis Android. But if you want same animated emojis like iPhone X then the only first app is useful for you. But if you're interested in Emoji customization then the second app is for you. I know still, there are many apps available on Google Play that allows creating Emojis. But this article is about Animojis and only this app provide face morphing. But, if you know any other app like iPhone Animojis then feel free to comment.