Are you looking for a photo editing software for Windows 7 that you can use to improve images or even transform them into artistic masterpieces? If you are then there is one that you should definitely put at the top of your list: PhotoWorks.
Simply put, PhotoWorks is a popular photo editor for Windows 7, and it has earned that reputation for good reason. In fact, you can find out exactly what makes it so popular right here and right now in this review.
PhotoWorks: Powerful Photo Editing Software.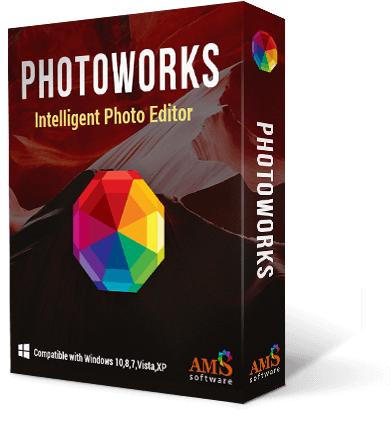 Advantages
Compared to other editing software, PhotoWorks is definitely unique in many ways. The advantages that it brings to the table are what makes it stand out, and some of the highlights include:
Automated and 'smart' features
Many of the features in PhotoWorks are automated to some degree or other. The editor leverages Artificial Intelligence (AI) and neural network technology to make editing photos as easy and straightforward as possible and simplifying many tasks that may be complicated otherwise.
The tools in PhotoWorks that aren't automated are designed to be intuitive. In most cases the learning curve is minimal, and you should be able to figure out how any of its tools work in a matter of minutes.
Clean and modern interface
PhotoWorks has always placed a lot of value in beauty, and its interface reflects that commitment. It has a clean and modern design that is not only easy on the eyes but makes navigation really simple – even if you're a first time user.
A comprehensive selection of tutorials
On the PhotoWorks website, you'll find a comprehensive selection of tutorials that you can use if you require any guidance. The tutorials consist of step-by-step guides that are easy to follow and cover a wide range of topics.
Unlike many other editors that require a subscription, PhotoWorks can be purchased via a one-time payment. Once you buy the full-featured version you'll be able to get free updates, so you don't need to worry about it in the future.
Suffice to say a big part of PhotoWorks' appeal stems from how user-friendly it is. Its automated features, intuitive tools, interface, and tutorials all work towards making it an editor that you can easily utilize – no matter what level of skill you may have.
Key Features
In addition to being user-friendly, it should be noted that PhotoWorks is not lacking in any way in terms of its features. Its features are nothing less than comprehensive and include many professional-level tools.
Some of the key features that you can take advantage of if you use PhotoWorks will enable
you to:
Enhance photos by fixing the light and color balance automatically or by making manual adjustments.
Touch up portraits using a variety of smart tools to remove blemishes, improve skin tone, whiten teeth, get rid of glare, and more.
Remove backgrounds to make photos transparent or replace them with a new image.
Apply a wide range of unique filters and effects to completely transform the visual style of photos.
Improve the frame of photos by cropping them using a variety of presets for a better composition.
Edit out unwanted elements by using the healing brush to ensure no traces are left behind.
Fix lens and perspective distortions to make sure the lines and edges in your photos are completely straight.
Make no mistake the features listed above are just a small part of the full range that you can find in PhotoWorks. That said, you should be able to see the scope of what the editor is capable of doing.
Conclusion
Overall it should be easy to see that PhotoWorks is an excellent option that is worth trying out. It is the perfect option if you are looking for a Windows 7 photo editor that is easy-to-use and yet will provide you with everything you need to make your photos look great.
The best thing for you to do at this point would be to try it out for yourself. If you flex your creativity a little and give its features ago, you'll be amazed at the things you're able to accomplish – and how quickly you can learn to edit your photos with it.