Comics created in Japan, or Japanese style comics are known as Manga. In Japan, People of all ages love to read Manga. If you know, there are many manga based anime series available. But, we are here talking about the famous one punch man webcomic. This manga is written by ONE in 2009. This WebComic went viral in 2012. And series got almost 7.9 million hits.
One-punch man webcomic is about a planet. Where supervillain and monsters are appearing mysteriously and, creating disasters. And, to fight against them, superheroes have risen. Saitama was one of them, he trained himself to combat. He was strong enough to defeat the enemy with a single punch.
Maybe you already know about this comics. That's why you are searching for a source. To read One-Punch man webcomic online. Well, your search ends here. In this article, you will get to know about a few sites to read.
Best Sites to Read One-Punch Man webcomic.
ComiXology. (Paid.)
Currently, One-Punch Man comic has 14 volume. And, all volumes available on ComiXology. I have already mentioned about this site in my "read comics online" article. Because ComiXology is the best cloud-based comics distribution platform, created by Amazon. Yes, you need to purchase this comic, every volume price is $6.49. Though, the site also offers some free comics and manga.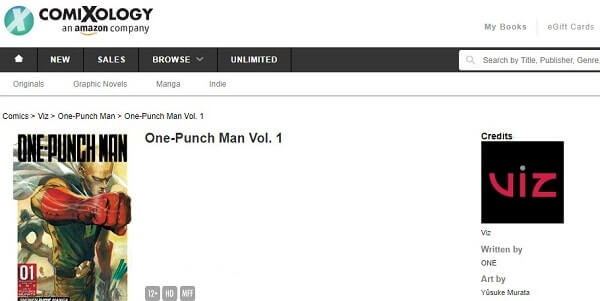 But, if you're looking for some free source only. Then, this site isn't for you. The site UI is pretty close to Amazon. And, you can log in using your Amazon account. Once you sign in through Amazon account, you can read comics on kindle. You can also subscribe to One Punch Man webcomic series. And, when new Comics volume gets released. ComiXology will automatically purchase it for you using your preferred payment method.
Get ComiXology App from Play Store.
Manga Panda. (Free.)
If you don't want to pay for this Manga, but, still want to read it. Then, you can visit the Mangapanda site. Though, I don't know this site has rights to provide these comics or not. But, One Punch Man Webcomic available on this site. Also, I was able to find out all the latest Manga on this site. So, I think, this site is the best source to read free Web Comics.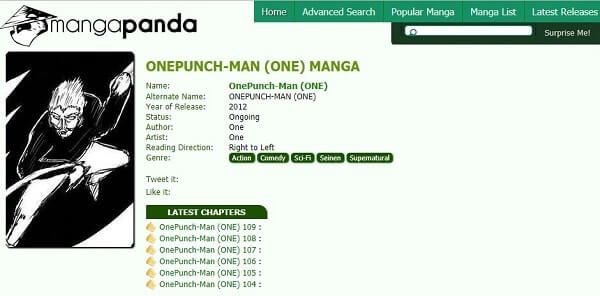 The site interface is quite good. Comics are categorized into multiple genres. Advanced search option also available. Which is helpful to find out manhwa and manga in RTL and LTR format. Be Careful – When I was opening this site in my chrome browser. I got a notification. The site is trying to load scripts from unauthorize source. So, I suggest you, don't open this site in your default browser.
Manga Fox. (Free.)
According to my research, this site is legal. Because users are uploading Manga on this site. And, the best part is "One Punch Man Webcomic" available on this site. Manga Fox allows to find out Manga using Manga List, Top Views and from categories. You can also search for Manga. But, before pressing the enter key. Please wait for the content list to load. There is 138 chapter of One-Punch Man available on this site. And, rest will be uploaded soon by users or admin.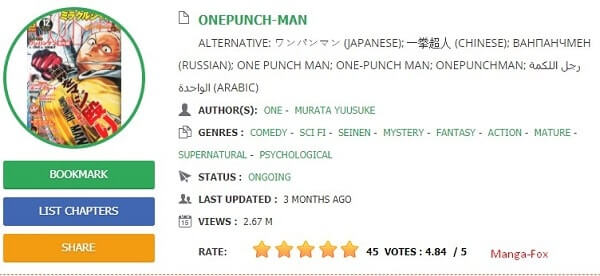 Manga Fox app also available, which you can download from Manga- Fox site. Not available on Play Store. Manga reader of this site is quite good. It loads the whole chapter once. Then, you just need to scroll to read. Also, you can select from multiple zoom options like Large, Medium, Small or Full Screen. And, if you don't like, Scroll and read format. Then, simply do enable "Load Roster" feature.
Manga Reader.
Manga Reader is the best alternative to Manga Panda. That allows to, read one punch man manga online free. Both sites have the same user interface. So, if Manga Panda doesn't work you can try this or vice versa. Manga reader Android App also available, not available on Play Store.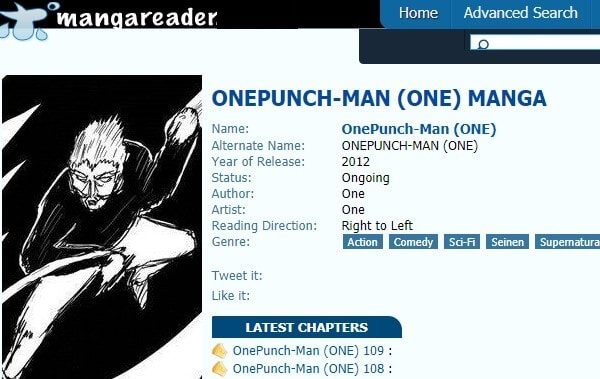 The inbuilt Manga Reader is quite good. If you're reading in Computer, you just need to use arrow keys. Apart from Manga, Manhwa also available on this site. Manhwa is a term used for Korean comics and cartoon.
Summing – Up. – Read One Punch Man WebComic.
So, these are the top 5 source to read One-Punch Man WebComic. If you can buy, then ComiXology is the best site. Because, in comparison to VIZ, this site offers at less price. And, if you want to read for free. Then, Manga Panda, Manga Fox, and Manga Reader are the best sites. Though, on these sites, some chapters are missing. And, you will not receive new comics volume immediately after release. So, I suggest buying from the official source.