Nowadays, there are so many storage devices available to store data. But, loss of digital information remains quite commonplace. Data loss can cause due to human errors, virus attack, and hardware failure. And, information saved on storage devices always recoverable. However, this doesn't apply when information has never written to your storage device. Means, if you have created a document, but not saved. And, due to power failure, you lost the document. Then you can't do anything about it.
But, if for some reasons you have deleted or lost a file. Then, you don't need to worry about it. Because with data recovery software you can recover data with maximum efficiency. There are many data recovery software available on the Internet. But, not all software able to recover deleted files. The only software that can recover files from any storage device, that is – EaseUS Data Recovery.
Best Data Recovery Software.
EaseUS Data Recovery is best freemium data recovery software. It is capable to recover deleted files, formatted, and lost data. To use this recovery software you don't need technical knowledge. Means, It's as easy like using a file explorer in Windows. The data recovery software is capable to recover data from a lost partition. And, from a damaged hard drive. That many software can't able to.
EaseUS provides downloadable WinPE bootable media. Which is, helpful to recover data when OS get crashed. If you're unable to access data because HDD partition becomes RAW. Then, EaseUS data recovery software really comes in handy. Best thing is it's available for both, Windows and Mac OS. (Mac Data Recovery.)
EaseUS data recovery features.
The software does support internal and external SSD and HDD. Also, all other removable storage devices including USB drive, SD card. Even software does support DSLR and camcorder.
It allows recovering 1000 types of file types. So, it doesn't matter, which file type you lost or deleted.
Software supports seven File System including NTFS/NTFS5, FAT, exFAT, ext2/3, HFS+, and ReFS.
Preview option also available. Means, you can preview media files before recovering.
You can recover up to 2 GB files for Free. Initially, you will only able to recover 500 MB. But, by clicking on share button you can unlock 2 GB.
NOTE– If you want to recover more than 2GB files. Then, you can purchase the pro version of this software. Which absolutely worth it. With the pro version, you can recover unlimited data lifetime.
There are two types of scan mode available in EaseUS data recovery software.
Quick Scan – uses the basic algorithm to search deleted files and folder. And, gives you the result very fast.
Deep Scan – takes time, but it's worthy. It scans the storage device sector by sector. Which is helpful to recover deleted files more efficiently.
Recover Deleted Files. (By using EaseUS Data Recovery.)
Software Installation. – There is not any special requirement to install the software. And, installation of this software is quite simple. You just need to download and run the setup wizard. And, just follow the instruction appears on the screen.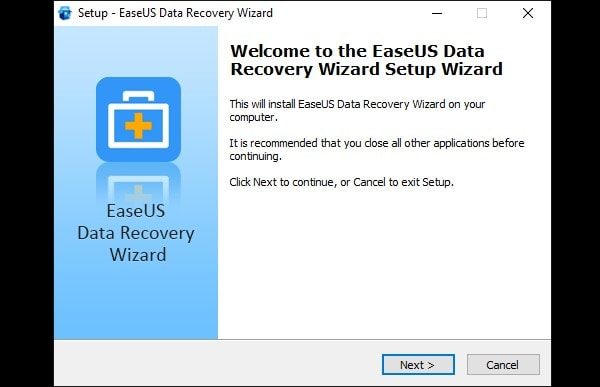 1. Select Drive – When you open the software. It will ask you to select the disk. Means, from which drive, you accidentally deleted files. So that, the software can run a scan on that drive. If it's an external hard drive or USB drive then connect it first.
After the drive selection, click on scan option.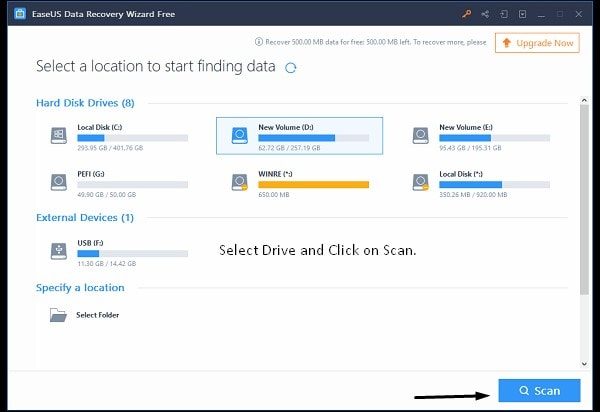 2. The scanning process will take time. And, it also depends on how many files you have deleted. Meanwhile, you can see the name of discovered deleted files by software.
If deleted files were not in the folder, then, it will appear in "Other lost file" folder.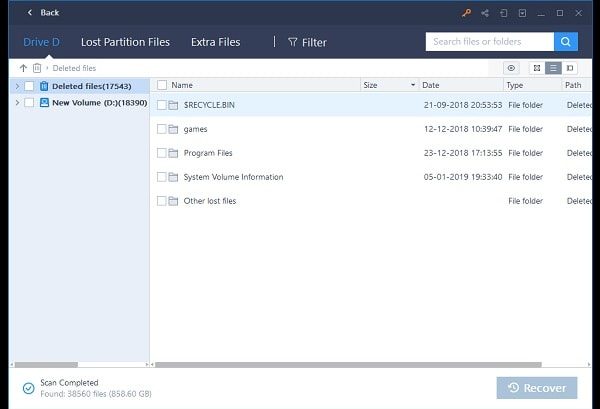 3. When the scanning process will get complete. You can easily recover deleted files, by right-click on it. Or, if you want to recover complete folder.
Then, first select the folder. And, then click on "Recover" option. The software will now ask you to select the drive to save recovered files.
After selecting the drive click on OK, and then click on Save. That's it. restore process will now get started.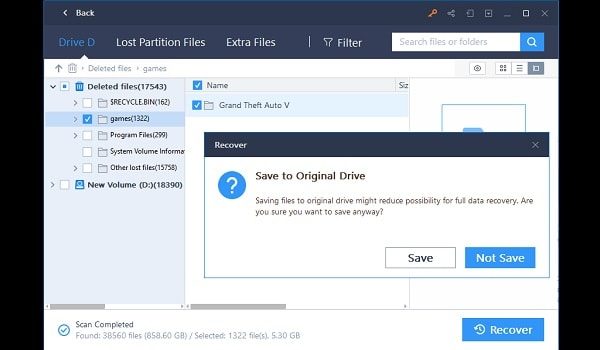 Use Filters Option – If you're unable to find out right deleted file from multiple files. Then, you can use the filter option. And, choose between audio, video, images and document.
Summing – up.
So, this was the easiest way to recover deleted files and folder. You just need to install EaseUS data recovery software on your PC. And, then connect storage device. After that, leave everything on the software. With a few clicks, you will able to get back your lost file. For the future, I suggest you use cloud services. To store important files on the internet. You can use Google Drive and Dropbox for free.