With the importance of company branding being a priority for competitive industries, graphic designers have become an in-demand necessity in every campaign. From designing content to brainstorming with marketing teams, graphic designers need to bring their A game in realizing their clients' vision. The continuous innovation of technology has given way to different ways of approaching data transfer, storage, and presentation. Here are must-have gadgets for every graphic designer's needs.
Tech Gadgets Useful for Graphic Design.
1. Flash Drive
Transferring and storing data are everyday activities that anyone does. More often than not, clients prefer to have a soft copy of design collaterals after agreeing on a final draft. But the internet isn't always the most reliable source for transferring substantial file sizes, especially when it comes to handling important files.
Flash drives back in 2000 had only 8 megabytes in storage, but now they reach up to 128 gigabytes, competing with several average-quality external drives. Multiple variations of flash-drive designs, storage capacities, and write speeds are readily available in the market. Flash drives with USB 3.0 write speeds are essential for transferring files at a fast rate.
2. Multiple Monitor Display
Multiple monitor displays are familiar with various professions, such as programmers, graphic designers, and even video-game streamers. Having separate desktops on screen at the same time is beneficial when using multiple applications at once.
Multiple monitor displays are easy to set up and install, whether they be through a desktop or a laptop. To save money, consider buying refurbished LCD monitors that offer the same high-end quality at lower prices. Tech product catalogs online make it easier for customers to browse through different brands and specs for their ideal setup.
3. Drawing Tablet
Being familiar with both traditional and digital illustration is a necessity in today's times. With the demand for digital illustrators for simplified iconography, graphic designers need a high-quality drawing tablet for creating quick sketches and editing final drafts.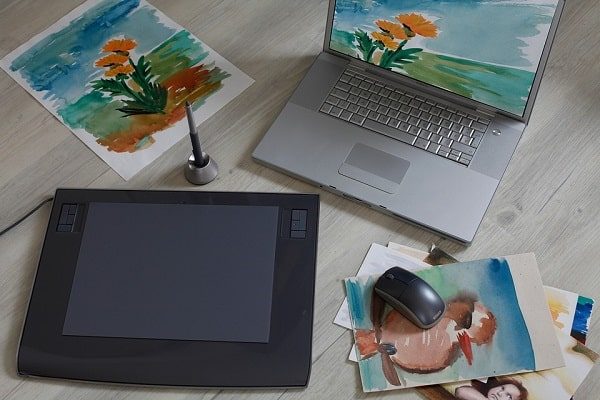 Drawing tablets vary in terms of functionality and compactness. Various creative and innovative builds of tablets have grown from the pen and surface standard to containing graphic screen displays and customizable key settings. Depending on the designer's preferences, there's a perfect tablet out there with the right specs and features.
4. Card Reader
Card readers are integral when it comes to collaborating with photographers and videographers. Desktops have never been famous for catering to card-reading needs, with docks and hubs supplementing this feature. Laptop designs are now losing weight by dropping CD-ROMs, Ethernet connections, and card-reading functionality for sleeker designs.
Photo manipulation is one of the critical skills that graphic designers need to practice. With the developments in card storage from the mini SD to the microSD, owning just one type of card reader may not be enough. Graphic designers need to own a versatile card reader that can read both modern and older formats.
5. 3-D Printer
Graphic designers don't just deal with publicity materials and online content. Depending on the type of job, they may also need to create builds and mock-ups of product samples.
The 3D printers are no longer beyond the reach of current technology. No longer products of early '90s sci-fi films, 3-D printing is now going beyond the screen to be an everyday reality. These products are now becoming more and more accessible, with various commercial brands available in the market.
6. Portable Projector
Back in the early 2000s, pitch meetings usually involved a medium-size conference room with a graphic designer bringing a bunch of printed drafts and samples. With the advancements of technology, portable projectors have made it easier to showcase pitch presentations without the use of bulky office equipment.
Instead of an expensive projector screen and a large office installation, a flat-surface wall is enough to present anytime and anywhere. The advantage of pocket projectors is the attachment of USB-C adaptors, which connect to smart devices such as phones and tablets.
7. Tablet Laptop
Pitching a project will sometimes require designers to create edits on the spot for easy visualization with clients. Since an entire office setup can't be mobile, tablet laptops became the solution to addressing the needs of designers on the go. Tablet laptops combine the best of both worlds in terms of the high processing power of a computer and the portability of a touch-screen tablet display.
With modern laptops built for higher processing power and even touch-screen functionality, taking a project on the go is becoming a reality and a lifestyle.