Since inception, cloud computing has left deep-rooted impacts in the business world and revolutionized how business access, store, and organize data. What initially started as an exploratory technology has quickly mutated to become a full-blown industry with offshoot products and services. After realizing how helpful cloud technology can be, businesses of all shapes and sizes have been flocking to hire Azure consultants to help migrate their data or infrastructure to the cloud.
As global tech giants and startups alike continue to find new ways to leverage on the benefits of cloud computing, it is expected that this technology will increasingly become an integral part of our personal and commercial lives.
So what is the future of cloud computing and how will it impact businesses? We can start throwing strange concepts like the hybrid cloud or serverless cloud, but it wouldn't make sense without handling the basics first.
The Future of Cloud Computing.
What is Cloud Computing?
Simply put, cloud computing is an on-demand service whereby businesses use remote servers that are hosted online to store, manage, and process data.  Being internet-based, cloud-computing also allows team members to seamlessly interact regardless of their location as well as make it easier to outsource computing power.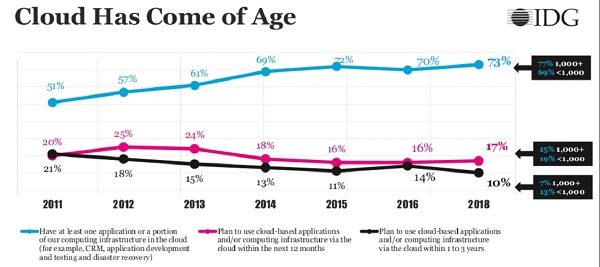 Source: IDG.com
According to a study conducted by the IDG, 73% of small businesses were found to be using some form of cloud solution. Although cloud computing continues to support businesses in their growth, its success is largely been driven by key among other things including improved efficiency, greater flexibility, and lower ownership cost. Cloud service providers have continued to leverage on cloud connectivity specialized connections and shared IT infrastructure to enhance data-processing chores and bring the costs down.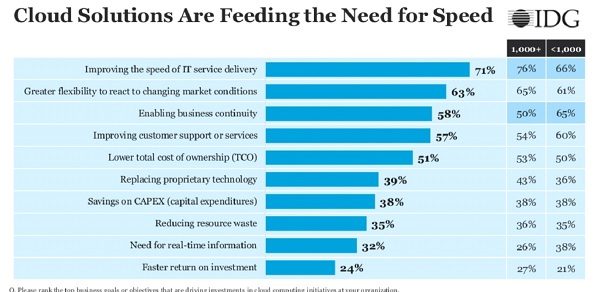 Source: IDG.com
Like other technologies, cloud computing has three major service models:
Software as a Service (SaaS) service: This type of service allows businesses to access applications stored on the cloud using various devices.
Platform as a Service (PaaS) model: This service model provides easy access to various tools, libraries, and programming languages by using the cloud as a platform.
Serverless Computing: This service overlaps with PaaS and mainly focuses on building an app's functionality without having to spend countless hours trying to manage the servers and supporting infrastructure.
Infrastructure as a Service (IaaS): This service allows businesses to access storage, networks, and any other computing infrastructures used in the deployment of software.
Cloud Computing Impact on Business
Along with the convenience and economics of cloud computing, there are multiple other benefits to businesses. They include;
Save On Costs
With employees connecting remotely using their personal devices, your company can greatly benefit from increased productivity and reduced maintenance cost. By working remotely, it simply means that you buy fewer office desks as well as prevent wear and tear of the building, which saves a lot in terms of maintenance.
In terms of infrastructure cost, computers and servers are spread across every team member and connected through a cloud service like Microsoft Azure. Better yet, cloud services often allow you to seamlessly integrate third-party software like CRM and accounting software, which eliminates incompatibility. And being a cloud-based solution, it means that no maintenance is required, which could potentially save in the amount of  Azure consultant salary you pay.
Instantly Scalable Resources
As a business, having an in-house data center requires you to purchase, install and configure expensive servers. Unfortunately, If you are looking to step up your capacity in the short term, you are left with two difficulties. Firstly, you buy a piece of technology that may operate redundantly for the majority of the time and, secondly, once you receive an unexpected demand, your server may not be able to cope with it.
With cloud computing, you don't have to worry as scalability comes built-in. For starters, you can instantly increase your computing capacity in case of an unexpected spike in website traffic as well as scale them down as the demand decreases. And, if you are on a pay as you go package, you only get to pay for the extra resources used and not the entire package.
Faster and Secure Collaboration
Any Microsoft Azure consultant will tell you that cloud computing deployment time is almost zero. This means that your critical applications are deployed almost instantly, giving you both a competitive and strategic advantage over your competitors who may have not yet adopted this technology. Additionally, the faster deployment time means that even smaller companies that would normally be disadvantaged get to play on a level playing field against larger companies, without having to heavily invest heavily in in-house data centers.
Allow Businesses To Innovate And Experiment
With few technical and economic barriers, cloud computing enables businesses to cost-effectively innovate by coming up with new prototypes and validate new approaches to streamline processes like marketing, customer service, sales, and other horizontal services.
Growth of Business-side IT Solutions
Cloud computing will spark a proliferation of SaaS cloud solutions, which require less and less involvement of IT professionals. As a result, businesses will be required to tap into the "Long Tail of IT" to create self-service cloud computing solutions.
Effective Customer Support
Cloud computing not only allows your company to bring multiple CRM apps on board but also facilitates better customer support. Gone are the days of reps sitting in an office manning the phone from nine to five. Today, customers are looking for instant answers and the freedom to purchase products no matter the time of the day. Cloud services have made this possible as they give employees a unified view and access to customer data, which allows for 24/7 customer support.
Moreover, the cloud also gives you a flexible system to connect with your customers and employees using their mobile devices, laptop, and desktop computer. And if you are looking to share or host useful information, cloud's high-quality, high-bandwidth gives you sufficient bandwidth.
Environmental Friendly
Migrate your system to the cloud also contributes towards cleaning the environment. For instance, it eliminating an in-house data center helps save the power that could have otherwise been used to power the servers and keep them cool. As a result, your company's carbon footprint is significantly reduced.
Along with that, offloading your carbon footprint to the cloud services provider also brings more environmental benefits. Since most providers use economies of scale to operate, it means that they have heavily invested in energy-efficient technologies and that the energy they need to run your systems is significantly less compared to what it would be on-site. As a result, large-scale cloud-computing can contribute to the bottom line of improving the environment.
The Take Home
While it can be difficult to predict the future, it's clear that the future of cloud computing is bright. Businesses cutting across multiple sectors and industries are beginning to see the deep-rooted impacts left by. It shouldn't come as a surprise that  58% of businesses have shown interest in using Azure development services to increase their top-line revenue growth. As this indispensable technology continues to grow, technology-experts and cloud computing professionals will be looking for indispensable ways to enhance the current crop of cloud-based solutions and services to improve efficiency. Businesses, on the other hand, will stand to gain a lot in terms of improved system security and performance, better customer care, and even expanded storage capacities.