What can you do in 3 seconds?
Well, your mobile-friendly website must fully load and catch users' attention in order to keep their interest!
But it's not just about page speed and a user-friendly interface. It's also about using a responsive template that's SEO-friendly and visually appealing. In addition, a successful website in 2020 must have a strong social media presence and a powerful network of supporters.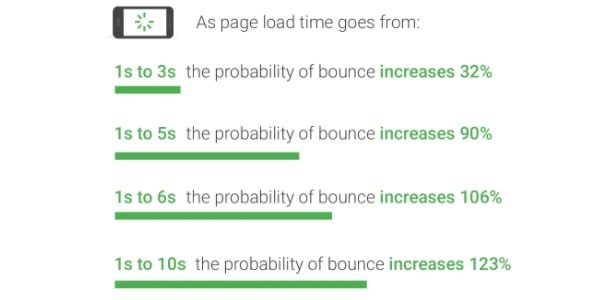 Templates vs. Built from Scratch
It is a truth universally acknowledged that, if you want customers to find your business, you must be online. So, whether they wanted it or not, all business owners had to find resources for a website or even a presentation page.
This created a need for cheap website design offers, which were answered through ready-to-use website frameworks (or templates) or DIY platforms (such as Wix or ). The idea behind these is quite nice as anyone can whip up a website, but it also showed why, in most cases, we shouldn't replace professional web designers.
In today's dynamic online environment, web design & SEO go hand-in-hand. Furthermore, a professional can help improve page speed and will know how to create smooth navigation patterns that help the conversion process.
So, even though there are thousands of free WordPress templates one can use, it's best to hire a specialist. In addition, many professional web designers are happy to accommodate any kind of budget.
Mobile-Friendly is Mandatory
Having a mobile-friendly website is no longer a matter of "if" but rather a "must".
The internet is a world on its own, with over 4.57 billion people logging in every day. But what's most important for businesses, is that around 91% of these users log in using their mobile devices!
If we want to take it one step further, there is an emerging trend of people using the voice command option on their mobile devices. This shows that people are prepared for voice search, which is a feature that may change the way we browse online.
Social Media Presence
Nowadays, every website has those iconic social media buttons and blogs placed visibly in the header or footer (in most cases). But they carry a lot of weight and can be quite helpful when treated with the attention they deserve.
Let's start with the blog section. In terms of design, it should be consistent with the general theme (same colors and graphic elements) but it can be more relaxed. Also, it helps to use various types of content like text, videos, images, infographics, and more. When we're are talking about design, don't negate Favicons. Because Favicon influences the website's SEO. The purpose of a blog is to support the website and create value that can be shared between users.
When it comes to social media platforms, it's important to first identify the channels most visited by people who would be interested in your product. Next, make sure to create pages and profiles that create consistency with your website design. This way, the transition from the platform to your site will be smooth for viewers and possible customers.
Wrap Up
Page speed, good design flow & navigation, and SEO-friendly interface, and design consistency across all online channels are some of the basic elements that will help boost conversions. But you can't be successful if you don't use the most important element of them all: flexibility!
The current online environment is highly dynamic, which means your website needs to be easy to change and adapt. Successful online businesses work hard to stay relevant for both their audience and search engines, so there isn't one fixed formula for everyone.
It takes hard work, dedication, and a lot of imagination to create a unique and appealing design. Still, the results are definitely worth it!