Android is by far the most prolific mobile operating system in the world with more than 85% market share. As of the first quarter of 2018 Android held an eye-popping 85.9% of the world's smartphone OS market.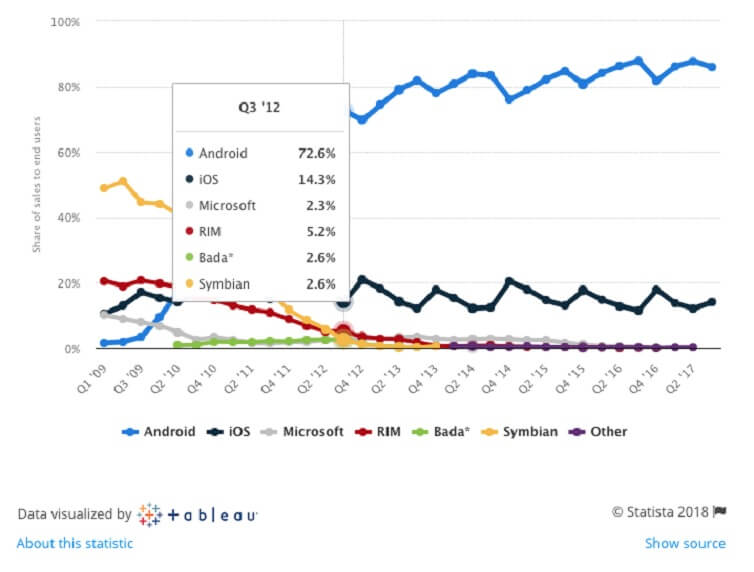 Source: Statista
The application (app) landscape for Android is equally impressive. With a choice of over 3.8 million mobile apps, Android apps are nearly double that of iOS, which only number about 2 million. In addition, there are several thousand desktop apps that are exclusively created for Android devices. Their purposes are many, but their focus is Android. These applications can help you manage your data, transfer information, backup your files and much more. In this article, we outline the Top 5 applications (mobile and desktop) created expressly for Android smartphones and tablets.
1: Pocket
This is the perfect 'save now and read later' app for people who love to browse through articles on the Internet. If you don't have the time to read an article now, just put it into Pocket and read it at leisure.
This is essentially a browser extension that you can use on any device. On Android phones, use the Share button to add a web page to Pocket. You can then download the Pocket app to the phone and access these pages whenever you want to.
The best part is that you can save the pages offline so you can read them later even without an Internet connection. Ideal for that on-the-go commute time when data is expensive and time is free!
2: Waze
A great alternative to Google Maps, Waze is perfect for navigating through crowded metros. The active Waze community gives you live input on traffic jams, road closures and so on, so you'll never be late because of small nuisances.
Of course, when Google sees something this impressive, it simply buys the company, which it did to Waze for $966 million in 2013. But Google has kept it independent of Google Maps, and the community of Waze users is very strong. As of 2016 there were roughly 65 million monthly active users.
If you love road trips or just want a hassle-free route to work, then Waze is the Android app for you.
3: Mint
Budgeting. A word that not many people like but are forced to deal with on a daily basis. Keeping track of your expenses is the best way to save money. If you don't know how much you spend, then how will you know how much you can save?
That's why Mint was created – to help people track their expenses so they don't go overboard and have nothing left at the end of the month.
To use the app, simply download it on your Android phone or tablet, and then connect your credit cards, bank accounts, investments and so on. Once you've set it up, it will help you monitor your income and outgo. Easy to use, and a ton of work has gone into the backend to make the app intuitive and user-friendly.
4: DoubleTwist Sync
Known as the iTunes for Android, DoubleTwist sync can bring together all of your media just like iTunes. The best part is that it works seamlessly with iTunes so all of your iOS media can be synced with your Android content.
Simply download DoubleTwist Sync for macOS X, connect your Android device to your Mac and sync all your media in a flash.
Very few desktop applications can sync data like this one can, so it's going to be a valuable addition to your collection of Android and Android-supporting applications list.
5. Noom App. 
If you're interested in losing weight and live a healthier life. Then, this app is a must for you. The Noom app does provide a personalized plan. That uses psychology and small goals to lose weight.
The App already featured in the New York Times, Forbes, ABC and more. The main goal of this App is to overcome any barrier that comes between your healthy life. If you want to know more about this App, then this page will give you much information.
6: TunesBro Android Recovery
Created by TunesBro, DiskLab for Android is the definitive software for all your Android data recovery needs. And it's part of an entire Android toolkit that you can download to your PC or Mac.
Apart from the recovery option to get back all your data in the event of your phone being lost, stolen or damaged in any way, there are a ton of other tools. For example, you have Switch, which is a data transfer tool to move all your stuff from one phone to another. There's also Erase, which helps you wipe your phone and remove your data before you sell it. Similarly, you have Root to get dev-level permissions, Backup & Restore to preserve and protect your data, and many others.
Here's how to use the "Recover" option in case you've lost your data for some reason:
Once you download the dr. fone toolkit for Android, launch the app on your desktop and select the "Recover" option.
Note: Don't worry about how you lost the data because the software can recover all of it under any circumstance. Whether you lost it during an OS update, a factory restores, a bricked device, after rooting or flashing a ROM… the utility can recover your data for you.
Once you've selected "Recover", plug in your device and enable USB Debugging. After your device is detected automatically, you will see the window shown below.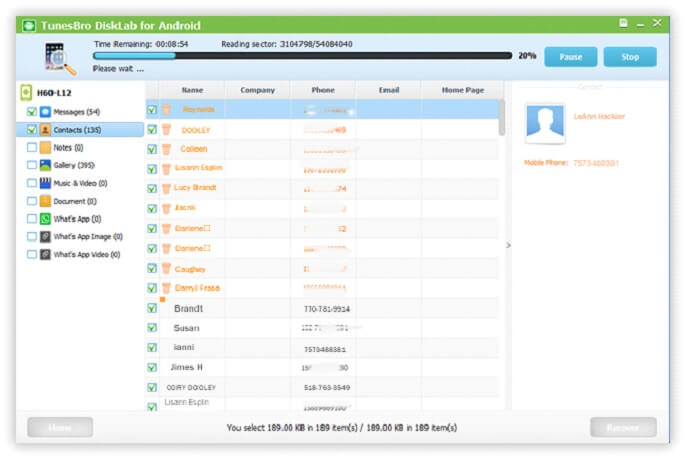 By default, all data types will be selected. You can leave it as it is or uncheck the boxes against the data types you don't want to recover. Then click on "Next", which will initiate the scan process.
Once the scan is over, you'll see another window with all your deleted or lost data displayed. Simply click on "Recover" to get everything back to the way it was.
All of these apps and utilities will increase your productivity like nothing else. Why let iOS users have all the fun when Android has equally robust applications to support its users? Review each of these apps and suggest a few more if you think it will help Android users. Any input is welcome.