View Instagram DMs on PC – Instagram doesn't need any introduction. As you know, It is a video and photo-sharing social networking service, owned by Facebook. Like every other social networking service, Instagram also does allow sending messages. In Instagram's Android and iOS App, by tapping on the paper airplane icon on the main home feed. You can access Instagram DMs. But, if you're using the web version of Instagram, then, there isn't such option available.
On the Web version, you can even check a friend's Instagram stories. Can search and follow a hashtag. And, can like and comment on someone's Instagram post. But, you can't answer DMs on Instagram on Desktop. If you do spend most of the time working on the PC. And, if you're a fond Instagrammer like me, then it can be disappointing to you.
Though, no need to worry, because there are some ways to view Instagram DMs on PC. And, after knowing these methods, you will no need to open the Instagram App on your smartphone anymore. Let's explore these methods to send direct messages on Instagram from PC.
View Instagram DMs on PC
Method 1: View Instagram DMs on Chrome.
No doubt in that, almost every Windows user prefer Chrome browser. So, if you're also using Google Chrome, then it is much easier to view Instagram Direct Messages. A simple chrome extension can solve your problem. And, you don't have to install any third-party software for Instagram DMs.
Like Android and iOS Play/App Store, Chrome also has its own web store. And, in that, you can find many extensions to enable Instagram DM feature. Basically, these extensions act as emulators. So that you will get the same experience as your smartphone but on a large screen.
Downloader for Instagram™ + Direct Message.
This is the chrome extension, which I found most useful for Instagrammers. If you're using the Instagram web version for a while. Then, now you might know, that, you can't upload post and stories from your Computer.
But, with "Downloader for Instagram™ + Direct Message" Chrome extensions, you can do that also. Mainly, this extension is designed to download Instagram Photos, Video and Stories. Apart from that, this extension also allows viewing Instagram DMs on Computer. As I already mentioned, this extension will imitate the look and feel of Instagram App.
How to open Instagram Direct on the Chrome Browser.
1. Open above link of Chrome extension. And, just click on "Add to Chrome" > "Add Extension". The extension will automatically get added in your Chrome Browser.

2. The extension doesn't need any separate login. So, simply open the web version of Instagram. Or, if it's already open then refresh the web-page.
3. Now, you will able to see a "smartphone" icon near your profile icon. Click on it and a new tab will now get open.
Now, you will find out the same interface as your smartphone's Instagram App. That's it. Just click on "Paper Plane" icon. And, you will able to access Instagram DMs on your PC.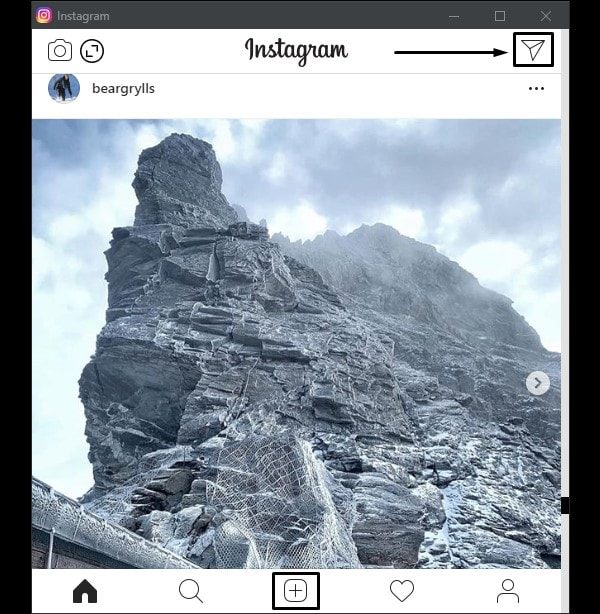 Even, now you can add Instagram stories, and upload pictures.
Method 2: Use the Official Windows 10 Instagram App.
If you're using Windows PC with the latest version of Windows 10. Then, you don't need any third-party App or extensions. Many people don't know that, on the Microsoft store, an Official Instagram App available. And, this App does support direct messaging.
1. Click on the search icon and type "Microsoft Store". Microsoft Store App will appear in search results, click on "Open".
2. In the Store App, search for "Instagram". Click on the first App in the list and then click on "Get". The Instagram app will now start downloading.
Once, download and installation process gets completed. Click on Launch icon to open App.
3. I am assuming you already have an Instagram account. So, click on the "Sign in". (Check the bottom of the App Screen.)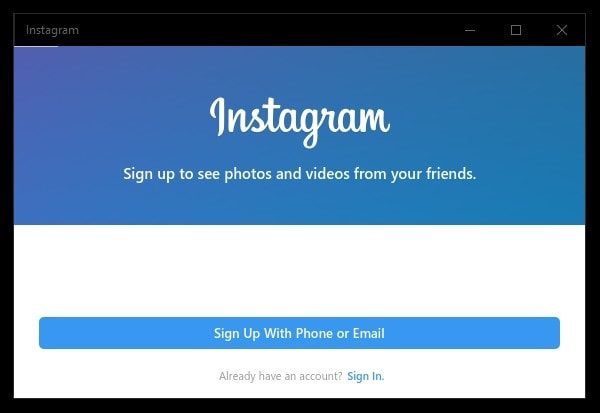 Enter your Instagram account details, and click on Login. You can also log in with Facebook.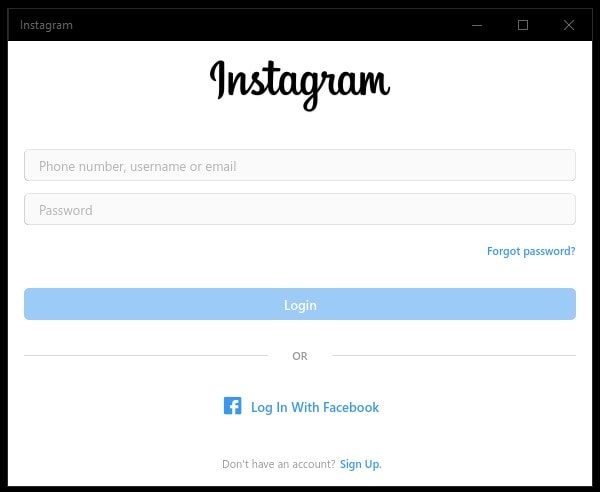 4. After successful login, Home Page of the Instagram news feed will get open. Click on the Instagram Direct icon from the top-right corner.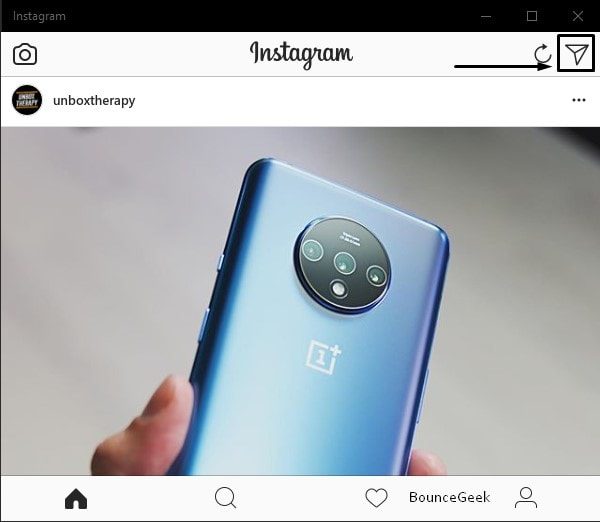 And, it will bring up all your existing Instagram DMs. You can use the "+" icon to compose new DM or can use the search bar to browse them. So, this is the method to view Instagram DMs on Windows 10.
Method: 3 IG: dm – Instagram Desktop Messenger.
If you only want to use Instagram Direct on PC. Then, you can try IG: dm software. It is available for Windows, macOS, and Linux. It is an open-source project. So, anyone can use it for free. There is a pro version also available for business purpose. In which you can log in multiple accounts. And, it cost €10.00 EUR.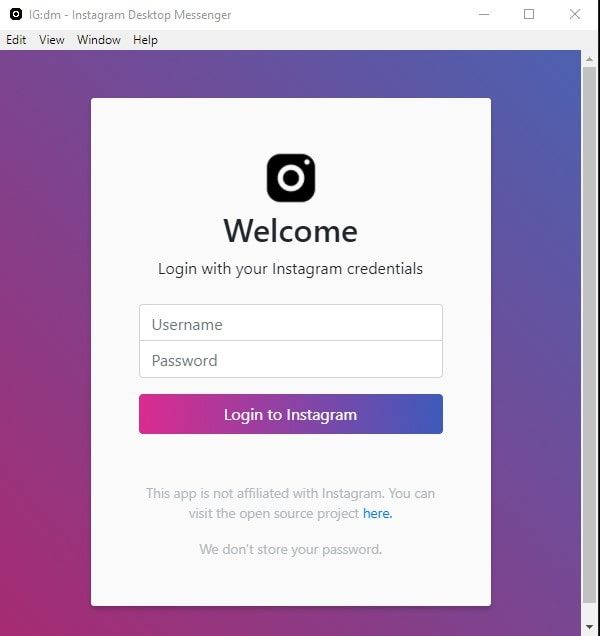 The one thing, I didn't like about it is, you can't log in through Facebook. Else, this is the good software to view Instagram DMs on PC. In IG: dm left pane allows seeing your 20 most recent conversation. And, from the top bar, you can search for users. You can also customize notification. And, can see the user who hasn't followed you back. Overall, good software for Instagrammers.
Method 4: Use Android Emulator.
Even, Windows 10 Instagram App doesn't come with few features. You can upload stories using the App. But, you can't post on Instagram. Because the "+" icon is missing. So, if you want full-fledged experiences like Instagram Android and iOS App in PC. Then, using the Instagram App in Android Emulator is a wise choice. Though, if you have a faster computer, then only this method is worthy for you. Else, the first method will do the job for you.
Small Introduction about Android Emulator. – Android Emulator is kinda software, that enables the Windows OS to behave like an Android OS. So that you can run Apps in Windows, that is designed for the Android OS.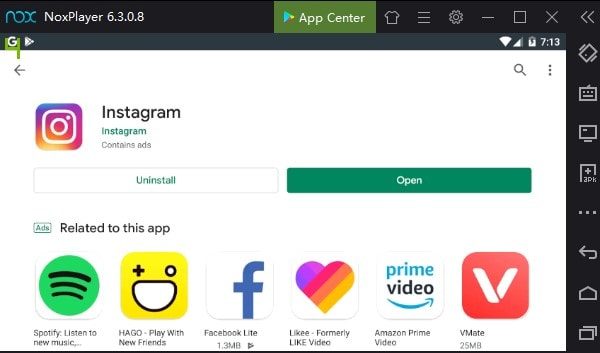 There are many Android Emulators available for Windows. You can try any Emulator and install the Instagram app on it. Personally, I have used Nox Player. And, Instagram App was working fine in it. Nox Player does come with Play Store support. So, you don't need to import APK file in it.
Summing-up. / Conclusion. – View Instagram DMs on Computer.
So, these are the methods, which you can use for Instagram Direct. Personally, Installing a chrome extension is the best method among all. Or, if you don't like it, then just install the Instagram App from Windows 10 App Store. And, if you just want to use the Instagram Android App on PC. Then, Nox Player can help you in that. There is some screen mirroring methods also available. In which you can mirror your Android Screen to PC. And, can control, using a keyboard and mouse. That's it if you know any other method, feel free to comment.