By default, Windows sync Microsoft OneDrive and let access the One Drive files from the File Explorer. Similarly, Adobe Creative Cloud also syncs with the file explorer after installing Adobe Creative Cloud apps. But what about Google Drive?. Which is, the most widely used file storage and synchronization service. With Google Drive, you can edit the document online, and store data on the cloud, to access it from anywhere easily. But, for that, we need to open it on our web browser. Wouldn't it be great, if we can add Google drive to file explorer?
Adding Google Drive to File explorer will give you many advantages. Like, you can continuously sync all your computer data into drive. And, it will let you access Google Drive files offline. To access Google Drive from Windows Explorer, you have to download Backup and Sync.
What is "Backup and Sync"?.
Like Microsoft OneDrive, "Backup and Sync" is an App by Google for Google Drive. It creates a Google Drive folder inside File explorer. In that folder, you can transfer files to backup. Or, can delete files. And, changes will take effect instantaneously in your Google Drive.
After installation of the "backup and sync" folder appears in the quick access area. To permanently add Google Drive folder in the File Explorer navigation menu. You need to follow some steps in your Windows 10 PC. So, Let's get started.
Add Google Drive to File Explorer.
Download Google Drive Backup and Sync App.
If you already have downloaded Google Drive App. And, just looking for a way, to add it in the File Explorer navigation menu. Then, you can skip this step.
Go to the "Download Google Drive" webpage. You can see two options on that page. Well, for business purposes, G Suite is required. We just want Google Drive in Windows 10 File explorer menu. So, Click on Download > Agree and download.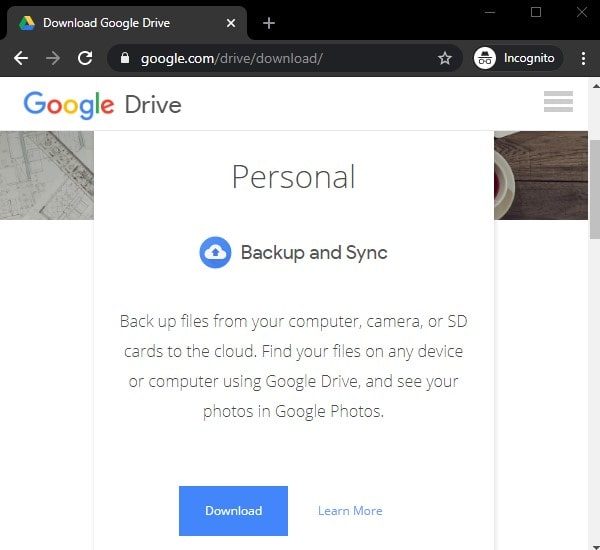 "InstallBackupAndSync.exe" file will get downloaded. Run that executable file as an administrator. Setup will download some files and perform the installation.
Sign-in into your Google Account.
Well, To add and use Google Drive from Windows Explorer, you have to sign in with your Google Account.
So, After completion of the installation, the Welcome screen of the "Backup and Sync" App will appear. Click on "Get Started".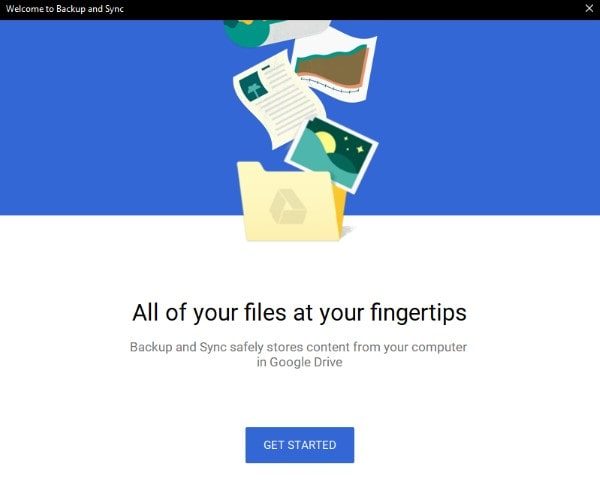 Enter your Google account login details and complete the login process.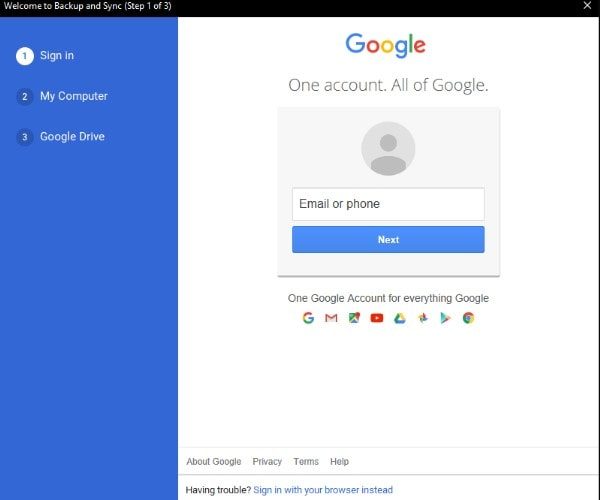 Choose Folder to backup on Google Drive.
Now, the application will ask you to choose folders. Which you want to back up on Google Drive. By default, it will show you Desktop, Documents, and Pictures Folder.
Backup a specific folder -If you want to backup any other folder than that. Then, Click on "Choose Folder" and select the folder.
Select Upload Quality – You can select photo quality according to your Google Drive remaining storage. If high-quality options are selected, then photos will get compressed but will look visually good. And, if you select original quality then, the actual image will get uploaded to Google Drive.
Backup to Google Photos – By default, Photos will move into Google Drive. If you want all the photos and videos to appear in Google Photos. Then mark "Upload photos and videos to Google Photos".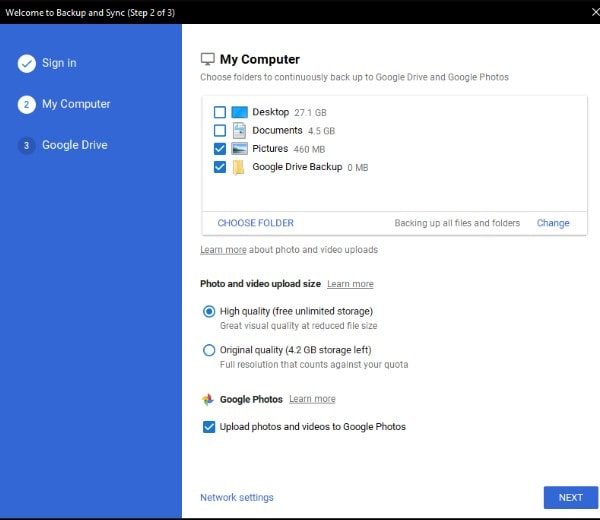 After making the required changes, click on Next.
Sync My Drive to a Windows Folder.
Basically, this window will help you to sync all your Google Drive data into a Windows folder. By default, the folder will be created in C:\Users\PC-Name\Google Drive.
Select any other folder location, by clicking on the "Change" option. Also, make sure "Sync My Drive to this computer" option is enabled.
You can also choose specific Google Drive folders to sync. Or, can sync complete drive by selecting "Sync everything in My Drive".
Choose all the appropriate options and click on "Start".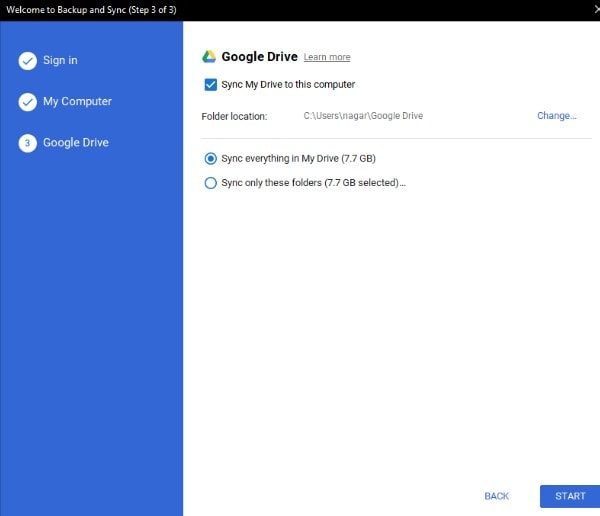 Once, you click on the "start", the synchronization process will get started. And, the folder will appear in the Quick access area. Now, data handling will be quite easy for you.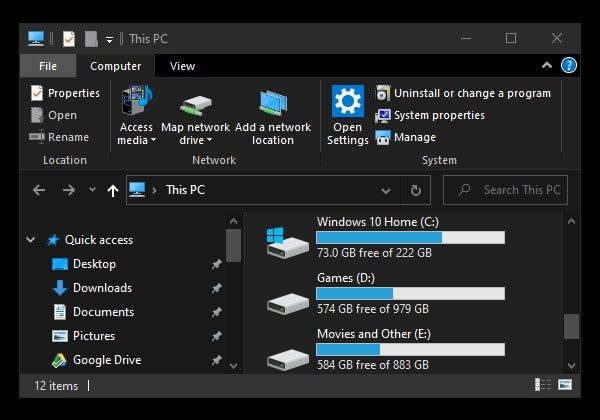 You can add files and folders that you want to upload in GD. And, can access drive files form this folder, once the synchronization process gets done. Some shortcuts will also be created on the desktop for Google Apps. Like, Google Docs, Sheets and Slides.
By default, the folder will get pinned into Quick access. To make it appear separately in the File Explorer navigation menu. You have to run a registry file.
Note: But, before you run that *.reg file, do take a backup of the registry. It is necessary, because, the registry is an essential part of Windows. And, unwanted changes may affect Windows System. Though, the registry file to add drive to windows explorer is not harmful. Files are personally tested by me. But, if you're not sure, then refrain from downloading.
1. Check the comment section for the files download link. You might see three registry files in it. If you're using the 64-bit system then, download "Gdrive 64-bit". And, "Gdrive 32-bit" for 32-bit OS. (Check system type from my computer(my pc) properties.)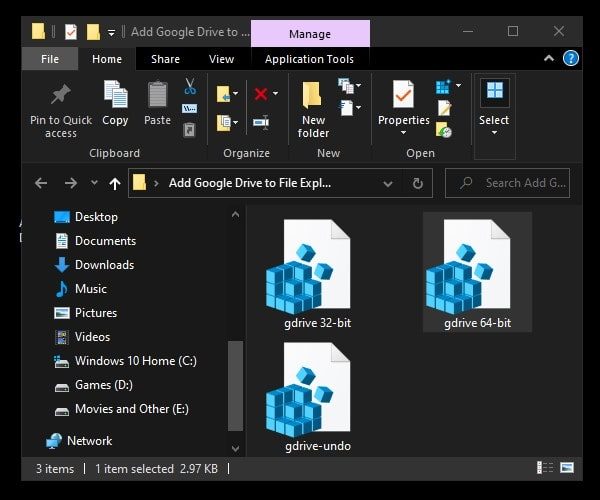 2. Double-Click on the registry file to run. A security warning might appear, click on Run.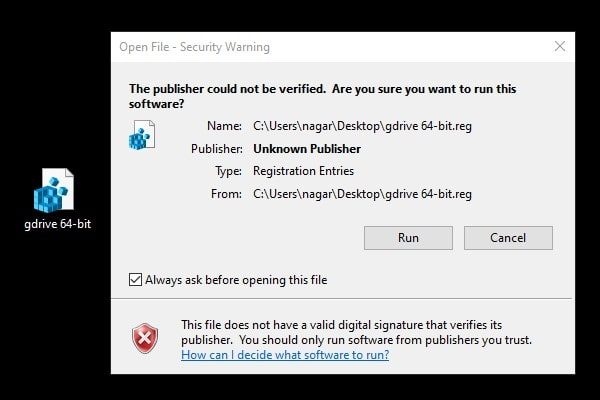 3. A confirmation window will also appear, click on Yes. And, then, click on OK.
That's it, now check file explorer. Google Drive now appears in the File Explorer navigation bar separately. And, if you want to remove it, then download "g-drive-undo" file and run it.
Pause/Resume Sync.
To do that, Right-Click on the Cloud icon in the system tray. Click on the "three-dot vertical" icon. And, then click on pause. Synchronization will get paused until you resume it from the same menu.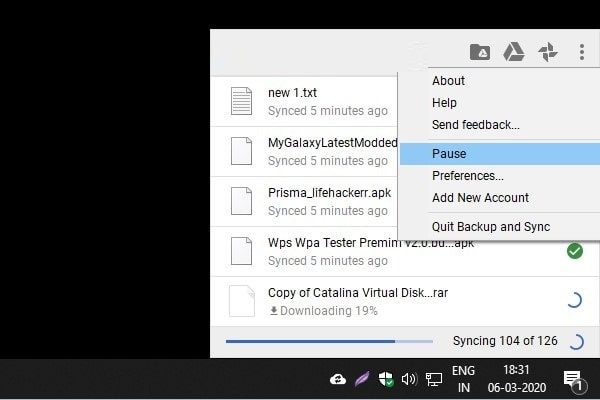 So, this is the method to integrate Google Drive into the Windows Explorer. If you're facing any issue, feel free to comment.