Android devices are popular for customization, we can customize each and everything. Apart from Android themes and user interface, we can customize fingerprint gestures and notification light. Every new smartphone now comes with a fingerprint sensor, because it is the best way to protect the smartphone from unauthorized access. But there is lot more thing that you can do with your smartphones fingerprint sensor.
What is fingerprint gestures?.
Fingerprint gestures turn your Fingerprint sensor into powerful Touch pad and allow to control almost everything in the smartphone. Most of the devices, like Google's pixel, comes with a single swipe down gesture. By swiping on the sensor you can reveal the notification shade. Google is trying to get all fingerprint gestures in their pixel and Nexus devices.
Also, Motorola is trying their best to get all gestures, In Moto G5 they added navigation gestures. Without using your navigation bar you can navigate mobile by swiping left to go back, right for recent apps and tap for home.
Recently Google's Android Oreo comes with plenty of features but fingerprint gestures weren't one of them. But if you have an Android Oreo device or any other then you can get customize fingerprint gesture features in your Android device.
Best Apps to Customize Fingerprint Gestures.
There are dozens of Android Apps available that provide the ability to customize fingerprint sensor. Some apps are specifically for Android Oreo, But this article is about all Android device that has a fingerprint sensor.
Fingerprint Gestures. (By Super Thomas Lab)
This app allows getting all Google Pixel fingerprint gestures features on your smartphone. App also comes with some advanced feature which strictly required root access. If your smartphone isn't rooted still you can use this app to try out other gestures. If you're using Android Nougat and higher version of android then you can enable fingerprint gesture for split screen and switch to the last app.
Download App & Customize Gestures.
Step: 1 After downloading the app from Google Play Store, First thing you need to do is allow accessibility service. Go to your smartphone settings> Accessibility (If the option isn't there search for it), tap on Fingerprint Gestures and then enable it.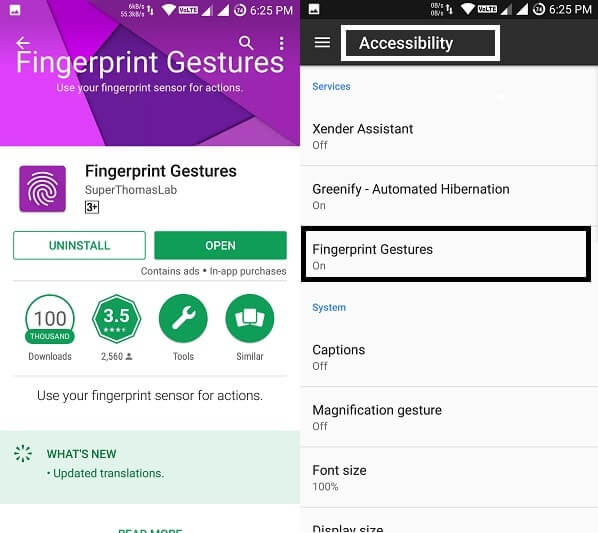 Step: 2 Open Gestures app and to make app active enable Fingerprint Gestures option under General section. Now under gestures section, you"ll able to see three option Single tap, Double tap, and fast tap.
You can set one action on each option, to set just tap on any option then select gestures and press back button.
For Example: If you want to set split – screen on single tap on the Fingerprint sensor. Then in app tap on Single tap and then choose Toggle split screen.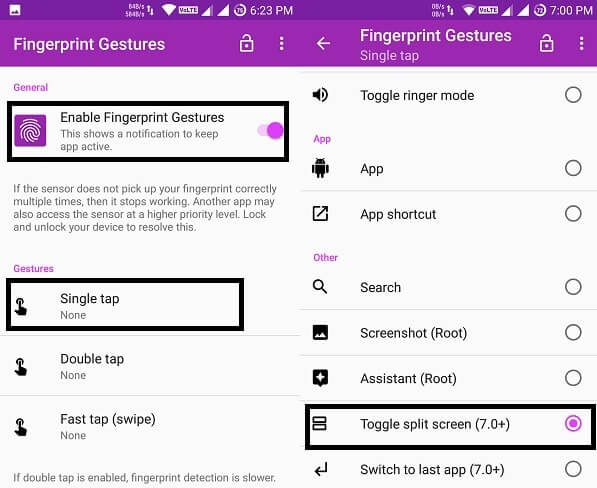 Some gestures required root access, So when you select them app might ask you to grant root access. To deactivate all gestures at once you can disable that fingerprint gestures button that you enabled before.
What is Icon touch panel Gesture in App: This gesture allows you to set multiple gestures, It gives you nine swipe option. You can set any other gesture on specific swipe direction, which is useful to customize fingerprint gestures.
Other Fingerprint Gestures available in the App: Navigation, power, scrolling, notifications, play media, Settings (torch, auto rotate, ringer mode), screenshot, open the specific app and some other option like Google Assistant, Split screen and switch to the last app.
Fingerprint Gestures – Selfie & Secret Apps.
If you're searching for a way to enable Fingerprint to take Selfie then this app comes in handy. This app only works with Android Oreo devices, If you're not using Android Oreo then you can Install Android Oreo. App offers quite same Fingerprint gestures customization option like navigation, notification panel, and split screen. But the only reason to add this app in this article is that It provides the gesture to take pictures in any camera app.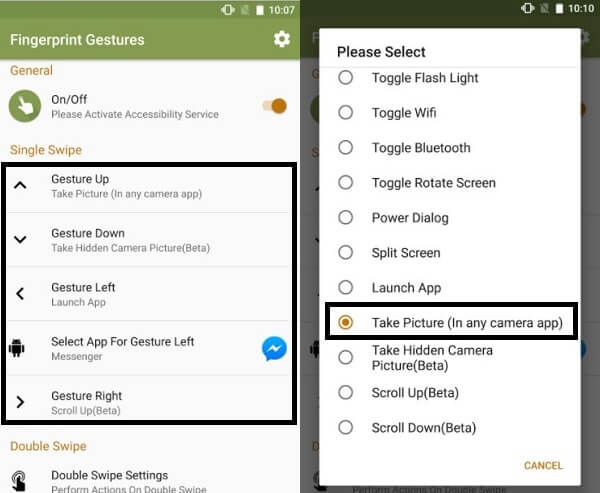 Enable Fingerprint Gesture Selfie.
The user interface of this app is similar to Fingerprint Gestures App, first enable accessibility by going into Settings > Accessibility.
After that open app and then enable on/off button to active this app. Now you can see four gesture option up, down, left, right. You can choose any swipe option just tap on it and list of all available gestures will open.
From the list of gestures choose Take Pictures (In Any camera App) gesture and then press the back button to activate it. Done by using the same way you can set any gesture for specific fingerprint action.
Download Fingerprint Gestures – Selfie and Secret Pics.
Conclusion.
Still, there are dozens of apps available on Google Play that offers to customize fingerprint gestures. But offers same fingerprint gestures control, and some apps are the copy of these two apps. Many devices come with inbuilt fingerprint selfie gesture feature. So first check using your stock camera app, then download if it does not work. That's all folks If you know any other better app with any other gestures option feel free to comment.
Read Also: Install Substratum Theme Engine and Apply Themes.