Have you heard CS-GO, Fortnite, and PUBG players speaking in multiple funny voices? And, Do you also want to sound like a robot, kid, Mutation, male, female or alien when playing multiplayer online games?. Then, this article is for you. Actually, it is possible because of some voice modifier for Discord. Though, there are not any specific "Discord Voice Changer" bots or mod available for Windows. But, there is some best voice-changing software available. That will help you to change your voice on Discord.
Best Real-Time Discord Voice Changer Apps.
Clownfish Voice Changer for Discord.
It is a small Windows Application to change voice on the system level. If you install this Software in your Computer. Then, every App that uses the microphone will get affected by its settings. This Software isn't designed specifically for Discord. As I mentioned, it gets installed on the system level of the Microphone. So, this App is capable to change voice in Discord, Skype, Steam, ooVoo, Viber, and others Application.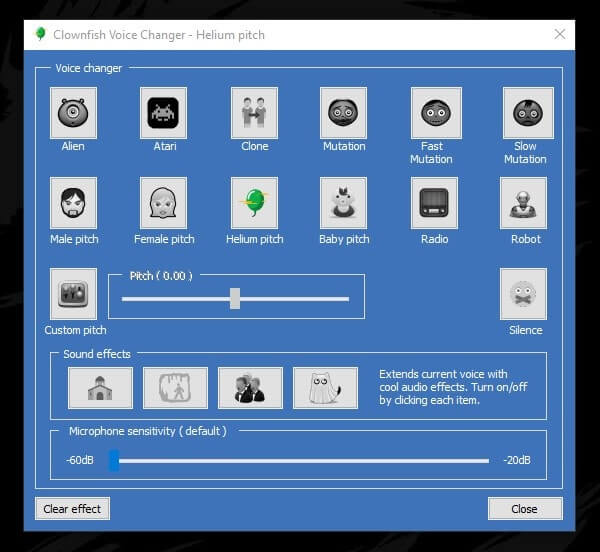 It comes with built-in sound management. And does support the Virtual Studio technology plugin. So that you can use VST Effect. Currently its available for all Windows version. (64bit and 32 bit) It comes with thirteen voice changers, including a custom pitch. With ClownFish, you can change voice into Alien, Atari, Clone, Mutation (fast and slow), Male, Female, Helium, baby radio, and robot. Also, you can set the microphone sensitivity between -60db to -20db.
How to Change your Voice on Discord using ClownFish.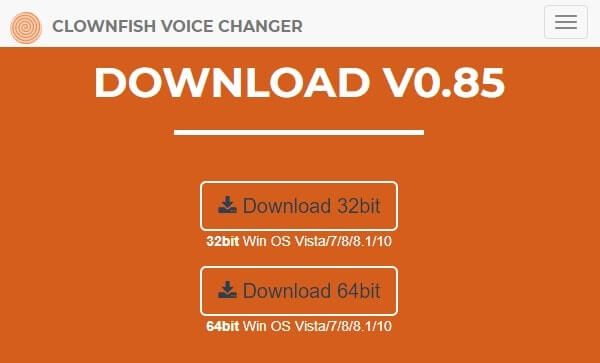 1. First, visit the Clownfish official site. And, download Clownfish installed according to your System type. (For checking the system type, Right Click on My Computer then click on Properties.)
2. Install it on your computer. (While installation, the software will disable your Computer Audio Driver for a few seconds.)
3. When installation gets Complete open Clownfish. (Clownfish Window will not get appear. you will able to see it's the icon in the taskbar.)
4. Right Click on the Clownfish icon and then click on the "Set Voice Changer" option.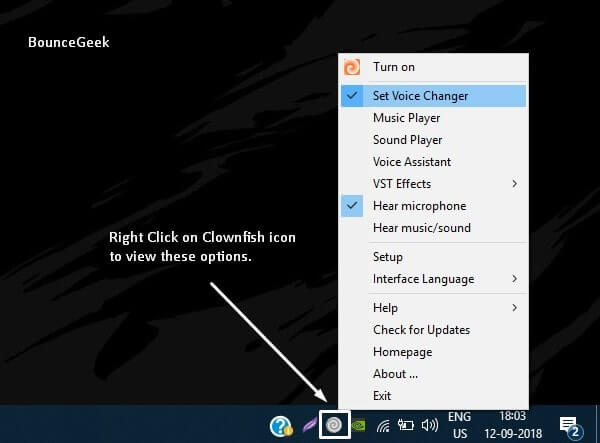 5. That's it. Now you can select any voice module. And, also can listen to your own voice by enabling the "hear microphone" option.
You can now turn on and off Clownfish from the same menu. Which you have used to launch Discord Voice Changer.
VoiceMod.
Before you download VoiceMod, you need to know. This Software is not completely free. Some voice modules are locked in the free version. But still, six-voice modules are completely free. (Baby, Cave, Deep, Magic Chords, Man to Woman, and robot.) VoiceMode Discord Voice Changer doesn't modify voice on the system level. You need to select Voicemod mic as your input device in Discord.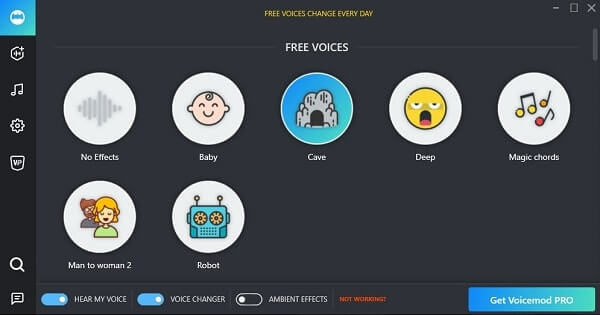 When you install software, it does install some additional files like Microsft Visual C++. You can also hear your own voice to test sound. Also, you can start and stop the voice changer with some key combinations. With the Pro version, you can make your custom voice. And, pro version also comes with 72 more voice modules. Overall, it is the best voice changer for Discord. Also does supports skype and many other Apps. It is available for all 64-bit versions of Windows.
Installation: You can download a free version of VoiceMod from its official site. Then install it on your computer. Setup will download some required files. So make sure you are connected to the internet. Also, you need to restart the computer to start using VoiceMod.
When installation gets complete, VoiceMod will ask you to select the input and output devices. So, select your mic and speaker.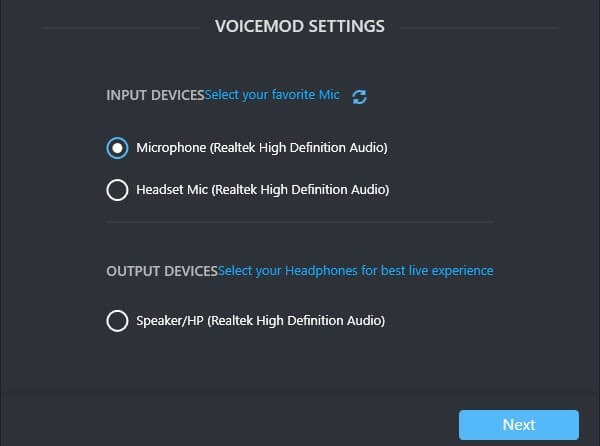 After that, you need to select the communication App. This article is about the Discord App, so we are going to make changes to it.
Set VoiceMod as input and output device in Discord App.
Open Discord App in Windows. Go to the User Settings > Voice & Audio.
In Input Device Select – Microphone(Voicemod Virtual Audio Device.)
In Output Device Select – Line(Voicemod Virtual Audio Device.)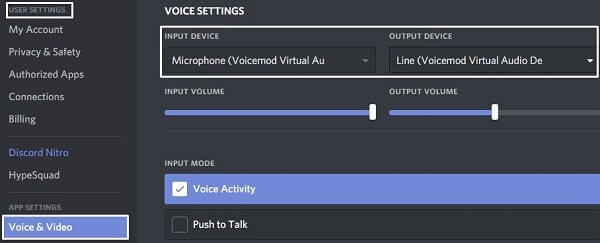 That's it. Now, Enable Voice Changer from Voice Mod Software. And, you can select the virtual voice you want.
Voxal Voice Changer.
Voxal by NCH software is another discord voice changer, that you can use. It is completely free for home users. It allows you to change or disguise your voice in any application that uses a microphone. Apart from real-time voice changing, you can also add effects to existing audio files. You can create unlimited custom voice effects with Voxal. It is a very lightweight Windows Program. That doesn't affect your FPS while gaming.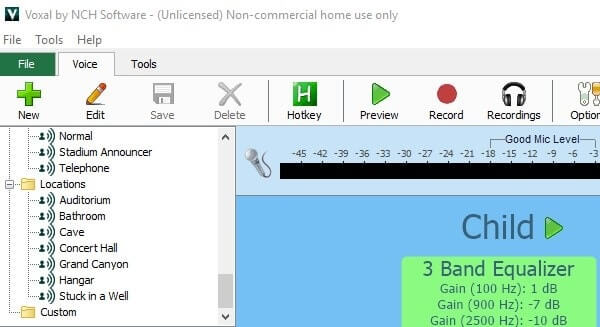 Apart from 64-bit Windows, it is available for Mac OS X 10.5 and above. Voxal has many categorized voice modules, like, people, fantasy, Sci-Fi, Strange & Silly, Effects, Location. With Voxel, you don't need to make any changes to the voice chat Application. You just need to install it and select the voice. Though, you need to restart your computer to use this software.
MorphVox Pro and Jr (Free).
MorphVox Jr by the Screaming bee is another discord voice changer software. The software is not completely free. But, you can download the trial version and can try some voice modules. Like, Child, Robot, Man, Woman, and even dog voice. You can tweak your voice with a pitch shift. Graphic equalizer and voice effects option also available.
To use MorphVox, you need to, set your default microphone to "Screaming bee audio driver". Apart from discord, you can use this software on Skype, Google Talk, Yahoo Messenger, and other VoIP or voice chat software. Though, In comparison to other voice-changing software, this software isn't that good. But, still, you can try if you want.
Voicemeeter
If you have some good knowledge about audio mixing. And, If you're looking for some advanced app to change the voice. Then, the Voicemeeter app can be the best voice changer app for Discord for you. This software is Donationware, which means free for end-users. This app isn't specifically designed for Discord, it is basically an Audio Mixer Application endowed with Virtual Audio Device. That is used as Virtual I/O to mix and manage audio sources in any application. This means you can use Voicemeeter software in Discord also.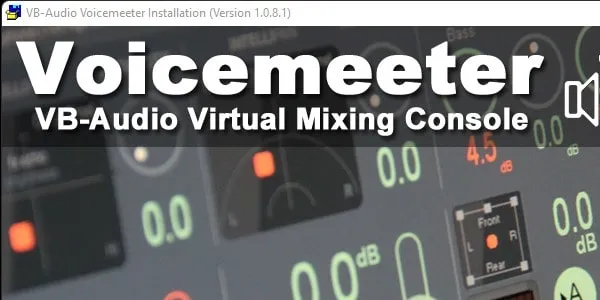 An Android and iOS version of this App also available to manage desktop audio. You can find the setup guide of it on its official site. Although, this app is difficult for novice users. You can connect
Voicemeeter App with multiple I/O devices and Applications like Skype, Discord, Google Voice, and other VoIP Apps.
AV Voice Changer.
This is another premium voice changer by audio4fun. The voice changer comes with 30 Voice Effects, 17 Non-human Voices, 70 Background Effects, and almost 40 plug-in Audio Effect. This voice changer offers better features than any other voice changer software. AV Voice changer comes with an inbuilt voice recorder. So, you don't need to download separate software for that. Comes with a parody mixer, so you can mix voices and create yours. There are three versions of this software, basic, gold and diamond. The pricing of each version is different. Though, the trial version of all three AV voice changers is available. It also comes with the voice Morpher, which includes Voice Attributes, Voice Beautifying.
Conclusion – Discord Voice Changer.
That's it. these are the best discord voice changer software for computers. I suggest you try ClownFish and Voicemod. Both software come with a good user interface. There are some Android Apps also available to change the voice. But, none of those App works in real-time. So, we can't use those Apps in the Discord App. If you know about any other better software, then feel free to comment. Also, while using any of these voice changers, make sure, your discord automatic gain control is disabled.