Recently, YouTube has added a "loop" feature in its desktop version. But still, Android and iOS App doesn't allow to Play YouTube in Background. If you minimize the YouTube app or turn off your screen, the video will stop as well. Because YouTube makes money from video ads. And, if YouTube does start providing background playback for free. Then, YouTube will not able to generate revenue from music and podcasts videos.
Though, YouTube does provide an "Ad-free & background play" feature. But for that, you have to subscribe to a premium plan, that costs from $7 to $12 per month. In the premium plan, other benefits like YouTube Music Premium also included. But, apart from YouTube premium, there are other ways to Play YouTube in Background. With these methods, you can activate the picture-in-picture mode of YouTube video. That will help you to watch YouTube videos while using other Apps. Even you can listen to YouTube videos when the smartphone is locked.
Play YouTube in Background.
1. Play YouTube Video in Background using VLC.
Though, this is not the most convenient method to play YouTube videos in the background. But, if you don't like to install more Apps, or, don't want to buy YouTube premium subscription. Then, this trick can be handy for you. Actually, VLC allows playing YouTube videos in it. And, you can switch to Audio and Picture-in-picture mode by using VLC. Though, you can't import a YouTube playlist in VLC. You have to choose the video one by one. So, this method is useful for listening to long videos. And, this trick work even if you turn off the screen, or, lock the smartphone.
First, make sure you have installed the latest version of VLC for Android.
1: Open YouTube and play a video that you want to hear in the background. On the video playback page, you can see a share button, tap on it. From the share sheet, tap on "Play with VLC".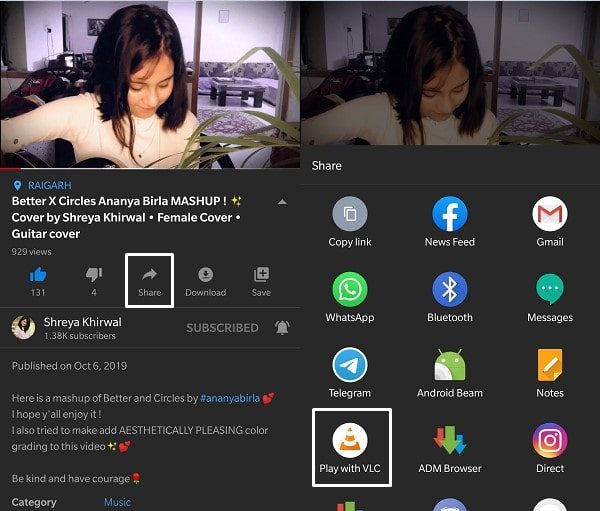 2: After that, VLC App will get open on your Phone. And, the video you shared, will start playing in VLC.
Tap on the options icon (Horizontal three dots to the bottom right corner.)
From the menu, choose "Play as audio". (And, if you want to play video in picture-in-picture mode. Then, you can tap on "Pop-Up player".)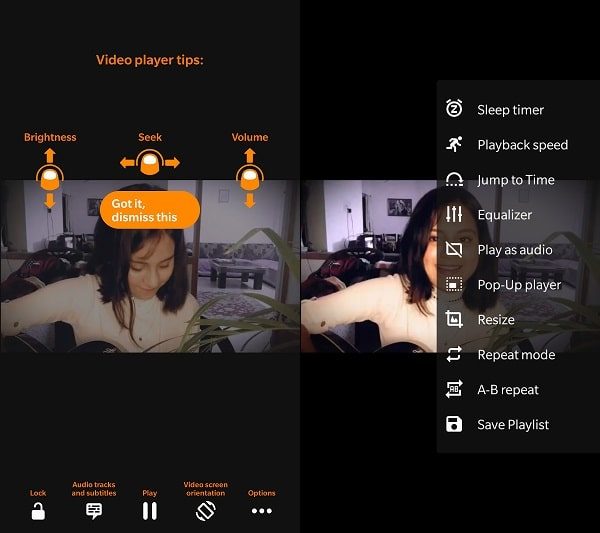 3: That's it, the video will get turned-off and audio will be playing in the background. You can now play pause that video from notifications.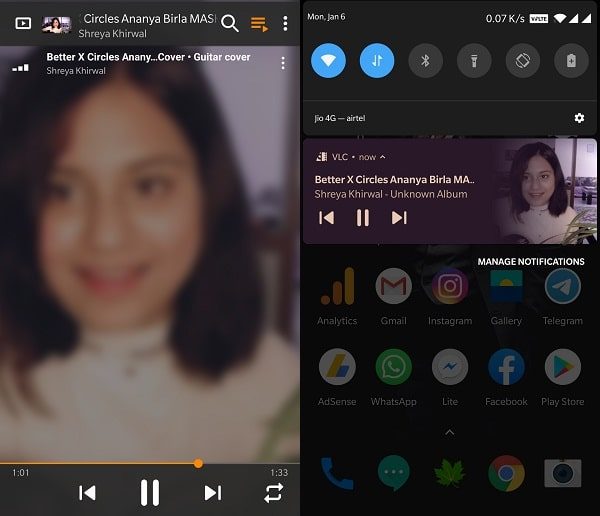 2. Use Chrome (Kiwi), Firefox and Safari Browser.
You might already aware that when you play a YouTube video in the web browser. And, you do open a new tab, video still keeps playing. Means, you can hear the audio from the YouTube video. The same thing happens, when you turn on the desktop mode in the Android and iOS browsers. Yes, you can turn on background playback just by switching to desktop mode.
It works in almost every browser. It doesn't matter, you're using Chrome, Firefox or Opera in your Android Smartphone. Even, in iOS, the Safari browser also allows playing video in the background.
The main advantage of using this method is, it is stable and works in every device. So that you don't need to install any third-party app for it. Though, the video will consume the same bandwidth as a normal video. But, you can save your Internet data by switching to lower video quality. Because technically you're gonna listen Audio. And, from YouTube's legal point of view, you're not interfering with the ads.
How to Play YouTube Videos in Background using Browser.
1. Open Chrome browser in your Android Smartphone.
2. Tap on three vertical dots from the upper right corner to open the Chrome menu. After that, tap on the "Desktop site" to enable desktop mode. You can turn it off at any time.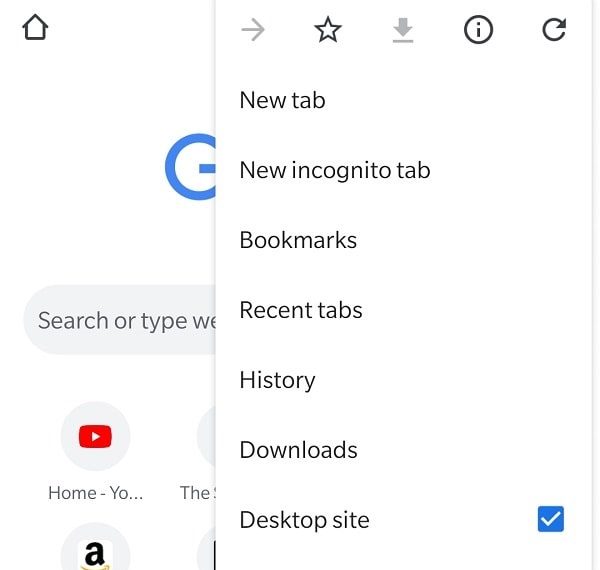 3. Open the YouTube site in the browser. And, you will able to see a web version of it.
4. Now, play any YouTube video. Once the video starts, you can press the home key or lock your smartphone.
5. The video will get paused. Don't worry, open the notification menu and play YouTube video from there. The browser will also autoplay the next YouTube video automatically.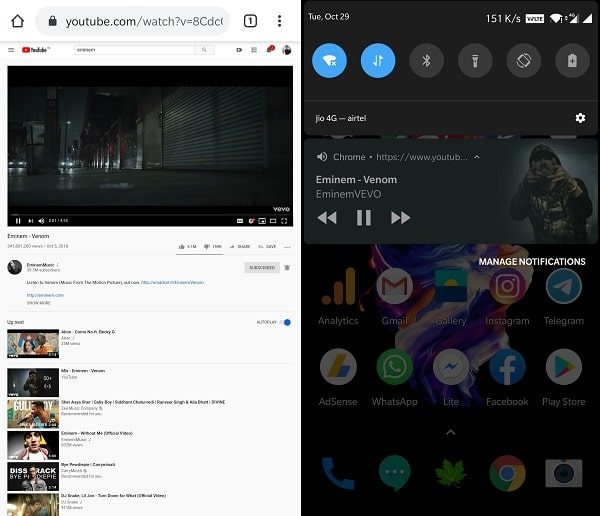 That's it, now, you can now listen to podcasts and music while doing other work on the smartphone.
Note: Use the Kiwi browser, because, it will not pause the video when you lock screen. Kiwi is a chromium-based browser and comes with many useful features like night mode.
3. YouTube Vanced.
YouTube Vanced is well-known a modded version of the YouTube App. The app comes with the same look and feel of the official YouTube App. But, the thing that distinguishes it from the official YouTube App is its features. Not only it comes with background playback, but also it does support PiP mode. The App comes with an inbuilt ad blocker, so no ads will appear between videos.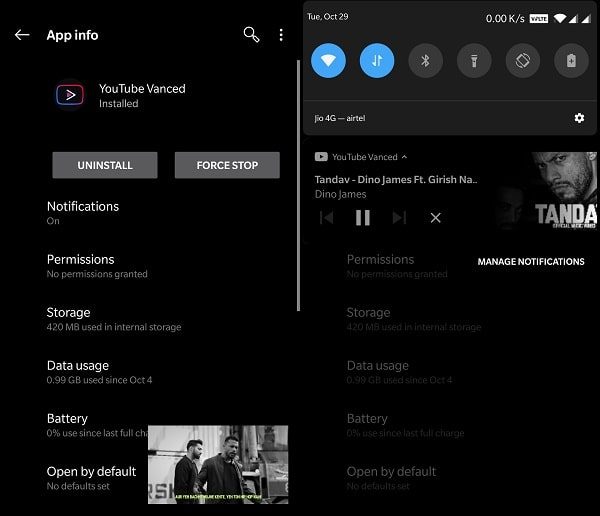 Vanced App comes in four different theme options – Pink, Dark, Blue, Black. The app is available for rooted and non-rooted smartphones. For non-rooted smartphones, with modded versions of YouTube, you have to install MicroG Vanced. Else, you will not able to login to your Google Account. MicroG allows signing in the modded version of YouTube.
You can download YouTube Vanced directly from Vanced Website or from XDA-Developers.
1. First, Install MicroG App, if you want to sign in your YouTube account.
2. After that, download your preferred theme version of YouTube Vanced.
And, Install the Apk like you normally do. (Give unknown sources permission to install.)
4. NewPipe.
NewPipe is a free and open-source YouTube Client. The App is only available in the F-Droid software repository. F-Droid is a community-maintained software repository, of Android Apps. NewPipe is a lightweight YouTube App, designed to get original YouTube experience on Android devices. NewPipe does block annoying ads, and, comes with PiP support (Popup Player).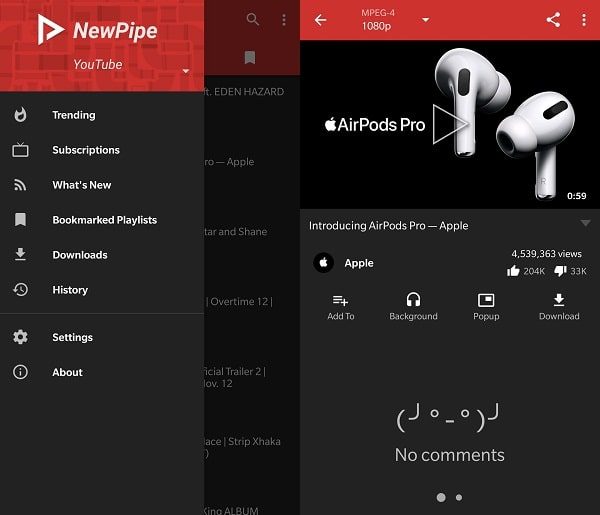 Also, you can play YouTube in Background, and that's what we are searching for. NewPipe also lets you download YouTube Audio and video in different quality. The App also comes with SoundCloud (Beta) and MediaCCC (Beta) support. Though, You can't log in to your YouTube account. But still, you're gonna love this App, because of premium features.
The best thing about this App is it consumes little data. There is a "Background" option you can find below every video. Tap on it and NewPipe App will just play Audio from that YouTube video. That is an impressive feature. And, for Picture in Picture mode, there is a "Popup" option available. (You have to give "Allow display over other Apps" permission for the PiP mode.)
5. YMusic.
YMusic is clearly a free alternative to the YouTube Music App. The App lets you enjoy music from YouTube videos. Basically, it does load only audio from YouTube videos and also blocks ads. That helps to save up to 90% data. There is an App available on the Play Store with the YMusic name. But, the App, I am talking about is different. And, can download only from YMusic official site.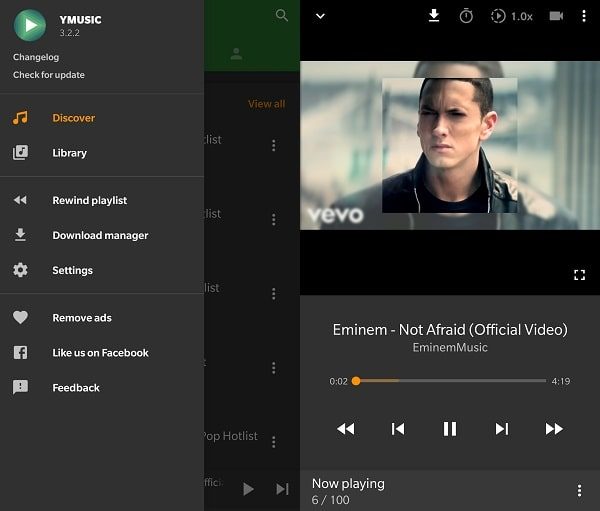 YMusic also lets you download Audio and Video of YouTube videos in multiple quality. Yes, you can call it the NewPipe App alternative, because it does provide the same features. But, the interface is different. By default, App only plays Audio from YouTube videos. To play video you have to select video quality first. YMusic lets you sign in with YouTube. It also auto-detect album and artist name using last.fm service. Overall, It is a good App to play YouTube video's audio in the background.
Conclusion – Play YouTube Videos in Background.
So, these are the Apps and Methods to play YouTube Video in the background. Some of these Apps like NewPipe and YouTube Vanced lets you used PiP mode also. If you're looking for YouTube Music alternative then YMusic App will be best for you. And, if you don't want to install any App, then just use your existing web browser. Yes, there are some other Apps available. I will keep updating this list. If you know any other better method or App, feel free to comment.