Want to know, how to get Apple TV+ one-year free subscription?. This article will help you. No doubt in that, till now, Netflix and Amazon Prime was the biggest competitor in streaming services. But now, Apple has shifted its attention to video streaming services. In Apple iPhone 11 launch event, Apple announced its new streaming service Apple TV+. And, they also showed a new Apple TV+ original TV Series "See" trailer. In which Jason Momoa, Alfre Woodard, Sylvia Hoeks in as lead role. And, now finally, on November 1, Apple TV+ officially released globally, in 120 countries. Though, for the United States users, Apple is charging for $4.99/month. And, for the Indian users, it is available at just INR 99/month.
But, the good news is, now Apple device users can get Apple TV+ one-year free subscription. It is because millions of users are using Netflix to Watch TV Shows and Movies already. So, If you own an Apple device, then here is how you can get a free 1-year subscription for Apple TV+.
Apple TV+ one-year free subscription
Apple TV App availability.
Actually, Not every Apple user is eligible for this 1 Year free Apple TV+ Subscription. Most of the users will get only a 7-days free trial.
Apple TV App will be available for iPad, iPhone Apple TV 4K and HD and Apple TV (3rd generation), Mac and, iPod Touch.
In the future, Apple TV App will be available for other streaming devices like, Fire TV Stick, Roku, Sony, and Samsung Smart TV.
Even, Users can also subscribe to Apple TV+ to watch in Chrome, Firefox and Safari Web version.
Free 1 Year Apple TV+ Subscription eligibility.
Customers who have purchased any new iPad, iPhone, Macbook, Apple TV and iPod Touch after September 10. All are eligible for one year free Apple TV+ subscription.
Apple devices should be running the latest Software. So do check for updates, before opening the Apple TV App.
After activating the Apple device, the Customer has three months to claim this offer.
After one year, $4.99 per month and for Indian users INR 99 per month charge will get apply. And, you can cancel the subscription any time before the renewal date.
Apple TV+ Offer is applicable for both new and refurbished devices.
And, Up to Six Family members can share one Subscription. Netflix allows only four family members. The best thing is family members can watch with their own Apple ID and Password.
Note: Recently, I purchased an iPad Air 3 (2019) in November. And, I got Free Subscription of Apple TV+, because bought it after September 10. If you have an older Apple device, you might not get this offer. But, still, you can give it a try.
How to Get Apple TV+ Free 1 Year Subscription.
1. All-new Apple devices come with a pre-installed Apple TV App. So, simply open the Apple TV App.
2. A Welcome Screen will appear when you open App. Tap on "Start Watching".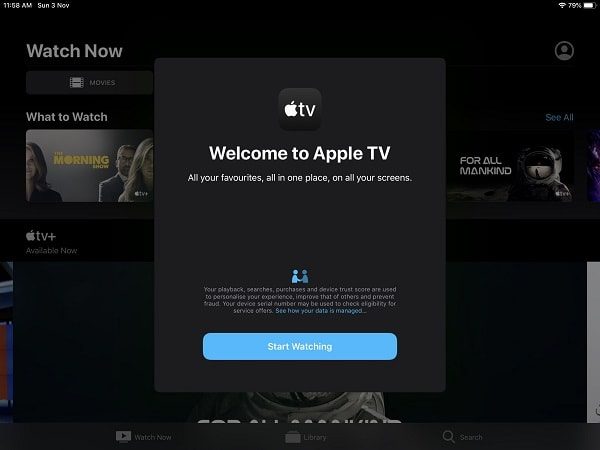 3. After that, a new popup screen with the 1-year offer will appear. (As you can see in the screenshot of iPad Air 3, it's showing "Your new iPad includes 1 Year of Apple TV+.)
Tap on "Enjoy 1 Year Free".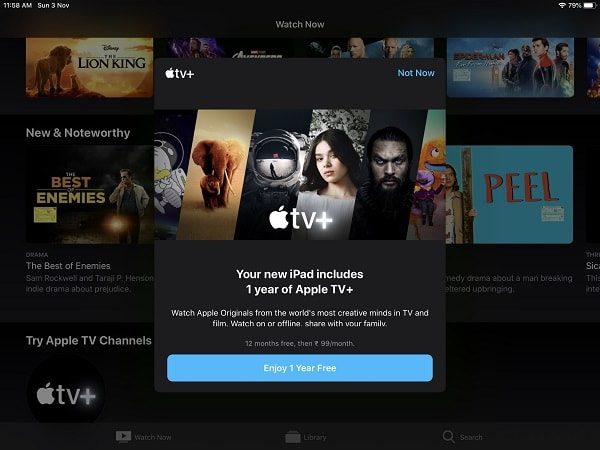 4. A new popup screen will appear now, it will ask you for Touch ID or Passcode. In my iPad Air 3, I am using Touch ID, so I verified my payment with that.
Note: Verify Payment only, if it's showing 1 Year Trial in Price. Else, money can get deducted from your bank account, as per subscription charges.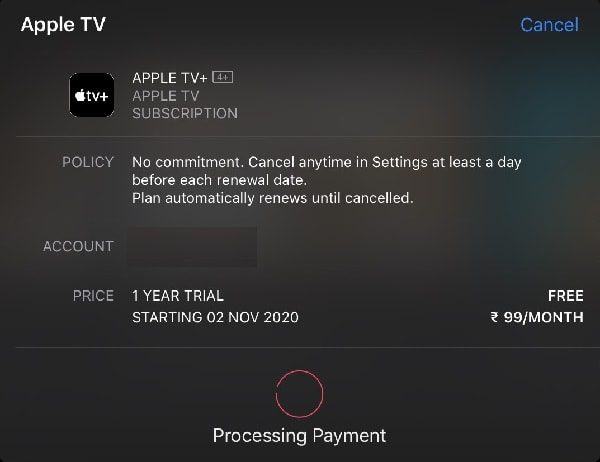 (If Payment Information not added, your Apple device will ask you to add on the next screen. (Tap on Continue and enter card information.))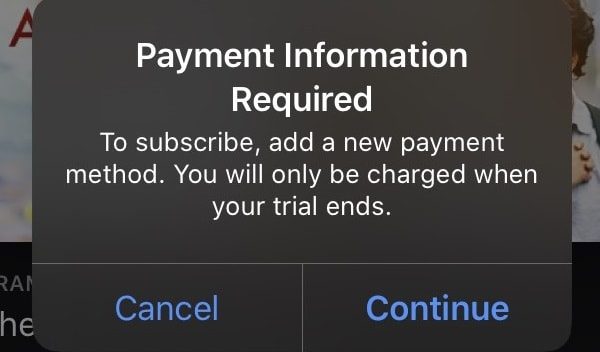 Missed the pop-up notification Screen, What to do now?.
No worries, If you dismissed the offer screen initially. Then, just open any TV Series. And, you will able to see the "Enjoy 1 Year Free" option.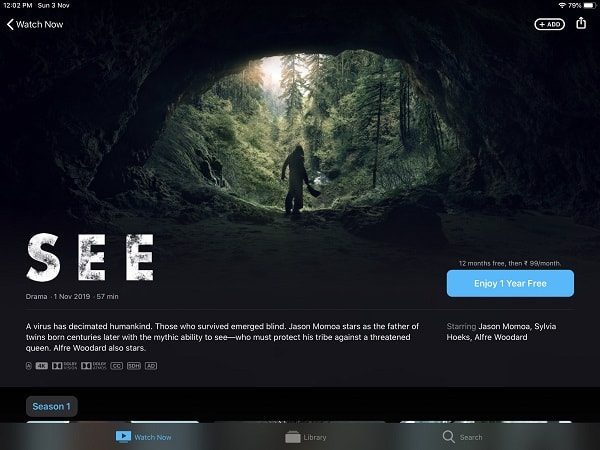 Summing-up.
I hope now you know you're eligible for this offer or not. And, if you also got Apple TV+ one-year free subscription, then, let me know. According to rumors, Apple has poured $5 billion in content creation. And, soon you will able to watch more Apple Originals Content. So overall, Apple is ready to compete with Netflix and Prime Video.