Google is really trying hard to provide all the features, that you expect from a browser. In the last Chrome Canary update, Chrome had added the "Sync Chrome clipboard" feature. And, now Chrome has added smart mute functionality in the stable version. Though, Smart Mute is currently available under Chrome Flags Settings. And, you can enable it from there, and it will work flawlessly.
What is Smart Mute?.
Smart Mute helps Chrome to focus on a single media session at one time. Basically, when you play two YouTube videos simultaneously, in two Chrome tabs. Then audio starts coming from both the videos. Or, if you're browsing media in multiple tabs. Then you can't figure out from which tab audio is coming. In these cases, Smart Mute comes in handy.
Smart Mute does automatically mute and pauses the video, from every other tab, if you play video in the active tab.
Get Smart Mute on Google Chrome.
As I mentioned, to access the smart mute feature, you have to enable two flags. Chrome flags are basically experimental features and settings, that are buried only for developers. You can enable these flags in almost all other chromium browsers like Brave, Edge Chromium, and Vivaldi, etc.
1. To do enable chrome flags for Smart Mute, open Chrome and type "chrome://flags" in the Omnibox (Google Chrome's address bar) and press enter.
2. Chrome flags settings will now get open. We have to enable these two Flags.
Audio Focus Enforcement – This will help Chrome to focus audio on the currently active tab, which is playing media. This flag will only mute the audio, will not pause the video.
Media Session Service – With Smart Mute, this flag will pause the video. Which will help you to watch the video from where you left.
3. To find both flags once, enter "media-session-service" in Search flags. And, both flags will appear.
4. Now, click on default, and from the drop-down menu, select "Enabled". After selecting enabled in both flags.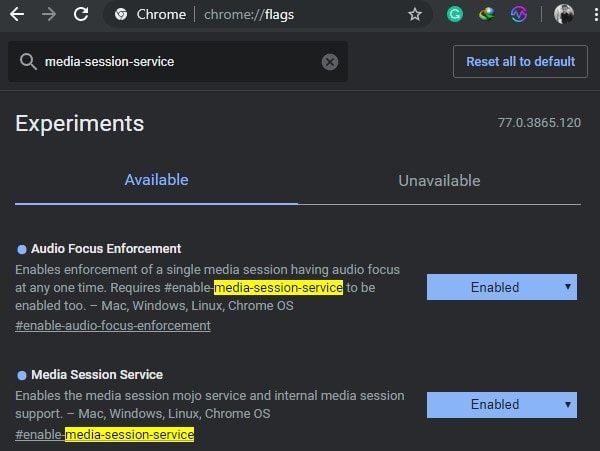 You will able to see the "Relaunch now" option at the bottom of Chrome. Click on it, and Chrome will now get restart.

That's it, smart mute is enabled now. To test it, first, play a YouTube video. And, then play another video in a new tab. Video played in the first tab will automatically get pause and mute.
Chrome Extension to Mute Audio.
There are some features which are missing currently in Chrome's official smart mute. That you can get with the Smart Mute Chrome extension.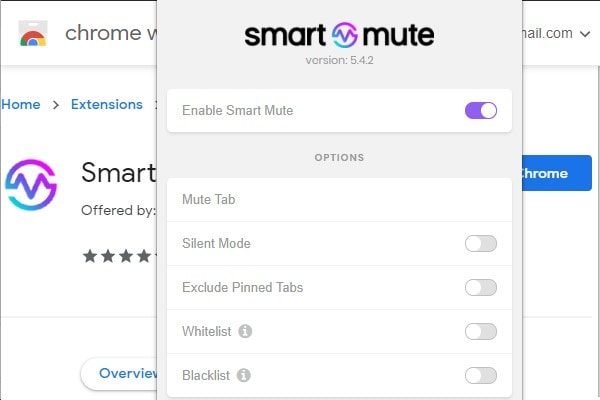 Features that Smart Mute Chrome extension offers:
Mute / Unmute Tab – Extension allows to temporarily mute or unmute tab. Just click on Smart Mute extension, and then click on the mute tab.
Silent Mode – The silent mode will help you to browse the web in complete silence. Basically it mute audio from all over the browser. So, instead of muting system audio, you can use this feature.
Blacklist – Some websites start auto-playing videos and advertisements. You can blacklist those sites, and you will never hear any ads from those sites. (It is not a video ad blocker, it will just mute sound from a specific domain.) You can also add sites in the whitelist.
So overall, if official Chrome's smart tab mute feature isn't enough for you. Then, install the extension and you can enjoy these really good features. There are some other extensions also like Auto Mute and unMute. And, those extensions also mute tabs when multiple tabs audible. But, this extension is better and has good ratings.