Google Chrome is one of the most widely used best browser for Windows, Linux, macOS, iOS and Android. Chrome comes with many unique features. And, Synchronization is one of the best features. You can sync Apps, bookmarks, extensions, themes, passwords, Address phone number and much more. Recently, Google introduced a link sharing feature. Which allows sending links between cross-platform devices. So you don't have to bookmark links, in order to open temporary links in another device. You can simply right-click on the link and choose "Send to 'device name'" option. This works only when the same Google account is logged in both devices chrome browser. Sharing links between PC and smartphone is a really good feature. But, what about Chrome Clipboard Synchronization. Well, Google is currently testing out Sync Chrome Clipboard feature. And, you can try it now.
Like, Smartphone developers release beta ROM for devices to test new features. Chrome does the same with Chrome Canary browser. Yes, it is unstable, because developer releases updates more frequently to test.
Previously, the best way to sync clipboard was Pushbullet. But, after Android 10 update, Pushbullet lost clipboard access. Which is affecting the productivity of many users. Though, you don't have to worry, if you're Pushbullet user. Because Chrome is here for the rescue.
What is Chrome Clipboard Sync Feature?.
For those who have never ever used this feature in any App. When you copy the text in any device, it gets saved temporarily in Clipboard. And, Clipboard sync feature allows to copy the text on a device and paste it on another. In the Chrome browser, it works cross-platform. Means, either you can send the text from Computer to Smartphone. (Or, Vice-Versa.) Well, this feature is eventually gonna release for the stable version of Chrome Browser. But, if you can try it now by tweaking certain settings in Chrome Canary.
Sync Chrome Clipboard between PC and Phone.
Step 1: Install Chrome Canary Browser.
First, you need to install Chrome Canary Browser on both Computer and your Android. Unfortunately, Canary is not available on the iOS App Store yet. Though, with TestFlight App you can install the beta version of Chrome on iOS.
But, Clipboard feature still limited to Canary browser. The feature will be available soon for, Chrome Dev, Beta, and Chrome. The Chrome Canary browser is currently available for macOS, Windows, and Android. And, you don't need to uninstall a stable version of Chrome. You can use both versions of Chrome simultaneously.
Download Chrome Canary in Windows and macOS, Android.
Step 2: Enable Clipboard Sync Feature in Android.
Even, In canary browser Chrome, the Clipboard sync feature is currently not pre-enabled. You have to go through Flags settings in Chrome, in order to enable. Chrome Flags allows to enable and disable various experimental features. Most of the features are designed to enhance the browsing experience.
1. Type in "chrome://flags" or "about://flags" in Omnibox (address/search bar).
2. In Search flags type "Clipboard". And, immediately two experimental clipboard features will appear in results.
3. Select "Enabled" for both Clipboard Features. And, Relaunch option will now appear on the bottom of the screen. Tap on it, Canary Browser will now get restarted.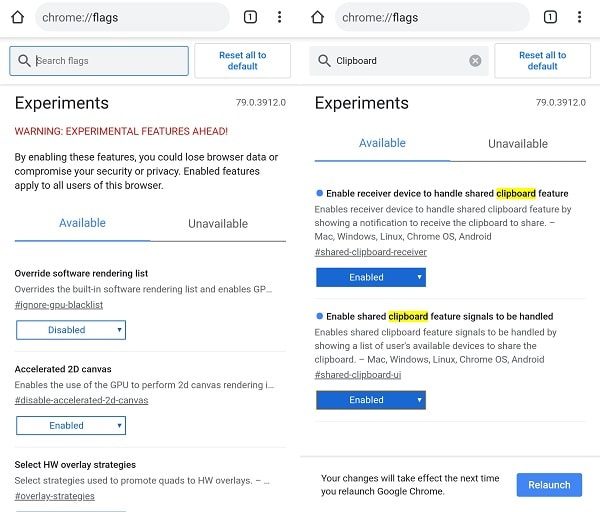 Step 3: Enable Clipboard Sync on Computer. (Windows/macOS)
In the Chrome Canary Web browser, you have to enable three Clipboard experimental features.
1. Open chrome://flags in your Canary Web Browser.
2. Do search for 'Clipboard'. And, three experimental features will appear immediately in search results.
3. From the drop-down menu, select "Enabled" for all three experimental features.
4. After that, click on "Relaunch" to apply changes.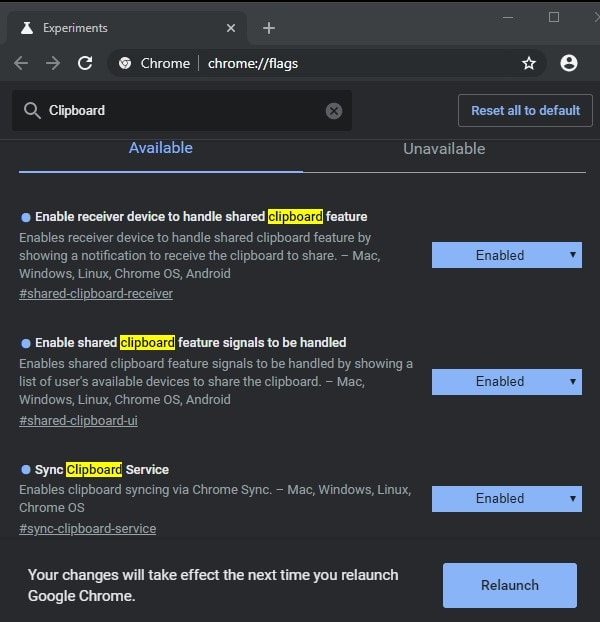 That's it. Now, you're ready to share or sync chrome clipboard.
Step 4: Share Chrome Clipboard between devices.
Share Clipboard from Computer to Android.
After enabling experimental features it's quite easy to share the clipboard.
First, select the line of text that you want to share. Right-Click on it, and choose "Send Text to 'device name'" from Context/drop-down menu. (Make sure Chrome Canary browser is open in Android while sending.)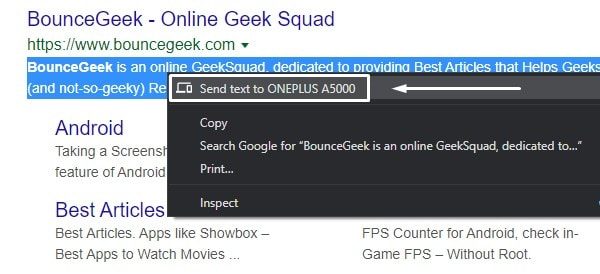 Immediately, you will able to see the notification on your smartphone. That Text Shared from Computer, Copied to your Clipboard.

After that, you can paste text anywhere means in any App.
Share Clipboard from Android to Computer.
1. In Android, Select text and tap on Share option.
2. From share option, tap on "Share text to Your devices".
3. On next screen, your PC name will appear, just tap on it.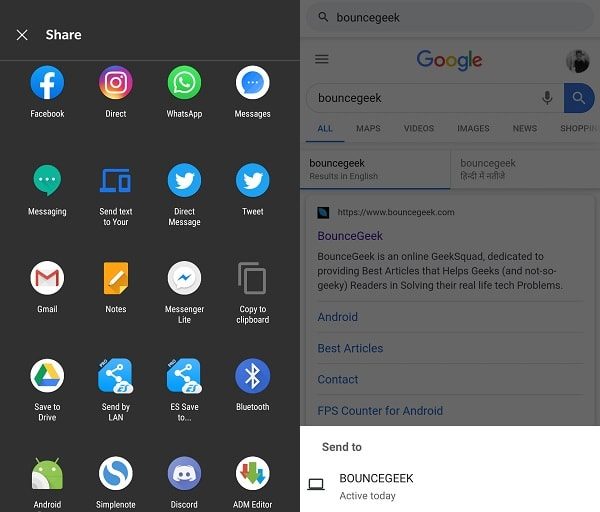 4. In PC, you will now receive notification in canary browser. "Copied to your clipboard".

That's it. you can now paste text anywhere.
Summing-up. /Conclusion – Sync Chrome Clipboard.
So, this is the method to synchronize chrome clipboard. It could be possible that, till the time you're reading the article, the feature gets available for the stable version. So, make sure Chrome is up-to-date. Though, currently, this is the only way. All you need to do is, enable clipboard feature in Chrome Canary browsers. That's it.