There are lots of Movies & TV Shows streaming Apps available for Android and iOS. But, there are limited Apps to watch for free. And, Showbox is one of the popular media downloading and streaming App for Android. But recently, the Showbox developer officially shut down the site & App. Yes, there are some sites that do provide Showbox Apk. But, those Apk's are modified. Though, App was working fine. But, it's better to try some other Apps like Showbox. Yes, there are some better Showbox Alternatives available. Which you can install it on your Smart TV or Fire TV Stick.
Note: Apps listed in this article aren't available on Play Store. You have to download APK File from their official site. And, You also have to enable "Install Unknown Apps" permission.
Apps like Showbox – Similar to Showbox.
1. Titanium TV App.
Like Showbox, popular Terrarium TV App also recently got shut down. Titanium TV App is the mirror App of Terrarium TV. The App allows playing the video directly into MX Player and VLC Player. The App also itself comes with a built-in ExoPlayer. Similar to Showbox, this App also keeps updating Movies & TV Shows. So that you can watch all the latest TV Series Episode and Movies for free. TV Calander feature also available in the App.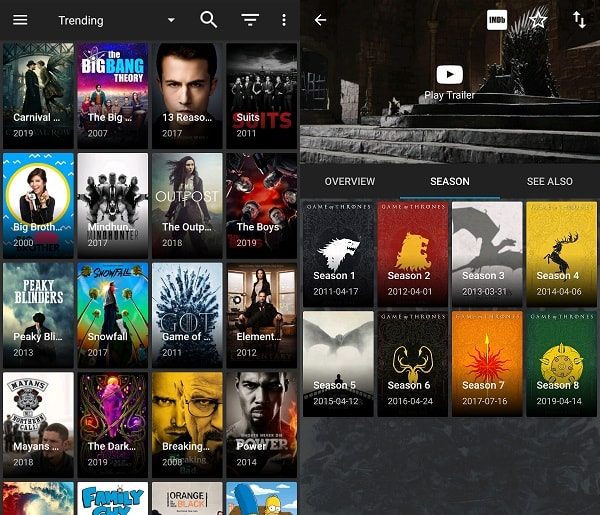 Titanium TV App allows watching Netflix, Hulu, Amazon Prime Video and YouTube Red TV Series & Movies Free. Though, I didn't find any option in the App to download the video. In the App, You can mark the episode, that you have watched already. To watch a single episode of a series, the App does provide multiple servers. And, you can even choose the video quality from 360p to 1080p. You can also sort TV Shows & Movies from multiple genres. Overall, the App is one of the Best Apps like Showbox.
2. MegaBox HD.
If you don't want to install heavy apps on your Smartphone. And, still, want to watch your favorite movies and TV Shows. Then, MegaBox HD is the best App, that you can download. This App is around 2 MB in size but works better than Showbox. But, to watch the video through this App you need to install MV CastPlayer (4 MB App). MegaBox HD comes with ads, which you can skip, and close easily.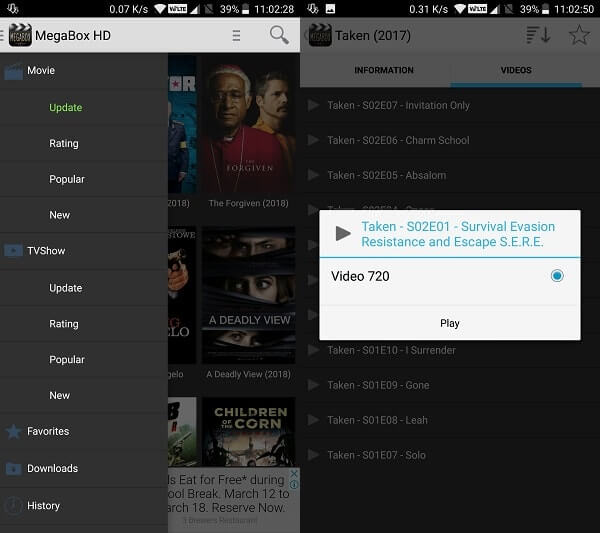 The good and bad thing about this App is, you can watch videos in 720p quality only. Although the user interface of this App is quite good. In user menu, you can easily switch between Movies and Tv Show section. Like Titanium TV App, this app also offers the Favorite Option. MegaBox HD App has its own download section, but I didn't find any option to download videos. Overall, this app similar to Showbox and better than it.
3. Popcorn Time.
First, I would like to tell you, there is a fake version of this App available, on Play Store. And the original app is not available in Play Store. You can only download the "popcorn time app" from the third-party app store. Popcorn time App is better than, Showbox and terrarium TV. App not only allows to watch movies and TV Shows, but you can watch "Anime" Also. You can change index between cinema and anime. And the best part is, you can watch videos in 480p, 720p, 1080p.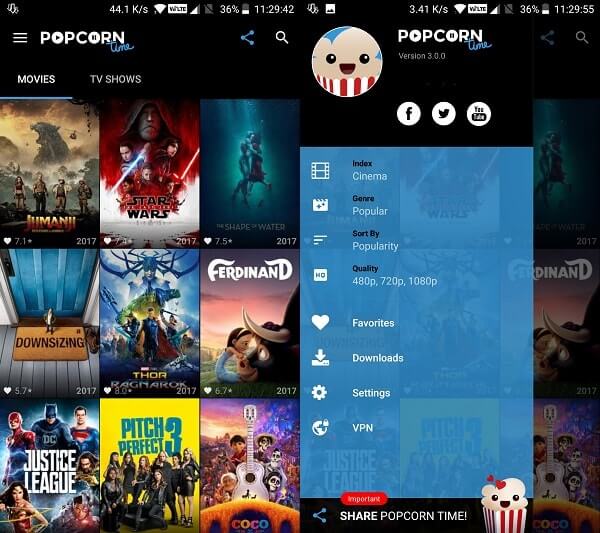 Video Sort feature also available, you can sort according to Popularity, Date Added and Year. With App settings, you can modify the home page, change subtitles language and font size. App also allows downloading videos, and you can manage through settings. VPN option also comes inbuilt, but you need to create an account before using it. Overall, It is one of the best "Apps like Showbox", And according to me, it is Better.
4. Tubi TV.
I can't compare this App with Showbox App because the content available in this App is Different. This App offers free movies & TV, which is not available on Netflix, Hulu, and Prime Video. So if you want to watch some unique and classic content, this App is for you. This App doesn't have annoying ads, but it shows commercial between videos.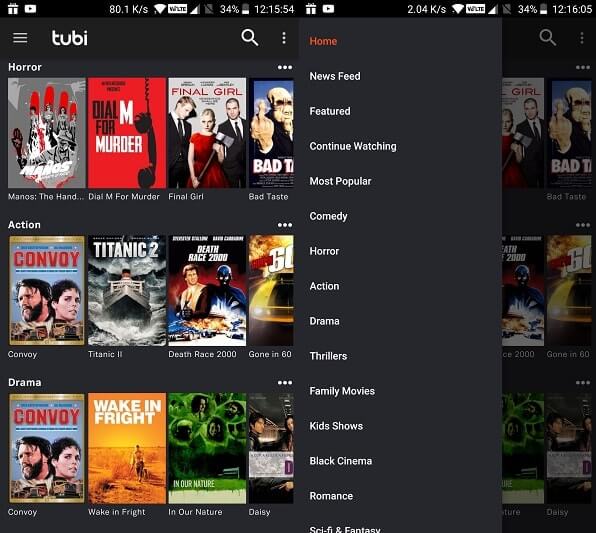 To use this App, you need to register through your Google Account. And, you don't need to put any cards details while registering. Because, App is completely free, and offers good content to Watch. Like Netflix app, this App also has a "Continue watching" feature. If you don't know which movie or show you should watch. Then from the menu, you can choose between comedy, horror, action, drama, thrillers, and others.
Get Tubi TV App from Play Store.
5. Bobby Movie.
App name sound definitely strange, but this app provides the latest movies and TV Shows. And, that's why I am adding this App in, "Apps like Showbox" list. Although, While testing this App, It wasn't able to play video. Maybe that time server was busy. This app shows less information and doesn't show, the quality of the video.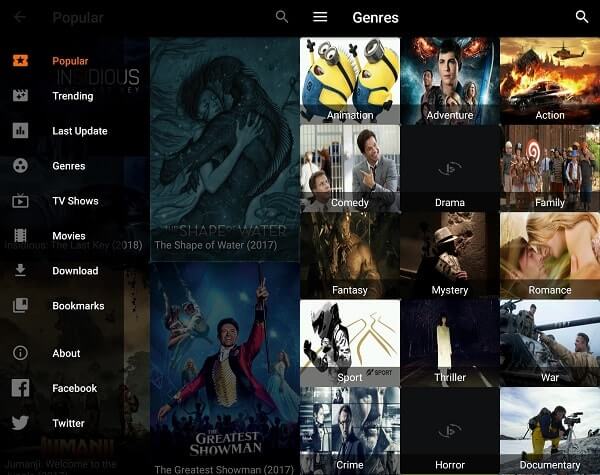 App has trending, popular and last update section. You can also find movies, according to the genre of, Animation, Adventure, Action, Comedy, and others. You can bookmark movies, and download section also available. But, I couldn't find any option to download any video. Overall, the App is good, you can try this app for once.
6. HOOQ.
This App isn't free, but still, App is quite good and not costly. App subscription starts from around 1 USD or 89 INR. And, with this subscription plan, you can watch the latest TV shows & movies for 3 months. Also, you will get 1 blockbuster movie rental ticket every month. To start using this App, you need to signup first. Then, you can subscribe, and start watching good TV Shows. App also allows you to link the app to the TV.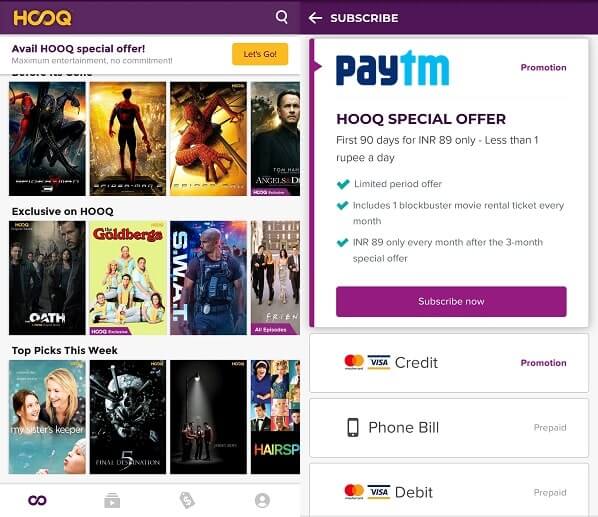 Overall, this is also the best Netflix Alternative, that comes with similar and different content. And if you compare it with Showbox, then it is better than that. With browse section of this App, you can select the movie from the different genre of Comedy, Romance, Sci-Fi, and others. You can also download movies and TV shows, with this App. Also, can add movies to the favorite section, and can watch later.
7. iFlix.
I can't compare this App with Netflix or Showbox. But, this App offers latest TV Shows and Movies free for a month. And, you don't need to enter credit card details to subscribe one month trial. That's why I am adding this App in "Apps like Showbox" list. But the bad part about this App is, this App is not available in many Countries. Or, I can say this App is available in only 25 countries.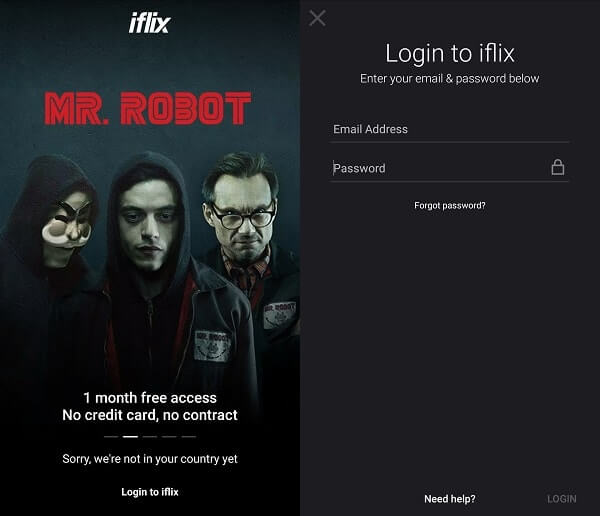 But, still, if you want to use this App, then one thing you can do. You can download this App from Play Store. And App allows to sign in if you have an account. So, you can use a proxy server and can register through other countries. But if you don't want to use the proxy server, then you can skip this App.
NOTE: Not all Apps available in this list are not available on Play Store. There are many fake versions available on Play Store. If you need any App, and unable to find out that App on the Internet. Then, you can comment down below, And I will share the link to that App with you.
These are the "Apps like Showbox", to Watch free movies and TV Shows online. Although, Still I suggest you, to use only Netflix App to Watch Shows and Movies. And, If you don't know Netflix is free for a month. So, you can try Netflix for a month and can cancel the subscription anytime. And still, You don't want to pay then Terrarium TV App is the best option. If you know about any other better App, then feel free to comment.