TheWatchSeries Alternatives – Movies & TV Shows aren't now only limited to TV. Now, you can enjoy your favorite movies or TV Series anytime anywhere on any device. And, for that, there are many online streaming platforms available. Personally, I think Netflix and Amazon Prime are the best streaming services. If you're not a TV Series buff and like to watch only a few TV Series sometimes. Then buying a subscription isn't a good idea. Though, In some countries, Netflix does offer weekly plans. Apart from these paid streaming services, there are some sites that provide free content to watch. You might have heard of TheWatchSeries Site. Well, this site does provide the latest TV Shows for free to watch online. But, unfortunately, due to piracy the official domain of the site got banned. Though, there are few mirror sites like TheWatchSeries available.
Even, officially the admin of TheWatchSeries started a new site GoWatchSeries. But, that site also got closed without any prior notice. These mirror sites contain a huge amount of pop-up and pop-under ads. That leads to some unwanted and inappropriate sites. I am sure, you're not gonna want that. So, it's better to look for some TheWatchSeries alternatives. In this article, you will get to know some of the best sites and Apps to Watch Free TV Shows & Movies. Apps also because you can sideload those Apps on your smart TV. And, can enjoy Full Episode on the big screen.
TheWatchSeries Alternatives
MoviesJoy. (Free TV Shows & Movies)
If you're specifically searching for a site to Watch TV Series for Free. Then, I can assure you, MoviesJoy is the best Website. The site allows to Watch Series Online, without signup. MoviesJoy doesn't host any movie or TV Show on their server. The site has integrated multiple servers to Watch the video. You can choose any server and video quality. Though, in site domain name 'movie' keyword involved. But, you can find out every new and old TV Series. You just need to click on TV-Series.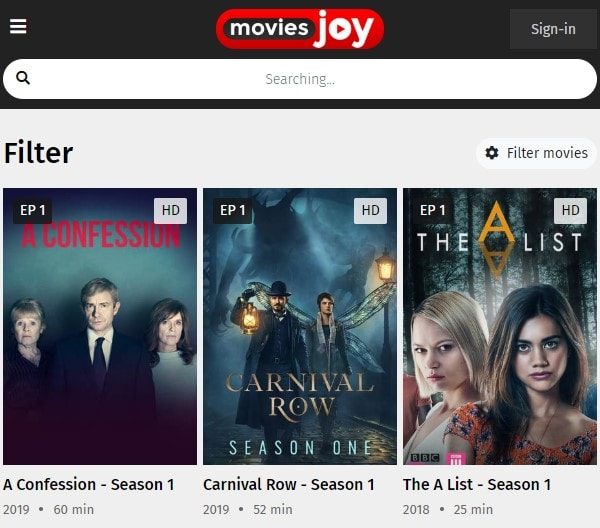 If you don't know what to watch. Then, you can use the Filter option. That will help you to filter TV Series from many Genre. You can even choose the release year and country. Overall, the site has all the options that you need. If you are the one, who watches movies based on their IMDb ratings. Then, with the Top IMDb option you can find the best TV Show or Movies. TV Shows like Game of Thrones and Breaking Bad also available on the site. Personally, I didn't find any ads on this site. Even, ads don't come in-between video. Instead of calling it TheWatchSeries alternative, I think this site is better than TheWatchSeries.
1PrimeWire
1PrimeWire isn't the best site to Watch TV Series and Movies for Free. But, still, it's the best TheWatchSeries alternative site. In Site Interface, there aren't any annoying pop-up ads. But, ads appear before starting the video, just like YouTube. Though, the site offers a premium subscriptions if you want to get rid of ads. And, want to download TV Shows & Movies. Premium subscription cost $45 for a year. But, it's not a good idea to subscribe, because the domain of the site keeps changing. Currently, site admin added 1 before their domain name. Because the old domain got banned.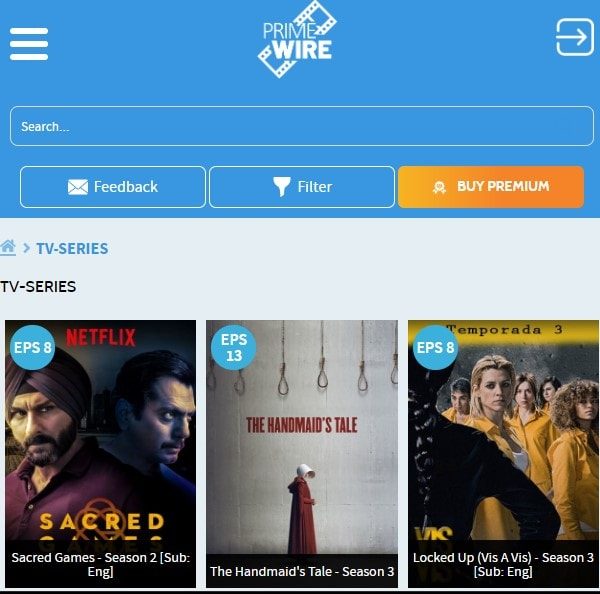 Good thing is, you don't need to signup to watch the Full Episode. The site has a good collection of TV Series and Movies. I had searched a few new and old TV Series. And, all were available. You can sort movies according to year, genre, and country. In Year, You can find the 2019 to 1900 option. And yes, there are movies available of 1915. Means, from old to latest, this site has every movies and TV Series. This site also doesn't host any video, just provide multiple servers to Watch from. Don't worry, you don't need to leave the site to watch any content.
Couchtuner (New Domain – Couchtuner0)
If you love to watch series online, then the best site to watch is CouchTuner. Though, the Original domain of CounchTuner is banned, due to some reason, which is piracy. But, still, you can access the Couch tuner by searching on Google. This site allows watching the latest shows online through multiple servers. On this site, you can search for shows or can check the shows list in alphabetical order.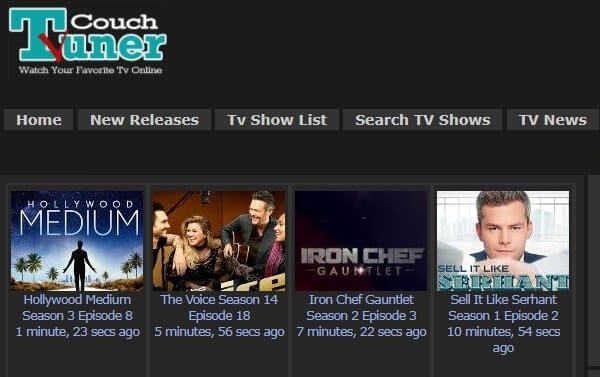 Due to safety, now this site doesn't host content on its own server. It will redirect you to a different site, where you can watch your favorite shows. The site contains a "Trending shows list" and "All-time favourite shows list". In which you can find out shows like Game of Thrones, Breaking Bad, Arrow, Flash, Lucifer. The site contains Ads, so use some Chrome extension.
Note: If you don't like this site, or unable to access it. Then you can read my article on sites like CouchTuner.
Titanium TV App
Titanium TV is not the site, it's App to watch movies and TV shows online. If you have the smart TV then you can install Apk on it. And, can enjoy the latest movies on a big screen. App offers the latest content to watch in HD quality. That's why it is one of the best TheWatchSeries Alternatives. The best part about this app is you can watch videos on multiple servers. So, If one server is not working, you can use another server.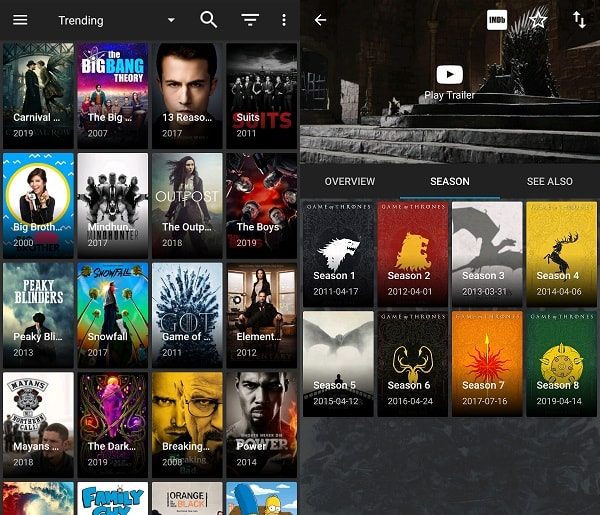 The app comes with a "TV Calendar" feature. So, you can track your favorite TV Shows. Also, you can download movies and can watch later offline. Titanium TV App provides an option to see subtitles with the video. So, you don't need to look for subtitle files from third-party sites. In-App, you can sort movies and series according to the Hulu list, Netflix list, Amazon list, and YouTube Red.
Showbox App
Showbox is one of the best alternatives to TheWatchSeries Alternatives. Like Terrarium TV, you can install the Showbox App on smart TV. Apart from watching movies and TV Series, in App, you can check TV show related News. Like other App and sites, you can download the latest TV Shows and Movies. You have to download Lime Player to watch Showbox Content. So, you can't watch in MX or VLC player like Titanium TV App. Though, MX Player support will come in the next update. The app is popular, that's why sometimes you" ll not able to play video. So, I suggest you check out some Apps like Showbox.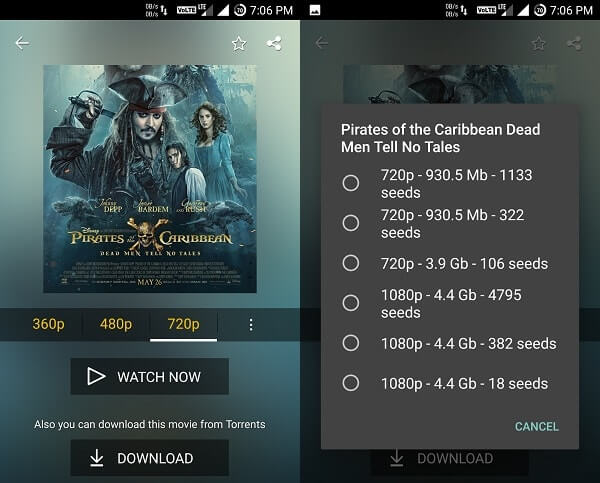 The app allows watching movies in multiple quality up to 720p. You can also see information about movies, before watching. And, can watch the trailer for movies, without leaving the App.  Also, you can sort movies according to genre and year. Showbox comes with the favorite option, that works like a watchlist. You can add movies to the favorite list and can watch them later.
Megabox HD App
Are you searching for a lightweight App, that can work on old devices?. Then you can download the Megabox HD App. Like other movies and TV Shows Apps, this app also not available on the Play Store. But, you can download it from the official site of it. And, to play videos with this App, you need to install MV CastPlayer. Which you can download from the play store.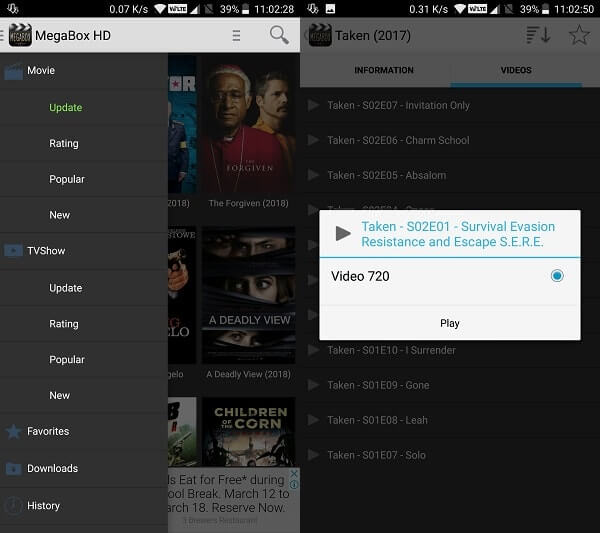 This App allows watching videos in 720p quality. So, if you want to watch in low quality, you can't. The app interface is user-friendly. When you open the app, the app will show you the latest movies and TV Shows. App has a download section, but there isn't an option to download videos. But, overall, this is the best TheWatchSeries alternative.
Conclusion / Summing – up. TheWatchSeries Alternatives
That's it. These are the Apps and sites, which allows watching movies and TV Series. And, some sites allow downloading movies. Still, there are many sites, which can be TheWatchSeries Alternatives. But, these sites are enough to watch new movies. Instead of sites, I suggest you use Apps. Some of these sites keep making changes in their domain. If you're a Windows user, then install the emulator, and then you can use App. Or, if you own an Android TV, then installing these Apps will easy for you. You can also install Titanium TV App on Fire TV Stick. But, if you searching for a movie site only, then MoviesJoy is the best site. If you know any other site or app, feel free to comment.