TV Series are getting much better than Movies. Series like Game of Thrones, Breaking Bad is the best example of it. Everyone does like to watch TV Series or Movies in free time. But, not all TV Series are available on a single streaming platform. And, not everyone can pay for all streaming services. Though no one can deny, that, Amazon Prime Video and Netflix both are the best streaming sites to watch series online. But still, there are some series which aren't available on both streaming services. And, to watch those series, you have to subscribe to other streaming sites. And, I can understand, you don't want to subscribe for one more services.
A year ago, Watch Series was one of the most popular sites to watch movies and TV Shows. Because the site had largest collection of Movies and TV Shows to watch for free. But, recently, the site got shut down. Because the site was providing paid content for free. Though, still, there are many mirror sites of Watch Series available. But, those sites contain many annoying ads. Those ads will redirect you to some other inappropriate sites. So, here are the alternatives to Watch Series Sites. I am also including some Apps to Stream Free TV Shows and Movies in Smartphone.
Is watching TV Shows online illegal?
Watching TV Shows online isn't illegal, but if you're watching from free streaming sites, then it is. Piracy in the form of DVD has nowadays vanished, but it came now in the shape of digital. Yes, whichever site that provide paid content free is illegal. Because these sites don't have the rights to share TV Series and Movies Free.
Note: BounceGeek doesn't support piracy, I already informed visitors that it's illegal to stream content from these free sites.
Best Sites to Watch series online Free.
1. Titanium TV App.
According to a survey, almost 70% of users love to watch TV Shows on their Smartphone or TV. So, let's start this list with an App. Titanium TV is the mirror App of Terrarium TV App. Due to some reasons, developers of Terrarium TV shut down their App. Though, there is some modded version available. But, it's better to use Titanium TV App. You can stream almost all of the worldwide TV Series on this App. The App provides TV Shows and Movies from Netflix, Amazon Prime, Hulu and YouTube Red. And, all for free.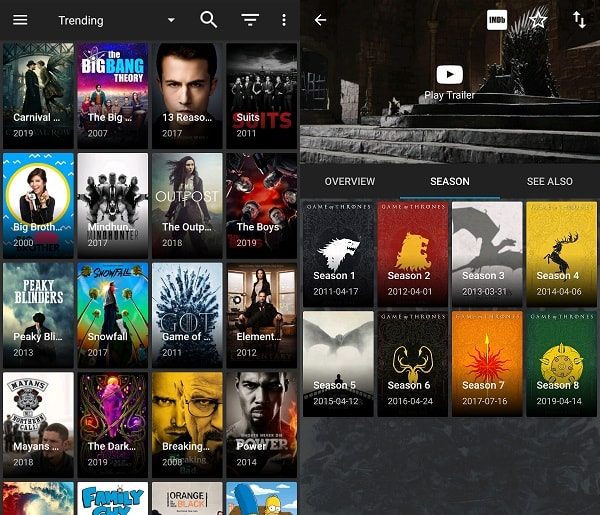 With this App, you can watch TV Shows and Movies in VLC and MX Player. Personally, I prefer the MX Player Pro version. Though, the App itself provide ExoPlayer built-in. The App basically fetches multiple servers to play a single video. And, you can also choose between 1080p, 720p, 480p, 360p and HQ quality. Titanium TV App also gives the on to play the video with subtitles. So no need to import subtitles separately. You can also install Titanium TV App on FireStick & Fire TV.
Note: The App is not available on Play Store. So, you have to download it from its official site.
2. MoviesJoy Site.
MoviesJoy is one of the best alternatives of Watch Series site. Don't go on the site name, you can watch TV Series also on this site. The site itself does not store any file on their server. The site does link to media, that is hosted by 3rd party services. Though, don't worry you don't need to leave the site to watch any Movies or TV Series Episode. One thing I really like about the site is, there aren't any annoying ads. You can stream content as you do normally on the streaming platform. You can also select between multiple servers. If you're unable to play any video.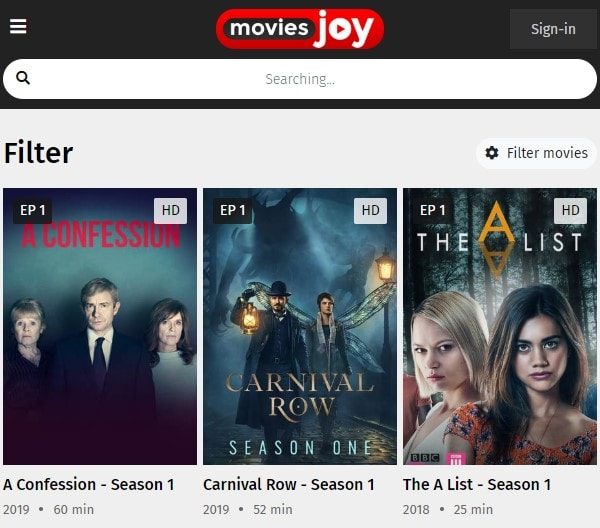 Also, no need to signup to watch Movies and TV Series. But, you can signup, if you want to add movies in your favourite list. With "Filter Movies" option, you can sort movies & TV Shows according to year, genre and country. There is a "Top IMDb" option, which will help you to find good content to watch. You can also switch between video quality according to your internet speed. Overall, you can find all the latest and oldest TV Series and Movies on this site. The site owner keeps updating content.
3. Show Box App.
If you're movies or TV Shows buff, then you will definitely like this App. Because, after from streaming content, you can read new about movies and TV Shows. This App is a well-known Terrarium TV (Titanium TV) Alternative. Not only you can watch series online with this App. Also, can download your favourite Series or Movies. So that you can watch later. App provides two options to download. Either you can use a server and can download using App. Or, can use torrents to download. But, for that, you need a VPN and torrent client. The App has the largest collection of content to watch online for free.
There is a trailers section, in which you can watch upcoming movies trailers. So no need to search separately for upcoming movies. Show Box App doesn't come with the in-built video player. You have to install Lime Player from Play Store. Though, MX Player support is gonna come soon. If you want to watch a video with subtitles in Show Box. Then, with the lime player, you can add subtitles from popular OpenSubtitles site. Lime Player comes with cast feature. So, you can cast video directly to your ChromeCast. AllCast and LocalCast options are also available. You can also sort Movies & Series according to Genre. Overall, a good App, if you have Chromecast. If Show Box App isn't working, then you can try some other Apps like ShowBox.
4. Tubi TV.
This is the legit site to Watch TV Series and Movies for free. But, the site doesn't provide the latest Content to Stream. But, you can watch thousands of movies and TV shows. The content is available from studios like Paramount, Lionsgate, MGM and from over 200 partners site. Tubi TV App is available for Roku, Apple TV, Fire TV, Xbox, PS4, Chromecast, Android and many other devices.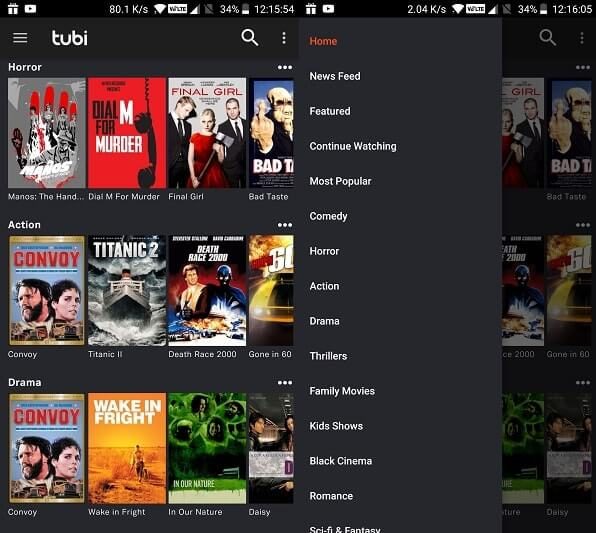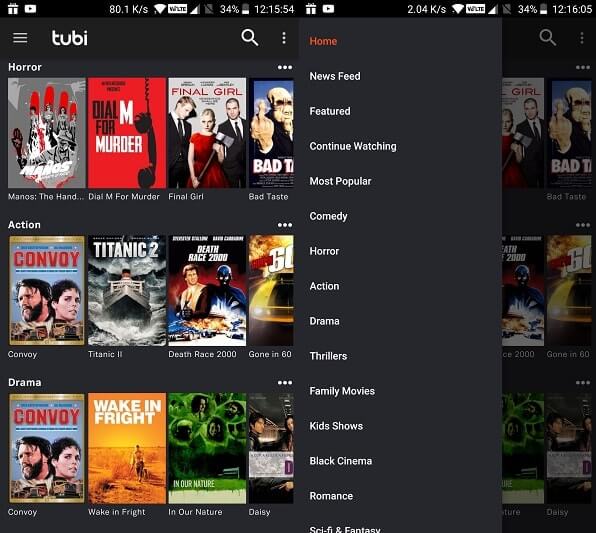 Though, TV Series are not much on Tubi TV. But, Movies are enough to watch in free time. The best part is you don't need to signup before watching any Movies. There is almost every genre movie you can find on the Tubi TV streaming site. Even, classic and cartoon movies also available to watch. Overall, if you're searching for something to watch, not talking about new content. Then definitely, you can watch movies on Tubi TV.
5. Popcornflix.
Popcornflix is the legal site to watch TV shows online for Free. There is a limited series available, maybe you'll not find out what you are searching for. But still, those series available to watch are good enough to kill time. The best part about this site is if you're using the mobile device then you can download the app and watch TV Shows by swiping. The app is available on iOS, Android, Amazon App Store, Roku and almost for every platform.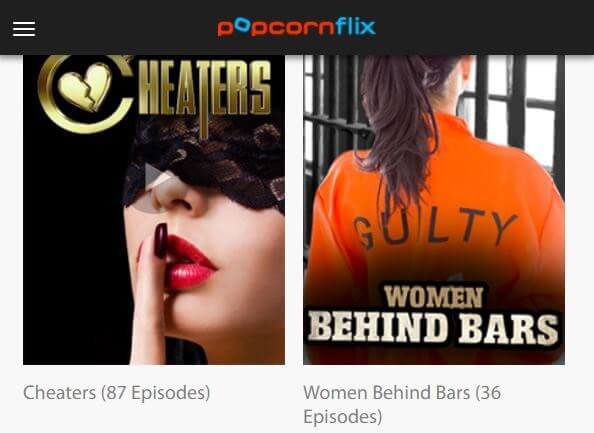 6. Snag Films.
SnagFilms is the best place to Watch Series Online of your favourite shows, also you can watch movies online up to 5,000. Although this site is all about watching FREE movies, some good TV series also available on this site. Like Popcornflix, SnagFilms app also available for every platform like Android and iOS.
Conclusion / Summing-up. – Watch Series Online.
So, these are the sites and Apps to watch TV Shows and Movies for Free. Personally, MoviesJoy Site is best, because of no ads. And, If you're looking for an App, then Titanium TV is the best App. Still, there are dozens of sites available that allows you to watch Latest FREE TV Shows online for Free. But you can find out all your favourite TV Shows on these sites that I mentioned above. If still, you're facing any issue in watching Series online then feel free to comment. Or if you know any other better and the ad-free site please comment.