Are you looking for a way to change your Netflix region? So that you can watch content that's only available in the United States, United Kingdom, or any other region. Well, this article will help you with that.
Netflix is available in over 190 countries, almost everywhere, except for four countries China, North Korea, Syria, and Crimea. That means you can stream movies, TV Shows, and documentaries through Netflix nearly anywhere in the world. Though, unfortunately, the Netflix library isn't the same everywhere. e.g. In India, popular TV shows like Dexter, The Office, and Supernatural, aren't available on Netflix. These TV Shows are available in other countries Netflix libraries, like the USA. But, you can watch these shows on Prime Video in India.
If you're getting the following errors, then also this article will help you. Or, if you're getting any other error related to your region/country, then also you will find this article helpful.
This title is not available to watch instantly. Please try another title.
This title is not available to watch in your area.
This title is not available in your region
Why Does Netflix Library Differ Internationally?
You might be wondering why Netflix doesn't provide the same content in every country. As per Netflix CEO Reed Hastings – the Netflix catalog differs in every country because of territorial licensing.
The producers of any movie or TV show, to maximize their profits, sell the license of their creation to different content distributors in different parts of the world. As you might be aware there are many other Netflix Alternatives available like Amazon Prime Video. And, streaming services buy the license of a movie or TV show, based on users' interest in that. Though, rights go to the highest bidder. Undoubtedly, Netflix is trying hard to make all content internationally available. But, for now, you have to live with geographic restrictions.
Most of the good TV shows are available on Netflix UK and US libraries. So, to watch American Netflix from other countries, you have to use a VPN Service. Do you know, that Netflix has so much hidden content? Which you cannot easily access from your Netflix Homepage. You just need Netflix Secret Codes to access all hidden Netflix libraries.
Netflix officially doesn't provide any setting to change the region from Netflix Account. But, with Virtual Private Network (VPN), you can access any country's Netflix library. VPN basically encrypts all the data that your device sends over the internet. So, that no one can monitor your Internet activity, even your ISP. And, does route the data through a server from another country.

VPN tunnels your Internet traffic, using an intermediary server selected by your VPN App. It also masks your IP address. And, replace it with the IP address of the chosen country. This means it spoofs your current location. Effectively, VPN allows you to change the Netflix region. But, unfortunately, not all VPN services work with Netflix. Netflix shows a streaming error – You seem to be using an unblocker or proxy. Please turn off any of these services and try again.
So, to change Netflix country, you"ll need a trustworthy VPN provider. which Means, you"ll have to pay for the VPN. Yes, there are some free VPNs that might work with Netflix. But, with a free VPN, you have to compromise your Internet speed. This means, the streaming quality will go down, and will take lots of time in loading Netflix content. Before start telling you about some Best VPNs for Netflix. I think you should know about uNoGS, it gonna be quite helpful.
Method 1: Use a dedicated Netflix VPN App
Step 1: Netflix Global Search – UNOGS
Netflix doesn't showcase that movie or TV show that isn't available in your country. So, before connecting to a VPN server in the VPN App, watch something. You might want to know in which country's Netflix library, that movie or tv show is available. In this scenario, uNoGS comes in handy. It's a global database of Netflix, that tells you in which country the title is available. Simply, open uNoGS website, and do a quick search.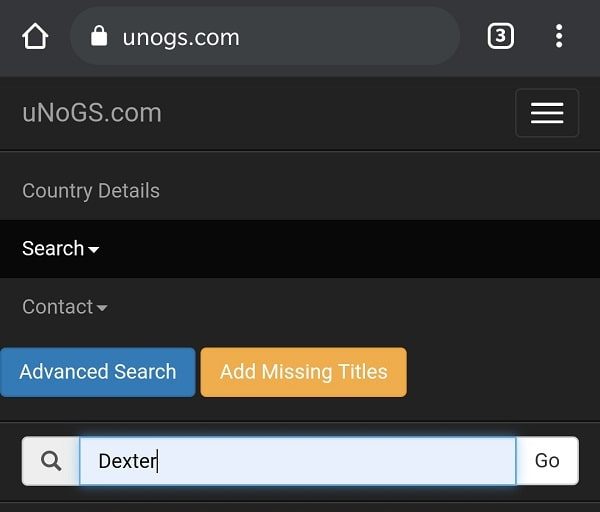 And, uNoGS will show you in which country that title is found. Once you find out, you can simply connect to the VPN server of that country. And, can stream your TV show or movie. It also tells which VPN will work.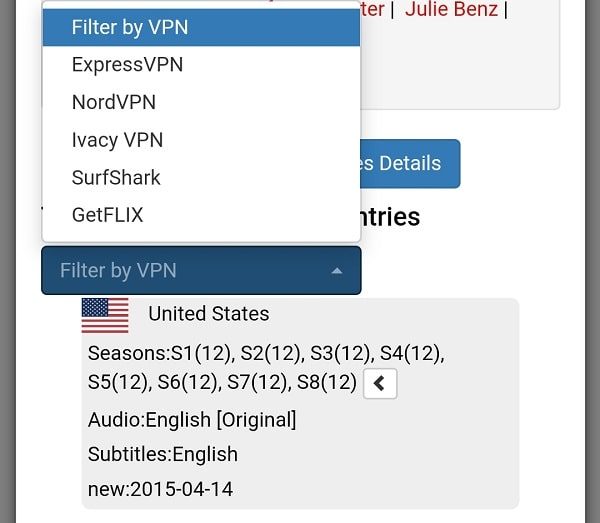 Step 2: Choose a VPN Provider
Netflix keeps updating its VPN detection system. So any VPN provider could stop working in the future. That's why it is better to use a reliable VPN service. For now, there are a few most reliable VPN services that can be used to access Netflix Library. We also have created a list of the Best Netflix VPNs.
ExpressVPN.
NordVPN.
Surfshark.
Private Internet Access.
CyberGhost VPN.
Get FLIX
Ivacy VPN
Personally, I have tested the trial version of ExpressVPN. And, it worked quite well. Before you purchase a premium version of any VPN service. There are a few things that you should consider.
Make sure, you have an unlimited high-speed broadband connection.
Many of these VPN services provide a yearly offer on their premium subscription. But, I suggest you to subscribe for their trial version. And, if the trial version isn't available, then you can buy a monthly subscription. As per many sites, Express VPN is best for Netflix Streaming. So, you can try that first.
Also, Before purchasing a VPN service to watch a TV Show or Movie. Look if the content is available on any other streaming platform.
Free Proxy Service for Netflix.
If you don't want to use a VPN, then you can try a proxy service. Though, the Proxy service will not encrypt your data. To change the Netflix region, you can try Smart DNS Proxy. It offers 14 days free trial. And, the best thing is you don't need to enter your card details, just your email ID. I have tested it with Netflix, and it worked. Though, using it is a little bit complicated. But, I have already written all steps in the "how to watch HBO Free outside US" article. I will try to add more free Proxy and VPN services in this article soon.
Step 3: Install VPN App and Connect to Server
After selecting the best VPN service for you, install it on your device, in which you"ll stream Netflix content. And, log in or signup using all required details. Here, I want to stream Netflix on my Android smartphone. So, I am installing the Express VPN App in it. And, I have acquired a trial version of it using my email.
Do Netflix Global Search and find out in which country content is available. And, now in VPN App, connect to that country's server. That's it. As you can see in Express VPN Android App, I have connected to the USA Server.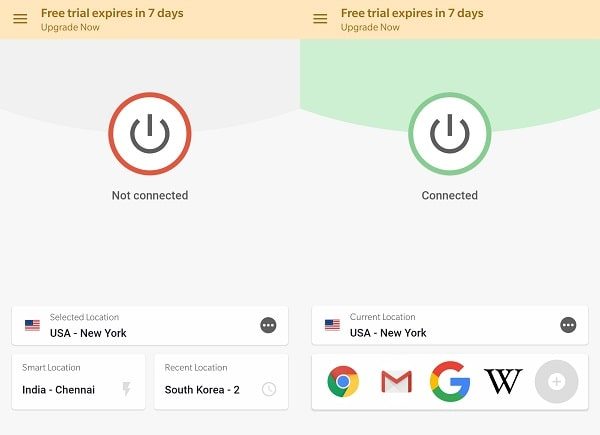 Step 4: Stream Netflix Content
That's it. After connecting to VPN, all you need to do is open Netflix App or Site. And, Start watching content from the new Netflix Region. You can connect to any country server, and access that country's Netflix library. e.g. You can connect to a server in Japan, and can watch Anime.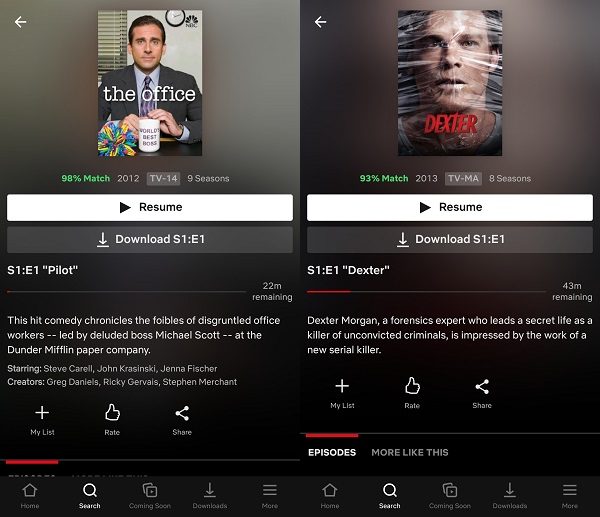 Note: On some VPN servers, Netflix shows a streaming error. If this happens, then switch to another server from the same country in VPN App.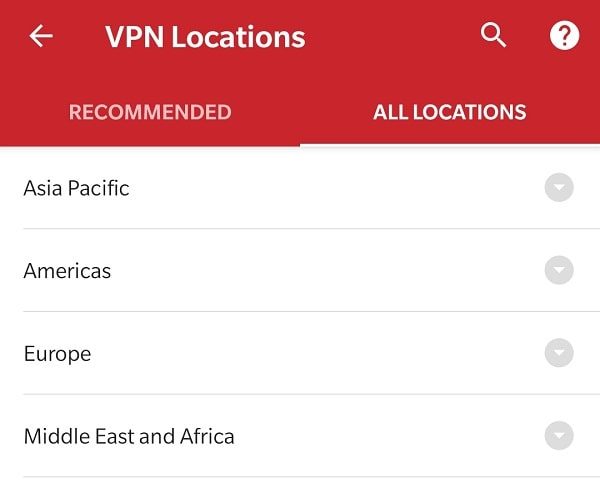 If you are relocating to a new country. Then you might be interested in changing your Netflix region permanently. In that case, check out Traveling or relocating on the Netflix page.
Method 2: Use Opera Browser
Opera is one of the most underrated web browsers, but it's one of the most useful. Because it comes with an inbuilt VPN. And, surprisingly, you can easily change Netflix Country using it. It provides three virtual locations America, Asia, and Europe.
1. Install Opera Web Browser on your Computer and do open it.
2. Click on the settings icon. In the Privacy & Security section, you will find the VPN option. Click on "Enable in Settings".

3. That's it, now you can enable VPN. Enable all options related to VPN.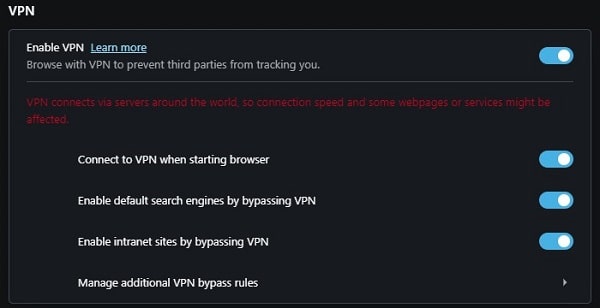 4. Now, open Netflix Website in Opera. And, in the address bar, you will see the VPN icon, click on it.
5. Now, choose a virtual location of your choice. And, refresh the Netflix webpage.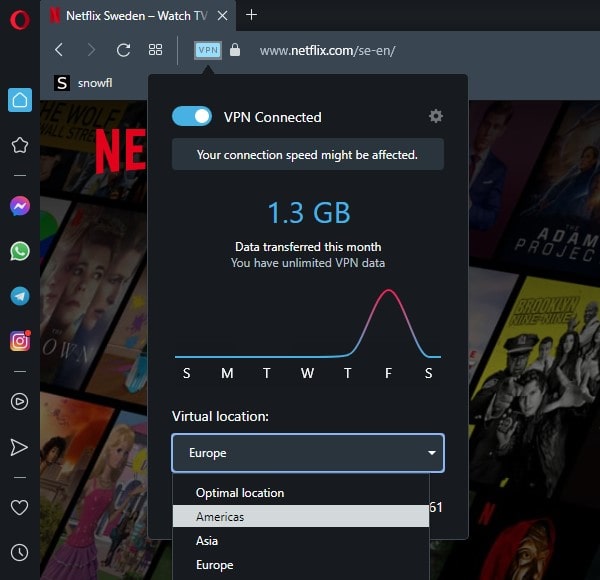 So, that's how you can use the Opera browser to change the Netflix region.
Okay, so that's how you can watch Netflix content that isn't available in your country. First, you just have to find in which country the library that content is available. After that, you can install VPN App that supports that country's VPN. Once you install and connect to a country server. After that, you can easily access any Netflix Movies, TV Shows, or Documentaries. Moreover, now you can also Set Parental Controls on Netflix.