Netflix provides a distinguished profile option for Kids. Which, many movies and Netflix Originals TV series are available, especially for kids. But, by easily switching to any Netflix profile, kids can easily watch age-inappropriate content. Well, now not more. Because Netflix has recently updated its parental control settings. With two new features, now you can set Parental Controls on Netflix.
You can now lock up a Netflix profile with a 4 digit PIN. That will prevent kids from accessing the parent's profile. Second, you can now filter out titles based on ratings. Or, can block any individual title, if any title pushing the limits of their rating. So with these two methods, parents can restrict kids from viewing mature content.
Set Parental Controls on Netflix
Set PIN Lock on Netflix Profiles
Before this Netflix update, Kids were able to switch to any profile. Now, by protecting your profile with a PIN, you can keep them out. Even, it will prevent other users on your Netflix to sneak into your profile. Well, if you haven't created Netflix profiles, create them first. After that, follow these steps.
1. Open the Netflix site in a web browser and point out the profile icon from the top-right. A drop-down menu will appear, click on "Account".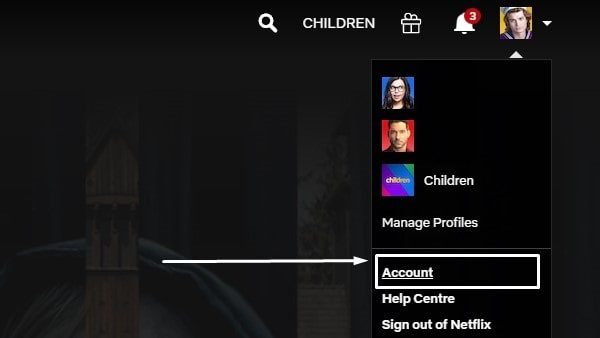 Note: To set up a PIN lock from your Android device, first you have to uninstall Netflix App. After that, open Netflix in the chrome browser. Tap on the "hamburger icon" from the top-left and, tap on "Account".
2. On the Account settings page, navigate to the bottom. And, you will see the "Profile & Parental Controls" section.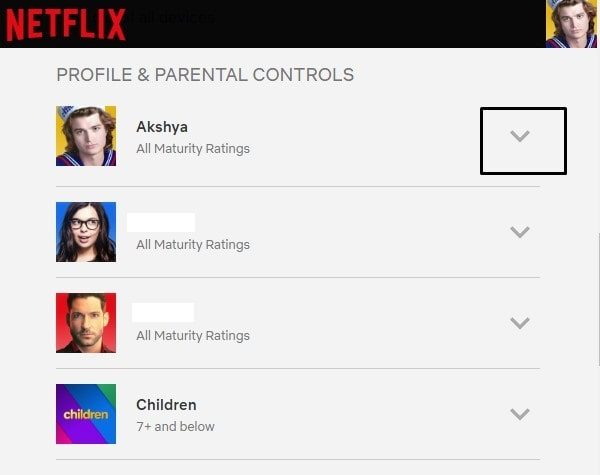 Click on the down arrow icon next to your Netflix profile.
3. In the extended menu of your profile, click on the "change" button beside the Profile Lock.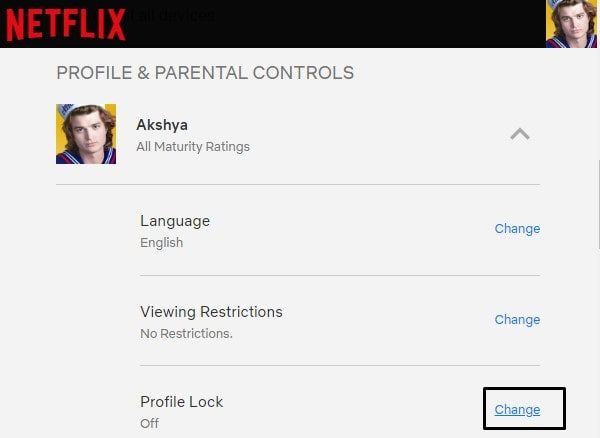 4. Next, It will now ask for the Netflix account password for verification. Enter the account password, and click on "Continue".
5. The profile Lock page will appear now. You have to check the box "Require a PIN to access profile". After that, enter the 4-digit PIN to lock the profile. (Also, you can prevent users to create a new profile. Select checkbox "Require a PIN to set new profile".)
Click on the Save button.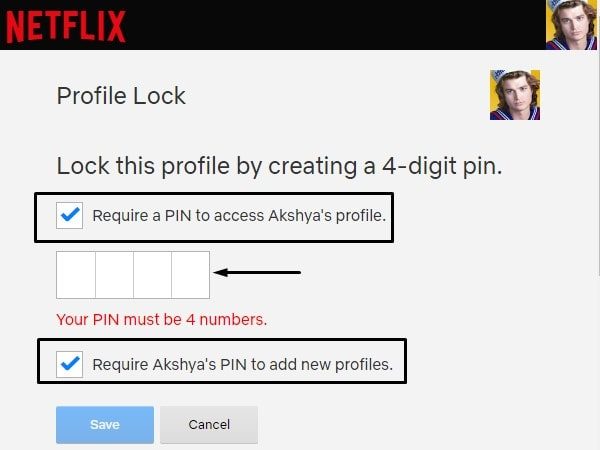 Now, you will see a lock icon beside your profile in Account settings. And, you will also receive an email regarding the same. If you want to change PIN again, then you have to go through the same process again.
Enable Viewing Restrictions
Well, On Netflix, default children's profiles only show titles rated 7+ and below. Though, If you have created a distinguished profile for your kids. Then, you can customize it by setting up certain restrictions. These content restrictions settings will prevent your kids to see 18+ content or any inappropriate horror movie. Netflix recently expanded its rating system to PG, PG-13, TV-Y, and so on. Also, if you think a movie or TV series scenes are inappropriate. Then you can block that specific title from the kid's profile.
1. Open Netflix Account Settings, and go to the profile and parental control section.
Click on the down-arrow icon next to your kid's profile. And, you will see the "Viewing Restrictions" option just right above the profile lock. Click on the change icon beside "Viewing Restrictions".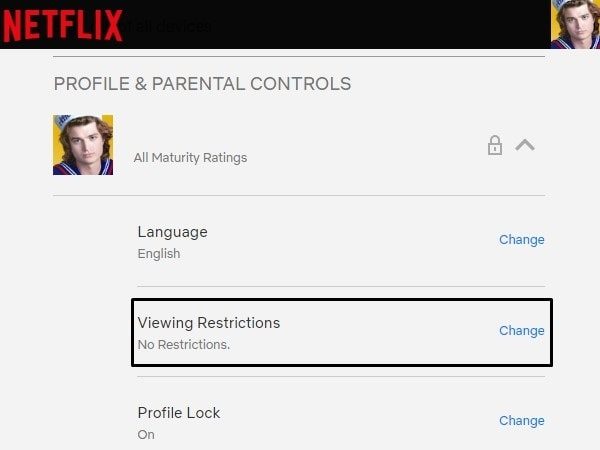 2. You have to enter your Netflix Account password to manage Profile Maturity Rating and Title Restrictions. Enter the password and click on continue.
3. On the Viewing Restriction page, you will get the option to age-restrict the account. For example, if your kids are 14 years old. Then, you can set the account restriction to 13+. To do that, click on the 13+ radio button.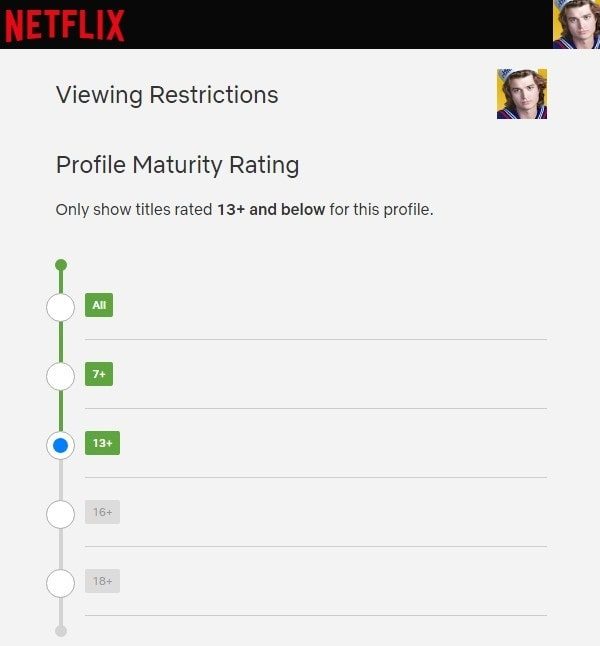 4. That's it, Netflix will now show content that is rated 13+ and below.
Title Restrictions
Recently, Netflix has added the option to filter out series based on the title. For example, I don't want kids to watch "Narcos". So, I can choose to do that. Just type "Narcos" and select the title name from the prompt. And, click on the Save button.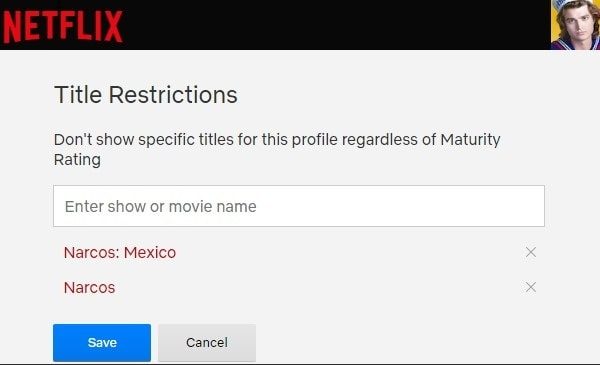 You can block as many titles as you want to. So that's the way you can set parental controls on Netflix profiles.