When it comes to the best streaming service, straight-off Netflix comes to mind. Netflix keeps introducing new subscription plans to attract more users. And, when it comes to content, Netflix offers a wide variety of award-winning TV shows, anime, movies, documentaries, and much more. But, in one aspect, the Prime video is better than Netflix, which is IMDb ratings. Amazon Prime Video does show IMDb ratings on every TV Show and Movie details page. Just for info, IMDb is owned by Amazon. But, as it is a fan-operated website, so, you can check the ratings of any Netflix TV Shows and Movies.
Yes, there are some other reliable Movies, and TV Shows review/rating sites available like Rotten Tomatoes and Metacritic. But, IMDb has set the bar, and, it has millions of titles (including episodes) & personalities in its database. Undoubtedly, IMDb ratings are quite accurate, and they can help to narrow your search for the next Movies/TV Series to watch.
And, thankfully, now with the help of an extension and an App. You can see IMDB Rat­ings in Net­flix on Android and Chrome browser. So, no need to go back and forth between the two sites to check ratings. Moreover, now you can also Set Parental Controls on Netflix.
See IMDb ratings in Netflix App and Site
Method 1: Show IMDb ratings in Netflix Chrome
Yes, there is a standalone Netflix App available for, Windows 10. But, watching Netflix in Chrome is much preferable for many users. As you might be aware, Chrome has its own Web Store. And, from there you can add many useful extensions to enhance the browsing experience. And, to check IMDb ratings on the Netflix site, I found an extension.
Trim: IMDB Ratings on Netflix and Prime Video
There are a few other extensions available for Chrome that works similarly. But, Trim is one of the best, because, apart from IMDb, it also shows Rotten Tomatoes ratings. And, by clicking on ratings you can directly open the IMDb/Rotten Tomatoes page of that Movie/TV Show.
1. Open the Trim: IMDB Ratings on the Netflix extension link in Chrome Web Browser. And, click on the "Add to Chrome" button.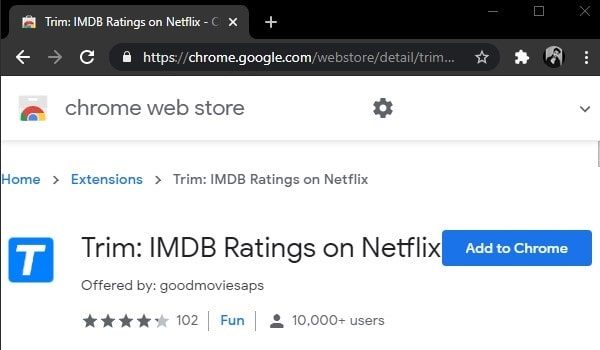 2. A small popup will appear in the top-middle of the browser, click on "Add extension".
The CRX extension file will now get downloaded and installed automatically. Now, click on Puzzle Icon in the Chrome toolbar and pin the "TRIM" Chrome extension to Toolbar.
3. That's it, open the Netflix site and log in with your account details. You will now don't need to do anything else. You will see IMDb and Rotten Tomatoes ratings over the cover icon of Movies and TV Shows. (The number in the yellow circle icon denotes the IMDb ratings.)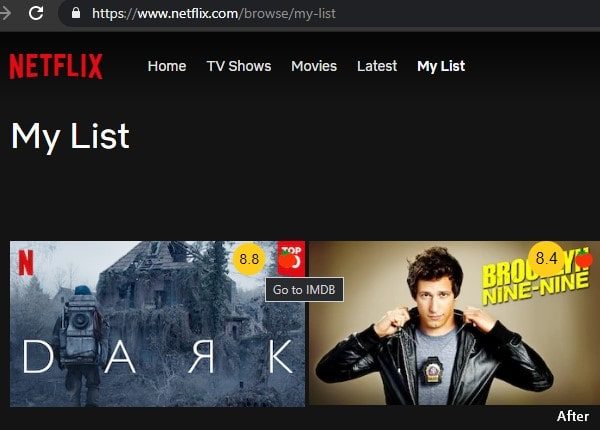 4. Yes, there is an option also available when you click on the extension icon, to hide the rating.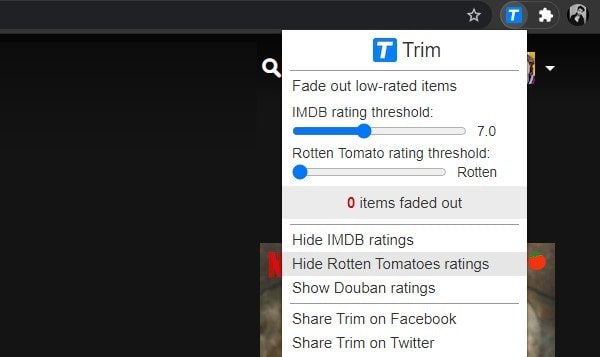 5. It even, lets you fade out low-rated Netflix Movies and TV Shows.
Method 2: Show IMDb Ratings on Netflix Android and iOS
As of now, there isn't any method available to show IMDb ratings within the Netflix App. Yes, there was an app available "Movie ratings for Netflix – Flutter", but it's been removed from Play Store. And, the older version of the App doesn't seem to work with the new Netflix App.
Flixboss: Guide to Netflix
FlixBoss is another dedicated App to discover the best Movies and TV Shows on Netflix. You can search the complete Netflix Catalog through this App. App also allows to sort the list by IMDb rating and filter the genres. You can also sort movies according to Runtime. There is a roulette option also available on Netflix. It gives you an option to find out random content to Watch.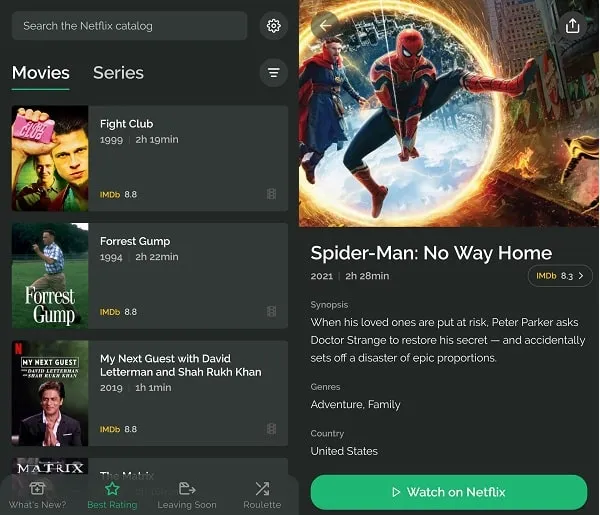 JustWatch – Streaming Guide
If you watch Movies and TV Shows online on daily basis, then this App is for you. Because this App allows you to choose streaming services that you use. And after that, it shows a list of Movies and TV Shows from that service. You can create your own Watchlist. And also, you can mark the Episode that you've watched. So, basically, it is one of the best Movie Tracker Apps.
Apart from watchlist and tracking TV Shows, this app also shows IMDb ratings. Moreover, you can also check the cast, director, runtime, and trailer of Movies and TV Shows. The best is it gives you a Netflix stream option. This means that if you want to watch a Movie or TY Show after checking it in JustWatch App. You just have to tap on the Netflix icon to stream the Movie/TV Show on Netflix. So no need to manually search for content after finding it in JustWatch App.
1. Do Install JustWatch App from Play Store/App Store.
2. Open JustWatch App and you will see a + icon next to the streaming services icon.
3. Tap on it, and now you can choose a streaming service. So, do select Netflix and de-select all other services. Tap on Done.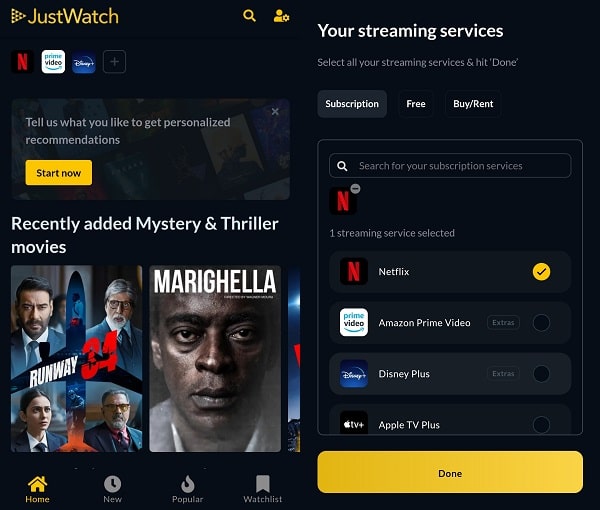 4. That's it, now you will see only Netflix Content in App. You can create a watchlist and see IMDb ratings of new TV Shows or Movies. Open any Movie or TV Show title, and scroll down to see IMDb Ratings of it.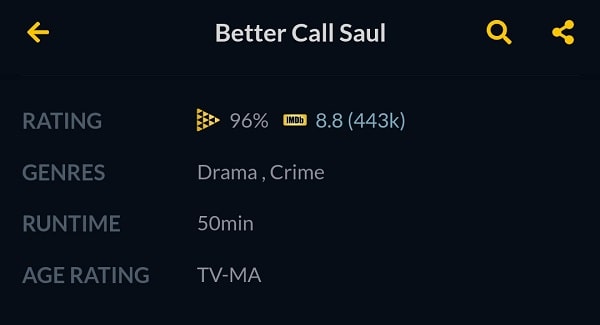 5. You can also tap on the Netflix Icon and you will get the option to select Netflix App to Stream.