When it comes to the best streaming service, straight-off Netflix comes in mind. Netflix keeps introducing new subscription plans to attract more users. And, when it comes to content, Netflix offers a wide variety of award-winning TV shows, anime, movies, documentaries, and much more. But, in one aspect, the Prime video is better than Netflix, which is IMDb ratings. Amazon Prime Video does show IMDb ratings on every TV Show and Movie details page. Just for info, IMDb is owned by Amazon. But, as it is a fan-operated website, so, you can check ratings of any Netflix TV Shows and Movies.
Yes, there are some other reliable Movies, TV Shows review/rating sites available like Rotten Tomatoes and Metacritic. But, IMDb has set the bar, and, it has millions of titles (including episodes) & personalities in its database. Undoubtedly, IMDb ratings are quite accurate, and it can help to narrow your search for the next Movies/TV Series to watch.
And, thankfully, now with the help of an extension and an App. You can see IMDB Rat­ings in Net­flix on Android and Chrome browser. So, no more need to go back and forth between the two sites to check ratings.
See IMDb ratings in Netflix App and Site.
IMDb ratings in Chrome Browser.
Yes, there is a standalone Netflix App available for, Windows 10. But, watching Netflix in Chrome much more preferable by many users. As you might aware, Chrome has its own Web Store. And, from there you can add many useful extensions to enhance the browsing experience. And, to check IMDb ratings in the Netflix site, I found an extension.
Trim: IMDB Ratings on Netflix.
There are a few other extensions available for Chrome that works similarly. But, Trim is one of the best, because, apart from IMDb, it also shows Rotten Tomatoes ratings. And, by clicking on ratings you can directly open the IMDb/Rotten Tomatoes page of that Movie/TV Show.
1. Open the Trim: IMDB Ratings on Netflix extension link in Chrome Web Browser. And, click on the "Add to Chrome" button.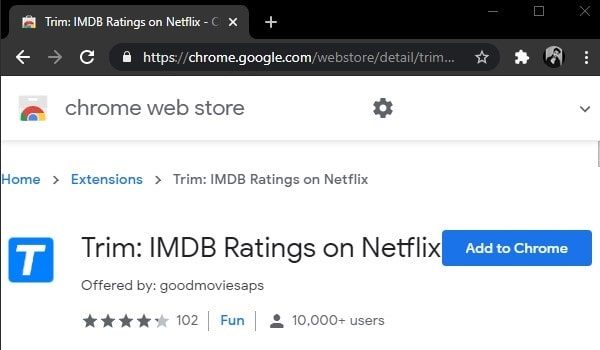 2. A small popup will appear to the top-middle of the browser, click on "Add extension".
The CRX extension file will now get downloaded and installed automatically. Wait for a few seconds, and you will see a new icon in Chrome where all other active extensions reside.
3. That's it, open the Netflix site and log in with your account details. You will now don't need to do anything else. You will see IMDb and Rotten Tomatoes ratings over the cover icon of Movies and TV Shows. (The number in yellow circle icon denotes the IMDb ratings.)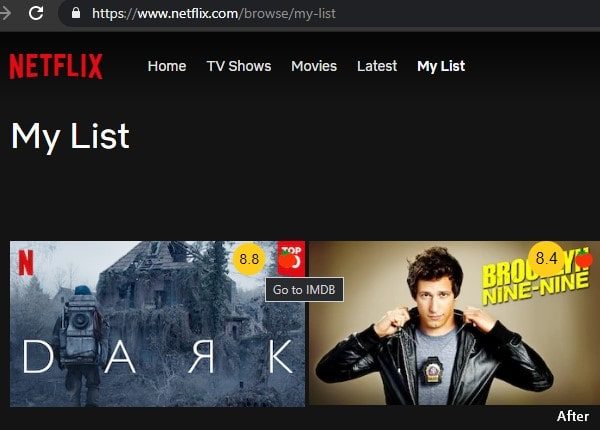 Yes, there is an option also available when you click on the extension icon, to hide the rating.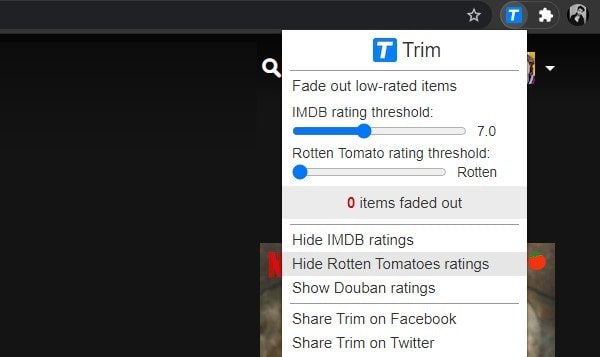 Even, it lets you fade out low rated Netflix Movies and TV Shows.
IMDb ratings in Netflix App.
Well, not everyone prefers watching Netflix on their PC or laptop. Mostly, in the late-night, people prefer using smartphones or tablets (iPad) to watch Netflix. Yes, you can Install Chrome extension on the Android Browser and can check IMDb ratings on the Netflix site. But, it will not be a good experience. Better will be, if you will able to see IMDb ratings in Netflix App. Thankfully, Flutter App can do so.
Movie ratings for Netflix – Flutter.
Flutter is not so popular but an open-source smart App that helps you to decide what to watch. It does this by showing IMDb ratings on Netflix, Prime Video, and Google Play Movies & TV. The best part is, it is completely promotion-free and ad-free.
Flutter uses Accessibility services to read the window content to obtain the name of the Movie or TV Show. And, once the title is obtained, it shows the rating on your screen. It works faster than you expect. And, you can completely customize the IMDb rating bar.
1. Do install "Movie ratings for Netflix – Flutter" App from Play Store. Alternatively, You can even download the APK file of it from GitHub.
2. Once App gets installed open it, tap on Configure Settings > Manage supported apps.
Here, enable Netflix toggle to enable Flutter. It might already be enabled by default.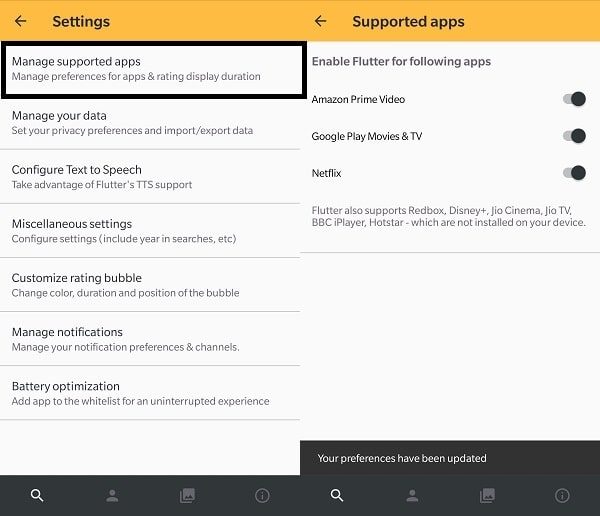 3. Now, to activate Flutter, go back to the home screen of the App. Tap on Activate Flutter > Open Accessibility Settings.
4. Android's Accessibility settings page will get open. Tap on Flutter Movies Ratings, and, enable "Use Service" toggle.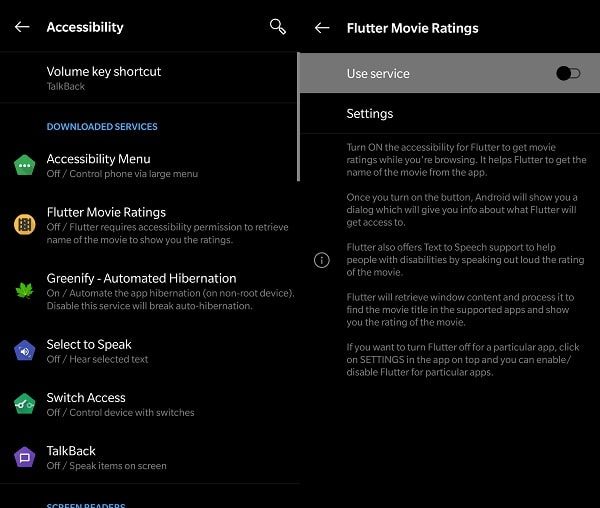 5. A popup screen will appear to ask you for the confirmation, tap on 'Allow'. That's it, Accessibility service for Flutter App will now get enabled.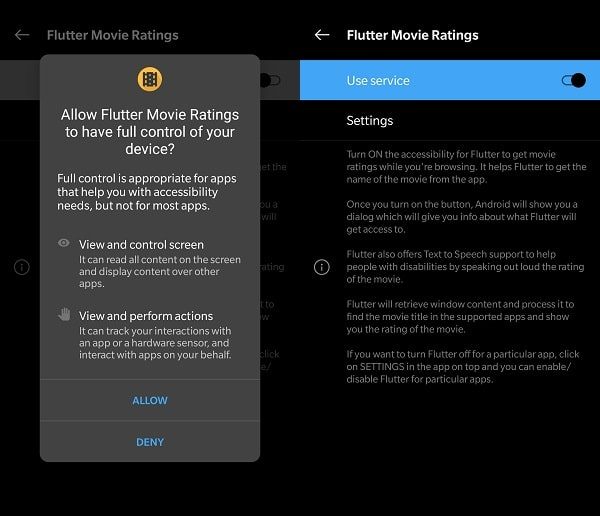 6. Flutter is now Active screen will show up. Tap on "Open Netflix". Open any TV Show or Movie, you will see a small draggable IMDb rating bubble.
By default, the rating bubble disappears disappear very fast. You can increase the duration of it. And, can change the Notification bubble color. Simply, open Flutter App Settings > Customize Rating Bubble. Here, you can completely customize it.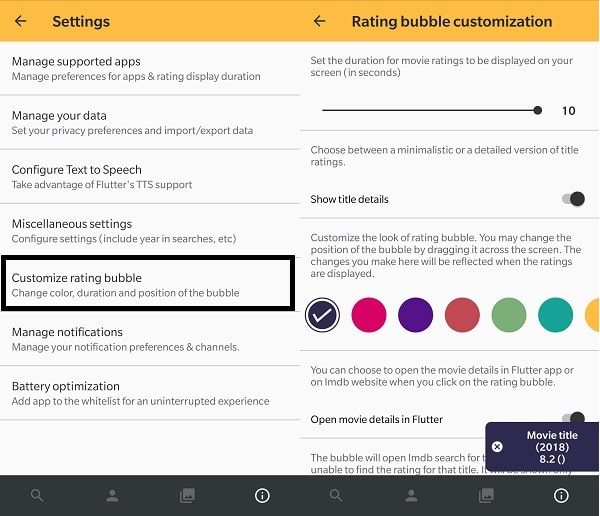 Also, by default, when you tap on the IMDb rating bubble, it shows movie details in Flutter. To see movie details on the IMDb site, disable the "Open Movie details in Flutter" option from the same customization page.
There is now no hope to get IMDb ratings Feature officially on Netflix soon in the future. So these were the ways to see IMDb ratings in Netflix App and site. Though, as of now, I didn't found a way for the iOS and iPad OS. But, I will soon come up with a method to do so. If you find out this article helpful, then don't forget to leave a comment.