Nowadays everyone has high-end smartphones with a good camera, and many companies are focusing on smartphone cameras only. A good smartphone camera means high-definition video quality which takes lots of space. And sharing those Big video files isn't a good idea because it takes lots of time and the internet. Or if you're using a DSLR camera to shoot videos then a single video takes a minimum of 1 GB of space. And at the end, two option remains to us delete video files or compress video using video compression software.
There are dozens of Video compressor / Video compression software available on the internet but some of them paid, and some are too old. Only a few software available that provides the capability to convert video into HEVC codec / x265 codec known as HEVC converter.
What is the HEVC codec / H.265 codec?
HEVC stands for High-efficiency Video Coding, also known as H.265 / MPEG-H 2. It is the latest video file codec, and the best part is it doesn't destroy video quality. For Example, if you have a 1 GB video File that is of 1080p quality. And, if you compress it using video compression software into HEVC codec then the File size will be around 250 MB, and quality remains the same.
If you're searching for an online video compressor, then it's not a good idea to use online software. Because to convert any video you need first to upload it to the site server then the compression process will start. And after that, it will allow you to download so that that whole process will take time and an internet pack. And if the file size is around 1 GB+ then it's not a good idea to use online video compressor software.
Best Video Compression Software / Best HEVC Converter.
HandBrake.
When it comes to video compression software, nothing can beat Handbrake. It is an entirely free and open-source transcoder for video Files. It is not Platformed-specific available for Windows, Mac & Linux operating systems. Although it is very old video compression software developed in 2003. But developer still updating this software and provides the latest video encoding capability.
How to compress video using HandBrake Video Compressor.
Download Handbrake software from its official website and install it on your computer. After that open Handbrake and go to Files Menu > Choose source > File. (you can also add many files and create a single file)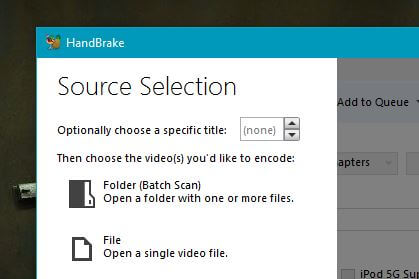 Choose the destination of File – now you need to choose a destination for a compressed video file where you'll be able to see video after compression. Click on the browse option now select desired folder or drive or choose a desktop, enter a video file name and then tap on save.

You can see a bunch of choices now like Pictures, Filters, videos, subtitles, and more. To set the latest video codec, H.265 go-to video option and choose video codec x265.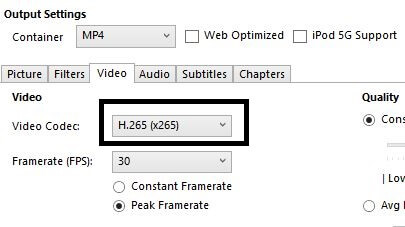 To start the video compression process click on the start Encode option. It will take a few minutes to complete the process according to the size of the file. When the process gets complete, you'll able to see a compressed video file in the destination folder.
By using this software, you can 
add subtitles to video
files also can add audio files. Video cropping feature is also available in this software which is a good thing. One more feature that you might like about this software is you can check live preview before video compression. Overall it is the best video compression software that comes with the best features.
Win X HD Converter. (Paid)
If you want extreme level compression to upload files on Facebook, YouTube, etc then Win X HD is the best option for you. Win X also uses the same technique / H.265 codec to compress video files in HD format. It comes with a 370+ video and audio files codec which allows you to compress or convert video into any format.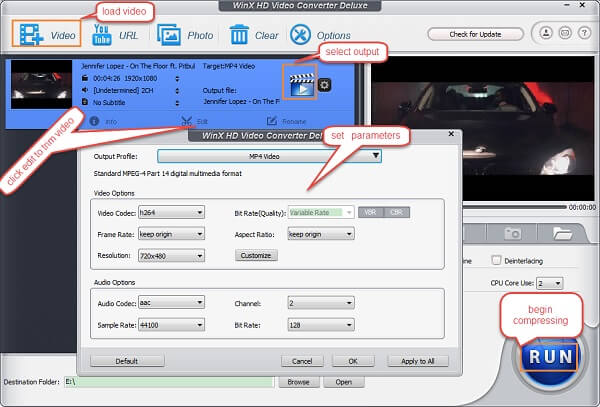 You can also compress video for the specific device also, like compress video for iPhone 6/7. It compresses videos within a minute using Intel QSV and NVIDIA CUDA/NVENC to boost compression. Compression process also similar like Handbrake  – Load the video > Choose destination & Format > Set parameters (h.265) > click on Run. That's why it is known as the Handbrake alternative and it is the best video compressor software.
Format Factory.
Format Factory is all in one software, it has all features that we need to perform on video Files. It supports converting all popular video, audio, picture formats to others. Also sometimes video files don't play and show some error you can fix damaged video and audio files using it.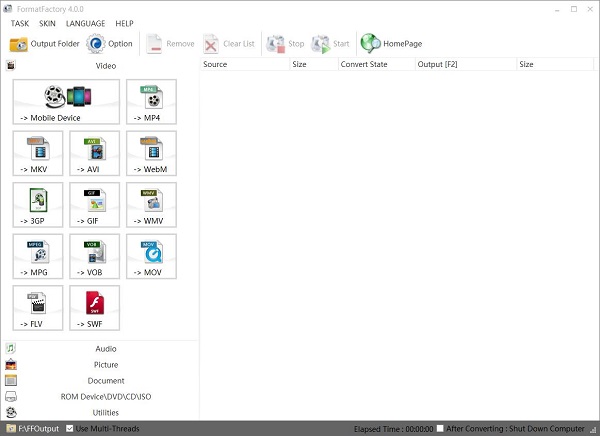 You can also compress video and reduce the size of the file, not only to save disk space but also easy to save and backup. Also, you can Rip DVD to video file, Rip Music CD to the audio file. Overall format factory is the best Video compression software to reduce the video file size from GB to MB.
Conclusion.
Still, many software is left to describe like Freemake video converter, Avidemux, etc. But this software is basically a video converter and here we are talking about video compressor software. And the best option is Handbrake because its UI and functionality are just awesome. I was using Freemake video converter but after downloading handbrake I realize it is the best compression software. If you know any other better software feel free to comment I will add it to this list.