Taking the screenshot on Android is not rocket science, you can make by holding Volume down and power button. Nowadays we can also make scrolling screenshot by using some Best Screen Capture software. But still, there are not straight option to take the screenshot in windows 10 and older version. Although you can capture the whole computer screen by pressing, Windows + Print screen.
There could be the much possible reason why you want to screen capture windows. Maybe you're making some tutorial for your student or want to share some specific windows area snapshot to friends. Like Android, In windows, there are also dozens of screen capture tools available.
If you're also searching for Best Screen Capture tool, then Check it out this list to find out.
Best Screen Capture Software.
Snipping tool. (FREE)
Snipping tool is the official Microsoft best Screen capture software to take snapshots of any windows area. If you don't want to install any third-party tool, then it is the best option to work done.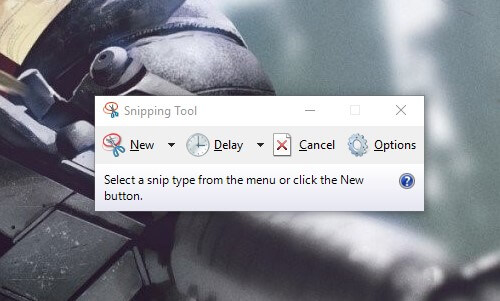 To open Snipping tool on your Windows PC, Click on Windows icon > search for Snipping tool using windows search. If you're using Linux and other OS, then move to the next option Microsoft doesn't offer a download link.
Take Screenshot using the Snipping tool. 
After opening snipping tool small tool window will open > click on scissor icon (new) > you'll able to see + sign, and the screen will go blur> select the specific area using that + sign and holding left click.
If you want to highlight any point in taking the screenshot, then you can do that by using the pen/highlighter option. Else go to file menu click on save as and save the screenshot.
Lightshot. (FREE)
If you want something more advanced and useful, rather than snipping tool. Then Lightshot is the best screen capture software because it provides some advanced option to perform on the screenshot. It's available for Windows and Mac operating the system and works the same in both OS.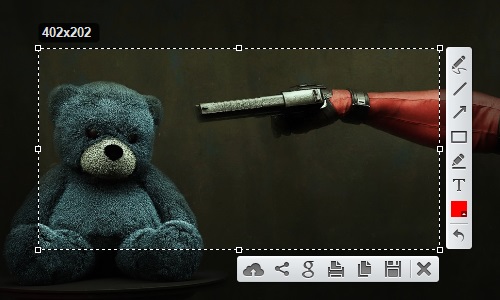 Sometimes we want to capture some specific width and height screen; then it comes in handy. Because Lightshot shows width X height while selecting any area of windows / Mac. Also, it allows you to add arrow or rectangle after taking the screenshot, which is helpful in making tutorial.
Take Screenshot using Lightshot.
Lightshot also works same like snipping tool, all you need to run the Lightshot software. And screen will go blur after that hold left mouse click and select area. And when you are done selecting it will show you some options.
You can directly save screenshot if you want or you can draw arrow rectangle or highlight on the screenshot. Also, you can write text on it; overall it is the best tool to take the screenshot on Mac OS.
Snagit. (Paid, Free Trial Available)
If you're searching for a perfect tool that not only allows you to capture screen only also allows to capture videos. Then Snagit comes in handy because it allows you to do both things. It comes with inbuilt Photo editor, which provides features to add basic effects on Images and Videos.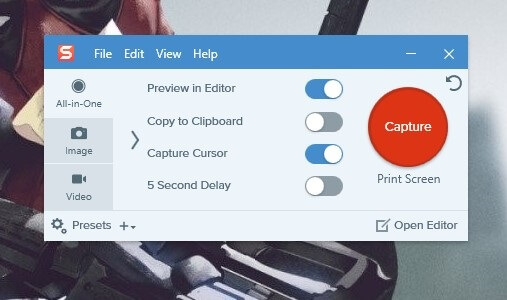 It is paid screen capture software, although it comes with 14 days free trial which is the right thing. And after using it if you like you can get this tool for the lifetime at 49.95 USD. If you want to keep the backup of your screenshot, then you can create Snagit profile. And screenshot will automatically get the upload to Snagit server; you can access anytime using profile. It also can capture images from objects that are larger than the screen. 
Skitch. (FREE)
Skitch is also best screen capture software for Mac OS; It is developed by Evernote (Best
Note-taking Apps
) developer. It is somehow similar to snipping tools because it provides the same features and functionality. But it shows width and height which is the lack of snipping tool.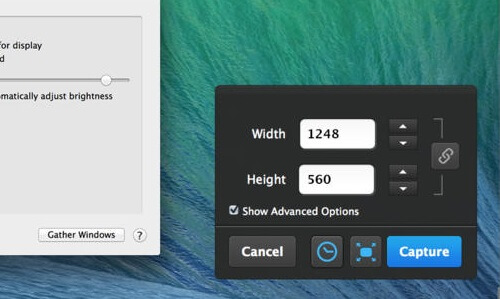 If you don't want an extra feature and want to install a simple tool, then Skitch is the best option. The user – interface of skitching is very fresh, and all editing functions are laid out in a ring around your screen capture.
Jing. (Free)
Jing is somehow similar to Snagit, and it developed by the same software company TechSmith. It allows to share your screen quickly; you'll able to see sun icon on top of the screen. By using it you can instantly capture screen and also can share quickly to screencast .com or you can share Flickr / YouTube.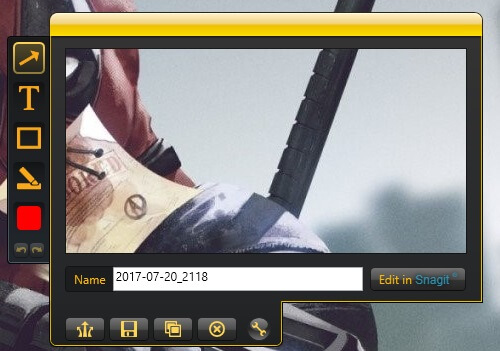 The best part you'll like about Jing is you can record video of the selected area. But like Snagit, you'll not be able to find out the editor. Although essential features like draw arrow, rectangle and text options available. You can use Jing for free unless you don't want to remove the Jing branding from images and videos. It records videos in MPEG format, but you can later convert using
Video compression software
.
Conclusion.
As I said, there are dozens of best screen capture software available on the Internet. And it's not worth to mention every tool. That's why after trying many tools I found these quite useful. If you want a simple screenshot tool with some basic edit feature, then choose Lightshot. Or if you can pay for some premium services and also want to capture video then Snagit is for you. If you know any other better Screen capture Free tool with some advanced options feel free to comment.