Looking for some Pushbullet Alternative? Hopefully, you will find the best in this article. When we are working on a computer, if a notification comes in the Phone, it can interrupt your work. Because there are so many things in the smartphone that can lead to time-wasting. Well, there are some apps available that help in syncing phone notifications on the PC. And, maybe you already know about the PushBullet application. Pushbullet is one of the best utility tools to see the phone's notification on PC. It allows transferring files, set reminders. Also, you can reply to messages from SMS, WhatsApp, Kik, etc.
But, the free version of Pushbullet comes with some restrictions. And, to access all features, you have to subscribe for the Pushbullet Pro. And, Pro version priced at $39.99/year or $4.99/month. Which might not be affordable for many people.
These are the features, that are not available in the free version. And, you will get only in Pushbullet Pro.
Action Support on Mirrored notification.
Universal copy & paste. (You can use Chrome to Sync Clipboard.)
Unlimited Messages (In the free version, you can only send 100 messages.)
File Send up to 1GB. (In Free Version only up to 25 MB allowed.)
100 GB Storage Space. (2GB only in Free Version.)
Well, Before you subscribe to the Pro version. I would like to tell you, there are some Free Pushbullet Alternatives available. And, these alternatives can definitely replace Pushbullet.
Pushbullet Alternative – Apps like Pushbullet.
1. Your Phone.
Microsoft is trying to make Windows more useful for its users. In the recent Windows updates, Microsoft introduced a new app "Your Phone". This App can be the best Pushbullet Alternative. Because it allows Windows users to view their smartphone notification on PC. Even, you can reply to the WhatsApp Messages.
With Your Phone App, Users can also check and reply to the Messages from the App. And, App also does shows your last 25 photos and screenshot. That you've taken recently. The smartphone battery indicator also appears in the "Your Phone" App. There are similarities between Pusbullet and Your Phone App. Pushbullet lets you connect the phone to PC using Google Account. And, similarly, "Your Phone" App allows connecting using Microsoft Account.
How to Get Phone Notifications on PC using Your Phone App.
1. Click on the search icon in Windows 10, type "Your Phone". From search results, click on Open. (If App not showing in search results, install it from Microsoft Store.)
2. Your Phone App will now ask you to select Android or iPhone. Select it and click on Continue.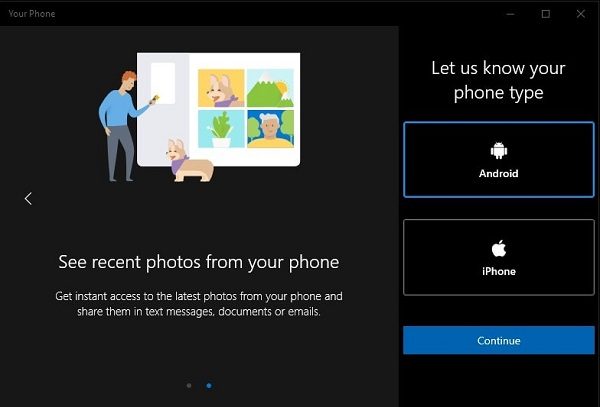 3. Install Your Phone Companion – Link to Windows App on your Android and iOS devices.
4. Open App in smartphone and tap on "Sign in with Microsoft". Use the same account to log in on to the phone, that showing in Windows "Your Phone" App.
5. After Logging in, the App will ask you to give some permissions. Tap on "Continue". And, Allow all permission one by one.
6. The app will now ask for background running permission. Tap on Continue > Allow.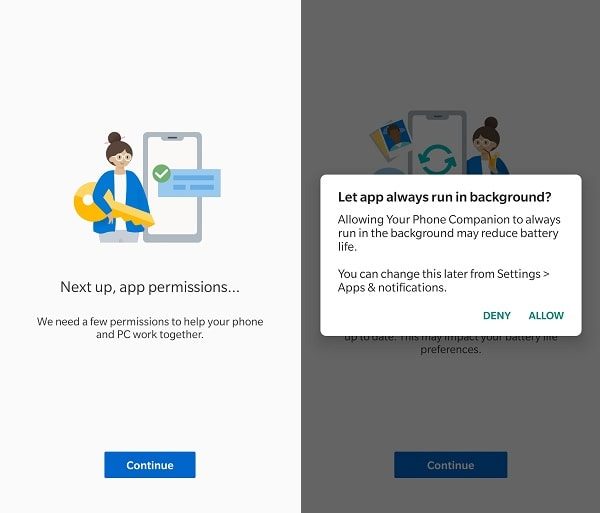 7. On the next screen, App will ask you to setup App on your Windows PC. Which you have already done. So, tap on "My PC is ready".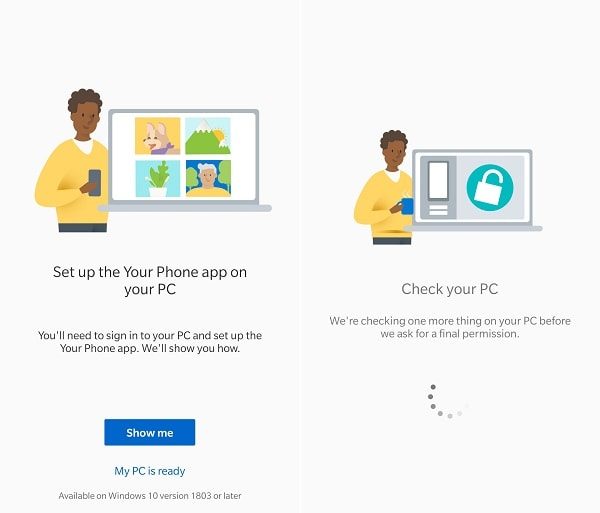 The app will now start checking a few things before asking for final permission. So wait for a while. (Sometimes, process get stuck, click on anywhere in Windows 10 Your Phone App.)
8. Your Phone App in the smartphone now will ask for the connection permission. Tap on Allow, and after that tap on Done.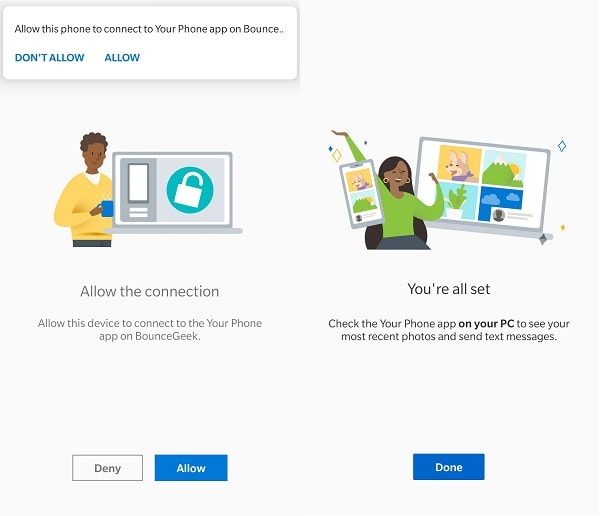 Notification Permission – To view and sync Android Notification in Your Phone App. You have to give permission.
1. Click on "Notification Icon" in Your Phone Windows App, and then tap Get Started > Open settings on phone.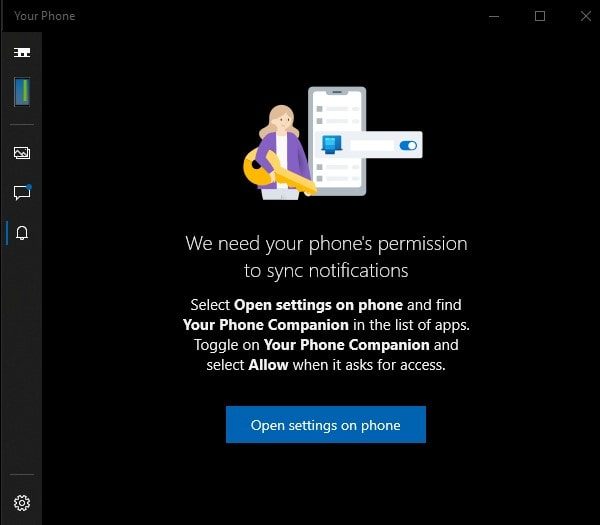 2. Immediately notification access window will appear on your smartphone. Toggle "Your Phone Companion" App and then tap on Allow.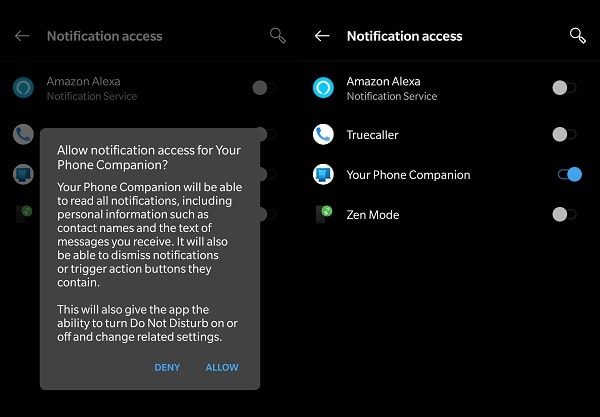 That's it. Now, you will able to see all your smartphone notification directly on the PC. When a new WhatsApp message received on a smartphone. You will get instant notification on Windows PC. And, reply option also will come.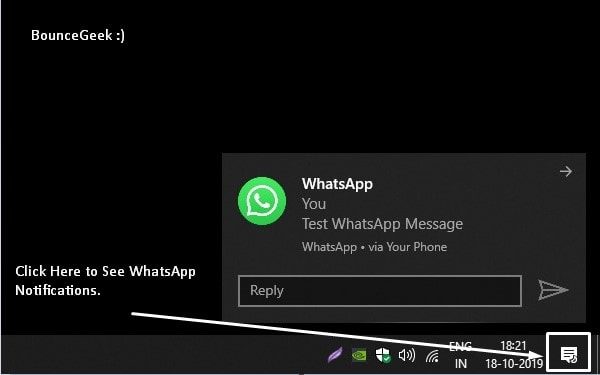 You can't reply to notifications by opening the Your Phone App. To reply to the notifications, click on the Message icon from the bottom right corner of Windows 10. And, you will able to see your last push notification, and, you can reply.
2. MightyText.
It is one of the oldest App to sync text messages on PC. Though, I don't find it better than the "Your Phone" App. But, if you're using an older version of Windows. Then, this could be the best App for you to sync smartphone notifications. On PC, you don't have to download anything. The app works as a web version. Means, You can access MightyText from your web browser. Recently, Developer has introduced the App Notifications feature. That helps to View, save and dismiss your phone's notifications directly from the computer. Unfortunately, you can't reply through Computer.
To use MightyText, you just have to log in with your Google Account. It also comes with the find my phone feature. Yes, I know this is not a perfect Pushbullet Alternative. Because in MightText also some features locked in the free version. And, the pro version costs $6.67/month and $79.99 per year. But still, you can try free features of MightText.
How to see Phone Notifications on PC using MightText.
1. Install MightyText:SMS from PC / Tablet & Sync Text from Computer App from Play Store.
2. Open App, tap on Ok and Allow SMS and other required permissions.
3. Now, select Google Account and tap on Complete Setup. A URL will appear after login. Open it on any Web Browser, that you prefer to use.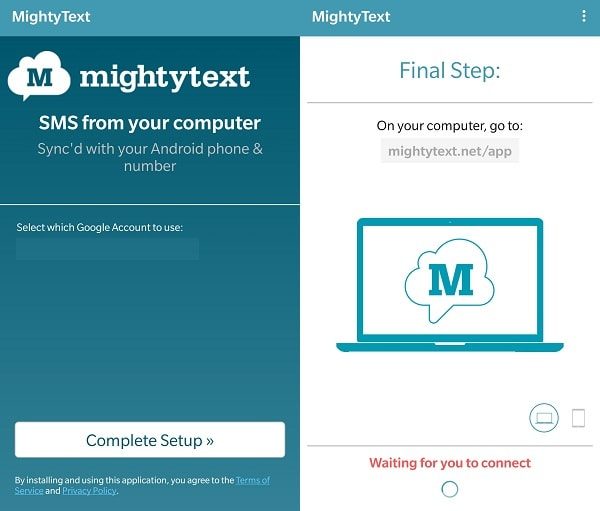 4. Open MightyText on Web Browser and Login using the same Google Account.
Yes, you have to give the notification access like "Your Phone" App. So, Tap on the vertical three dots menu icon and then tap on App Notification Sync. Now, tap on "Enable Notification Sync" and allow MightyText from there.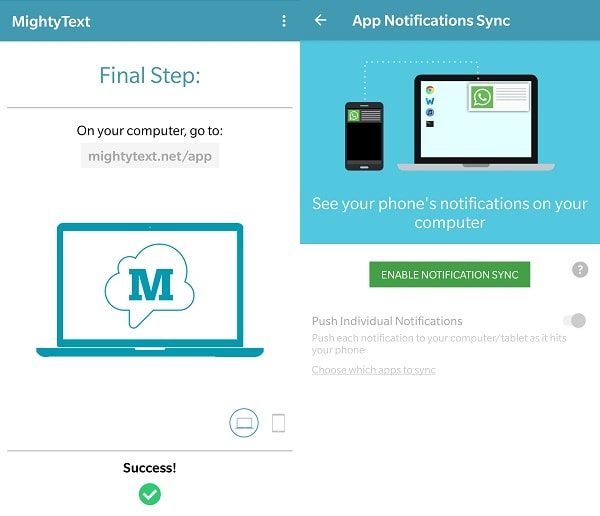 That's it. By going into Phone > App Notifications you can check your Push Notifications.
3. AirDroid.
AirDroid App can be the best PushBullet alternative. Because, whatever Pushbullet can do, same AirDroid can also do as well. AirDroid is basically designed to manage Android devices from the Web. So, It comes with mirror notifications, file transfer, Calls Logs, Contact, Find My Phone, Screenshot and other features. Even, there are many things that AirDroid App can do but PushBullet can't. You can dial remotely and can access your smartphone camera remotely.
Though, you won't find AirDroid user-friendly as much PushBullet. Because, to use some of the AirDroid features, first you have to enable it from settings. Even, to use mirrored notifications, there are few settings that you have to enable first.
1. Install AirDroid: Remote access & File App from Play Store.
2. Open App, tap on Sign up and register using your Google or Facebook Account.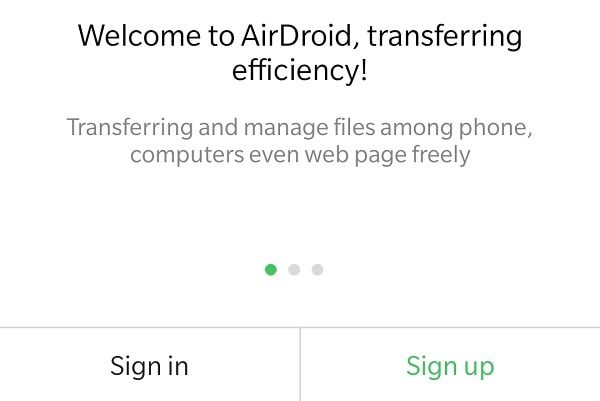 3. AirDroid will now ask for a few permissions. Just, tap on Continue > Allow.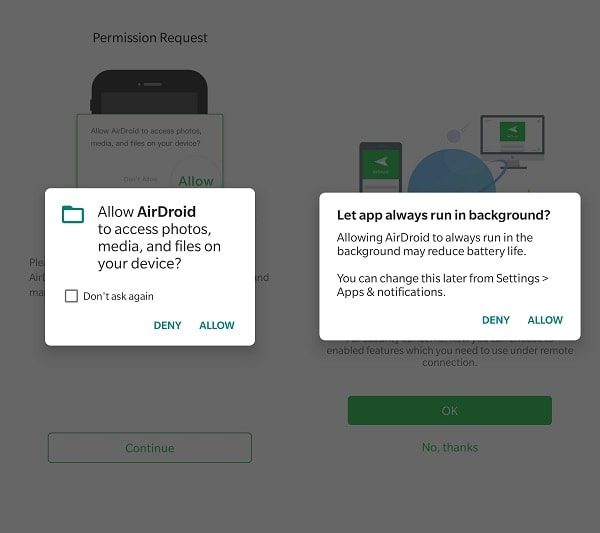 4. Security & Remote Features screen will appear. Tap on OK. Here you can enable all features that you want to use remotely.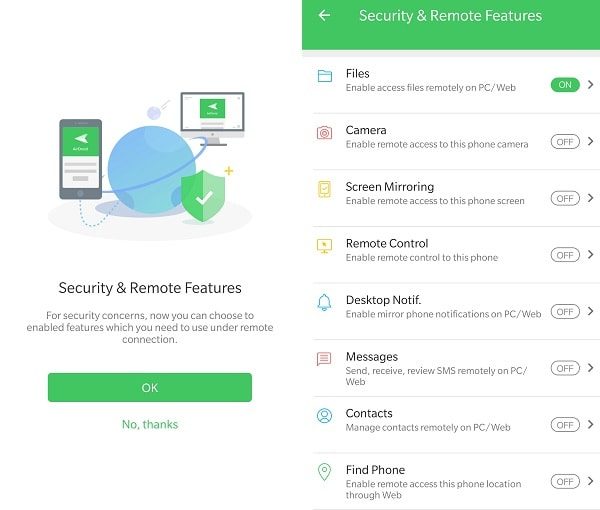 5. Enable desktop notification, so that, you can see push notification on Computer.
Tap on Desktop Notif. > Enable Permissions > Toggle AirDroid > Tap on "Allow".
Note: You can also enable Messages, Contact and Screen Mirroring. If you want to use.
6. Go back to the home screen of the App and tap on the "AirDroid Web".
7. You will able to see a web address and IP address to access AirDroid.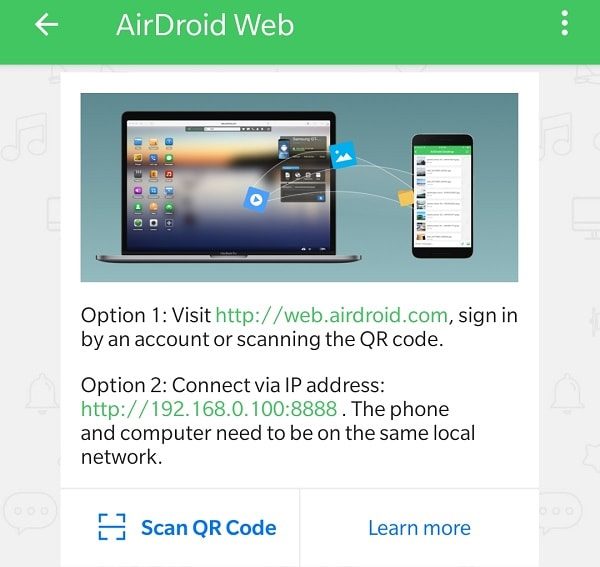 Open the IP address in any Web Browser. And, you will get a popup on your smartphone. Tap on "Accept". That's it, you're now connected.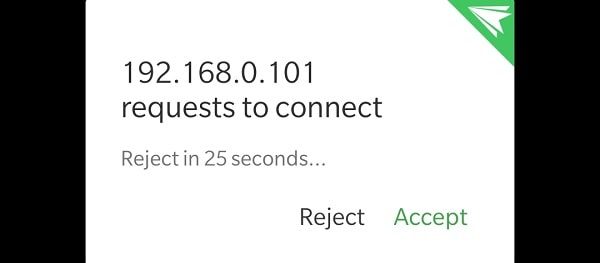 If Android's Push Notification doesn't come in the Browser. Then, Open AirDroid Web Settings. Click on the General tab and mark the "Enable desktop notifications" option.

Summing – up – Pushbullet Alternative.
So, these are the three Apps that I find most useful to sync push notification to PC. In these three, "Your Phone" App by Microsoft is more useful and better. Because Android push notifications come into the Windows 10 notification center. And, the app comes pre-installed in the latest version of Windows. AirDroid is also good, but you might face some connection drop with it. And, MightyText is useful to sync text messages. Push Notification feature of it is still under development. If you know any other better PushBuller Alternative, feel free to comment.