It's been a decade, and still, Microsoft hasn't made any changes in Notepad App. And, we can't expect any changes nearly in the future. Maybe, Microsoft is planning to replace it with some other App. In 2016, Microsoft released Sticky Notes App. And, even Sticky Notes comes with an option to change the background color. But, Notepad App not.
Recently, On Reddit, a user was asking, how to get a dark theme notepad for Windows 10/11?. And, other Redditors were telling him to use Notepad Alternatives. Yes, there is some best text editor for Windows available. But, if you really like to use the stock notepad App. Then, this article is gonna help you out. Because I got certain ways to activate dark mode in Notepad App.
Change Notepad Background Color – Dark/Black Notepad.
Use GreyEve Windows Theme.
Windows 10 comes with an inbuilt dark theme. But, even after applying that theme, you still get a lot of white background. (Like Control Panel and Notepad). So, if you want to turn Windows 10 completely into dark mode. Then, you can try the GreyEve Windows 10 Theme. Though, you can try any other dark theme. But, the GreyEve developer has released the final version of the theme. And, there aren't any bugs now.
1. Open GreyEveTheme DeviantArt Webpage. And, Click on the download icon. (Available below theme preview.)
2. A Zip file will get downloaded, extract the Zip File.
3. Right-Click on GreyEveThemeV2.1 and click on Open.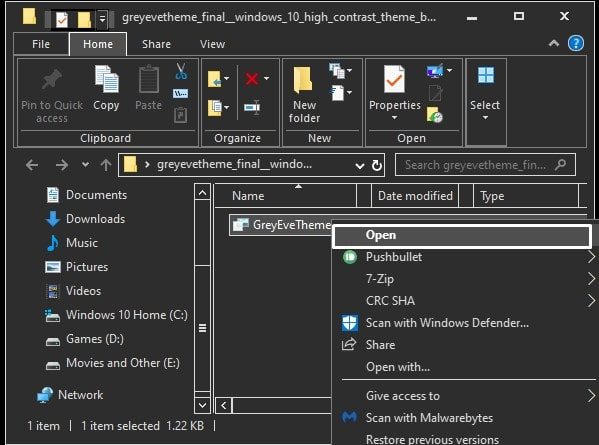 That's it. The theme will get applied. Open notepad and you will be able to use Notepad in dark grey mode. So that's the way, to change Notepad Background Color easily.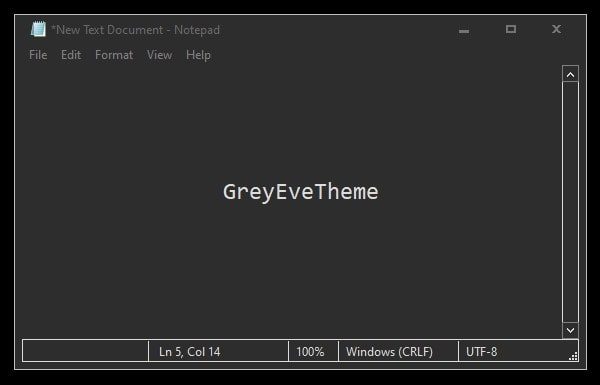 On, some third-party Apps, the Grey theme doesn't gets apply properly. But, on the theme page, you can find a solution for that specific Program.
To activate your default Windows theme again. Open the Windows Settings App. (Press Windows + I) And, Go to Personalization > Theme. And, Click on Windows or Synced Theme. To activate Windows 10 official dark mode. Go to Colors and select Dark Color.
Use Registry Editor. (For Advanced users only.)
If you're not aware, Windows Registry Editor is a graphical tool to make changes in Registry. And, Registry is basically a hierarchical database. That stores low-level settings of applications and systems. In simple terms, the registry contains settings, information, option, and other values for installed programs in Windows. A Registry contains values and keys.
Though, the Registry Editor is only for advanced users. And, messing up with registry settings can cease your Operating System to function. So, before making any changes in registry settings, you should always take backup.
Make a Backup of the Registry.
1. Press Windows + R key, type "Regedit" and press enter. UAC window will appear now, click on Yes.
To take registry backup now, click on File > Export.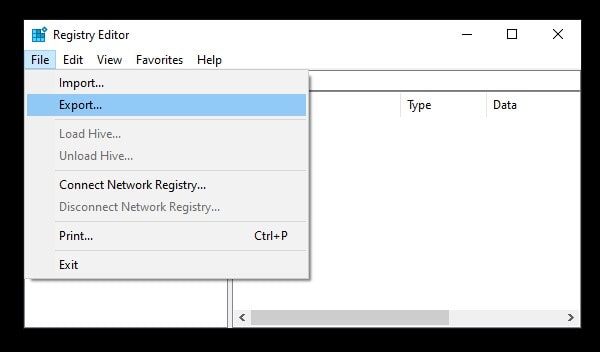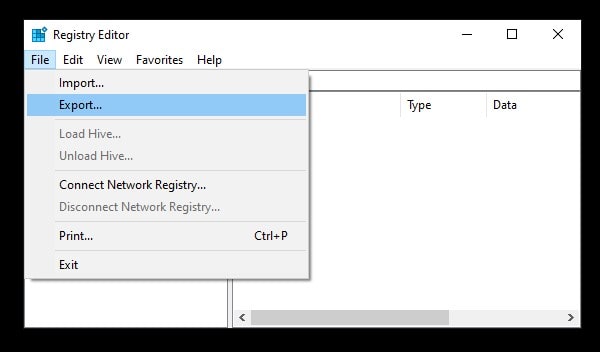 2. In the export registry file window, first select Desktop, after that enter the file name. (You can type anything.) Make sure in Export Range "All" is selected. And, Click on 'Save".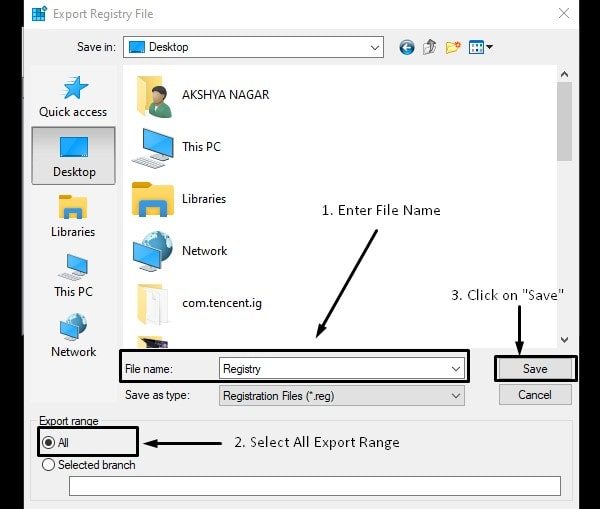 Note: That's it, a *.reg file will get saved on your Desktop. By going into File > Import you can restore the registry.
Customized Notepad Background Color.
1. In Registry Editor, Go to the following directory. (Use left pane to open Colors folder in Registry.)
Computer\HKEY_CURRENT_USER\Control Panel\Colors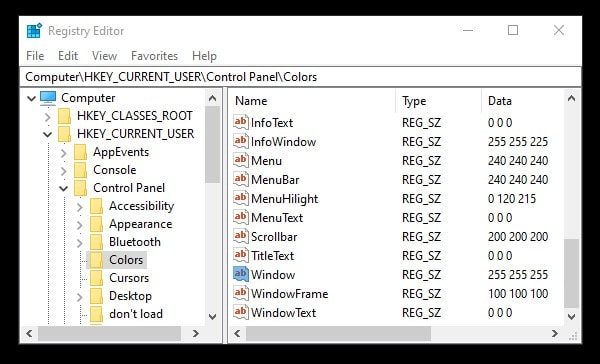 2. In the Colors folder, you can see many Registry and their data. If you look at data carefully, it's basically an RGB Color code.
3. To make Notepad Black, you just have to make changes in two Registry Data RGB Value.
Note: Whatever color change you will make in these two registry values. That will Apply to almost every other Window of your OS. So, make color changes wisely.
4. Scroll Down to find out Window Registry. Right-Click on the Registry name, and then click on "Modify". In Value Data Enter 0 0 0, and click on OK.
After that, Right-Click on WindowText, and in value data enter 153 0 0, click on ok.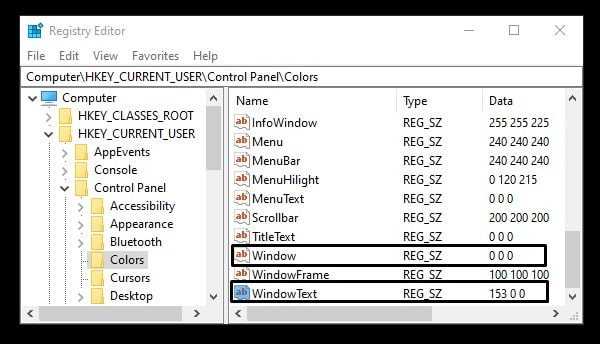 After that, restart Windows to apply changes. Open Notepad and you can see Notepad background color is black. And, if you're write something, it will appear in red color.
You must be thinking, why I am not using 255 255 255 value in Windows Text. If you turn WindowsText color in white. Then, In the "control panel > uninstall" and in some other Windows, Text will be not visible.
Alternative Method: You can alternatively change Window Color only into Grey. You don't have to make changes in WindowText Registry. (200 200 200 is RGB Color code of Grey.)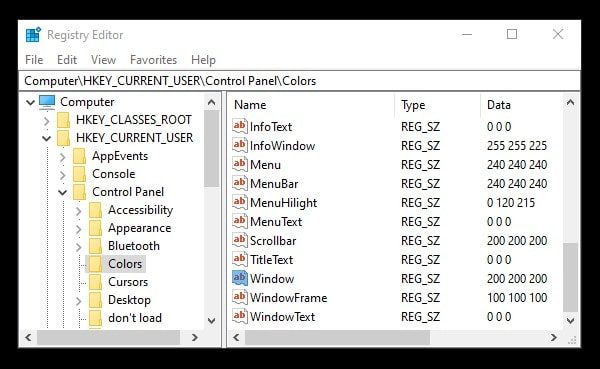 Use Notepads App. (Built-in Notepad Dark Mode.)
As you know the official Notepad App by Microsoft doesn't offer much. And, there is no active development of it. So, a Windows Apps developer (Jiaqi Liu) has released Notepads App. It is an Open-source modern text editor for Windows 10. You can find the App code on Github. And, can create your own Notepads App, if you're a developer.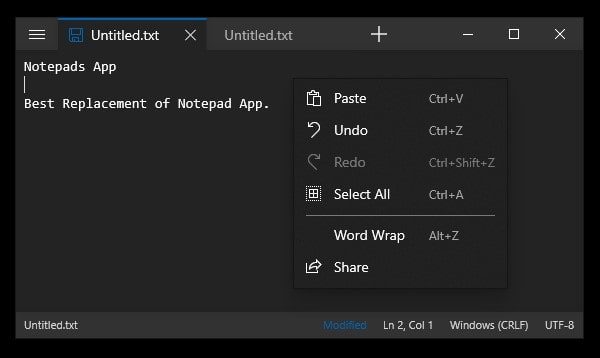 Notepads App comes with an in-built tab system. And, there is a theme mode available under its settings. So, you can choose between light and dark themes. You can launch the Notepads App from the command prompt and even from Windows PowerShell. Just type "Notepads" and press enter. Yes, Notepad++ offers better features than this. But, Notepad++ looks quite old. So, You will definitely love Notepads Material design.
Get Notepads App from Microsoft Store.
Enable Notepad App Dark Theme on Windows 11
If you've installed Windows 11 recently, then you don't need to do all that. Because Windows 11 now officially allows choosing between light and dark themes. Just make sure you're on Notepad version 11.2112.32.0 or higher. Well, you don't manually need to update the Notepad app, it will get updated automatically with the latest version of Windows 11. So make sure, Windows 11 is up-to-date. Although, the app has some bugs.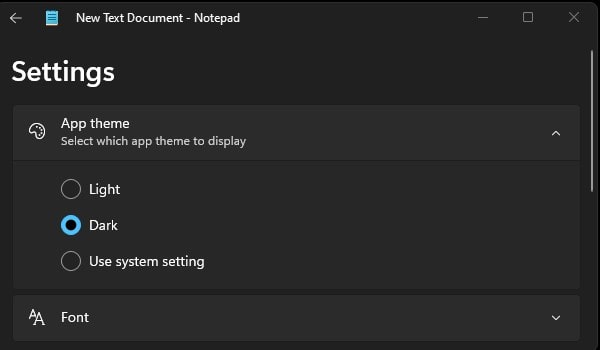 Summing-up.
So, these are the ways to Change Notepad Background Color. The best method is, just to install a dark Windows theme. But, if you like the default window theme only. Then, you can use Registry Editor to change Notepad Color. Though, the registry method will be complex for some users. So, better go with the open-source Notepads App. If you know any other better way, feel free to comment.