When it comes to Android, first things comes to mind is Apps. Without apps, Android is just like a pizza base without toppings. The Google Play Store is the treasure box of Android device. There are many App store available on the internet but nothing can replace Play Store. Sometimes play store started acting up and clear cache also not works. In that case, resetting the Android device isn't a good option. But by download Google Play Store again you can solve errors.
If you've rooted android device then maybe you unintentionally uninstalled Google Play Store. Or maybe the newer version of Google Play Store is giving some error in installing apps, And you want to roll back the older version of Play Store. There could be a lot more reason that will force you to download Google Play Store again. So, here is How to Download & Install Google Play Store and some extra information that will help you in fix errors.
A Note that you need to Read:
The newer version of Play Store comes with some Good new Features and can replace your older version Play Store features. But the good thing is the basic functionality of Google Play Store never changes. So If you're the one who wants everything updated then you can update Google Play Store for some good features.
Steps to Download Google Play Store APK on Android Device.
1. Check your current Google Play Store Version.
Before start Downloading Google Play Store APK, the first thing you need to do is check your current version. It will help you in selecting the next version, and If you're already using new version then you don't need to download.
How to Check Google Play Store Current version.
Open Play Store app on your Android Device. Now open left side menu and go to         Settings.
Now open left side menu and go to Settings.
Scroll down and at the bottom of settings, you'll find Play Store Version.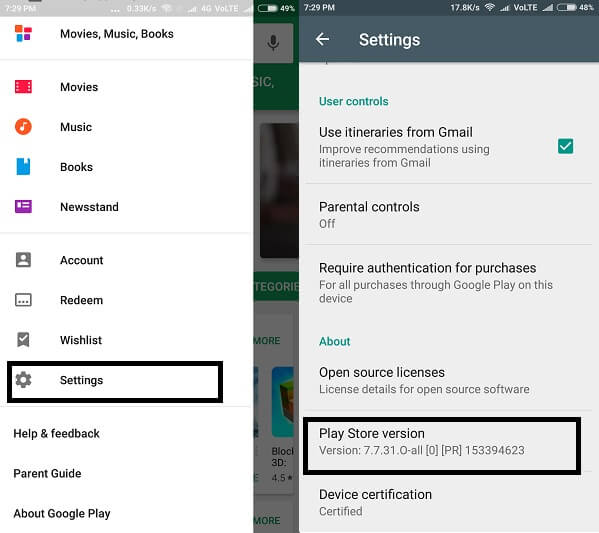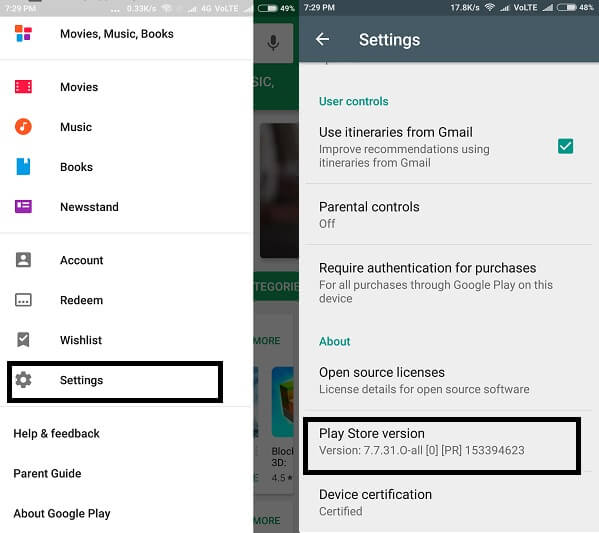 At the time of writing, my current version of Play Store is 7.7.31, and the latest version is 7.8.15. So I need to update google play store manually.
2. Download Google Play Store App & Choose Correct APK.
Before start downloading Play Store APK make sure you're using Android version 4.0 or Higher. Because latest version of Play Store only works on android 4.0+ devices. If you're using gingerbread or jelly bean then select an older version of the app or change the device.
As we know Google Play Store is also an app (System App), so it comes in (dot)APK format. You can Download Google Play Store APK from trusted sites and Blogs.
If you're the one who only downloads things from official sources, then one thing you should know. That google does not provide any official APK for Play Store, If you're flashing custom ROM then the only way to get official APK is by Flashing Gapps File.
Google play store app download.
First, Go to this direct link of APK Mirror Website, it will redirect you to Play Store App Download Page.
On APKMirror site, Scroll down a little bit and select the latest version of Google Play Store app by seeing release Date.
Now Download page will appear, simply click on download APK. And the app will start downloading.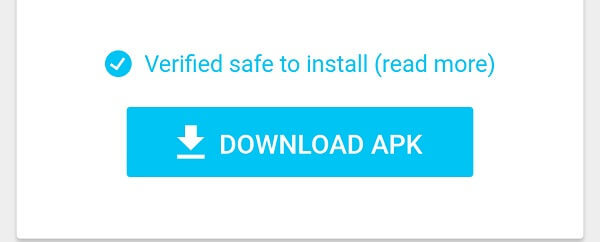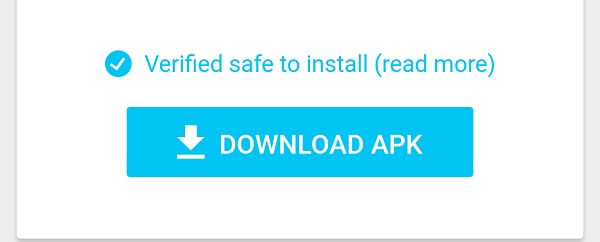 3. Enable Unknown Sources (IMPORTANT).
If you're reading my Blog Daily, then you might know how to Enable Unknown Sources. If you're not then you must be not aware with this. In shorts, Google not allows us to install third-party APK's (means from other sites not from google Play).
But if we want to Install, then we can easily do that by Enable Unknown Source from Settings.
On Android, Go to Settings> Security and then you will find Unknown Source option just mark it to Enable. In Some devices you may find this option in Settings> Additional Settings> Privacy.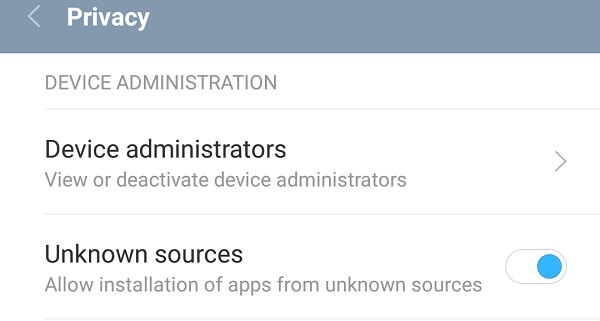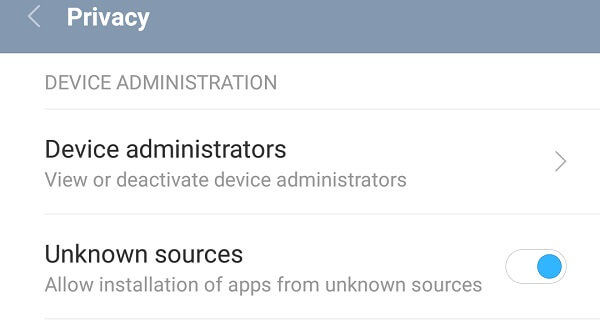 After Installing Google Play Store app we will disable it, and you don't need to worry about security because APKMirror is Trusted Website.
4. Install Google Play Store App / Update Google Play Store App.
On google play store after downloading any app it will start installing automatically. But if you're downloading any app through the browser then you need to install manually. To do that first you need to access APK file using File Manager, am using ES File Explorer. You can use any from these Best Android File Manager.
If you have downloaded using Chrome or default android browser then check downloads Folder. Or If you're using any download manager then check specific download folder of that app.
Just tap on APK File and then package Installer, and Installation window will appear. Click on Install button and within few second you will get Play Store Installed Message.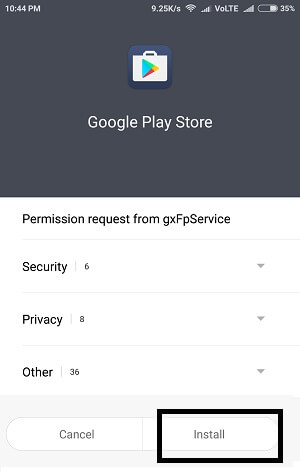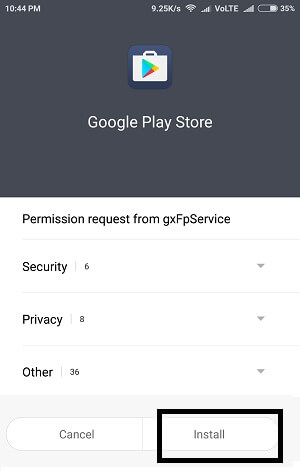 5. Disable Unknown Sources.
After installing Google Play Store app from APK Mirror it's time to disable that unknown source feature. Because if you don't do that then maybe some third-party apps can harm your device.
To Disable Unknown Source go back to Settings > Security / Settings> Additional Settings > Privacy and unmark that option. Done you have successfully installed Play Store App on your device.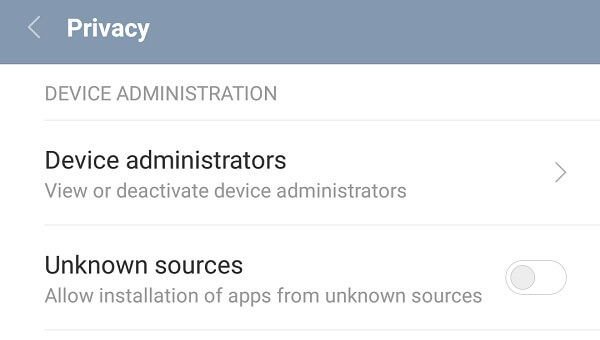 Some Simple Fix for Google Play Store Error.
If you're using the latest version of Google Play Store but still getting some Play Store Error, like android apps not installing, can't update apps android, error code 505. Then there is two simple solution to fix these issues.
Go to settings > Apps and scroll down until you find Google Play Store.
Tap on it and then select Clear Data option and then tap on Ok.
Now open Play Store app and you will not get any Error.


But after doing this still you're getting any kind of Error, then Reset your device by going into Backup & Reset option in settings. If you don't want to loose any important data on your smartphone then simply update Google Play Store app.
Still, there are many other ways to solve Play Store Error but Reinstall Google Play Store app is the best option it will fix all errors.