Want to get your hands-on on latest Android OS? You can use latest Android OS by dual boot Phoenix OS on your Windows PC. Phoenix OS is one of best nougat based Android OS for windows computer. Google is planning to launch its next Android O, And still, smartphone companies are unable to provide nougat update. That's why many of you looking for Installation guide of Phoenix OS.
If you're an android user want to try nougat then please check Best custom ROM for your device. Or if you want to run Android apps on PC then try blue stacks and, If using old PC then check Bluestacks Alternatives.
There are two ways to install Phoenix OS, one completely removes your windows and install Phoenix OS. But, I will not recommend that no one wants to lose their important data. So follow this step by step guide to Dual Boot Phoenix OS with Windows.
What is Phoenix OS.? Phoenix OS features.
Phoenix OS is an operating system for windows PC based on latest version of Android Nougat. It is suitable for tablets, desktop, computer and other large screen devices. It inherits many features of classic windows computer like –
Start Menu. – Like windows, you can able to find out start button in Phoenix OS, which helps you in start applications.
Multiple Windows Design. – It offers same windows design that is available in mac and windows. You can resize and move windows, title bar also available.
File Manager. – It supports classic file manager and LAN access, you can drag and drop the file and access local computer files.
Notification center and browser. – Like windows 10 you can find notification center. Which allows you to change quick settings like WiFi, Bluetooth, screen rotation and few other. Instead of the Android browser, you can find Stardust browser but you can download chrome also.
Download Phoenix OS. – Phoenix OS Download Links.
Step: 1 Go to official Website of Phoenix OS, now jump into download section. Don't use Phoenix OS Downloader, scroll down a little bit and you'll able to see four direct option to download.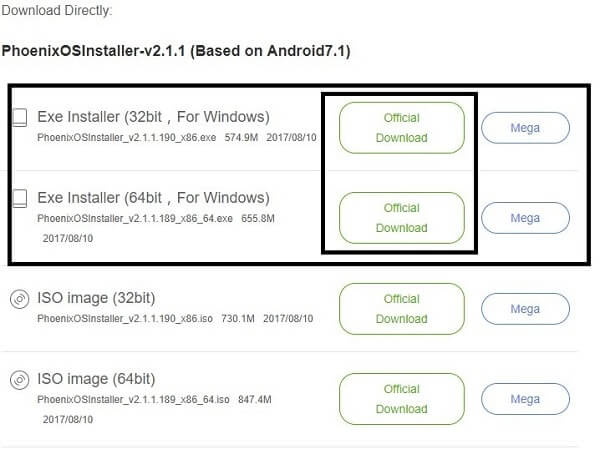 Step: 2 Choose official download button of Exe installer, Don't choose ISO you'll face the issue. If you're confused between 32-bit and 64 bit then right click on My Computer and then choose Properties. In system section check system type, if it's 64-bit operating system then download 64-bit version else download 32-bit.
Create a Partition to Dual Boot Phoenix OS.
There are dozens of Partition manager software available on the internet, but you don't need to download any third – party software. Windows comes with the inbuilt option that known as Shrink Volume.
Step: 1 If you're using windows 10 then Right click on start button and then choose disk management.
Step: 2 A window will open, Select the Drive in which windows 10 is Installed & Right Click on it, and you can see Shrink Volume Option just Click on it. (you can choose other drives too If you don't have enough space in C drive.)
Step: 3 Enter the amount of space to shrink field enter 20000. (which is around 20GB) and then hit the shrink button. The process will take around 5 – 10 minutes to complete, don't shut down the computer because the process will run in the background.
Right click on created partition and then choose to create the new volume, complete the wizard by clicking on next and format your drive using it.

If you're facing any issue while shrinking volume then follows this Guide. – Shrink Windows 10 Partition and make space for Linux.
Installation Process – Dual boot Phoenix OS.
There is two way to run Phoneix OS on your Windows PC, You can use pen drive else You can Install Phoenix OS on created partition. If you don't have space to shrink then USB Drive is the best option.
Step: 1 Run Phoenix OS Installer on your Windows PC, the Setup wizard will open you'll get three option.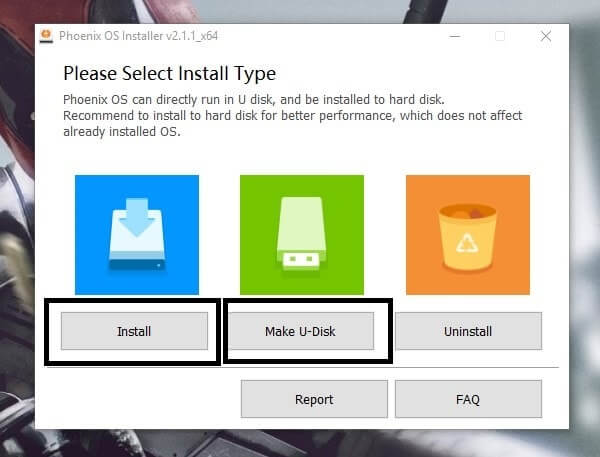 Step: 2 USB DRIVE  – If you want to install it on USB Drive then choose to Make U-Disk and then select Drive and choose Write option. After that simply reboot the system and choose Phoenix OS from the boot menu.
Else
HARD DISK  – Want to Install it in your Hard Disk then choose to Install then select the volume that you created then hit the Write option. (Mine created Volume is I, check what is yours then choose otherwise you'll lose data)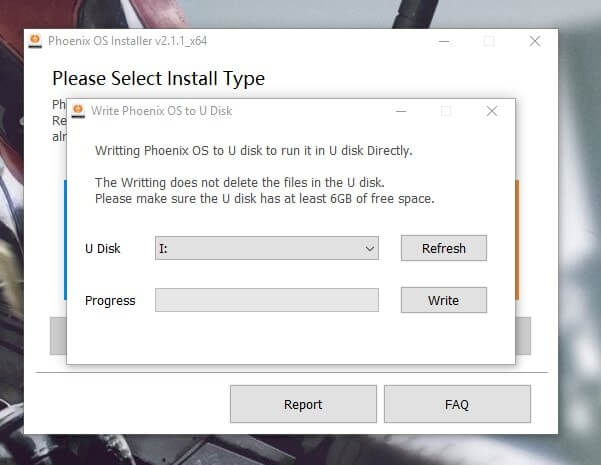 Step: 3 Another window will open it will ask you data size you can choose between 4 to 32GB. If you created 32 GB + volume then choose else 4-8GB is enough for 20 GB drive.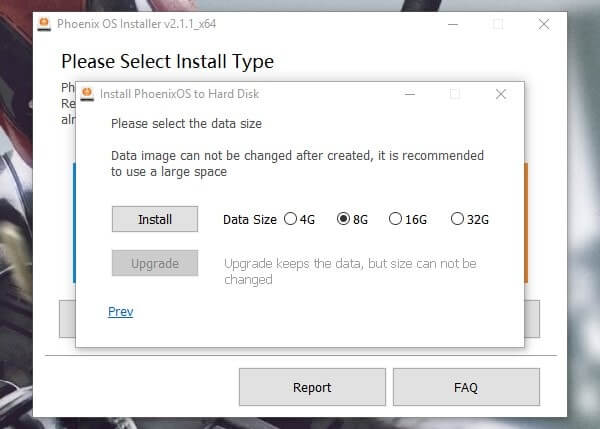 The installation process will take almost 10-20 minutes depending on your computer performance. And whenever process will get complete a Windows will open with sucess message.
Reboot the PC and Dual Boot Phoenix OS.
After completion of the process, it will ask you to reboot the system and choose Phoenix OS from Boot manager.
Fix Verification Failed (15) Acces denied error.
If you're using HP laptop then you'll face Verification Failed (15) Acces denied error – To fix this error go to Bios setting and then disable Secure Boot. After that restart your PC and press Esc and delete to enter into the BIOS setup and choose Phoenix OS.
Wait for 5 minutes Phoenix OS will boot up, Now select English and setup WiFI and user Info and Done. Enjoy Android Nougat on your Windows PC, If you want to exit then simply shut down Phoenix OS and then on PC to enter into Windows.
Uninstall Phoenix OS.
Want to remove Phoenix OS completly from your Hard Disk.?  Here is quick guide –
Run Phoenix OS Installer and then choose Uninstall Button. It will uninstall Phoenix OS within a Minute. Or if you installed on USB Drive then go to My computer > Right click on USB Drive and then Choose Format option. It will remove all Phoenix OS data from your USB Drive.
If you have ISO file of Phoenix OS then use Rufus tool to create Bootable USB of Phoenix OS.