Do you listen to Music offline, And want to set specific part of your favorite song as a ringtone? Well, it's always easy to search and download Ringtone from the internet. But most of the time you are unable to find exact Ringtone that you are looking for. In that case, last option remains to cut Music. Now you don't need to search ringtone online and download other's creations; You can Easily make one of your ringtones.
Am not talking about to cut the music or song in Computer and then transferring that Music on your Android device. I know in Computer there are many software and tools available to cut Music but, What If you don't have access to the appliance.
We are all aware of Android stock Music app there is not any option available to cut Music, But on Google Play Store there is an excellent app available Ringtone Maker, By using this app you can cut any Music File and create your Ringtone Easily.
How to Edit & Cut Music, and create Ringtones.
First, load all Mp3 Files that you want to cut and want to create the ringtone, Now Install Ringtone Maker App by using Google Play Store.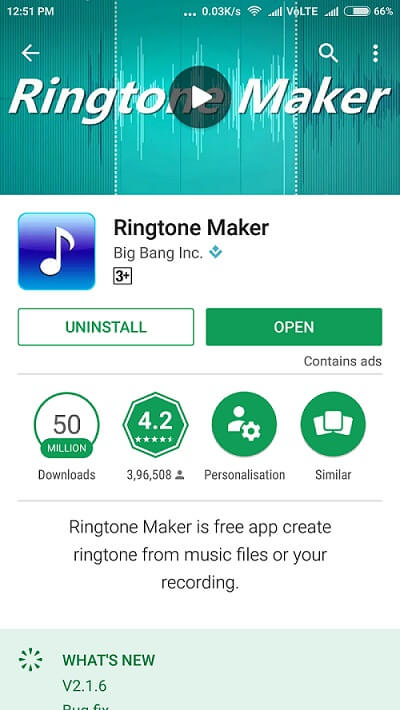 After Installation of Ringtone Maker app, Open the App and app will load and show all Music Files that you have on your Android Device. If you have dozens of songs available, then you can use the search feature to find the music that you want to cut. And still you are unable to recognize the music then you can play the music by the just tap on it, To Stop the Music Tap again.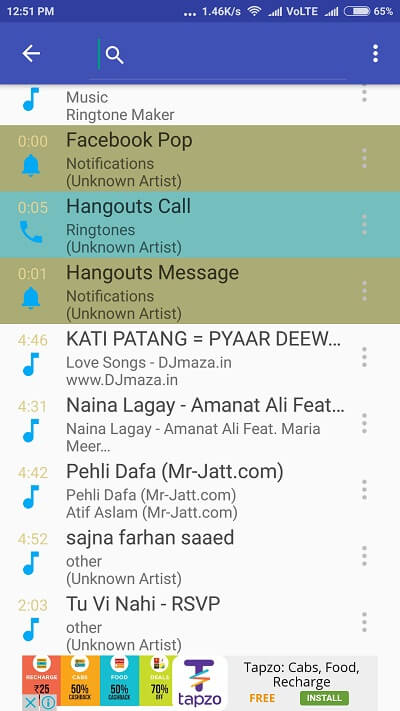 Edit & Cut Music
Now let's start the process to cut the Music, Hope you found the song that you want to cut. You can see three dots on the right side of every song click on it. Now a menu will appear, Click on edit option.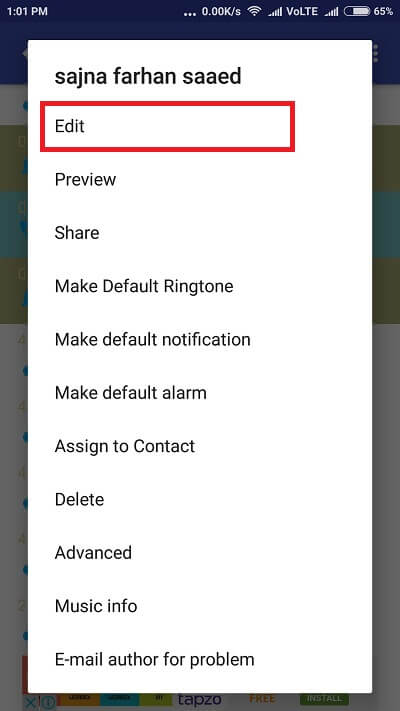 Now you entered into editing mode; You can see the song in wave mode, and also you can find some controls on editing mode along with the song. Using these control you can edit the song, means you cut the song portion that you want to set ringtone.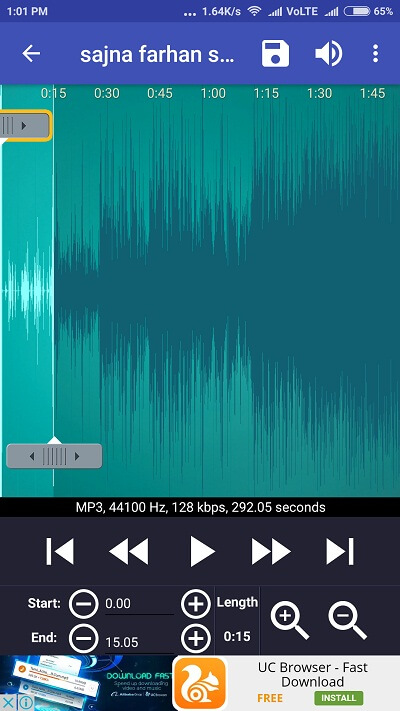 Now, If you know what portion you want to cut, and if you know the exact time, then you can cut Music easily by setting up time in Start and End Point.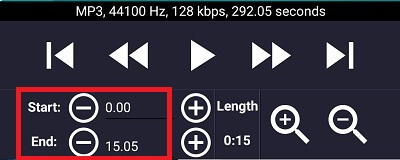 But If you don't know start point or end point, then you can first play the song by using play button, And you can see there is two draggable button available on waves of the song. The first draggable button is used for setting up start point of your song and the second button on waves is for setting up end point of the song. You can see time on the upper side of the waves, by seeing them you can set these start and end point of the song.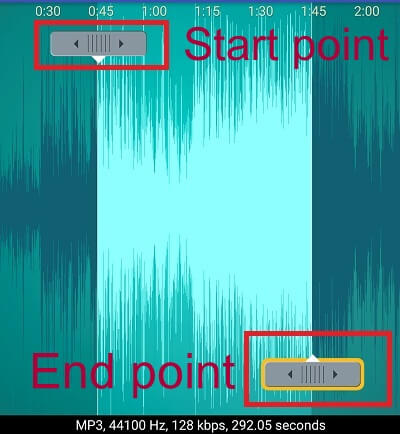 You can also set the volume and quality of the song; and find speaker icon on upper right corner click on it. Now a pop-up menu will appear you can set ringtone quality. You can set maximum volume quality 5 and minimum -5. My suggestion set 5 for high sound quality music. After setting up click on OK.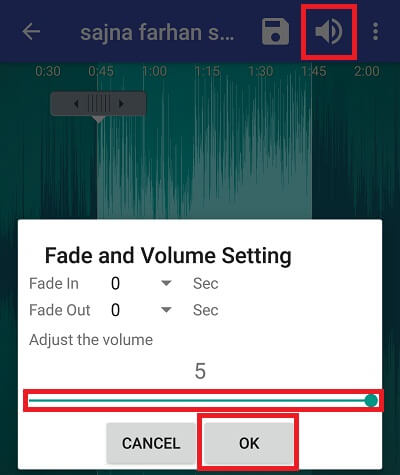 Before start saving the ringtone you can check music by playing it. Now it's time to save ringtone in your device storage. To do that click on save icon that you can find upper side. Now You can see there is a type option. It doesn't matter what type you select; it's for preference option. If you choose Music, then Ringtone will be saved into the music folder. And if you choose the ringtone, then it will save into ringtone folder so on. Now after selecting type click on save button.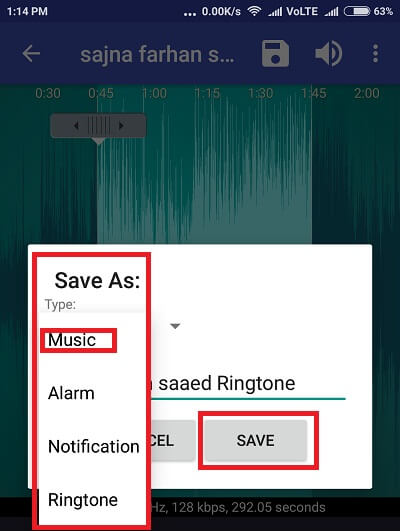 Done you successfully cut Music, created the ringtone. You can find in your storage folder that you selected in type option.
How to set Default Ringtone.
You can also set Default Ringtone, Alarm tone, and notification tone. By using the same menu that you used before to edit Songs.
Conclusion
There are dozens of apps available to cut music on Android devices. But this is the best and easiest app available to do that so. Am not saying this is the specific app but this app is fast and user-friendly. If you know any other better app than this then you can comment.