In the Software department, Oneplus is undoubtedly the best company in smartphones. By providing three major OS updates to its devices, Oneplus will now match Google's update record. Recently, OnePlus released the Android Q Beta update for Oneplus 5/5T. OnePlus 5 was released in June 2017. And, now it will get Android 10 stable update soon. And, hopefully, VoWiFi feature will come with the next stable Android 10 update.
Though, If you want to enable VoWiFi on your OnePlus 5/5T smartphone now. Then, with a simple tweak, you can easily enable it from the settings App.
What is VoWiFi?. (WiFi Calling.)
VoWiFi (Voice over WiFi) is a WiFi-based VoIP service. That allows us to make and receive HD voice calls over a WiFi network, using the existing phone number. It helps you to make calls when cellular service isn't available. Or, you're facing poor signal issues, like dropped calls.
The benefits of Wi-Fi Calling.
No need to pay the additional charge on your existing voice/data plan.
You can make WiFi calls using your phone number.
You can make calls even while having poor network signals, yes good WiFi connection required. (Works well in cellular-dark zones of a building.)
It solves the call drop issue. And, provides better voice quality on calls.
Note: I have tested the VoWiFi feature with both Indian telecom provider Jio and Airtel. And, it was working quite well with my OnePlus 5 smartphone. Though, the method shown in this article will work on almost all smartphones like OnePlus 5/5T, OnePlus 6/6T, OnePlus 7/7 Pro/7T/7T Pro, and OnePlus 8/8 pro. (Not tested in OnePlus 3/3T.)
Enable VoWiFi on OnePlus Smartphones.
Prerequisite for WiFi Calling.
Supported WiFi Calling service provider SIM. (And, make sure voice plan is activated to make calls.)
WiFi with the data connection. (To upload and download voice on the server using data of wifi.
OnePlus smartphone that supports the VoWiFi feature.
Steps to Enable WiFi Calling on any OnePlus smartphone.
If your smartphone has already the VoWiFi feature available. Then, go to Settings > Wi-Fi & networks > SIM & Network. Scroll and in enhanced communications section, you will find the Wi-Fi Calling option. Do enable it. And, when you're connected to WiFi, you will see VoWiFi in the status bar.
If WiFi Calling feature isn't available there, then do follow these steps to Enable VoWiFi on OnePlus 5/5T.
1. Open Phone Dialer App, and dial *#800#. This code will help you to access the Log_test window.
A warning will now appear, tap on "Enter".
2. Next, tap on the first option "OnePlus LogKit"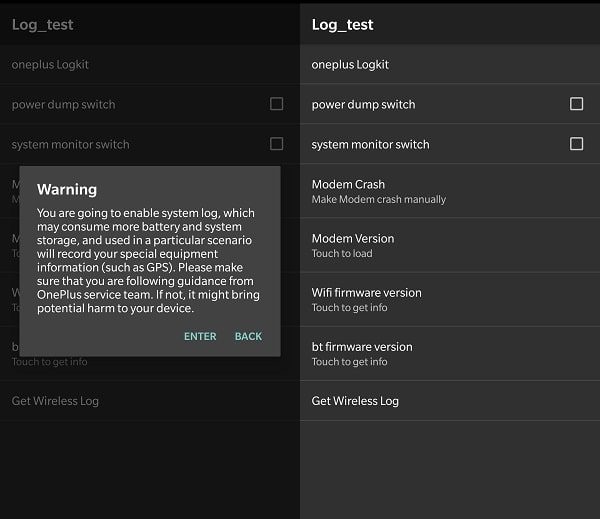 3. In OnePlusLogKit window, scroll down and you will find out the "Function Switch" option. Tap on it to open.
4. Now, you will find the "VoWiFi switch" option. Tap on it to enable VoWiFi on OnePlus 5/5T.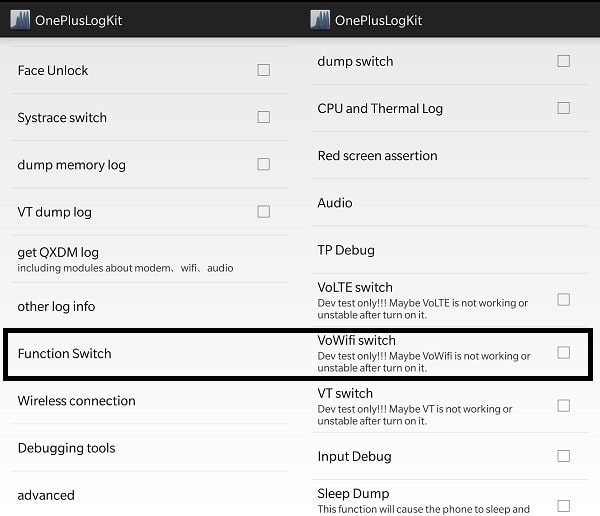 5. A notice window will now appear, it will ask you to reboot the smartphone. Tap on "reboot" to activate VoWiFi.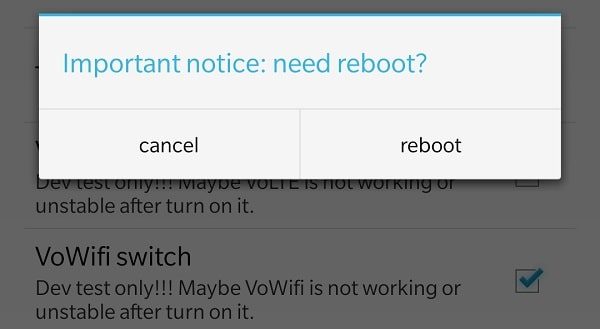 6. After rebooting the smartphone, Open Settings App. And, Go to Wi-Fi & internet > SIM & network. Scroll down and now in the enhanced communications section, you will find the "Wi-Fi Calling" option. Tap on it to enable. That's it, you will now see VoLTE will turn into VoWiFi.
Though, for some users, it worked after a while. You can try rebooting your smartphone if it doesn't work. And, make sure your carrier supports VoWiFi feature.