Roku is the best streaming player. But, recently many users are facing some issues with their remote. If your Roku remote not working, then follow this article to get some solutions. Although you can use your Android or iOS device like a Roku remote. But, Roku remote control, is an essential part, of the Roku streaming player. With Roku remote control you can perform the voice search. It comes with a 3.5mm audio jack. Even, you can turn the Roku remote into a universal remote.
The remote problems may differ, based on which type of remote you're using. If you don't know, there are two types of Roku Remote control available.
Standard IR Remote – If you ever used any old cable TV, then you already know about these. This type of remote comes with IR-blaster. And, to use this type of remote – you need to point it toward Roku Player or TV.
Enhanced Remote – This type of Roku remote control comes with the latest streaming player. It uses a WiFi connection and does not come with IR-blaster. So, you can point anywhere, to use this kind of remote.
Identify – What type of Remote control does your Roku device use?.
Before starting using solutions to fix Roku remote not working issue. First, you need to identify, Which type of Roku Remote are you using. You can identify your Roku Remote with certain aspects. Even, A complete guide is also available on Roku Official site, with the comparison. But you don't need that guide, read these simple points to Identify.
Identify Standard Remote.
As I mentioned earlier, the standard Roku Remote uses invisible infra-red light. That helps to transmit the Remote key presses. So, If you have a standard IR remote then check the upper side of the remote. You will be able to see IR-blaster, which looks similar to small LED light.
Identify enhanced remote.
The First time when you start using it, It will ask you to pair it with Roku Player or TV. One more thing, which might help you to understand your remote type. The enhanced remote comes with a pairing button. Which you can see by opening the battery compartment.
Fix – Roku Remote Not Working
These are some basic solutions, which apply to any kind of Roku remote.
Solution 1: Restart Roku and re-connect the stick.
Sometimes Roku Player gets stuck, and that could be the reason, behind the Roku Remote stopping working. Unfortunately, there isn't any manual button to reboot Roku. But, still, you can perform a system restart by going into these settings.
Settings> System > System Restart. (Settings might be different as per software version.)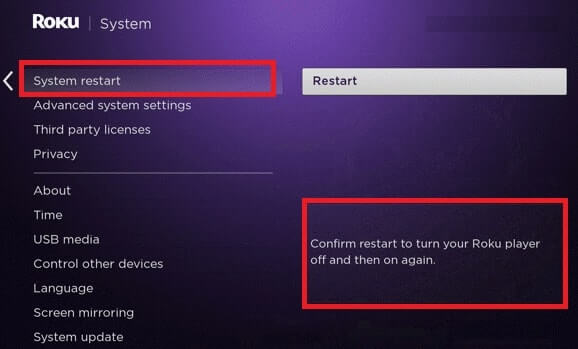 After restarting the system, if still your Roku remote won't work. Then, you need to remove the streaming stick from the TV. Now, Turn off your TV, and then re-connect Roku Stick and start the TV. This solution works most of the time If the issue is with Roku streaming player.
Solution 2: Change the batteries.
This is the common solution, and you already know about it. But the thing that you don't know is, that you need alkaline batteries for your Roku Remote. Maybe recently, you have changed your remote battery. And after a few days, "Roku remote stop working".
This is happening because you're using normal Batteries. Normal (Regular Dry Battery) does not work longer, in an Enhanced remote. Because enhanced remote uses WiFi to transmit button presses.
Before buying the alkaline battery, First, use any normal battery. If the remote start working again, then buy the alkaline battery for longer uses.
Solution 3: Use HDMI Extender Cable.
If you are using, an HDMI streaming stick, and if it's connected directly to the TV. Then you need an HDMI Extender Cable. Roku officially recommends it as troubleshoot check, if Roku Streaming Stick remote not working.
Solution 4: Fix Standard IR Remote.
The best way to check whether IR-Remote is working or not. – If you're using a standard IR remote, then you can easily check, whether the remote is working or Not. To check Standard IR Remote, you need a smartphone with a camera. The smartphone camera is capable to see light wavelengths. Human eyes aren't capable to see these kinds of light wavelengths.
To check the Roku Remote, point the Roku Remote in front of a smartphone camera. And then press any key from the Roku Remote. When you will press any remote key, you will be able to see light in the Camera. If there isn't any light blinking, that means Roku Remote is damaged.
After checking IR Remote from the camera, if you are able to see light. That means you're not pointing the Roku Remote in the correct direction. And, that is the reason behind Roku Remote, not Working.
Make sure there isn't any visible obstruction between the Roku device and the Roku remote.
Point Roku Remote from approx 10-15 centimeter distance, and press any remote key. Because, If the battery is low, then from less distance, the Roku remote can Work.
If still your Roku stick remote not working, then download App and try with an Android device. Make sure your smartphone has an IR blaster, otherwise App will not work.
The app is working correctly which means, the problem is with your Remote. You can buy a new Remote online or from any offline store.
And, if App is not working, then the problem is on your Roku Streaming Player. You need to reset your Roku device.
Resetting the Roku is the last and final solution. So, before resetting the Roku device. Make sure, there isn't any issue with the Remote and it's working correctly.
Solution 5: Fix Enhanced Roku Remote.
Enhanced point anywhere remote uses a wireless network, that's why you don't need to point it. And, that's why you can't check it with the smartphone camera. The first possible cause of, Roku remote not working is – The pairing issue. Wireless Remote requires pairing, and sometimes it gets Disconnected.
That's why the first solution that you need to try is re-pair the Roku Remote.
How to Pair Roku Remote.
If you have already done it during the first setup, then you know how to do it. Still, follow this small instruction to re-pair your remote.
Turn off Roku and remove the power cable.
Now, Remove batteries from your Roku remote.
After a minute, connect the power cable again and start Roku. And, when the home screen appears on the screen, place the battery inside the remote.
To pair the remote, hold the pairing button for a few seconds. Until the remote light starts flashing.
Now, you need to wait for at least 30 seconds. To pair your Remote with Roku Device.
After 30 seconds pairing dialog will appear on the screen, follow the instructions.
Solution 6: Change Remote Battery.
Apart from the pairing issue, one more problem can occur in the remote – that is the battery issue. And, this is the common fix to any remote.
So, if you want to replace the battery, check remote is working or not. Then follow the above-mentioned re-pairing remote steps. And, while pairing the remote, you can change the battery.
Solution 7: Install Roku App.
Yes, these days you can use your smartphone as a Remote. If even after trying all the above solutions still Roku remote doesn't work, then download Roku App. This app comes with a virtual remote app to control Roku devices. Just make sure Roku and your smartphone are on the same WiFi network. Download Roku App from the App Store, and use it as Roku remote alternative. Or, you can buy a new Roku Enhanced remote from Roku Store.

Okay, so these were the solutions that you can try when your Roku remote doesn't work at all. If still, it's not working then it might be a hardware issue. In that case, get a replacement if it's in warranty. Or, if it's too old, then just get a new remote or keep using Roku App.