Get Gaming Mode on Any Android – There was a time when to play Games, we used to buy Gaming Consoles. But now, everyone has their own Gaming Console in hand. Yes, I am talking about the smartphone. Even, Smartphone companies now started making game-centric smartphones. Razer Phone 2 and Asus Rog Phone 2 are the best examples of it. To Make smoother gaming experience, companies nowadays adding Gaming Mode in their smartphone.
Smartphone companies now focusing on full screen. But, if you have a smartphone with touch capacitive buttons. Then, Gaming mode will lock those buttons while gaming. Gaming mode also blocks incoming notifications. So that you can play games without distractions. Mainly, Gaming mode does optimize CPU, GPU and RAM. By optimization I mean, Gaming mode close all background running Apps. So that smartphone hardware can run Games more efficiently.
But not all smartphone comes with a Gaming Mode. And, If your smartphone also lacks Gaming Mode. Then, this article can help to get Gaming Mode on your Smartphone.
Get Gaming Mode on any Android Smartphone.
Gaming Mode – The Ultimate Game Experience Booster.
Gaming Mode App is developed by an XDA Senior Member. This is the only app on the play store, that comes with a nifty set of features to enhance your gaming experience. You just need to configure this App once and the rest automatically the App will do for you. In this App, you can either configure settings globally. Or, can select settings on a per-game basis. A few features of this App is locked. To unlock them, you have to pay for the pro version, that cost $2 only. With the Pro version, you will get an ad-free experience. Overall, this App will allow to Get Gaming Mode on Any Android.
Gaming Mode App Features.
You can configure all these features.
Auto Reject Incoming Calls – If you don't like to attend calls between your Gameplay. Then, you can enable this option.
Notification blocking – To use this feature, you have to give notification access. After that, the App will block incoming notification while Gaming. You can also White-list Apps from notification blocking.
Disable Auto-Brightness – Brightness also plays an important role, when you're playing battle royale games. So, if you don't want the smartphone brightness to fluctuate while Gaming. Then, you can enable this option.
Change WiFi State – This feature can be helpful in multiple cases. You can select between On/off for the WiFi.
Change Ringtone and Media Volume – Do you like a particular audio level for the Game. Then, this feature might be helpful for you. Also, If you don't want to reject calls. Just want the ringtone to ring in lower volume. Then, also you can set it.
Clear Background Apps – In Android, when we do a swipe, or tap on cross to close Apps. Actually, Android does not close Apps fully. Apps still run in the background. And, that can affect Game Performance of the device. So, to use the full potential of the device while gaming. You can enable Clear Background Apps option. There are three modes of it. Basic, Moderate and Aggressive.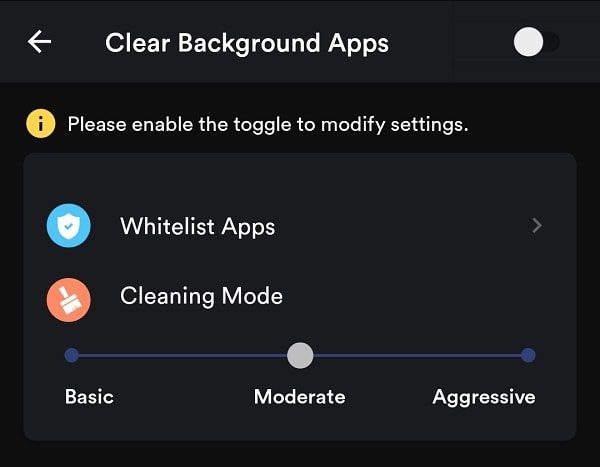 The best thing is you can also White list apps from getting cleared in background. Like Facebook, WhatsApp, Instagram.
There is an Auto mode in App, that applies settings automatically. When you launch the game from anywhere.
Install and Use Gaming Mode.
1. First, Install Gaming Mode App from Play Store. Open App and swipe left to skip the introduction, tap on the finish.
Dark Mode – You can activate dark mode in the App, by tapping on 'sun' icon.
2. Add Games – This App cannot differentiate between apps and games automatically. So, first, you have to select Games in the App by tapping on the '+' icon. Select all Games and then tap on Save. (Well, Gaming mode also works for Apps like Netflix, Amazon Prime Video, MX Player etc.)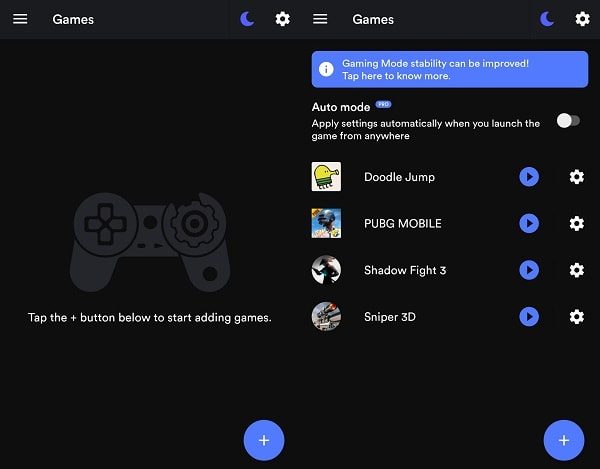 3. Now, you can either configure the global settings by tapping on the cog-wheel icon on the upper right corner. Or, can configure each game settings, by tapping on cog-wheel icon appear in front of every Game. Well, the choice is completely yours.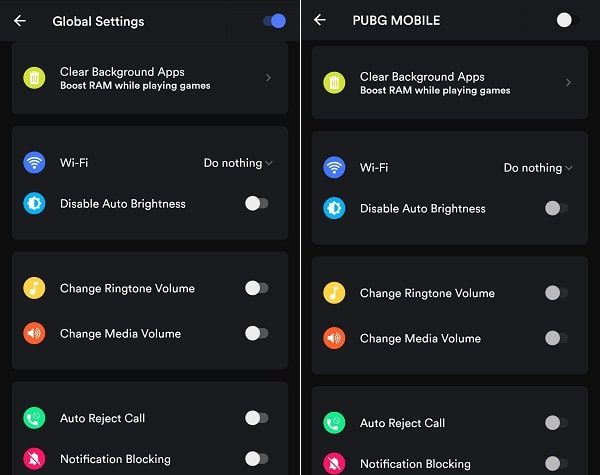 Before starting to configure settings, first, you have to enable toggle switch. Else, you can't able to enable/disable any features.
Modify system settings: Some features of the App required certain system settings to get activated. And, App will redirect you to the appropriate page to enable settings or grant permission. Like, to reject calls, you have to set Gaming Mode as your default Phone app. When you complete the Gaming mode configuration. You can tap on the play button to start a Game. And, selected gaming mode settings will get applied for that App. So, that's how you can Get Gaming Mode on Any Android.