Block Facebook Video Ads – Facebook now has 2.41 billion monthly active users. That makes it the largest social networking site in the world. And one of the most widely used. According to the survey, Facebook users do spend an average of 2 hours and 22 minutes per day. You can also check how much time you're spending on Facebook. With the help of Digital Wellbeing feature. Well, the article isn't about Facebook addiction. It's about ads that appear on the Facebook platform. I would like to clear, I am not against Facebook Ads. Because ads are important for a business to run and grow.
But, recently, by adding in-between video ads. Facebook made user experience worst. And, these ads aren't limited to the browser. Now, these Facebook mid-video ads also appear in the Android and iOS App. So, you have to wait for that annoying ad video to the end, before continuing with the video that you were watching. Because of these lengthy video ads, many times we have to leave the video. Well, now you don't have to close a Facebook video, because of ads. Because there are few methods to skip and Block Facebook Video Ads.
How to Block Facebook Ads
Skip Facebook Mid Video Ads
By adding ads to Facebook videos, Facebook is trying to be like YouTube. If you're watching a longer video on Facebook. Then, you might face multiple video ads in between video. And, too many Facebook Ads force us to close the video.
How to Block Facebook Mid Video Ads On Android.
On Facebook, If a video contains ads. Then you will see a yellow dot between video start and end time. And, when the video reaches to that yellow point, 'ad starting soon' animated circle do appear.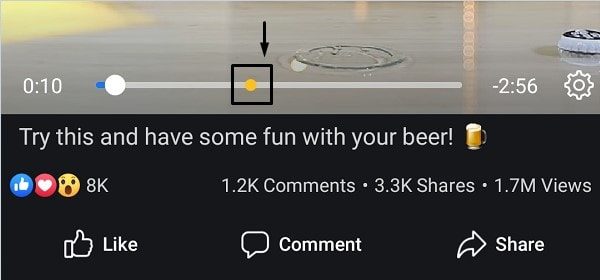 So, here is the trick to dodge that in-between ad. As soon as that animated 'ad starting soon' circle appears, tap on 'comments'.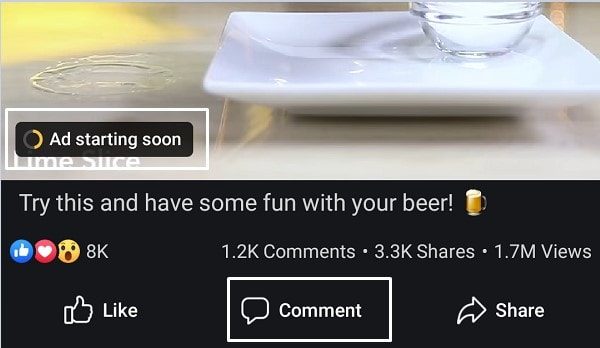 2. And, open a random profile from the comments section by tapping on the name.
3. Once the random profile gets open completely hit the back button and go back to the video.
4. That's it, now the video will start from where you left. And, the ad will be gone.
Now, you don't have to wait for an ad to get complete. You can skip Facebook Video ads easily. Though, If the video starts after the ad, then this method is useless. That's why I am adding more methods.
Use Facebook Lite App
Facebook has created a lite version of Facebook and Messenger App. And, the Lite version of both Apps uses less data, and, works in almost all network conditions. Well, App is designed for old 1-2 GB RAM smartphones. In which, the main Facebook App doesn't work. But, You can use this App on your smartphone. If you're annoyed with Facebook Ads.

Because surprisingly, Facebook video ads don't come in Facebook lite. I have tried playing the same video in both Apps. (Facebook & Facebook Lite) And, Facebook Lite was able to play video without ads. So, If you don't like the first method to skip Video Ads. Then, simply use the lite version of Facebook. Yes, there are some Facebook App alternatives available. But, it's better to use the official App.
Use the Kiwi Browser
If you use Chrome as your default browser for browsing the Internet. Then, Kiwi is the best browser to block Facebook Video Ads. I have already mentioned about this browser in my 'Install Chrome extensions on Android' Article. Yes, you can install all your favorite Chrome extensions in this Android Browser. Kiwi is based on Chromium and Web-Kit. But, it does offer a lot more features than a normal Chrome browser.
Kiwi browser comes with an inbuilt ad-blocker feature. You just have to enable the 'hide annoying ads' option from the menu. Also, do enable the 'Turn on Night Mode' feature. That will activate dark mode on Facebook. After enabling both these features, open Facebook site in Kiwi browser. That's it, the browser will block Facebook mid-video ads.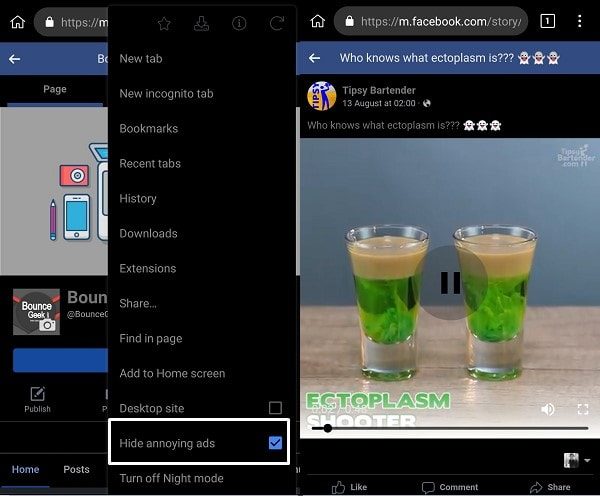 Play Video in the Browser
If you do like the original Facebook App. And, don't want to replace it with Facebook Lite or any browser. Then, you can use a browser to play Facebook Videos. Because, in the browser, Facebook video ads don't work. I have tried the Chrome browser and the video ad wasn't coming. If video ads do appear in the Chrome browser, then try Kiwi with the ad-block feature.
To Play a Facebook video in a browser, tap on the three dots icon. And, then tap on 'Copy Link".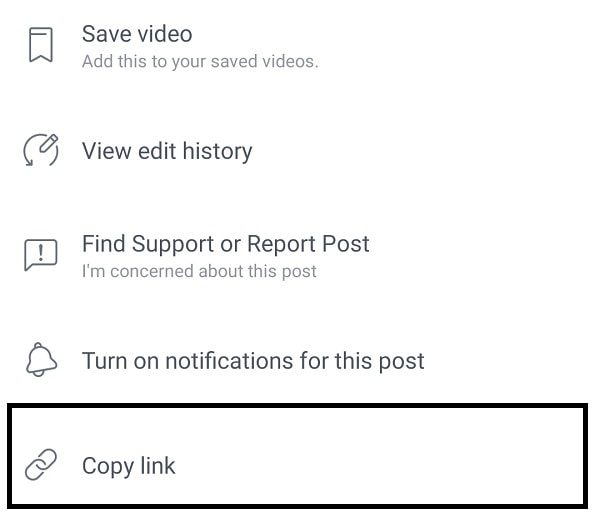 2. Open the Kiwi browser and do open copied link in it. That's it. You can now play the video without login. Make sure the hide annoying ads option is enabled.
Summing – up. – Block Facebook Mid-Video Ads
So, these are the four methods to block unwanted video ads on Facebook. You can't block Ads from Facebook App itself. Because the source code of Android Apps cannot be control by another application. So, you can either skip ads using the first method. Or, you can use the Facebook Lite App. Or can open the Facebook site in the Kiwi browser. Or, If you don't want to use an alternative. Then, you can copy the video link and play it in the Kiwi browser. Or, if you want you can download Facebook Videos. By using some third-party tools. I haven't tried Magisk modules yet. Because I have to root my device for it. Soon, I will update this article with more methods. If you know any other method to block Facebook ads, feel free to comment.