In iOS and iPad OS 14, Apple has introduced many privacy-centric features, like Privacy Information, App Privacy, Location approximation, and many more. But, the most interesting one is the new camera and mic access indicators. iOS and iPad OS 14 displays a green dot in the status bar whenever an App is using the camera. Similarly, an orange dot appears in the status bar, whenever an app is using the microphone. As you know, the iPhone and iPad don't have a physical LED indicator. So, Apple has simulated the experience through software. Also, you can review in the control center, which App has used camera and microphone recently. Unfortunately, officially Android doesn't have any such feature. However, there is a third-party App "Access Dots", that mimics the same iOS 14 functionality.
But before we start to know about it, there is a worth noting feature of Android 11. Google has eliminated the camera, microphone, and location access in the background. In simple words, Apps can not ask any of this three permission while working in the background. Similarly, In Android 10, the user gets notified by a location pin, if an app uses location in the background. Well, here's how to Get iOS 14's camera and mic access indicators on the Android status bar.
Get iOS 14 camera and mic access indicators on Android.
Access Dots.
Access Dots App is created by a recognized XDA Developer jagan2. He is also a developer of some popular Apps like Energy Ring, Energy Bar, and Energy Notch. The app will work on All Android devices running on Android 7.0 or higher. Let's see, how this App will help to get iOS 14 camera and mic access indicators on Android.
1. First, Install "Access Dots – iOS 14 cam/mic access indicators!" App from Play Store.
2. Open App, you will see a toggle switch next to Access Dots Text. Tap on it.
It will lead you to Android's Accessibility Settings. Tap on "Access Dots" in Accessibility settings.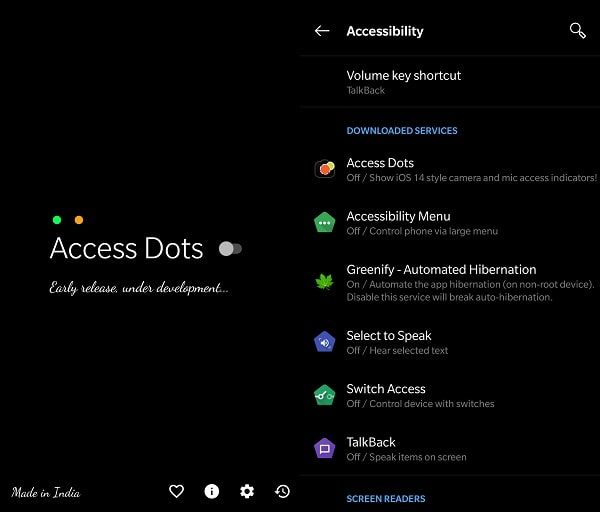 3. Tap on "Use Service" toggle switch. After that, tap on allow to give App to full control of the device.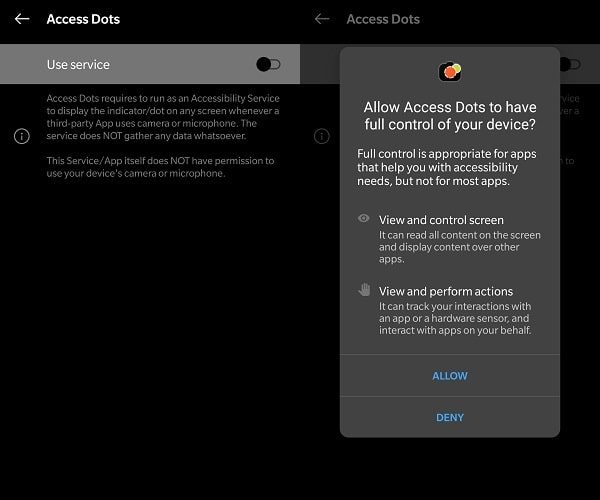 Accessibility settings for Access Dots will now get enabled. Go back to the App, and you will see "Access Dots" is now active.
That's it, now whenever any App will use the smartphone camera and microphone, you will see a specific colored dot.
Note: Giving Accessibility Permission to every App is not recommended. It gives full control over your smartphone. So, make sure the App is trusted. Well, Access Dots is "made in India" App by a recognized XDA developer. That's why, no need to worry.
Access Dots Customization.
By default, Access dots shows Green and Orange dots for Camera and Mic, just like iOS 14 Beta. But, if you want you can change the color using the color picker or RGB/HEX color code. If an App uses both Camera and Microphone i.e. video recording, the access dots turn into bi-color.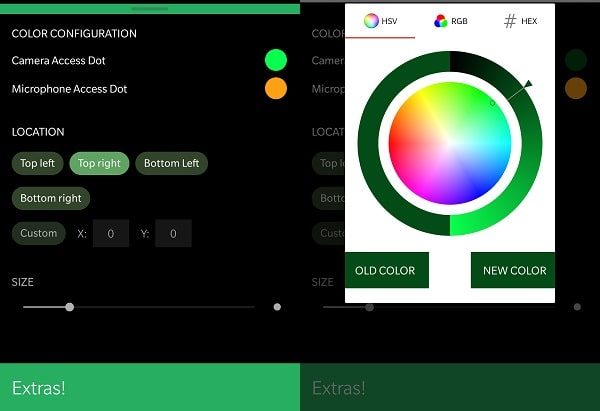 Even, the app lets you choose the position of Access dots. With the free version, you can place access dots to any corner of your smartphone screen. In case, you're using a notch camera or punch-hole display. Then the camera/mic access dot will appear beside the notch. The app does automatically detects the type of device.

But, If you want to set access dot on a custom co-ordinate, then you have to purchase a developer pack. Which is quite flexible, you can donate between $2.50 – $27. And, it will also unlock the feature to change dot size and will make app ad-free.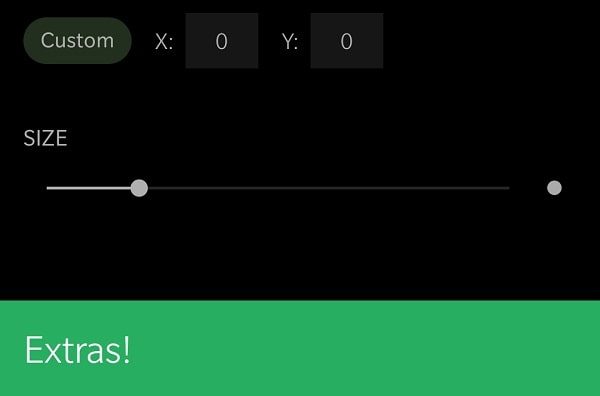 Access Log.
Like iOS 14, Access log also lets you check, which App has used a camera or microphone recently. It even shows how long a particular App was using Android's cam/mic. (Tap on history Icon)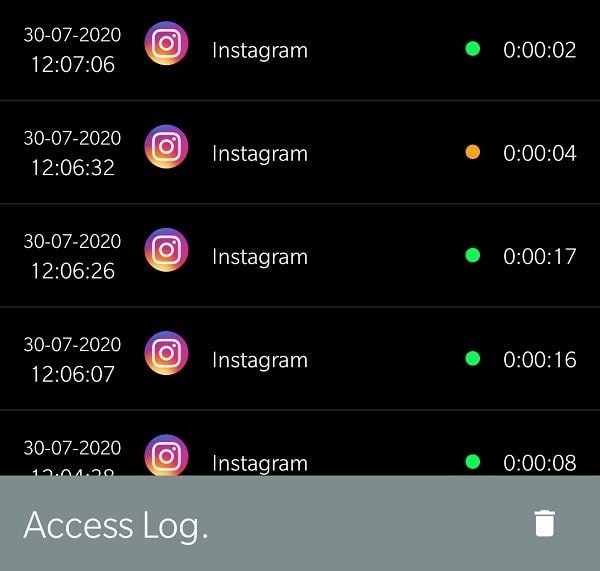 As of now, there isn't any alternative to this App available. Though, few OEM like MIUI and Color OS provide the same feature natively. Means, you will get a camera and mic icon in the status bar, when an app is using it. But for the rest of the smartphones, you have to use Access dots to get iOS 14 camera and mic access indicators.