Android is the best operating system for mobile devices, you can do many kinds of stuff using Android apps. And we know without android apps, it's like pizza without toppings. But we also know that some Android devices come with bloatware (pre-installed apps) and we can only uninstall after rooting device. Not everyone wants to or like to root their smartphone, because of some drawbacks. In this case, hide apps on an Android device is the Best solution.
There might be many reasons that force you to hide apps on Android devices, maybe you sick of scrolling useless pre-installed apps. Or, maybe your app drawer getting crammed with many Android apps. Some Android devices provide an inbuilt option to hide Android apps like HTC and Samsung devices. But not every device and launcher have the feature to hide apps. Still, there are a couple of ways to hide apps on Android devices.
How to hide apps on Android.
Hide Apps from Android's App drawer using Nova Launcher.
There are various Best home screen launchers available on Google Play, But nova launcher is best among them. If you are already using Nova launcher then it's incredibly easy for you to hide apps on Android. Hide apps feature not available in free version of Nova launcher, but you can get in the paid version that cost you around 4.99$.
It will only hide apps from the App Drawer. So if you want to access app quickly and don't want in app drawer then you can put apps on home screen.
To hide apps using Nova launcher First go to Nova Settings (open nova app drawer to open) > App & Widget Drawers. Now scroll down little and you can find hide apps option under Drawer Groups.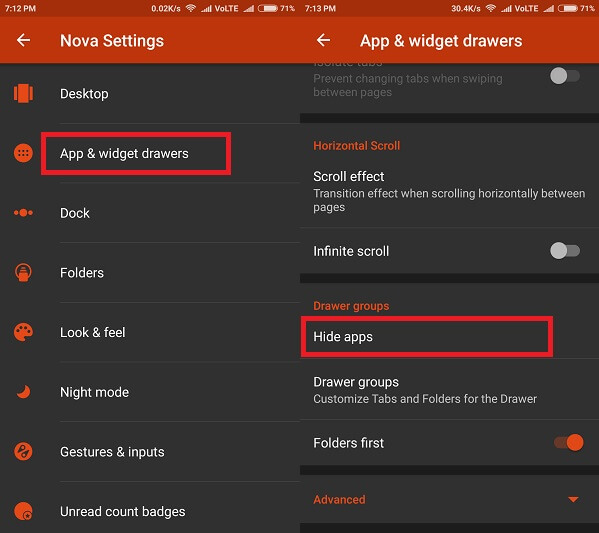 Now just select apps that you want to hide and then hit the back button. Open app drawer again and you can see all selected apps are now hidden.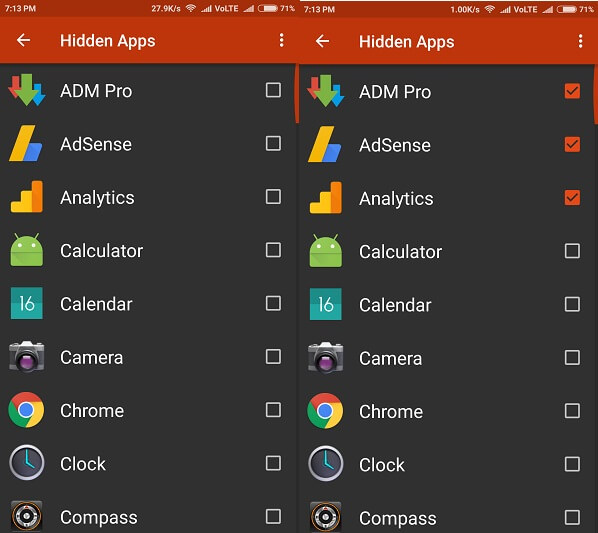 How to access apps once they're hidden from Nova launcher app drawer.
If you are using marshmallow based Nova Launcher then scroll down in the app drawer and you can see the search option. Now search for the app that you hide, and you can find that app in search result easily.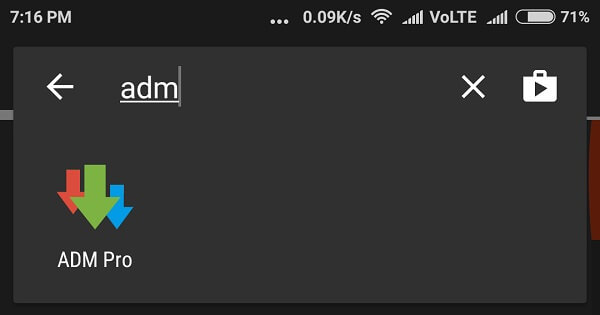 How to view all hidden apps at once in the App drawer.
To get Show hidden apps option on App drawer you need to enable it from Nova settings. Go to Apps & Widget Drawers, now scroll down little and in tab bar section enable Tab Bar. You can also change Tab bar style, choose the material design for Best view.
Now go back to the app drawer and tap on Apps. And you can find show hidden apps option there enable it to view or show all hidden apps.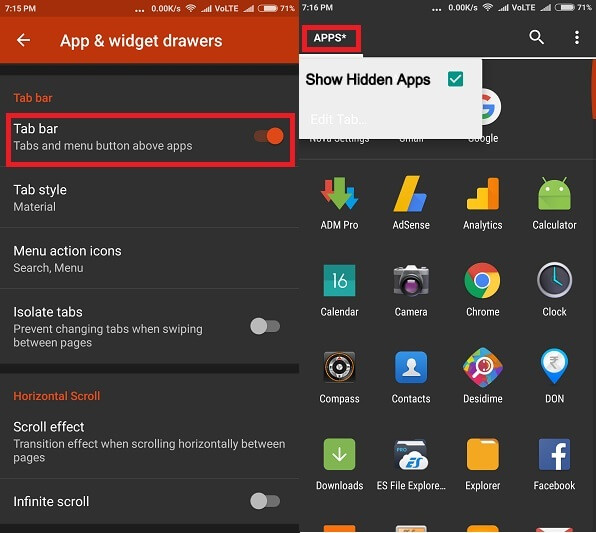 Hide Apps on Android using third-party apps.
If you don't want to install Nova Launcher and want to hide apps on your default launcher, then the best way to hide apps on android is by using some apps. Or If you want some extra security. So no one can access your apps without your permission then try App lockers for Android.
Hide apps on Android using Hide App Hider app.
App hider app provides the ability to hide the app icon from default launcher. To hide app first Install app hider and give root permission. If your device is not rooted then first root your device.
Now open app clicks on + Icon at bottom right corner, select apps that you want to hide and then click on Hide. Now check app drawer, you can't able to find those selected apps.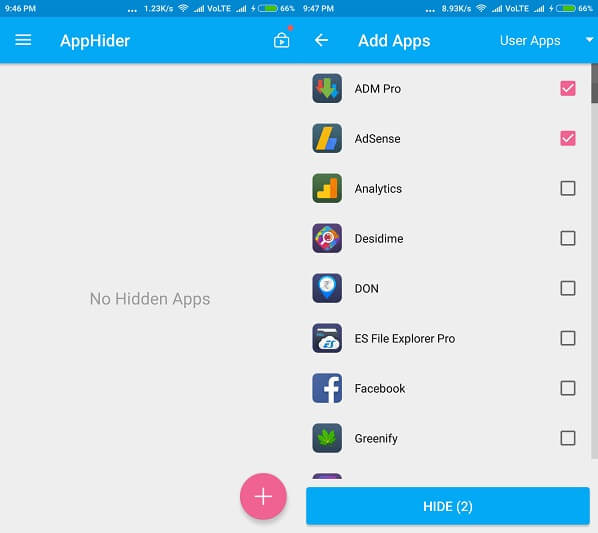 To unhide apps, open App hider tap on hidden apps and then Choose unhide.
Disable apps by user settings.
This last method for all those annoying and useless apps that comes pre-installed with some Android Devices. As you know, to uninstall these apps you need to first root your smartphone. Thanks to google now you can uninstall some unwanted apps, this method will work only for a few apps. If it does not work then try any above method to hide apps on Android.
Open Settings> Now go to Apps> Select app that you want to hide (Disable). If it's possible to disable then you can find Disable option, just click on it and it will first uninstall all updates of that app then disable. Now you can't able to find that app from app drawer.