Hide Photos on OnePlus – No Doubt that OnePlus does offer the flagship-level smartphone at an affordable price. Though, With their newly launched OnePlus 7 Pro, they are stepping into the premium smartphone market. But still, the base variant of the OnePlus 7 is an affordable flagship-level smartphone. The main USP (unique selling proposition) of OnePlus devices is it's Oxygen OS. Which is better than stock Android OS. Because it does offers extra features, that the user needs with a stock Android experience. Recently, OnePlus has released Oxygen OS 9.0 Android Pie update for OnePlus 3/3T. And, these are more than 2 years old devices.
Also, OnePlus has launched the third Android Q beta for OnePlus 6, 6T, 7, and 7 Pro. This version of beta comes with new UI updates. And, also offers a new OnePlus Gallery App. That will allow the user to hide Photos on the OnePlus smartphones. So, now you don't need to use third-party Apps to hide Photos in OnePlus Devices. In this article, you will get to know, how to get the photo to hide feature in any OnePlus Smartphone.
How to Hide Photos on OnePlus
Install Latest Version of OnePlus Gallery App
As I mentioned, hide photos, the feature has arrived only in Oxygen OS Android Q Beta Gallery App. So, If you're using the stable version of Android Pie 9.0. Then you will not get this update of Gallery App from the Play Store. Though, If you're using OnePlus 6/6T and 7/7Pro. Then, you can install the beta version of Oxygen OS. But, You might face bugs in beta ROM.
That's why I suggest you install the latest version of the OnePlus Gallery App. And, yes, it will work in a stable version of Oxygen OS. I have tested this App on my OnePlus 5.
Download OnePlus Gallery APK from APKMirror Site.
Important: Currently, the latest version 3.5.1 isn't available on Play Store. So, you have to download it from third-party sites. And, APKMirror Site, is the most trusted source of Android Apps after Play Store.
1. Open Chrome Browser, and, search for "OnePlus Gallery APKMirror". Click on the first hyperlink from search results.
2. Scroll down a little, you will able to see all versions of the OnePlus Gallery App. You have to download the latest one. Click on the download icon, that appears next to the latest version.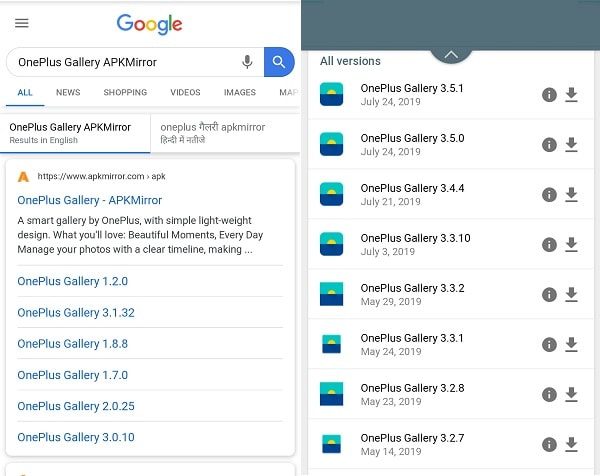 3. On the next page, scroll down, and under the Download section you will able to see selected version details. Tap on the version.
That's it. On the next page, you can find out the "Download APK" option. Tap on it to download.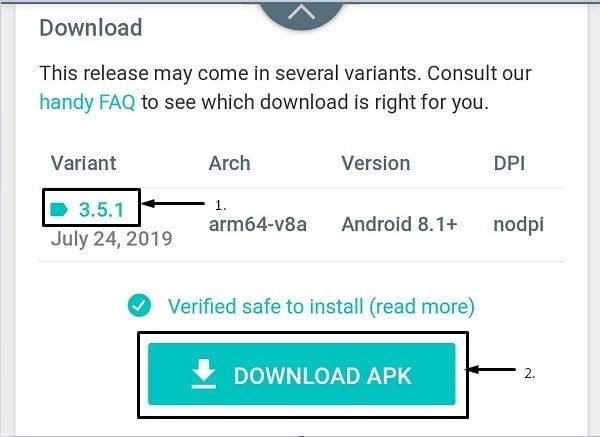 Install the OnePlus Gallery App.
Before Installing the downloaded Apk. Make sure, you have turned on the "Install Unknown Apps" option from settings. If you haven't, the App installation will ask for it.
Hide Photos on OnePlus using Gallery App.
1. Hiding Photos using the new Gallery app is simple. First, select all the photos that you want to hide. Then, tap on the three-dot button on the top right corner, and then tap on the 'Hide' option. And, then tap on OK. You can even hide videos visible in the Gallery App.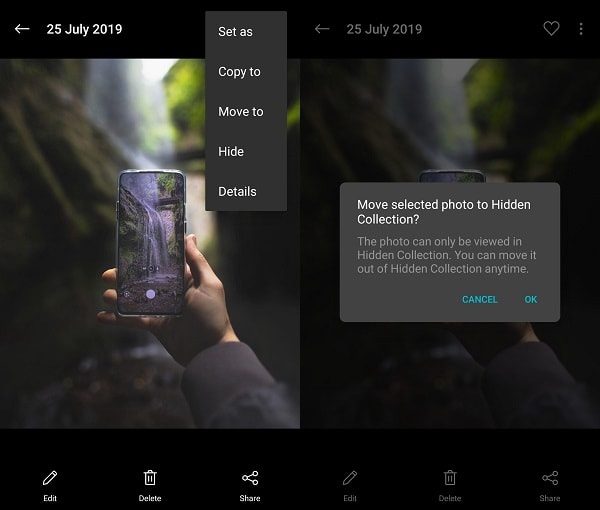 2. To view hidden photos, On the home page of the Gallery App. Tap on the three-dot button, and then tap on "Hidden Collection".
3. To remove photos from the hidden collection. Open Hidden collection, select all photos that you want to unhide. And, then just tap on the 'eye' button.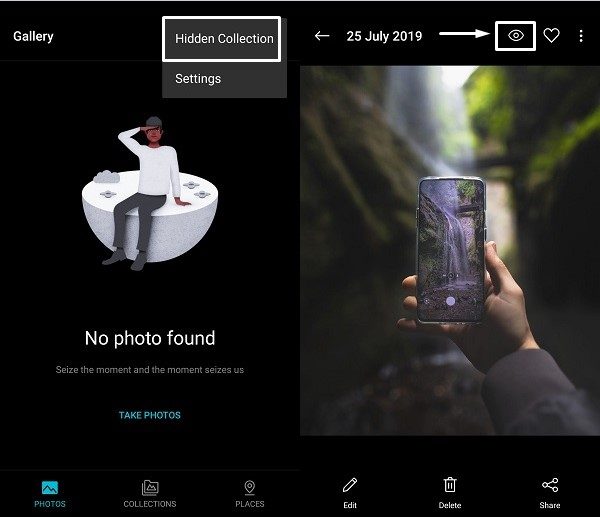 That's it. That's how you can hide photos and videos on any OnePlus smartphone. But, to keep your photos more secure, use App lock and the main lock of the smartphone.
Use the Lockbox feature in File Manager
Instead of the stock file manager of Android, OnePlus smartphones come with its own file manager. And, Oxygen OS file manager does offer many advanced features to manage files. And, the lockbox is one of them. Whatever files you will store in Lockbox. Cannot be opened by any third-party Apps. And, good thing is, if you store photos in Lockbox. Then, you can't even see using the OnePlus Gallery App. So, it is an alternative method to hide photos.
How to hide photos using Lockbox.
1. First of all, you need to set a six-digit passcode. To do that, open file manager, scroll down a little, tap on Lockbox.
Enter six-digit passcode, and re-enter it to confirm.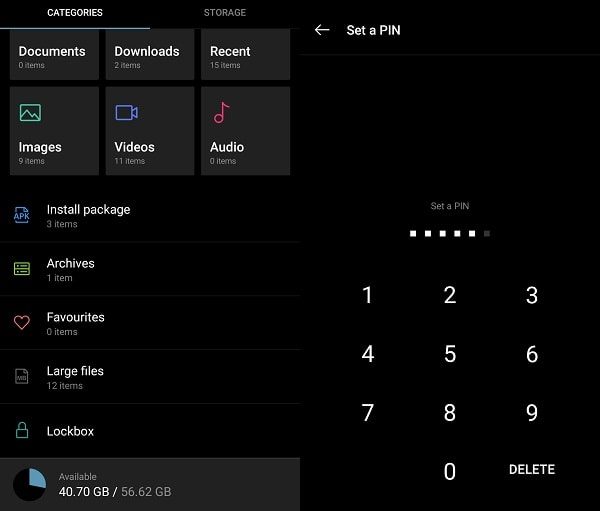 2. To hide or store files in Lockbox, open file manager > Storage.
3. Open the folder, in which photos are stored. Select photos and then tap on the three-dot icon to open the context menu.
4. That's it, now just tap on the "Move to Lockbox" option. And, Photos will not be visible in the Gallery.
Remove Photos and Files from Lockbox.
1. Simply, open Lockbox by entering a preset six-digit passcode.
2. Select the files that you want to remove from Lockbox, and, want to store in the local file manager.
3. Tap on three dots, and after that, tap on 'move out'.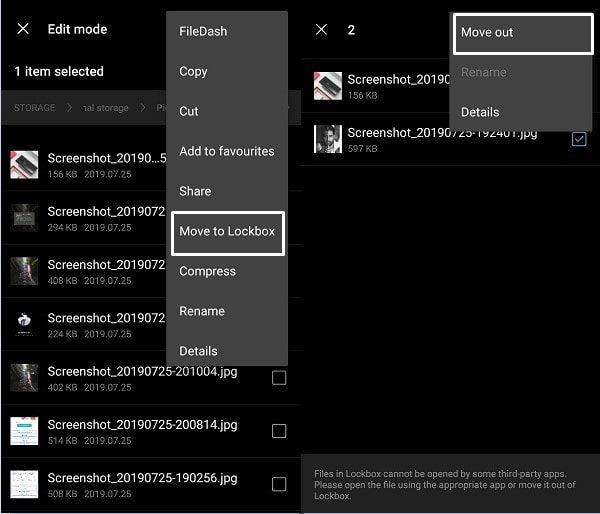 Summing-Up
That's it. So, these are the two official ways to hide photos in any OnePlus device. You can either update the Gallery App and can get the hide features. Or, you can use the oxygen OS file manager's Lockbox feature. That is more secure, in my opinion. Though, there are some third-party Apps available to hide files and photos. But, you might lose your files and photos with those Apps. So, these are the only secure methods to hide.