The Graphics Interchange Format known as GIF isn't a new thing. But, still downloading it from a social media platform like twitter isn't easy. Because on Twitter, there isn't an option to save animated GIFs. As we get on some other website. Like, In most of the sites, you just need to Right-Click, and you get save image option. Though, officially Twitter allows users to post GIFs through GIPHY platform. GIPHY is basically a GIFs search engine. Where you just need to type some simple keywords like Agree, Applause, Dance, Bye. And, GIPHY will show all related GIFs to those keywords. And, Twitter has embedded GIPHY in their platform.
On Twitter, when a user uploads a GIF, It's automatically get converted into .mp4 video format. While the Twitter shows it as GIF, but actually it's a video file. Even, if you right-click on any GIF on Twitter, it will show you "Copy Video Address". And, on the bottom left corner, it shows GIF written. It is done because video files are usually smaller in comparison of GIFs, and easier to interact.
So, even if you use any Twitter Gif Downloader. It will first download the GIF in .mp4 format. After that, it will convert Mp4 into GIF for you. I think, instead of going through all these technicalities. You are interested in knowing "how to save a GIF from twitter". That's why, In this article, I am going to tell, multiple methods to download GIF from Twitter. You can use any method, according to your ease.
How to Save GIFs From Twitter.
Method 1: EZGIF – Best Twitter GIF Downloader.
EZGIF is online GIF Maker tool. That helps in creating a GIF using multiple images. GIF file size is too large?. Don't worry, EZGIF will help you to compress GIF using its Online GIF optimizer. It also allows adding text to animated GIF. Overall, it's a package tool that you need for GIFs.
Well, the most important feature of this online tool is Video to GIF converter. That allows converting any video file into GIF format. And, as I mentioned before, all uploaded GIFs on Twitter are in Mp4 format. So, by using the GIF Video URL, you can download twitter GIFs.
How to Save GIFs From Twitter, using EZGIF?.
1. Right-Click on the GIF that you want to download in your Computer.
And, then click on "Copy Video Address".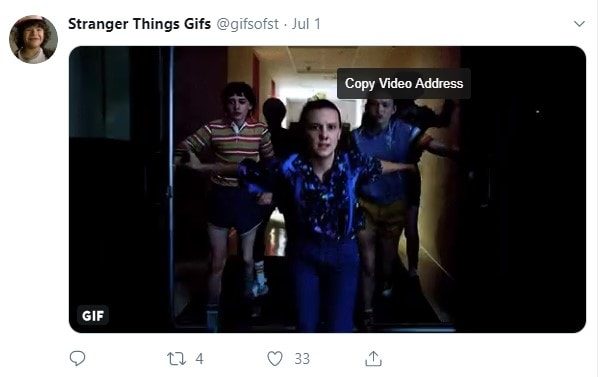 2. Now, Open "EZGIF Video to GIF converter" in any browser.
Here you will get two options. Either you can upload a video file from your PC. Or, you can paste the URL of the video.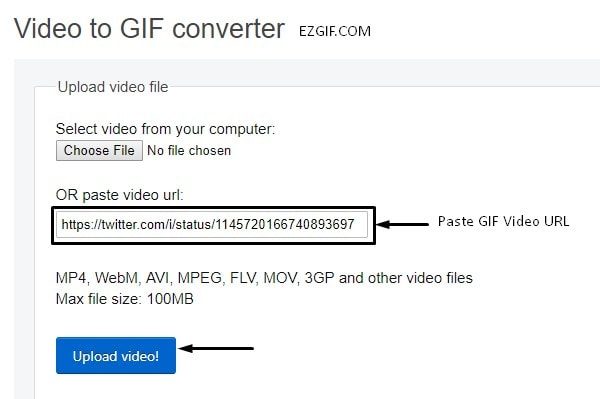 3. Paste the URL that you have copied from twitter. And, then click on "Upload Video".
After hitting upload video option, you will able to see multiple tool options. (Don't click on save button now, else the mp4 file will get downloaded.) Like, reverse, cut video, speed, add subtitle. So, if you want to do any change in the GIF. Then, you can use these online tools of EZGIF.
4. Else, Scroll a little, and, Just click on the "Convert to GIF" option.

EZGIF will now convert mp4 video into GIF format. And, in Output GIF, you will able to see the converted GIF File. To download that GIF, click on the Save option. (Which showing in Output GIF section.)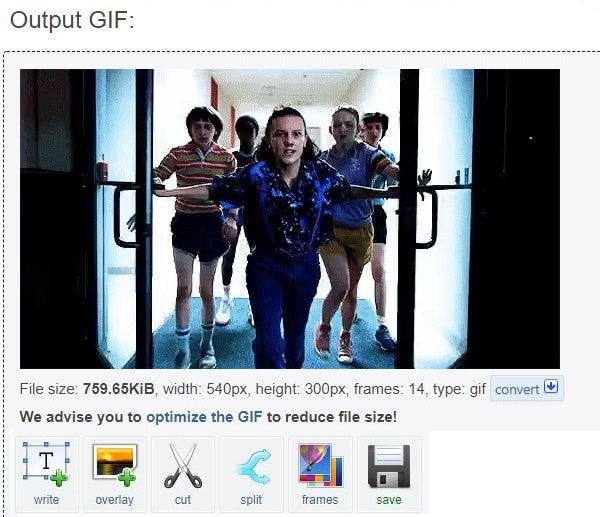 Method 2: Download GIFs in Mp4, and then Convert.
If for some reasons, EZGIF is unable to fetch GIF video file through URL. Then, this method will come in handy. The web version of Firefox and Chrome comes with some hidden pre-built options. That allows downloading any type of media file from a webpage. Even, In my download embedded video article, I had mentioned about it. You can read that article to know the complete method.
Well, If you're using the Chrome Web Browser, then it will be a little difficult to save GIF from Twitter. But, In Firefox browser it's super easy to download GIF in mp4 format. (Because twitter uses mp4 format for all uploaded GIFs.) After downloading GIF in Mp4 format, you can use EZGIF to convert it.
How to save a GIF from Twitter using the Firefox Web Browser.
1. Install the Firefox Web Browser if not installed.
2. Open Twitter and Login with your personal details. Open the Twitter GIF Page that you want to download. Or, you have URL of that GIF, then you can directly open it.
3. Now, Right-Click on anywhere in Firefox Window, and then click on "View Page Info" from the context menu.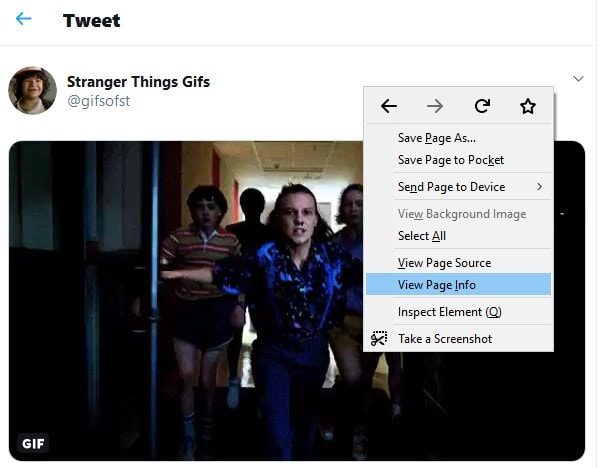 4. The Page Info window will get open, click on Media.
Here, you can find out all media that exist on that webpage. You need to look for the video file. (See Type Section.) And, when you click on that video file from the list, GIF preview will be shown to you.
5. Click on Save as option, select desktop and then click on Save. That's it, GIF in Mp4 format will get downloaded.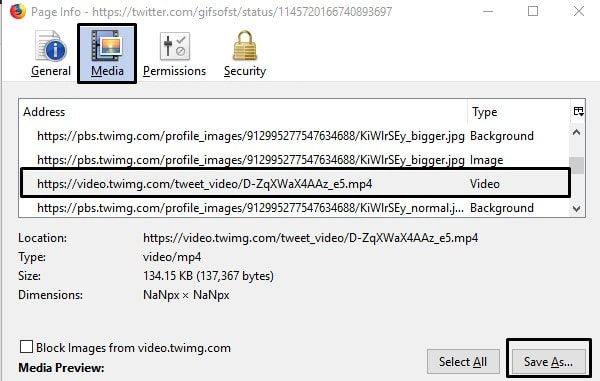 Convert Mp4 to GIF.
You just need to use the first method now. In the first method, we used the twitter GIF URL to convert mp4 into GIF. Now, we have the Mp4 file to convert.
1. So, Open same EZGIF Video to GIF Converter Page.
2. Click on "Choose File" and then select the GIF video file that you have downloaded. And, click on upload video.
After that follow the same steps (from number 4) mentioned in the first method.
Method 3: Use Tweet2gif App.
If you're an Android user, then this method is for you. There are multiple apps available on the Play Store. Which allows downloading GIFs from Twitter. But, the best App that works flawlessly is Tweet2gif.
Copy URL – To Copy URL of GIF in Android devices. Open the Twitter app, or you can open twitter in the browser. Open the GIF tweet, tap on the share icon and after that tap on "Copy link to tweet".
Install Tweet2gif App in your smartphone. And, open it. The User Interface of this App is quite impressive. You just need to paste the GIF URL and then click on Download GIF.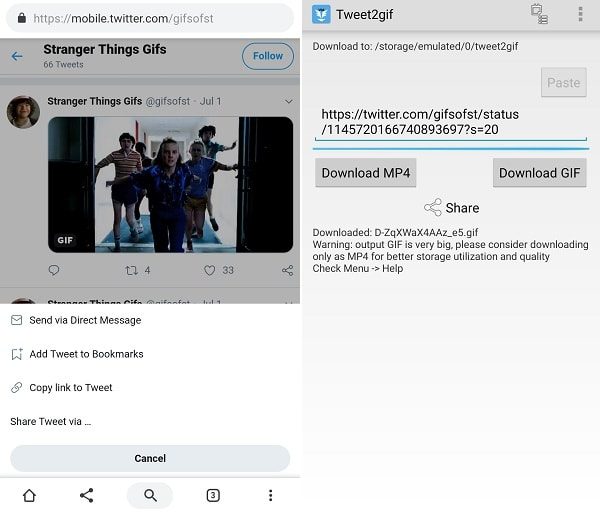 Summing-Up – Save GIFs From Twitter.
So, these are the three best methods to download Twitter GIFs. If you want to download in Computer, then the first two methods will be useful for you. I know there are some other Twitter GIF Downloader online tools available. But, EZGIF is best among them. And, similarly, In Android Tweet2gif is the best App to save GIFs. That's it. If you know any other better App or tool, feel free to comment.