If you are using a new version of windows then you know you can't run DOS games and application. Every program needs its own environment to Run. For Example, If you want to run Apk File then you need android environment & If you want to run Exe file then you need Windows environment or we can say Windows OS to Run. To create an environment for DOS games and apps we need to Install DOSBox. DOSBox is available for Windows, Mac OS, Linux & for many OS. you can create a DOS environment using DOSBox. If you know DOS is Microsoft Operating System & It fully runs on commands, that's why windows users unable to operate DOS OS. DOSBox is an emulator based on MS-DOS that is the reason windows users don't know how to use DOSBox to Run DOS Games & Applications. Today am Gonna tell you how to use DOSBox to Run Old DOS Games.
Let's Start
DOSBox Software Available for free for almost every known Operating system. you can easily download using DOSBox website for FREE. Check all compatible OS list Below.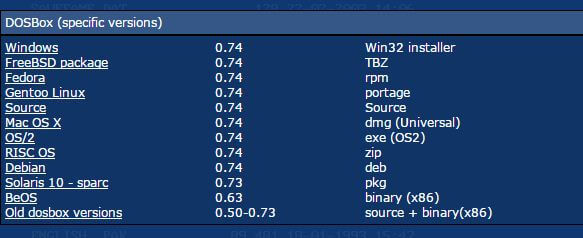 If you're Ubuntu user, you can find DOSBox available in the Ubuntu Software Center.
How to use DOSBox to run DOS Games.
Don't forget you need a DOS Game to Run. am Using old Aladdin game for demonstrations. And am gonna tell you How to use DOSBox to run old Aladdin Game. you can Run or play all Games by following these commands.
First Install DOSBox in Your Computer. DOSBox is just 2MB Software that's why it will take only 30 Sec. to Install.
If your DOS game File is in ZIP Format First Extract Using WINRAR or any other File extractor Programme.
Mount Directories.
Before Run DOS Programme you need to mount Directories. In Other words, DOS Environment is separate from your computer's file system. means your computer C: drive is completely different from DOSBox C: drive.
Create a Directory.
Before Mount Directories you need to Create a directory. Creating Directory is not too hard it's like creating a Folder.
First Open C Drive. Create New Folder named "Games". Now move all extracted games files in this Folder.
If you want to play too many games the create a separate folder in games folder, otherwise, you can move all extracted DOS game data in this Folder.
Now Run DOSBox Application using Run as Administrator Option, And Type.
mount c c:\games\
This Command will Mount C Drive C:\games Directory to C Drive DOSBox Directory. Basically, in other simple words, it's loading and accessing your game data in DOSBox.
Now type C: to enter into c directory of C:\games.
Now type dir and you can see all games Files there.
If you moved too many DOS Game folder then to access your favorite game use cd "folder name".
Now Enter Game Exe File Name & press Enter.
Done, Finally, you successfully run DOS Game.
DOSBox KeyBoard Shortcuts.
There are many hidden DOSBox Keyboard Shortcuts available that we Don't know. Here is all useful KeyBoard Shortcuts that will help us in How to use DOSBox.
Conclusion
This is the Easiest way to run DOS Games & Easiest way to use DOSBox. There is also another way available, I will Post in mine Next Article. Till then Enjoy your all old DOS games in Windows & other Operating System. If you know any other better way then also you can comment or you are facing any issue then feel free to comment, I am happy to help you.