Are you a PC Gamer, then you know about Steam. With Steam, you can buy your favorite games, and get stay updated with Game Updates. I usually don't use Steam, but recently I have started using it. Because, I want to play the most famous game of this year, that is PUBG. Or maybe you know this game with "Player's unknown battleground" Game. I want to share my winning with my facebook friends. So, I decided to take a screenshot using the F12 key. But, I was unable to find out the steam screenshot folder. After a bit of searching, finally, I found that folder.
So, In this small guide, I am going to tell you "how to access steam screenshots folder". But first, I am gonna tell you how to take a screenshot. And. how you can change Shortcut to capture the screenshot.
Steam screenshot folder.
How to take the screenshot in any Steam Game?.
Though, I have already mentioned in the above paragraph. By default, steam allows taking the screenshot using the F12 key. But, still many users are complaining that they aren't able to take the screenshot. And, that could be the reason, why you're not able to find steam screenshot folder. Because the folder will create only after you take your first screenshot.
If you're using a laptop to play Steam Games, then the F12 key will turn on airplane mode. But, if you want to take the screenshot, not want to turn on or off airplane mode. Then you need to press the F12 key with the Fn key.
To take a screenshot press Fn + F12. (Fn key is known as the function key.)
Change Screenshot shortcut key.
If due to any reason, you're not able to take the screenshot using the F12 key. Then, here is a small guide to change the screenshot short key.
First, Open Steam software in your Computer. Then, from the menu, Click on "view" button, > from the drop-down menu click on settings.
Now, In settings Window, go to the "In-Game" section. Here you can see default screenshot short key. Which is currently set F12.
To change it click on "X" icon and then to edit the new shortcut key. Press any function key with Fn.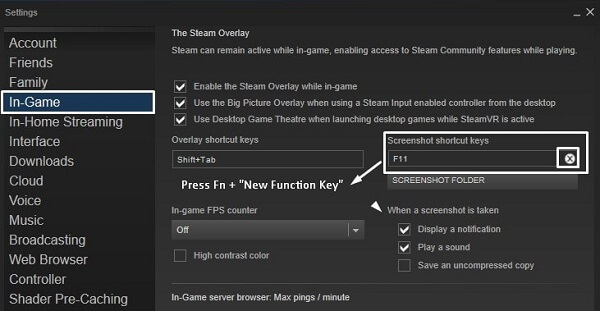 For Example, If you want to set F11 as screenshot Shortkey. Then, after removing default key press Fn+F11. But, If you want to set any alphabet or num key as screenshot shortcut, then you don't need to press "Fn" key.
Where are Steam Screenshots?. 
Method: 1 Access Steam Screenshot and folder. (Using Screenshot Uploader)
Steam comes with "Screenshot Manager". So, you don't need to manually look for "Steam Screenshot Folder". And, with screenshot manager, you can open the folder easily with one click.
To open "screenshot manager", Click on view button in Steam. Then click on "screenshots" option.
Screenshot uploader of Steam, allows you to check any specific game screenshots. Also, you can check recently taken screenshots.
And, to access Screenshot folder of your Steam Game. First Select game from the drop-down menu, and then click on "Show on Disk".
Method: 2 Manually access Screenshot Folder.
Screenshot manager or uploader is the best way to access Steam Screenshots. But, you need to open the Steam App every time to access that folder. Which, maybe you don't want to do it. So here is the steam screenshot folder directory, which will lead you towards all your taken screenshots.
Where does steam save screenshots?.
C:\Program Files (x86)\Steam\userdata\(Your Steam ID in 9 digits)\760\remote\(App ID / Game ID)\screenshots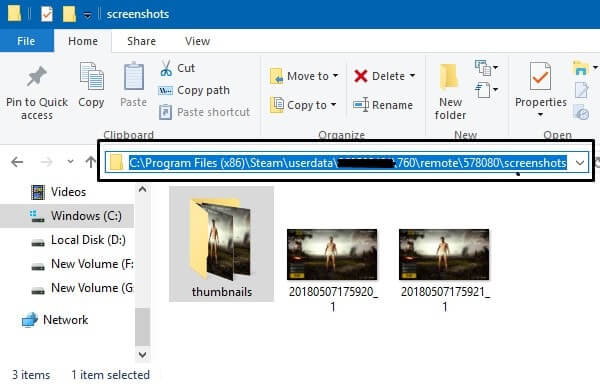 If you have taken screenshots from multiple Steam Games. Then in "remote folder", you may find multiple game ID folder.
How to find out Steam App ID?.
Simply, open Google and search for Game Name + Steam. For Example – Search for "PUBG Steam". Now, In URL of the Game, you will able to see 6 digits. And that 6 digit is your App ID of that Game.
Change Screenshot Folder.
Although, I don't suggest you change Screenshot folder. But, if you think, it's complicated to find out steam game screenshot folder. Then follow this small guide to change screenshot folder of Steam.
Step: 1 First, Open steam settings, by going into the view menu.
Step: 2 Now, go into in-game settings, and you will find the Screenshot Folder option. Which appears just below the shortcut key of the screenshot.
By using the drop-down menu, you can select the drive. After that, you can select the new screenshot folder path. And, can create the Screenshot folder.
After selecting the new path, click on "Select" option. And, Steam Screenshot folder will get changed.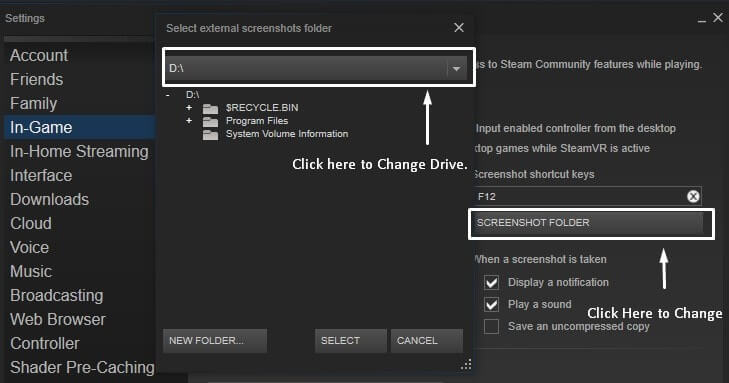 Alternative Method to take the screenshot of Steam Game.
If you don't like this way of taking Game Screenshot and accessing the folder manually. Then there is an alternative method to capture screenshots.
If you're Windows 10 user, then just hit Windows + Print Screen key to take the screenshot.
And, you can access all your screenshots by going into Pictures\Screenshots.