Google has recently released Pixelbook Go with Chrome OS. And, if you want to enjoy Google's desktop operating system, then you don't need to buy that. Because with the help of a USB Drive, you can install Chrome OS on PC. To be clear, you can't install the same Chrome OS that comes in Chromebook or Pixelbook. You can get that only if you buy Chromebook. Because Google doesn't provide any official builds of Chrome OS. But, good thing is, there are open-source Chromium OS available. Which is similar to the Chrome OS by Google.
What is Chrome OS/Chromium OS?.
Chrome OS is based on Chromium OS. Basically, Chromium OS is an open-source project. That means anyone can modify and copy Chromium OS, and use the way they like. Though, technical expertise is required for that. So, You can get close to Chrome OS experience by installing Chromium OS.
Chromium OS is designed for the people, who spend their time on the Web. This means, their whole work gets done on the Web. And, if you're using an old PC or laptop. And, Windows isn't working properly. Then, with Chromium OS, you can get a new Look & Interface. Because it is a lightweight OS, so it will work on older hardware also.
In this article, you will know two methods to install or dual-boot Chrome OS. And, you can either run OS entirely from USB Drive. Or, you can install it on your computer, which is optional. These methods will not overwrite your existing OS. You just have to follow all steps correctly.
Install Chrome OS on PC.
1. Neverware CloudReady. (Chromium OS)
The CloudReady is an Operating System for Windows, Mac or a Chromebook. It is based on Chromium OS. Both, Google and Neverware take source code from Chromium OS to develop their own Operating System. And, they add their own proprietary code to create a fully working OS. Though, CloudReady is just a modified Chromium OS to work on your existing PC's. And, you won't get extra features that Google adds in official Chrome OS. Like, the ability to run Apps, which might be disappointing for you. Also, DRM and multimedia features will also not work on some sites.
CloudReady comes with a wide variety of hardware support. So, If you have an old laptop that slowed down. Then, CloudReady OS can make it faster and useful for you. And, you can experience Chromebook on your old laptop. I will not suggest you install it completely on your Computer. Because it can replace your existing Operating system by overwriting. So, first, boot it from USB Drive. And, you can check the keyboard, mouse (touchpad), WiFi, is working or not.
Neverware offer Enterprise and Education version of CloudReady OS. That can secure your old laptop, by turning into secure devices. And, you can manage it alongside Chromebooks, in Google Admin Console. Though, there is a free version of CloudReady available for personal, home use. The free version doesn't come with access to the NeverWare support team. And, CloudReady home machine can't be enrolled in the Google Admin console.
Prerequisite.
All you need is an 8 GB to 16 GB USB Drive (Sandisk USB Drive are not recommended.). And, a Computer with Internet Connection. For Mac and Chromebook, you have to manually download Image and build CloudReady installer. But, for Windows, it's quite easy. So, follow our guide to create Cloudready USB Drive and Install Chrome OS on PC.
Install CloudReady Home Edition on Windows PC. (Chromium OS.)
Create a bootable CloudReady USB.
1. First, Visit NeverWare's CloudReady Home Edition Webpage. Scroll down and click on "Download USB Maker".

2. Run CloudReady USB Maker File as an administrator, that you have downloaded.
3. USB Creation Utility will now appear. Click on Next.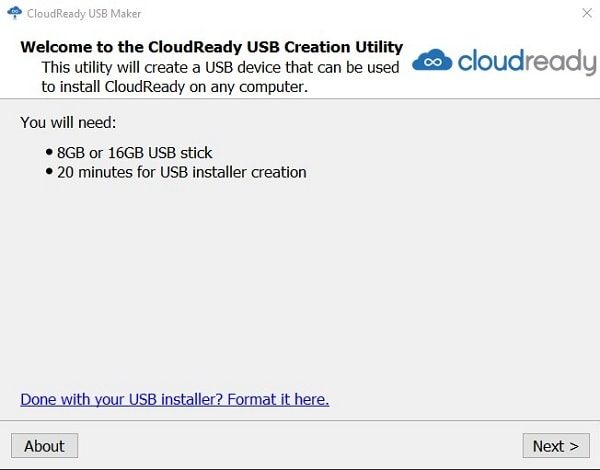 Select 64-Bit and Click on Next.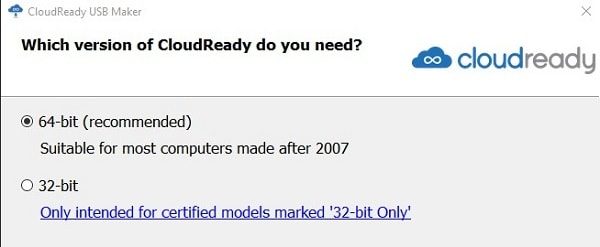 4. Now, Insert your USB Drive, and click on Next. Make sure there isn't any data on USB Drive. Because all will get erased.
On Next Screen, Installer will ask you to select USB Drive. Select the drive and proceed to the next screen.

5. Now, CloudReady USB Maker will start downloading Chromium OS Files.
And, When Download will get Complete, it will start creating a bootable USB. And, that can take up to 20 Minutes.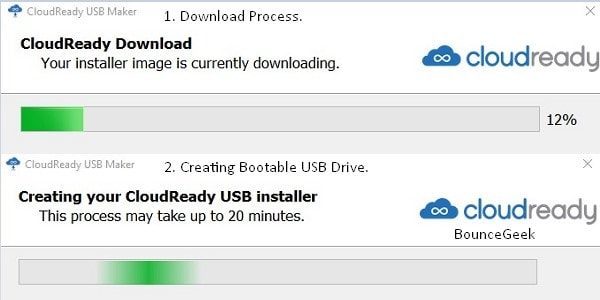 When the Whole Process will get Completed. You will able to see the final screen with the message "CloudReady USB Created".

Boot CloudReady (Chromium OS) from USB.
1. First, turn off the Computer Completely. And, Plugin the Bootable USB Drive that you have created.
2. Power on the machine and keep pressing the special boot key of a machine. The special boot key varies among manufacturers.
Note: In my PC, I am using an Asus Motherboard. And, for Asus Motherboard, "F2" and "Delete" are assigned to pause boot and enter into the boot menu.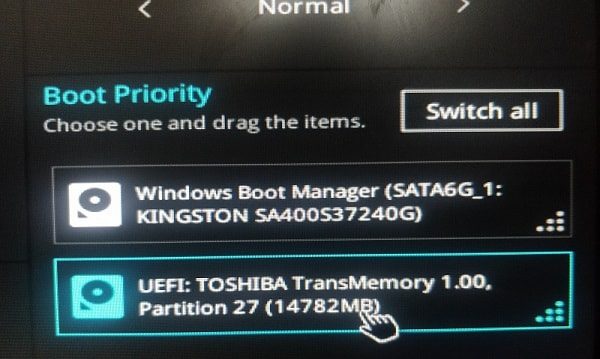 Dell – Keep tapping F12 when the Dell logo Appeared.
Toshiba – F12 or F2
Asus – F2 or Delete.
HP – F9.
Acer – F12
Lenovo – F12
Apple – Hold Option (next to the ⌘ key). (When your Apple computer first time gets turn on.)
3. If you were able to press correct keys then the boot menu will appear. After that, Select "CloudReady Bootable USB" from it. And Save Changes by pressing appropriate keys.
4. Once you will able to setup USB Drive as first boot priority. Then, automatically CloudReady logo Screen will appear.
5. Welcome Screen will appear after that logo screen. Click on "Let's Go".
6. Connect to WiFi on the next Screen. And, then click on "Continue".
7. Now, CloudReady will ask to Sign in to your Chromebook. Do it with your existing Google Account.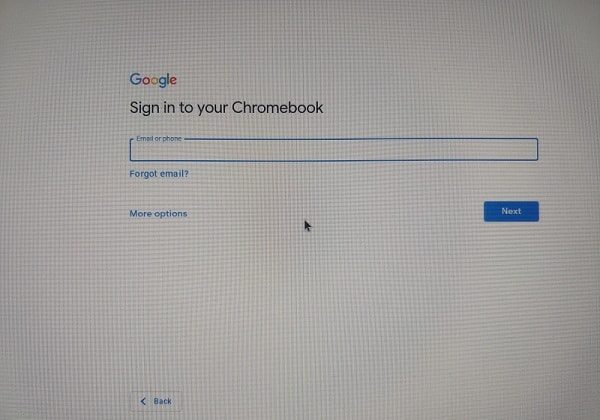 That's it. CloudReady's Chromium OS will now get started. You have successfully installed Chrome OS on PC.
Shut Down Chromium OS, and Boot into Windows – Click on the time shown in the bottom right corner. After that, click on the Power icon. Once CloudReady Chromium OS gets shut down. Remove USB Drive and Start Computer.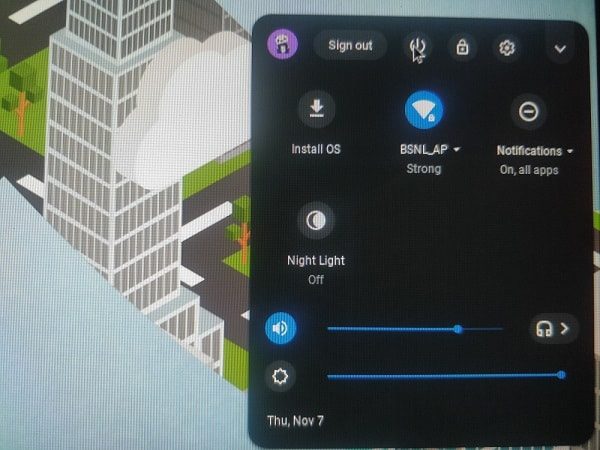 So, this is the method to Install Chrome OS on Windows PC. Still, there is another Chromium OS Build available. You need to create a bootable USB for that. I will also add that method soon, so stay tuned.