Sometimes, While switching between different-different tabs in Web Browser, We accidentally click on the cross (X – close tab option), Then we realize we weren't done with that WebPage. Or sometimes while browsing web pages in Chrome, Computer auto shutDown due to some errors or maybe we need to shutDown due to some Errors or lagging issues, this is the standard issue in Chrome because Chrome requires much RAM. In these cases, sometimes It's not been easy to search for things again and restore recently closed tabs again manually. Sometimes we forget to Bookmark things, and then we realize that the WebPage was important to us.
If you are heavy tabs users and using Chrome, then chances are high to click accidentally on cross button. But no need to worry you can restore Accidentally or recently closed tabs across various browser in just few Mouse Clicks and hotkeys.
There are two methods to restore Accidentally and recently closed Tab in different Browsers. The first method is somehow different in various Browser. I will show you how to restore the last closed tabs in all Web Browser. And if your browser is not listed then you don't need to worry because the second method will work in every browser.
Restore recently closed tabs in Google Chrome.
Method 1
As I mentioned, there are high chances to click accidentally on the close button. But in Chrome, you can quickly restore recently closed tabs by pressing these Hotkeys Ctrl + Shift + T (Press this combination using the keyboard).
After pressing it will open your last accidentally closed tabs, If you want to open more recently closed tabs then press this hotkeys or combination again.
There is also another way to restore recently closed tabs. if you are unable to press, these Hotkeys. Right- Click on Tabs Bar and then click on Restore closed tab.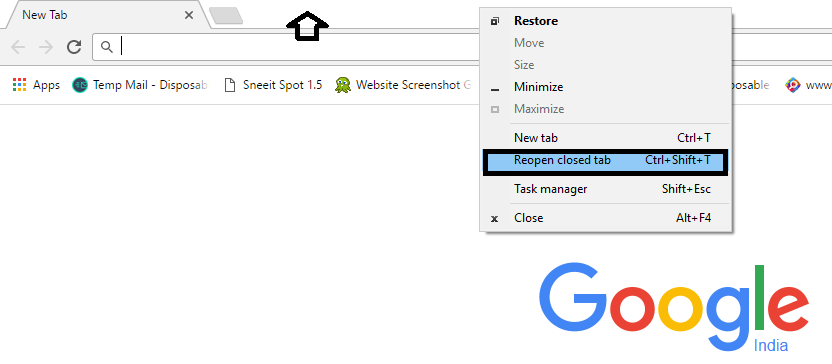 Use this option again and again, and you can restore all recently closed tabs.
Method 2
There is also another way available to restore recently closed tabs. If you want to restore any particular tab, And doesn't want to open any other. In this case, by accessing History you can do that, To access History, you can Press Ctrl+H Hotkeys.
If you are unable to press the Hotkeys then on Right Sidebar on chrome, You can find three dots click on it then You can see History option just move your mouse pointer on History option, and you can see all Recently Closed tabs there.

Restore recently closed tabs in Mozilla Firefox.
Method 1
Like Google Chrome, Mozilla Firefox is also the best mobile browser, and in Mozilla Firefox also chances are slightly high to click on the close tab (X button) accidentally. In Chrome also you can quickly restore tabs by pressing the same combination Ctrl + Shift + T.
If you are unable to press this combination then still there is another way available to Restore Closed Tab that accidentally got open. Right Click on Tab Bar and then Click on the on Undo Closed Tab.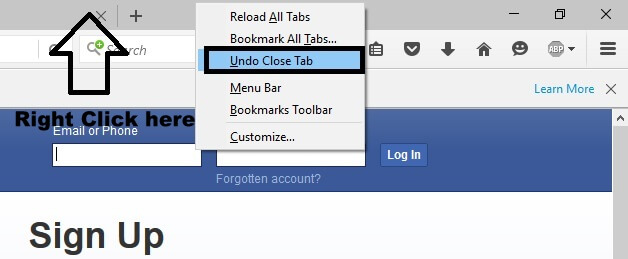 Method 2
Like chrome in Mozilla Firefox also you can Restore any particular Tab, To access History use same Hotkeys Ctrl + H. And it will show you all opened tabs, you can open any by obtaining History.
If you are unable to press Hotkeys, then click on three dots in Right Sidebar to Expand Menu. Then click on History Option.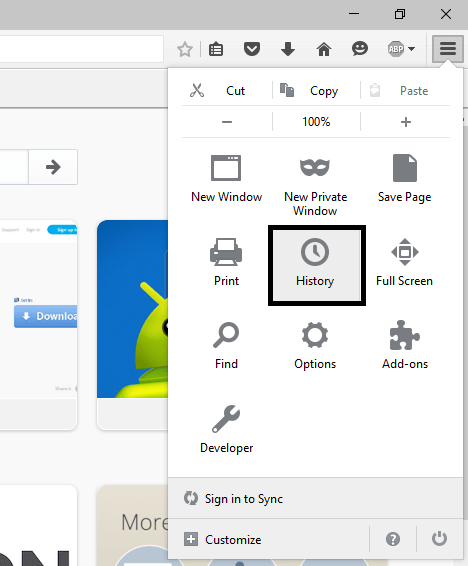 Restore recently closed tabs in Opera, Internet Explorer, and Edge Browser.
Method 1
There are many best browser available that Windows user uses and to open recently closed tabs in all Browser is somehow similar. To access frequently, recently closed tabs press Ctrl+Shift+T.  And in Opera, UC, Internet Explorer you can use these hotkeys or combination. Else if you are unable to access these hotkeys, then Right Click on Tab bar then select "Reopen / Undo Closed Tabs."
Method 2
The second method is also somehow similar in all Browser by accessing History you can restore any particular closed tabs that you access a week before. There are two ways to access History, In first method Press Ctrl + H and access history or in second way use menu to obtain the history.
Conclusion
These are the easiest way or ways to restore tabs in Browsers, by using these ways you can access any accidently closed tab quickly with few click and few keyboard keys. If still, you are facing any issue or You know any good way to restore closed tabs in Browsers then feel free to comment.