Though, there are few guides available on "HP BIOS update". But, those guides are complicated. So, In this article, I am going to tell you the easiest method to "Update HP BIOS". But, before starting this guide, you should know a few things. Because installing the wrong BIOS file with the wrong method, will leads your system into problems. So, read this whole article carefully, and you"ll able to update BIOS within 5 minutes.
What is BIOS?.
Maybe, you already knew about it. But, still, there are few things, that might you don't know. BIOS stands for the Basic input-output system. It's a piece of code, which belongs to a chip on your motherboard's system. When we start our Computer, the system looks in the chip for instructions. Like, where to find the operating system. Also, it manages data flow between installed OS and hardware components. The main job of BIOS is to ensure that, the OS is correctly loaded into memory.
Is, you really need to Update BIOS?.
I don't recommend updating BIOS. Because, while updating BIOS, I got a BSOD error for few seconds. Though, I have successfully installed "HP BIOS Update". That's why I am writing about it.
Are you experiencing some sort of compatibility issue with hardware? And, you're getting BSOD errors?. Then, you should update BIOS.
Also, if the BIOS update description is saying that. Some bugs and problems will get resolved if you update BIOS. Then, you can update BIOS.
But, if both the above conditions do not apply. Then, don't try to update BIOS. I have updated BIOS, because, my older BIOS version date was 2014. And, there was a 2018 BIOS update available on the official site of HP. That's why I decided to update the BIOS.
Download & Install HP BIOS Update.
IMPORTANT – This whole process is for updating HP laptop BIOS update. Although, if you're using an HP desktop, then also the process is the same. And, Please stay connected with the power cable, while updating BIOS. Else, you will face some errors.
Check current BIOS Version/Date.
First, we are gonna find out that, is HP BIOS update is available or not. So, we will check our current BIOS version and date. Then, we will look for BIOS updates on the official HP site. We are checking it, because if installed and available BIOS date is the same. Then, there isn't any point to reinstall BIOS.
To find out the current BIOS version, press the Windows + R key, then type msinfo32 and press enter.
Now, in the "System Information" section, you will be able to see BIOS Version/Date. As you can see, my BIOS brand and version is Insyde F.32. And, the date is 28-10-2014.

Alternative Method – If msinfo32 doesn't work due to any of the reasons. Or, not showing BIOS information. Then, you can download CPU-Z Software. And, In the Mainboard section of this software, you can find out BIOS information.
Check for BIOS Update and Download it.
1. To download, and get information about the latest HP BIOS version for your laptop. Visit HP Software and Driver Downloads site.
2. The site will ask you to select a product. I want to update my HP 15 notebook PC BIOS. So, I am clicking on the Laptop.
3. Now, you need to identify your laptop on the HP site. If you know the serial number of your laptop, then enter and click on submit. (Check HP laptop box to find out)
Note: If you know the serial number, then you can skip steps 4 to 6. And, Instead of the serial number, you can enter the laptop model number. (Example – HP 15 Notebook PC 15-r204TX)
4. But, if you don't know, then click on "Let HP detect your product". And, HP site will download "HP Support Solutions Framework".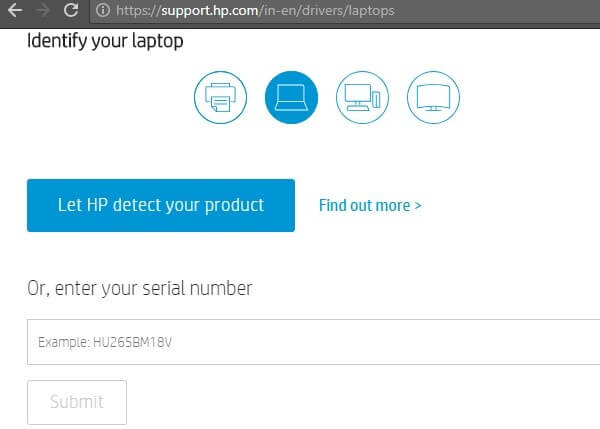 5. After downloading, install it on your computer. (Software will also install HP support assistant, which is useful.)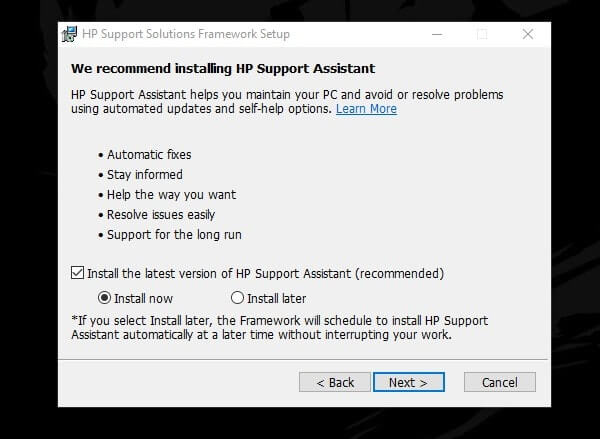 6. Once, it gets installed, go back to the site and click on the Next button. And, then a popup will come, click on it.
Now, you"ll able to see your laptop information, click on it.
7. Software and the driver details page will open now. Click on BIOS to expand download options. Now, as you can see BIOS update is available. Latest BIOS version is F.44 Rev.A, and in my laptop, F.32 is installed.
Click on the download button to download the "HP BIOS update and recovery" software.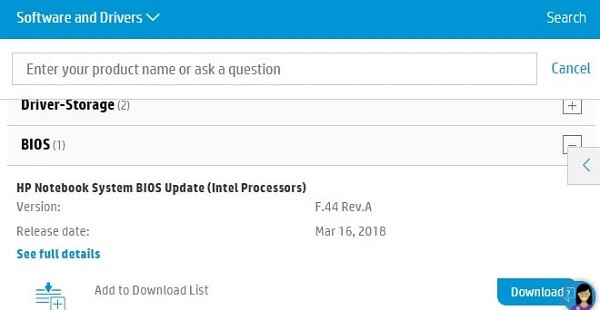 Install HP BIOS Update.
Note: These steps might not work with latest HP Laptop. But, if you have an older HP Laptop, that needs a BIOS Update. Then, definitely this guide can be helpful for you.
Downloaded BIOS utility will allow you to update BIOS. And, you can create "HP BIOS recovery USB Flash Drive". Which is helpful to recover another same model of HP laptop. Also, you can copy the BIOS image files to any location. But, we want to install a BIOS update, so we will choose the "Update" option in the setup.
1. Simply run the downloaded BIOS utility as an administrator.
2. Keep clicking on the Next button, to accept the license agreement. Setup will show you three options, as I mentioned above. You need to make sure that the "update" option is selected.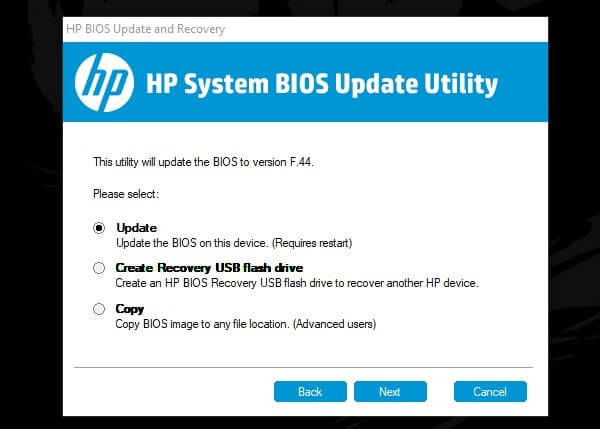 3. Flashing BIOS process will get started. And, your PC will freeze for a moment. So, don't turn off the power. And, don't disconnect the power cable.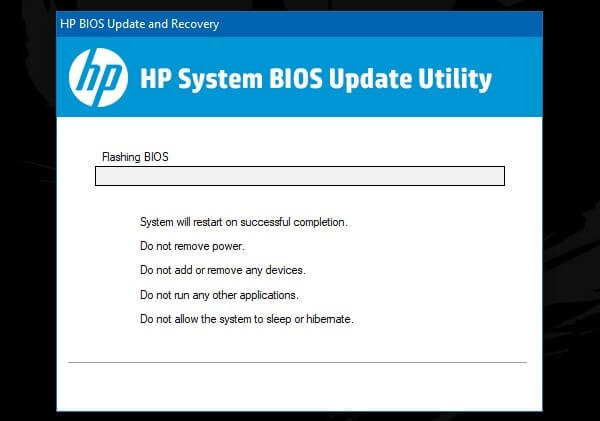 4. After flashing BIOS, the laptop or computer will restart. You might see a BSOD error, don't panic. It will disappear within 10 seconds.
5. And, the "flashing boot block" process will get started. When this process will get completed, your PC will start normally. Now, you can open msinfo32 or can use CPU-Z software to check the BIOS version. As you can see, my BIOS version is updated.

That's it, this is the easiest way to update HP BIOS. Some technical blogs will tell you to create a bootable USB drive. But, you don't need to, if you're updating BIOS in your laptop. You can simply search and download the utility, and install it.