No doubt that for the Internet, Smartphone users use much cellular data/mobile data compared to WiFi. Because to use mobile data, no need for any external device. But recently, many users are facing mobile data, not working problems. Most Samsung users are facing this problem after a system update.
Why is my mobile data not working?.
This problem can occur due to multiple reasons. Like, due to misconfigured network settings, data restriction by the Android system, incorrect network selection. Or, it could also be possible that. Due to Mobile Phone Jammer, the data connection is not working in your area. If it is, then you will be able to use a WiFi connection only. Also, you can't able to make phone calls. So, try to make a phone call. If you can make phone calls, then the problem is different. Then, you need to try the solutions mentioned in this article.
Is the problem is with a specific App or Site?.
Sometimes, Cellular data does not work problems occur in some specific Apps. In that case, First, you need to clear the cache and data of that App.
For example – If the problem is with the chrome browser. Hold chrome browser icon for few seconds, then tap on "App info". Now tap on storage > clear storage > clear all data.
Also, it could be a DNS issue. So, download DNS changer App from the play store. And, connect Google DNS. Or, you can use any VPN App.
To fix this problem, you can also read my article on "mobile network not available". Because solutions are quite similar for both problems.
Fix – Mobile Data Not Working.
IMPORTANT – Mobile Settings are not the same in all Android smartphones. Because many smartphones use custom skins and launchers. And, settings are different in every Android OS. So, you might face some trouble while finding these settings. So, I suggest you use the search option in the Settings App.
Disable and Enable Network.
Most of the smartphone users are telling on forums that. By disabling and re-enabling the mobile network, Mobile Data Not working problem got resolved. So, to mend this problem, you can also try the same. There are two ways to disable the network.
1.1 Turn on/off Aeroplane Mode.
From the home screen, scroll down to access quick toggles.
Tap on Aeroplane mode, to turn it on.
Wait for at least 30 seconds, and then again tap on it to re-enable.
You can also access Aeroplane mode from settings > more > Wireless & networks. In some smartphones, airplane settings can be found inside Wi-Fi & Internet Settings.


1.2 Deactivate and Activate SIM Card.
1. Open SIM & Network settings from the Settings App.
2. Now, under SIM settings you will be able to see the name on inserted SIM.
3. Tap on the SIM, which is creating a data connection issue. And, then tap on the button above the SIM name to disable.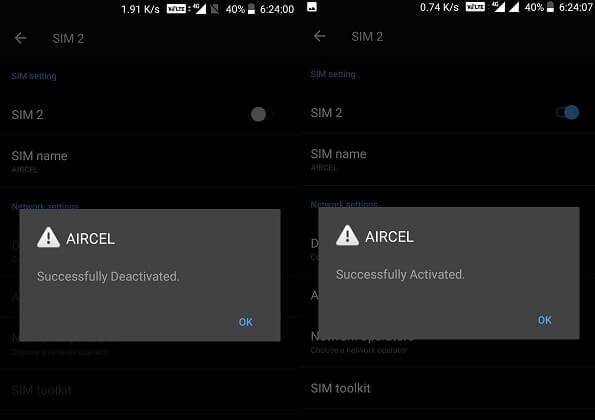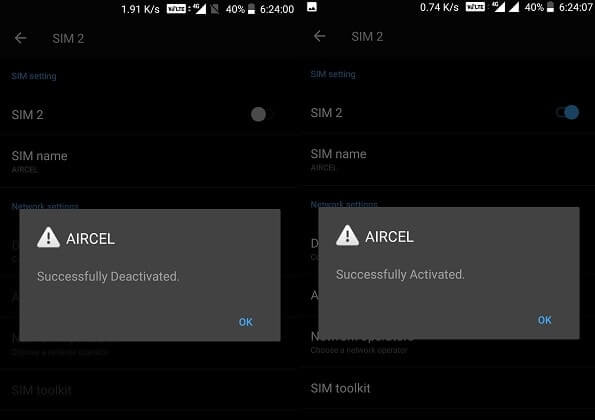 4. After deactivating SIM, wait for 30 seconds, and, then activate SIM. By tapping on the same button.
That's it. I hope, Mobile Data problem got resolved with this solution. If not then try the next solution.
Restart Smartphone, and Re-Insert the SIM.
The first solution you will get from customer care is, restart the smartphone. And, 90% of Smartphone and Computer problems can get resolved by restarting. So, if you haven't tried this solution, then give it a try.
1. Switch off the Smartphone.
2. Pull out the SIM Card.
IMPORTANT: If you have another 4G smartphone, then put a SIM card in that. To find out that, the problem is from the network provider side, or with the smartphone. If the data connection isn't working on another smartphone. Then, contact the service provider.
3. Insert SIM card back in the smartphone. And, turn on the Smartphone now.
Select the right network type.
If the problem occurs after an update. Then, it could possible that. During Update, the wrong network type got selected, due to a network coverage issue. For example – if your phone is 4G compatible. Then, you should make sure that the 4G network mode is selected. And, if already right mode selected. Try switching the preferred network type.
Go to Wi-Fi & Internet > SIM & network > Preferred network type.
I am using a 4G smartphone, that's why I am choosing "2G/3G/4G (Automatic)".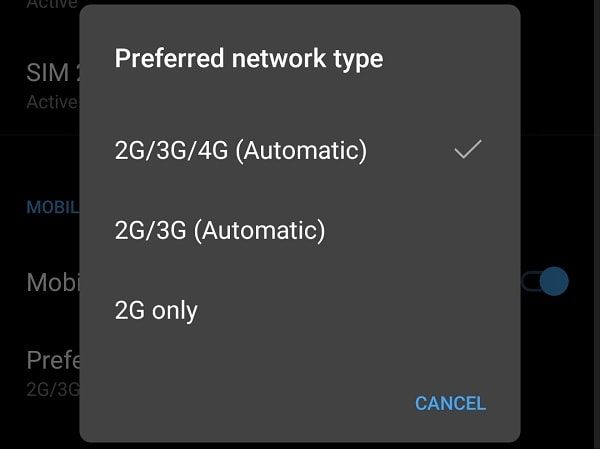 Note: It could possible that. In your smartphone, the preferred network type option is in another section.
Reset APNs Settings.
If your mobile data not working, then APN settings could be the reason. Because Access Point Name aka APN is responsible for the data connection in a smartphone. APN is the name of a gateway between a mobile network and another computer network. In simple words, I can say it is an internet setting of your service provider. That helps you to establish an active internet connection. If due to some reason APN settings got misconfigured. Then, you can reset it to fix the Internet problem.
1. Again go to Settings > SIM & Network settings.
2. Tap on the SIM Name, to access SIM's settings.
3. Now, tap on "Access point names". From the upper right side of the APNs window. Tap on the menu icon and then you will get the "Reset to default" option.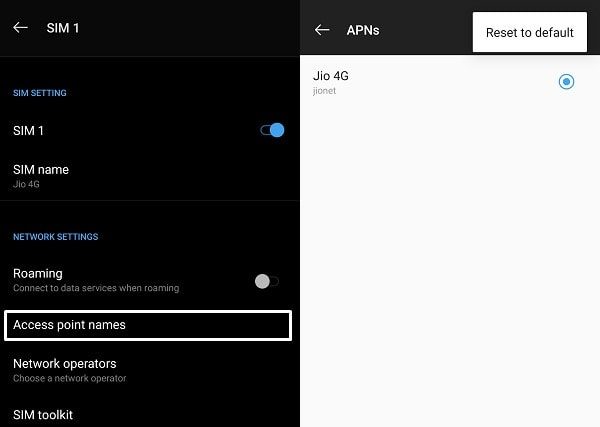 4. Tap on it to reset APNs settings to default.
Enter APN settings manually.
If by resetting APN settings, the cellular data issue doesn't get resolved. Then, you can new APN settings manually. Or, can edit in the old APNs settings. You can find APN details of your network on the Internet. Or, you can contact customer care to help you with APN.
1. Open the same APNs list by tapping on the "Access point names" option.
2. Tap on the '+' icon now and then enter your network's APN details.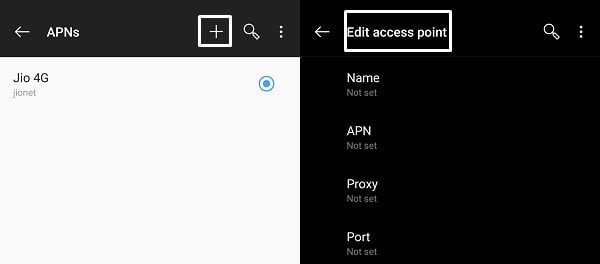 3. After entering all required APN details. Tap on the menu icon from the upper right corner. And, then tap on 'save'.
Network Settings Reset.
If by resetting APN settings and by entering new APN settings. Mobile Data Not Working problem not get solved. Then, you can try to reset network settings. If you have made some unwanted network changes. Then, by resetting network settings to default, you can solve the problem.
In my OnePlus smartphone, this option is available in. –
Settings > System > Reset Options > Reset Wi-Fi, Mobile & Bluetooth.
Select SIM and then tap on "Reset settings".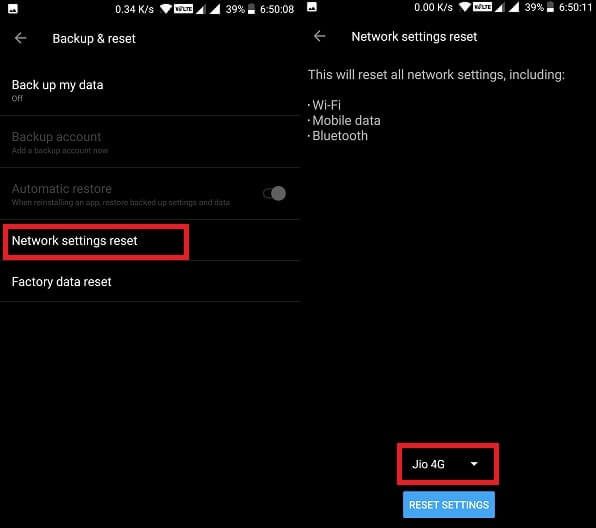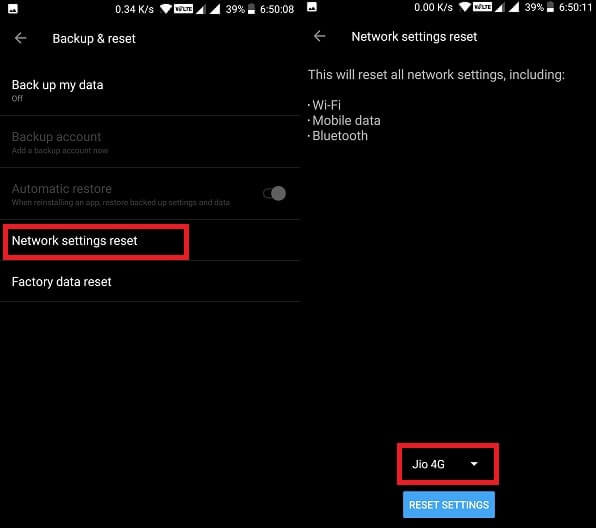 In your smartphone, you can find out this option in backup & reset settings. (Or, if you're unable to find out, feel free to comment.)
Check Data Usage Limit.
Android OS comes with a data usage feature. Which helps to restrict data usage after a data limit is set by you. Maybe, you haven't set a data limit for your Internet. But, because of smartphone updates. A data limit got set without your permission. So, I suggest you go into WiFi & Internet settings. And, check data usage settings. You can turn off all data limits by disabling the "Limit mobile data usage" option.
Note: If you're using the latest version of Android. Then, data usage allows you to restrict data for specific Apps. Not for the entire Android OS. In that case, this solution isn't for you.
Not any solution Working?. (Try this solution.)
Is Mobile Data is working on another smartphone with the same SIM card?. Then, you should reset your smartphone. You can factory reset your smartphone. By going into backup & reset settings. Also, can choose that, you want to erase personal data or not. Though, you don't need to erase all the data.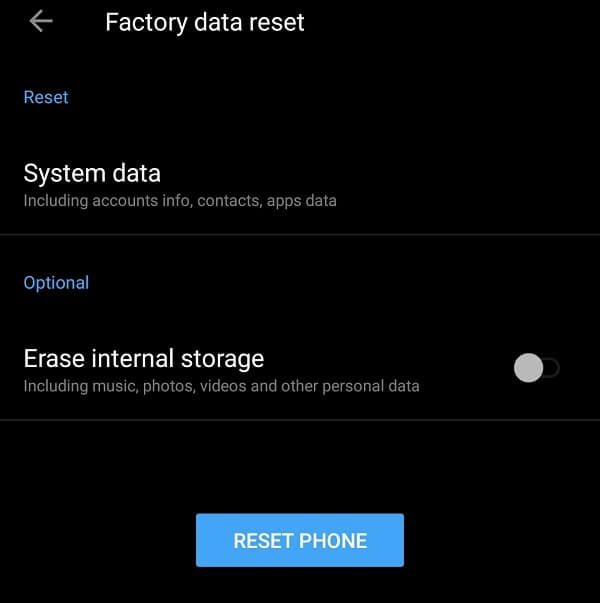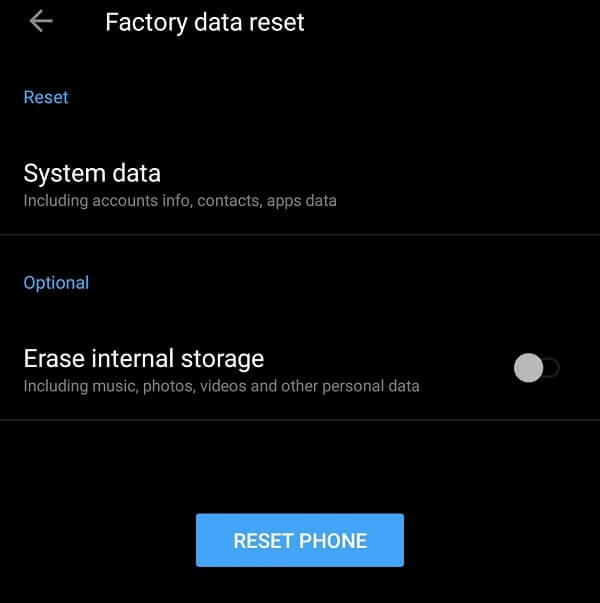 Is mobile data not working in another smartphone also?. Then, you need to contact customer support. Because, if the Internet is not working with that SIM card. Then, the problem is with the service provider. Also, don't forget to check your data balance. Maybe, you forgot to recharge.
Conclusion / Summing-up.
So, these are the solution which you can try to fix this problem. First, you need to try to disable and enable the network. After that, try to re-insert the SIM card and restart the device. And, if it doesn't work, reset your APN settings and add new APN info. You can also reset network settings. And, can reset your smartphone, if the data connection is working on another device. If nothing works, then contact the network service provider.