Doesn't matter which Android Device or mobile phone network you're using. Mobile Network not available or No mobile network error is the most annoying thing. The bad or Good thing about this error is, there isn't any specific reason behind this error. Cellular Network Not available errors can occur due to multiple reasons. And it's not impossible to fix this error If you know the actual cause.
The normal causes that could be behind this error are – low signal strength, you're in roaming, Android device network settings issues. Well, whatever cause behind this error, In this article I am going to tell you some working methods to get rid of this error. And if any method works for you then feel free to comment. Or if not any method working for you, then you can share your error screenshot with the comment.
Fix Mobile Network Not Available
Turn Aeroplane Mode On/Off
If Mobile Network Not Available on your Android device, And instead of operator name, the device is Showing the No Phone Service Error. Then by disabling and re-enable the network you can solve this error. There are two ways to disable or deactivate a mobile network / SIM. Personally, I mended this error by turning Aeroplane mode on/off.
Disable Network using Aeroplane Mode
Go to settings > more > Turn on Aeroplane Mode.
Now your mobile networks and WiFi will get disabled.
Wait for at least a minute, and then turn off airplane mode.

Deactivate & Activate SIM card
Open Settings App > Go to SIM & network > Tap on the SIM that is showing network unavailable Error > Tap on the button above SIM name to deactivate SIM card > OK.
After a minute, Tap on the same button to activate the SIM card. I hope the error gets resolved, If not then try the next solution.
Note: To deactivate "SIM card 1" you need to turn off the data connection first.
Network Settings Reset
If you have made some changes in network settings, then this could be the reason for the network not available in mobile error. And by resetting the network settings you can easily fix this error. The network reset option will apply default settings for your both SIM card without resetting the whole device.
Go to Settings > Backup & Reset > Network settings reset.
Now above the Reset settings button, You"ll get a drop-down menu to choose a SIM card.
Select the SIM card that is showing the "Cellular Network not available" Error and then click on the Reset Settings button.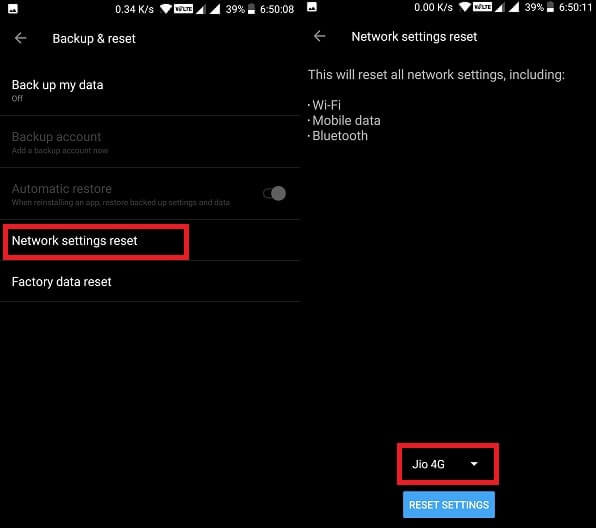 This option will reset WiFi, Mobile Data, and Bluetooth and it will take few seconds. And If the problem is with both SIM then use the same method with the second SIM.
Automatically choose preferred Network
If the mobile network is selected manually and the preferred network signal is weak or down. Then it leads to a no network available Error. You can fix this issue by enabling the "Choose Automatically" option.
Automatic preferred network
The Automatic preferred network option will choose automatically a good strength network. And, You will not get any "mobile network not available" error.
Go to Settings > SIM & network settings > Tap on SIM operator name (Which showing error) > Network operators > enable "choose automatically" option.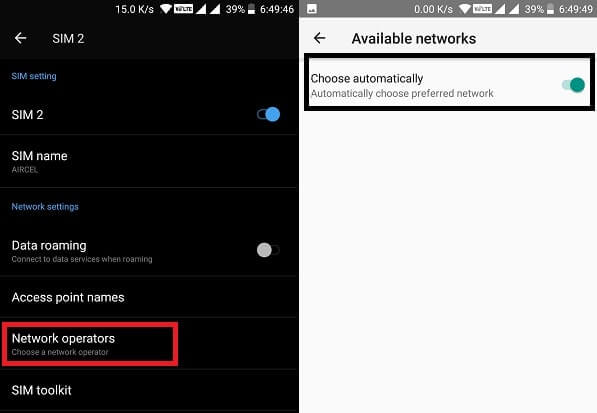 Choose preferred network type
If the "automatic choose network" option not able to solve this Error. Then by changing the network type, you can get the mobile network. Currently, there are four network types available 2G, 3G, and 4G. If your preferred network type is 4G, and the 4G network isn't available in your area. Then you will get a mobile network not available on your device. But you can get the network by switching it to 2G/3G.
Settings > SIM & network settings > Tap on Preferred network type > Select 2G only option.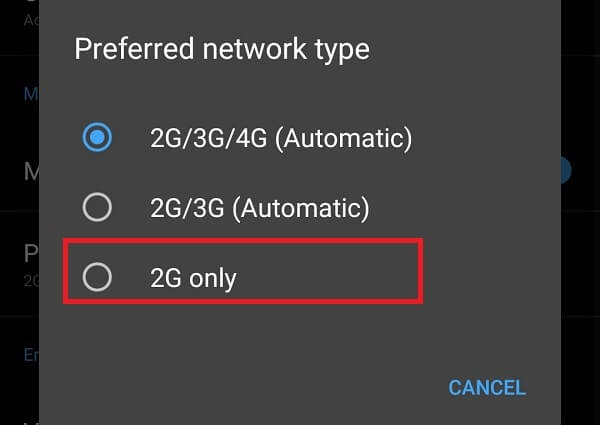 Note: Above mentioned settings are for Stock Android Nougat and Oreo devices. If you're not using stock Android then the option might be available in the different settings menu.
Check SIM card & Slot
If none of the above network settings is working on your device. Then there could be some possible reasons behind the "Mobile Network Not Available" Error.
If Insert SIM card / No service error is coming then switch off your device and then remove the SIM Card. Now wait for few minutes and then re-insert the SIM card and start the Device. (Insert SIM card properly)
If after re-inserting the SIM card, an Error still occurs then switch off your Device again. And this time try a different SIM card in the same slot. Or you can switch SIM's means, Put the first sim into the second slot, and the Second SIM into First Slot.
Now two things can happen – If the first slot is not working, even after changing the SIM card. Then you need to go to the Mobile repair shop.
Or, If the first slot works with a different SIM card then the problem is with the SIM card. Maybe the SIM card is damaged or the mobile network for that SIM isn't available in your area.
But before going towards the service center, I suggest you try some more solutions. Maybe the problem is different and the next solution can help you.
Check for Updates
If the SIM card is working on other Android devices and showing network. Then maybe the problem is with your device Software. If you're using outdated mobile software then also "Cellular Network not available" error occurs.
To check for the latest system update go to Settings > About Device > System Update.
Or If you're using the latest Android OS then go to Settings > System updates to download and Install.
Check Network Strength and Ping test
If you think the problem is with your device's hardware, then you can try the ping test. Or if you think your network antenna is damaged then you can check network strength. Both things you can do with the same settings.
Important – If the signal is nearly -60 dBm then it's perfect. And if you're above -87dBm then you"ll get full network bars.
To perform Ping Test or Radio Signal Test. The open Phone app and Dial *#*#4636#*#*. After dialing it, the Testing menu will get open.
From the Testing menu, tap on Phone information and you will able to see Signal Strength. For Ping test first, choose network type and then tap on "Run Ping Test". After completing the Ping test restart your device.
Backup & Factory Reset Device
If above mentioned six solutions not works for you. And still "mobile network not available" error Occurs. Then the last thing you can do is Factory Reset your device. Factory reset will Erase your all device data, So first you need to create Android Backup.
After creating the whole device backup, Now go to settings > Backup & reset > Factory data reset. (Internal Storage is optional)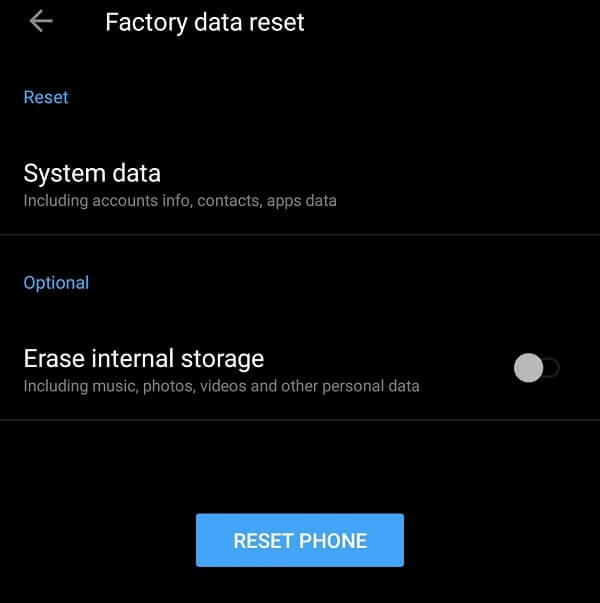 Service Center / Mobile Repair Shop
If after resetting the Android device still problem not get solved and not no SIM working on your device. Then without wasting more time, you should take your device to the Service Center. Because It could be possible that hardware is damaged due to some serious mobile drop.
Summing-up – Mobile Network Not Available
These are the solution available to fix the No Mobile Network error easily. First, you need to check the SIM card and slot. If both working then tries other solutions like Aeroplane mode, reset network, update Software. And If no solution works then simply Create a Backup and Reset your device. That's it for now, If you know any other working solution, feel free to comment.